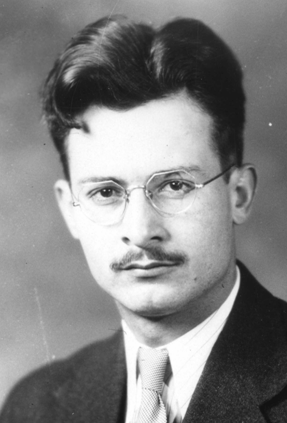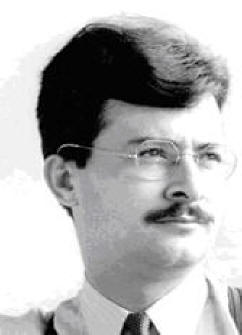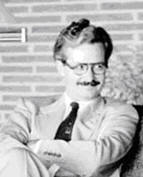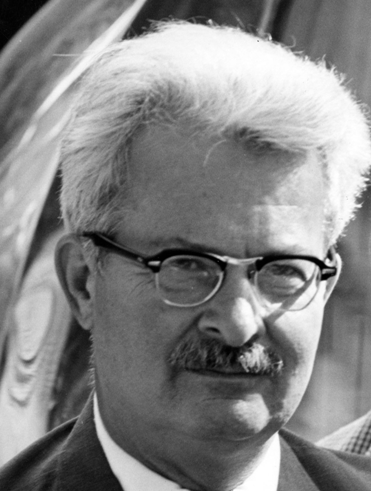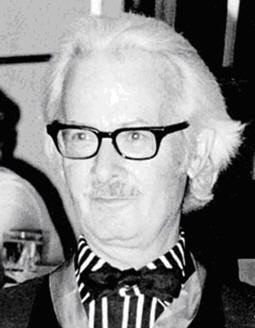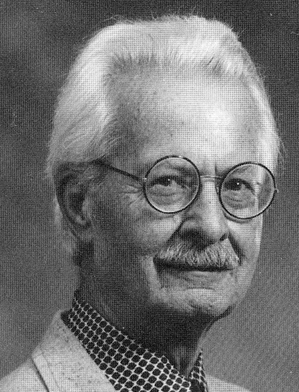 HENRY LEVEKE KAMPHOEFNER, FAIA (1907-1990)
Kamphoefner was born in Des Moines IA and grew up in Sioux City IA. He graduated in Architecture from the University of Illinois and in 1931 received a Masters in Architecture from Columbia University. Kamphoefner said he was introduced to Modernism by Joseph Hudnut. He entered private practice in 1932 in Sioux City IA and developed a specialty in outdoor music pavilions. Starting in 1936, he was associate architect for the Rural Resettlement Administration in Washington DC til 1937. From Washington, he moved west to teach architecture at the University of Oklahoma until 1948. Kamphoefner's years in Oklahoma: Part 1; Part 2; Part 3.
In 1948, he was appointed first dean of the School of Design at North Carolina State University and in short order elevated the school from obscurity to national prominence. A passionate Modernist, Dean Kamphoefner's ultimate goal was "the development of an organic and indigenous architecture... to meet the needs and conditions of the southern region."
Kamphoefner's changes at the beginning of his tenure were swift and effective. He sacked most of the old faculty and brought in a new team including Matthew Nowicki who designed Dorton Arena and gave Raleigh an internationally-known landmark. He hired George Matsumoto who became one of the state's foremost residential Modernist architects; Terry Waugh, who became head of NCSU Campus Planning; Duncan Stuart; critic Lewis Mumford; James Fitzgibbon; and Eduardo Catalano, who put Raleigh on the map with his famous 1954 hyperbolic paraboloid house, now sadly destroyed. Other new hires included Harwell Hamilton Harris, former Dean of the School of Architecture at the University of Texas, and Robert Burns, whom Kamphoefner appointed as head of the Department of Architecture in 1967. Kamphoefner instituted a distinguished visitors program which included Frank Lloyd Wright and Richard Neutra among others; raised admission standards; and placed the school on the leading edge of Modernism. The school expanded programs including Product Design in 1958 and a Graduate Program in 1968.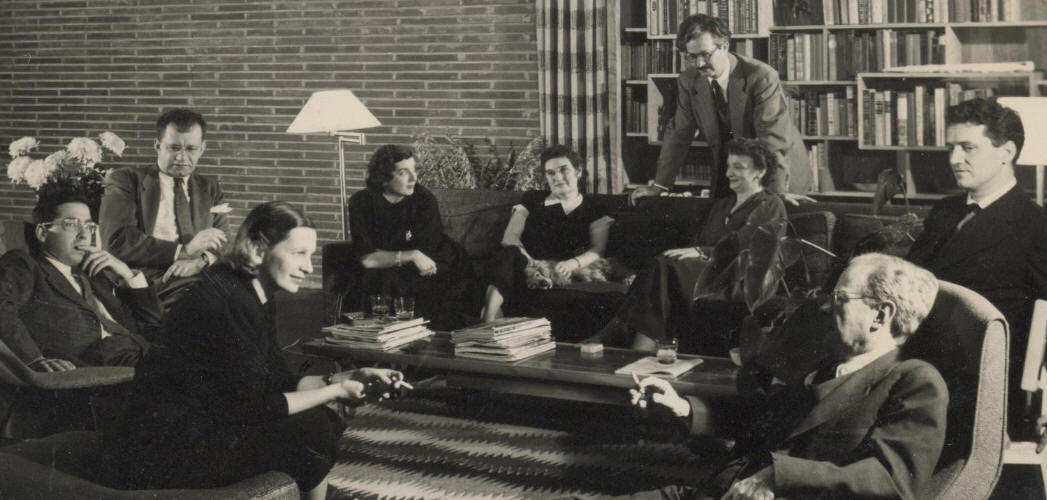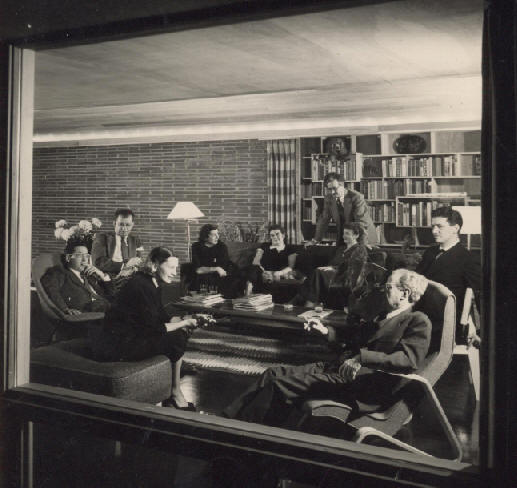 Kamphoefner had no problem connecting some of the best minds in the Modernist world. This photo is from 1951, taken through the window in Kamphoefner's house on Granville Drive by Hungarian photographer André Kertész. Includes from left to right: NCSU Faculty Cecil Elliott, Dean Joseph Hudnut of the Harvard School of Architecture, NCSU Faculty Siasia Nowicki, House & Garden Architectural Editor Katherine Morrow Ford, Mabel Kamphoefner and their dog, Henry Kamphoefner, NCSU Adjunct Faculty Margaret Fitzgibbon, New York architect Abraham (Abe) Geller, and NCSU Faculty Jim Fitzgibbon.
In 1960, on the recommendation of Catalano, he hired 31-year-old Brian Shawcroft, an architect from the UK who just completed his Masters in Architecture at MIT and Harvard. A renowned photographer, Shawcroft closely shared Kamphoefner's architectural philosophy and also never yielded to the eclecticism of postmodern trends. In 1988, he declared that Shawcroft's "buildings provide the only good architecture in . . . [Raleigh] which is blighted by so much architectural trash." During his tenure, he elevated NCSU's program from complete obscurity to national prominence.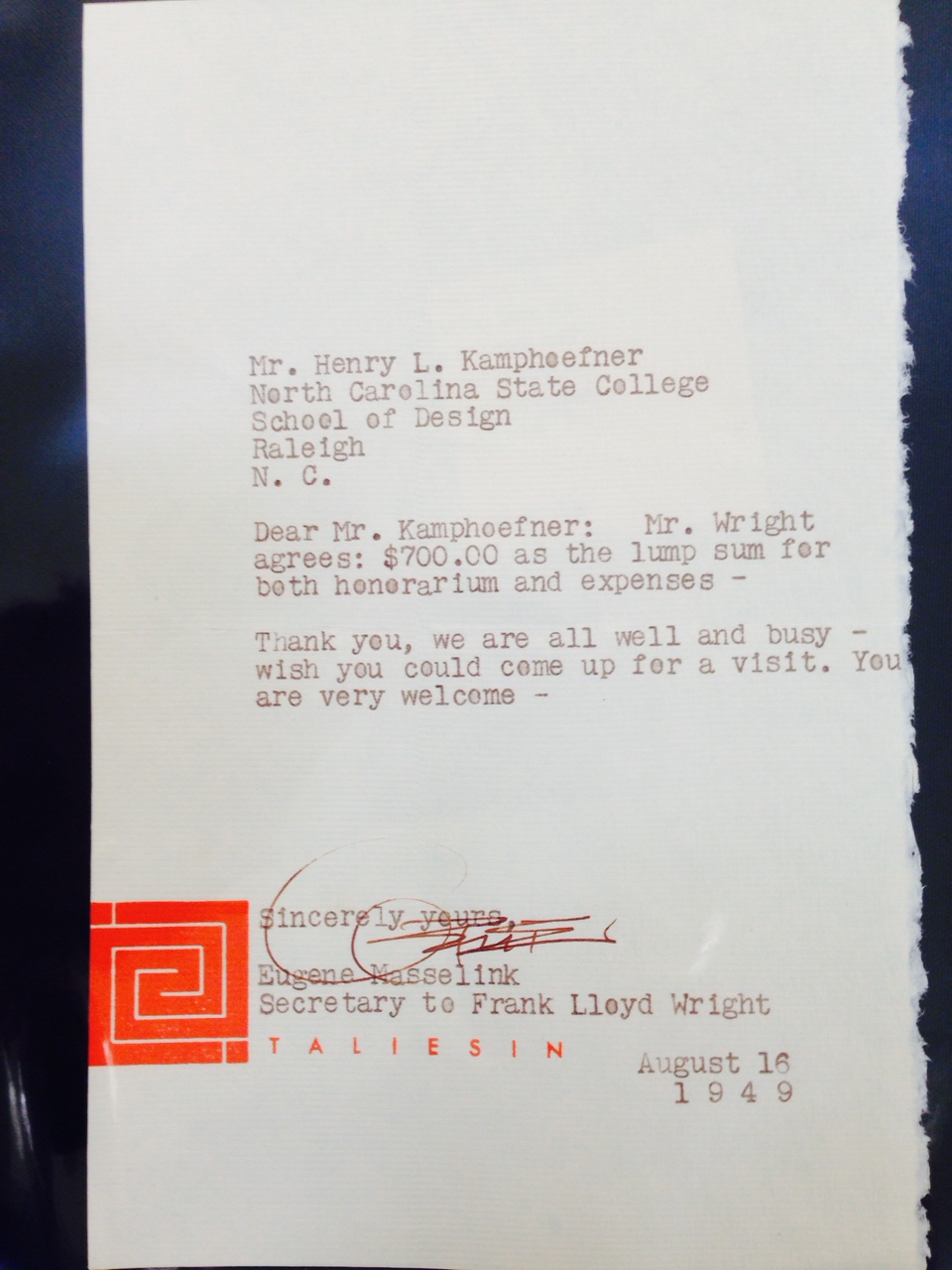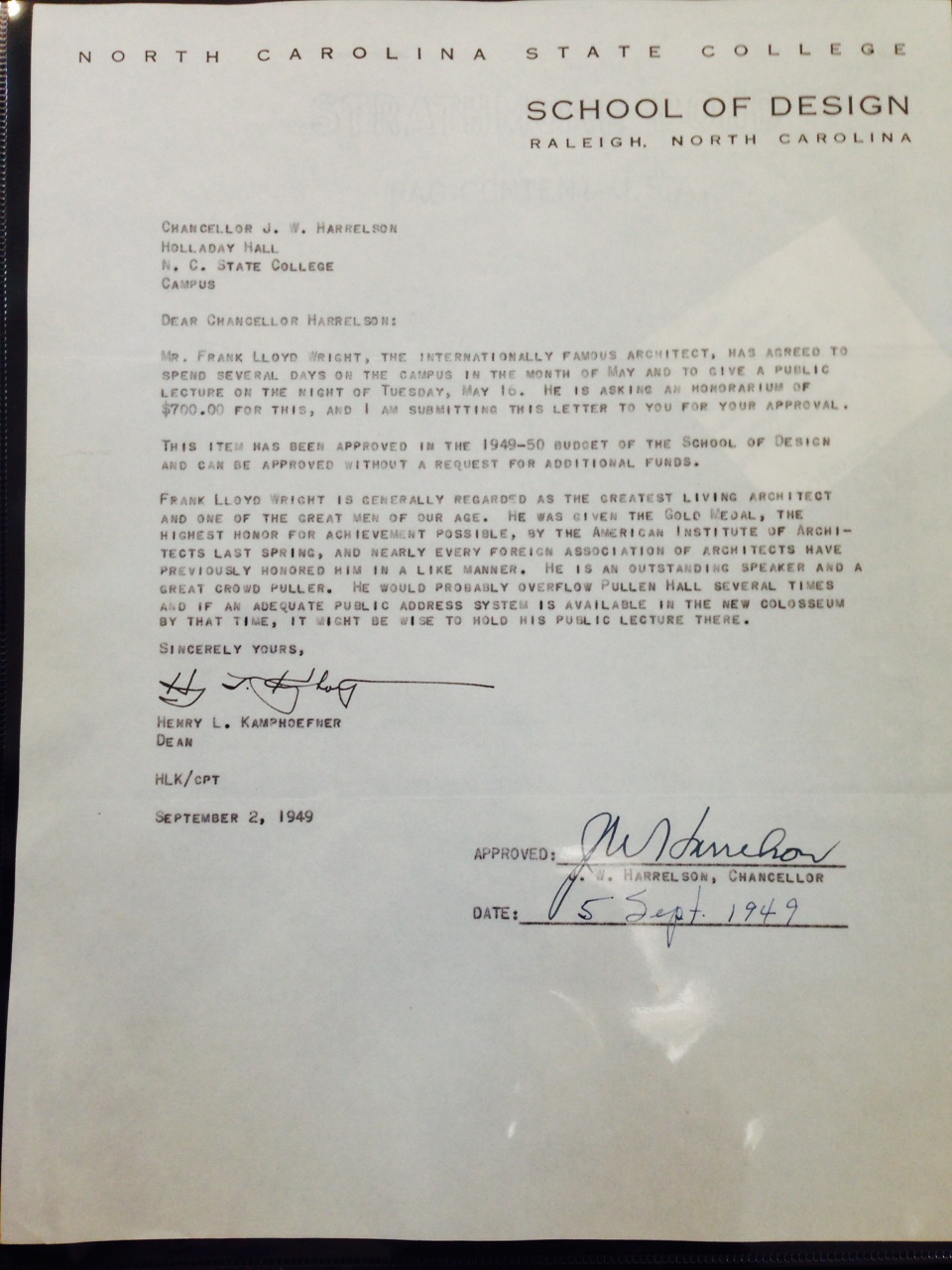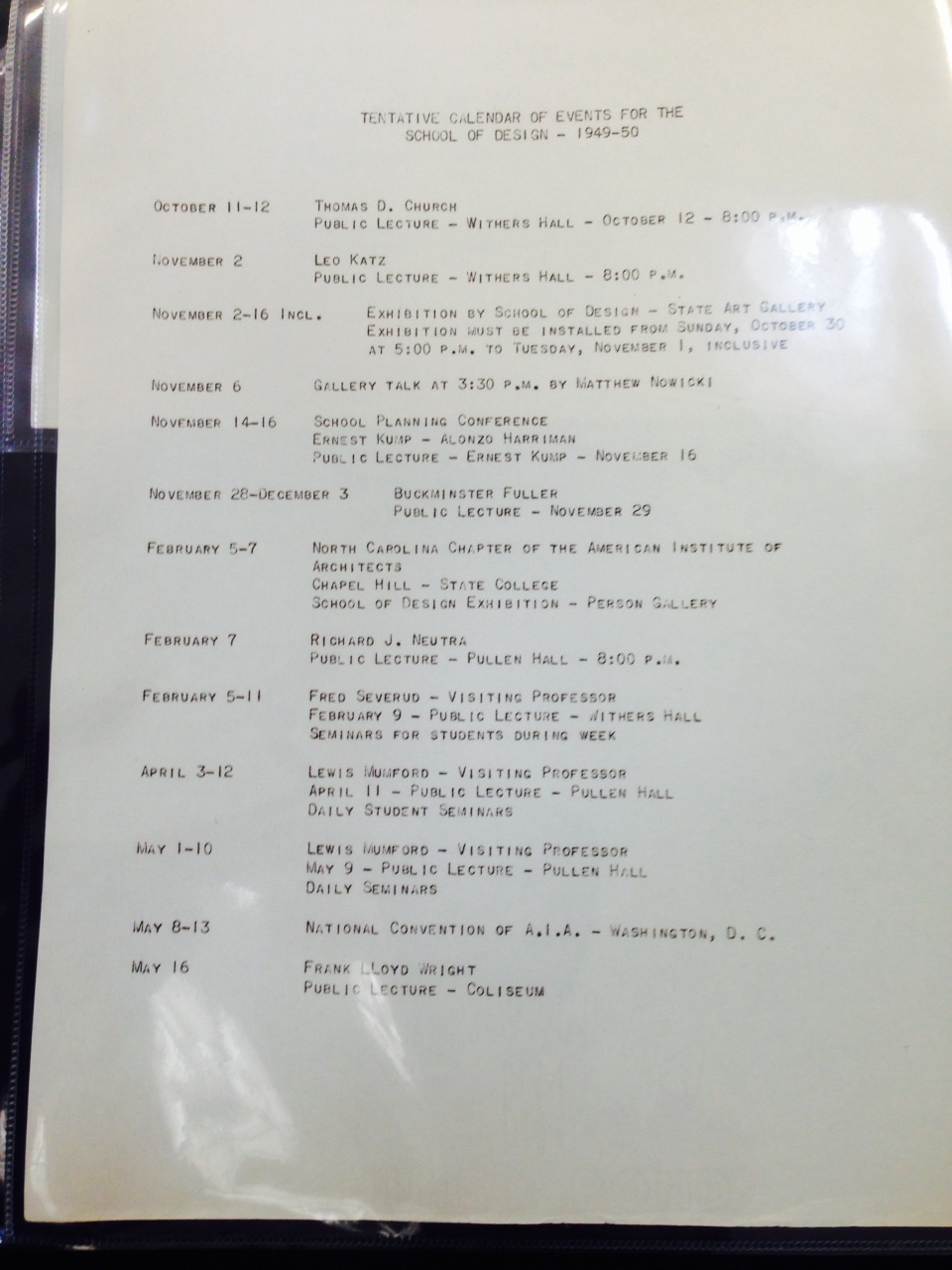 One of Kamphoefner's greatest contributions to Raleigh's built environment was his way around the state's bureaucracy. His faculty, since they were technically on the state's payroll, were prohibited from seeking work on state-funded projects. Kamphoefner created partnerships and mechanisms where his faculty were hired as consultants by other design firms, opening the door to the design of hundreds of significant buildings by NCSU faculty. Kamphoefner was a vocal critic of Edward Durell Stone, publicly criticizing his two major buildings in Raleigh: the Legislative Building and the NC Museum of Art.
Elizabeth Young Moran was secretary to Kamphoefner 1952-1967. She left when she married Richard A. Moore, head of the Landscape Architecture department in 1967, and they moved to Hawaii. She went to work as office manager for Eckbo, Dean, Austin and Williams, which became EDAW, Inc. during the few years they had an office in Honolulu.
Kamphoefner was forced to retire in 1972, staying on at the school to teach part time. He was eventually named Dean Emeritus, but conflicts between Kamphoefner and the new Dean Claude McKinney lost Kamphoefner his teaching position. He taught briefly at Meredith College. To Kamphoefner's disappointment, both he and Modernism had fallen out of favor, both with the public and the profession. It was time for him to step back.
In December 1983, Kamphoefner wrote an article on Buckminster Fuller in the NC Wataugan which was less about Fuller and more about recently "retired" Kamphoefner. Also includes comments on Fuller by his colleague T. C. Howard. Pages one, two, three, four, five, six, or the entire document.
Kamphoefner had an unparalleled impact on the architecture of North Carolina and the Southeast. He was awarded the 1978 North Carolina Medal and the 1977 Topaz Medallion for Lifelong Achievement in Architecture by the Association of Collegiate Schools of Architecture. In 1989, the NCSU School of Design named their 1978 addition, designed by Harry Wolf, as Kamphoefner Hall.
Just two years before his death in 1990, he bitterly acknowledged Modernism's fall, lamenting that prominent architects were "selling out for a neo-modernistic populism" and that the famous maxim of Louis Sullivan, "form follows function," was being replaced by "form follows money." To slow this movement, he established the Kamphoefner Prize, a gift of $150,000 to AIA North Carolina for career excellence in the Modern Movement of architecture. Kamphoefner, in his imitable directness, defined the criteria for this award very specifically:
"The donors and the Selection Committee for this award anticipates that the chosen architect has demonstrated a consistent integrity and devotion over an acceptable period of time to further the modern movement in architecture without yielding to any of the undesirable current cliches, neo-modernistic mannerisms, or artless historicism that have flawed the building culture of today."
Brochure on the Kamphoefner Prize: pages one, two, three, four. Recipients:
1988 J. Norman Pease Jr.
1989 No award given
1990 Murray Whisnant
1991 Brian Shawcroft
1992 Philip Shive
1993 Ligon Flynn
1994 Marley Carroll
1995 Frank Harmon
1996 Lee Nichols Hepler
1997 Kenneth Hobgood
1998 Awarded to NC State Students
1999 Ellen Weinstein
2000 Awarded to NC State Students
2001 Thomas B. Moore
2002-2009 No awards given
2010 Phil Szostak and Jeffrey Lee
2011 No award given
2012 Arthur Cogswell and Roger Clark
2013-2015 No awards given
2016 Dennis Stallings
2017 Vinny Petrarca and Katherine Hogan
2018 Bob Thomas
2019 Kenneth Lukens
2020 No award given
2021 Matthew Griffith
2022 No award given
2013 induction of Kamphoefner into the Raleigh Hall of Fame, thanks to efforts of Roger Clark and Ben Taylor.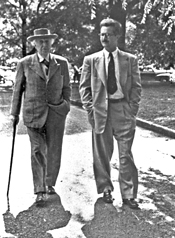 Frank Lloyd Wright, left with Kamphoefner, visited the School of Design at NC State University in May of 1950. He spoke to over 5,000 people at Reynolds Coliseum, at the time the largest attendance for any US architecture lecture. He opened with "it's nice to be back in Charleston, South Carolina." Wright was just one of the school's many well-known architecture guests such as Buckminster Fuller, Mies Van der Rohe, and Richard Neutra.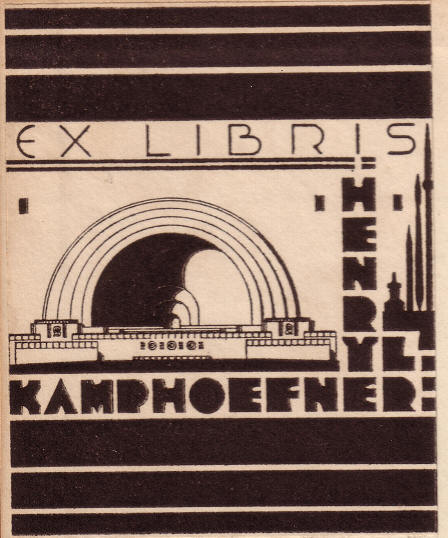 Kamphoefner put this personal label on each of his books.
David Brook's Powerpoint on Kamphoefner's life and career / David Brook's dissertation about Kamphoefner
The 1950 NCSU School of Design curriculum with a full list of the pioneering faculty hired by Kamphoefner.
The 1990 NCSU School of Design announcement of Kamphoefner's death.
---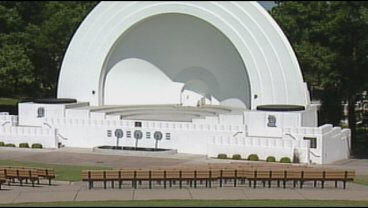 1935 - The Grandview Park Band Shell, Sioux City IA. It cost about $51,000. Added to the National Register of Historic Places in 2011.
---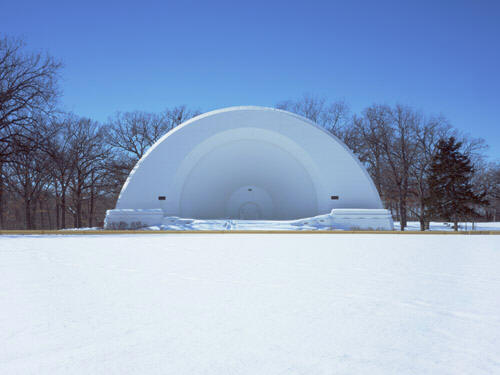 1938 - The Oleson Park Music Pavilion, 1400 Oleson Park Avenue, Fort Dodge IA.
---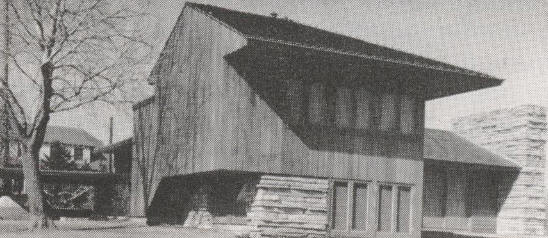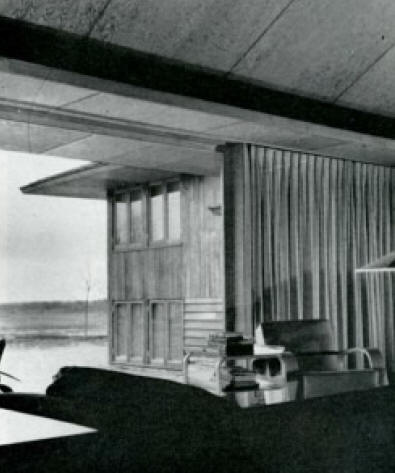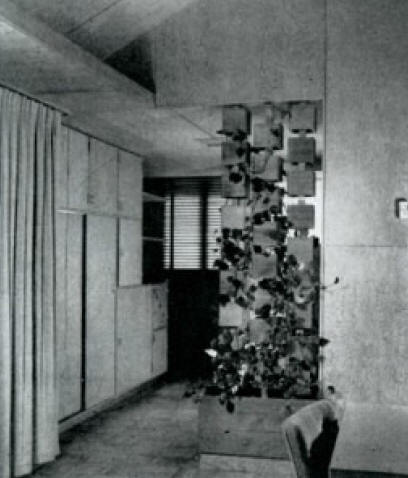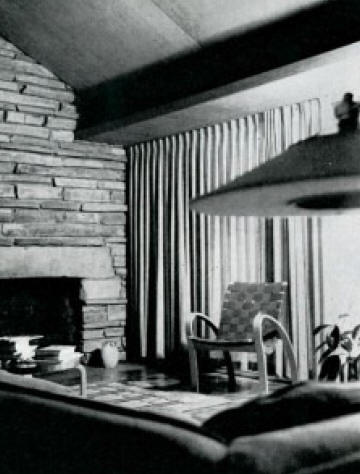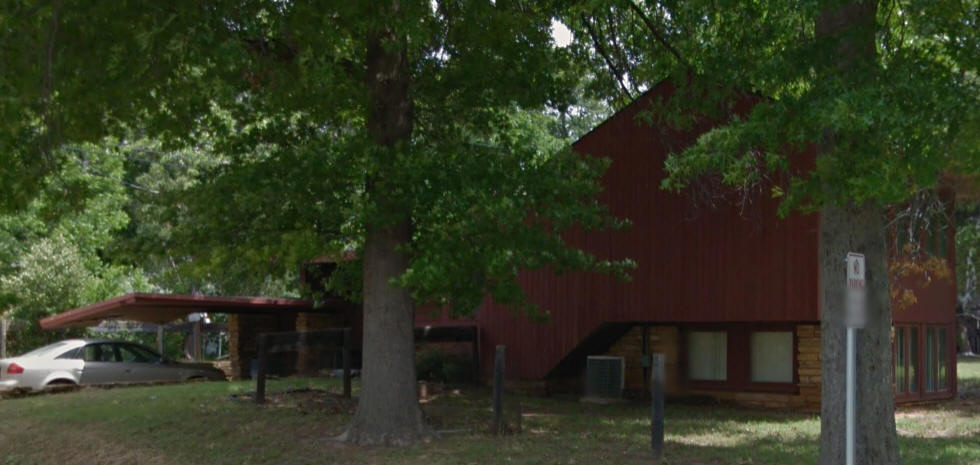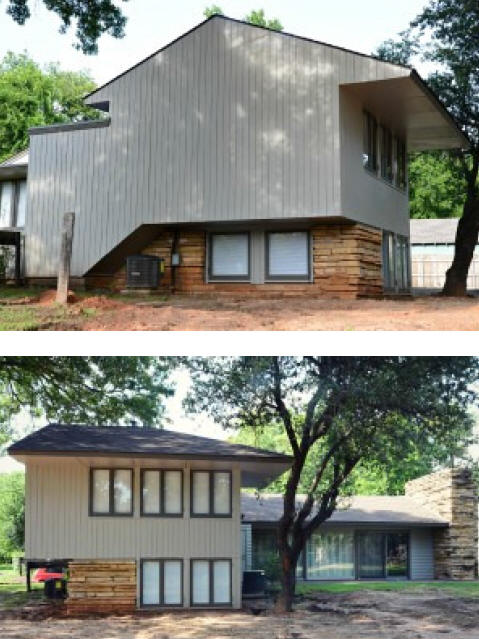 1942 - The Henry L. Kamphoefner Residence, 1111 South Lahoma Avenue, Norman OK. Sold to Gary Wren-Graham, Trustee. Sold in 2014 to David B. and Kelly Hames and repainted (last two photos).
---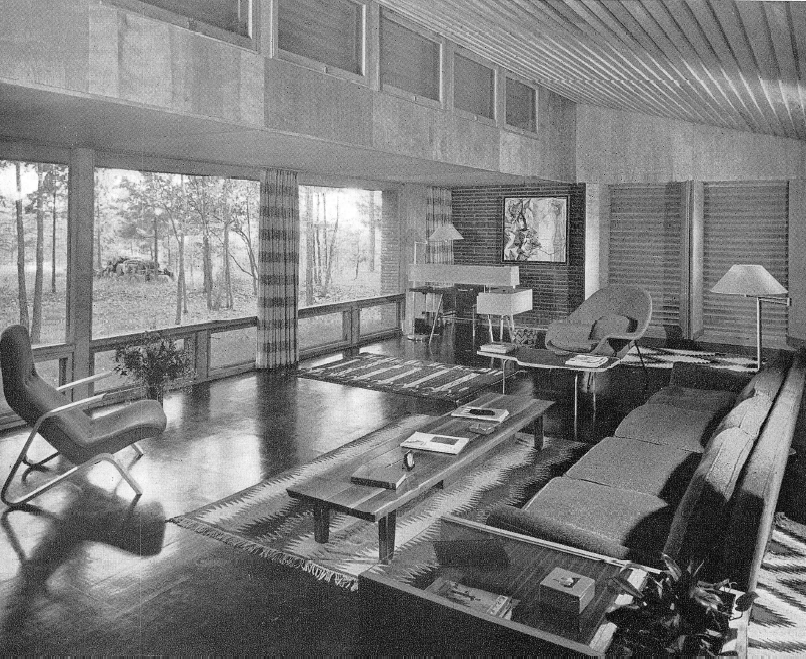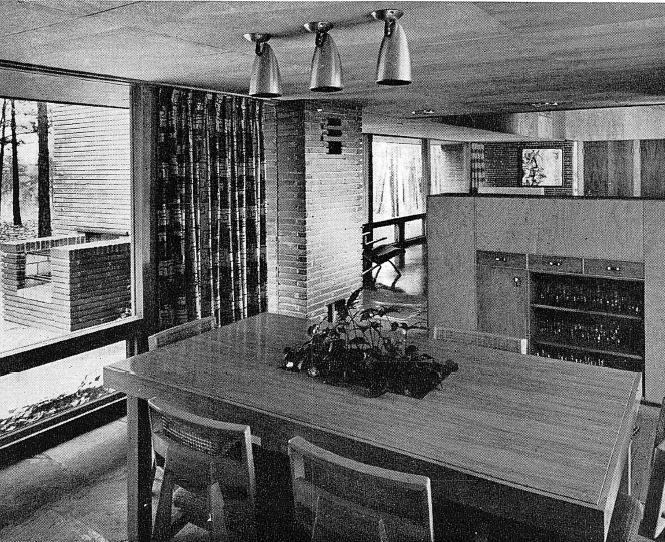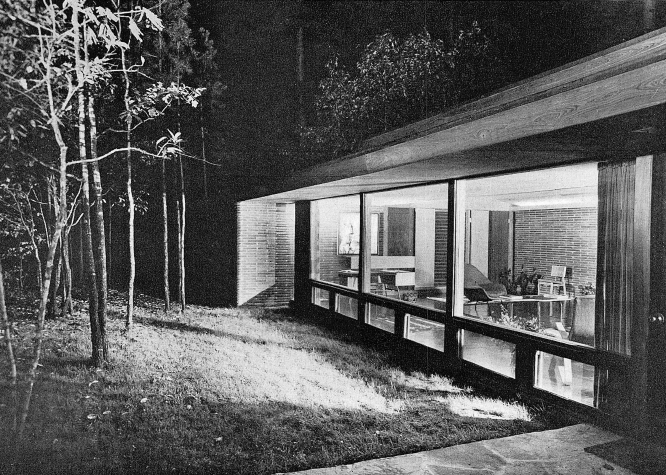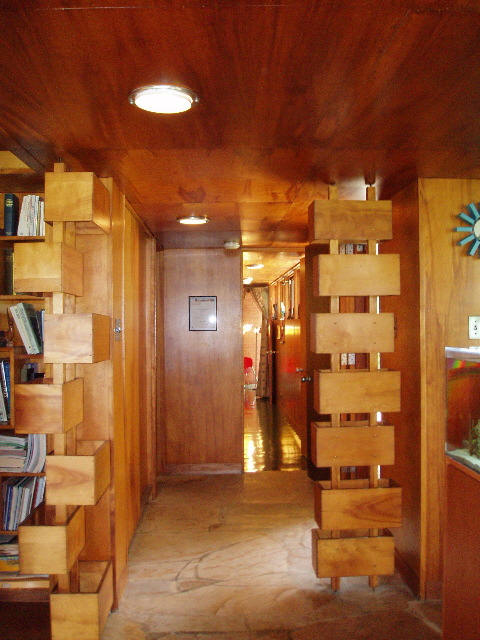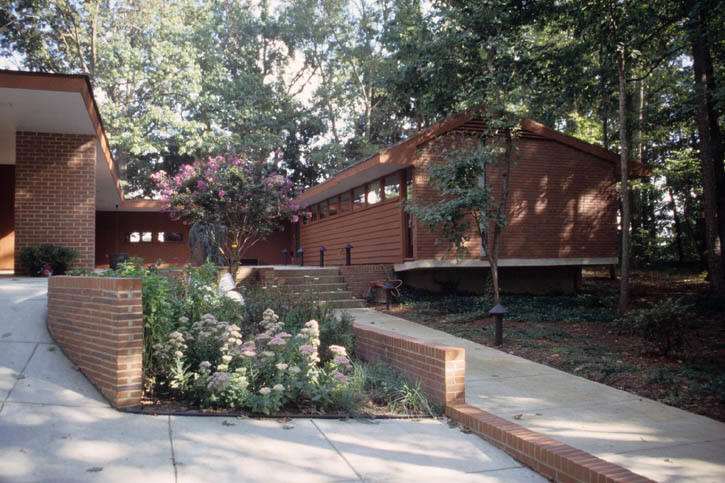 1948 - The Henry and Mabel Kamphoefner House, 3060 Granville Drive, Raleigh NC. Designed with George Matsumoto. Built by J. M. Thompson. Charles R. Larson (Henry's nephew) and his wife Roberta inherited the house and rented it out for a number of years. Architect Tika Hicks and Bryan Hoffman were among those renters; Hoffman did a restoration in exchange for a lowered rent. Sold to T. Connor Murray in 1996. Sold in 2000 to Daniel and Virginia Petrocella. In 2003, Kamphoefner's protégé, architect Robert Burns, did a renovation and addition, built by David Ballard Construction. Deeded in 2009 to Daniel Petrocella. Sold in 2016 to Jeffrey B. Childers.
---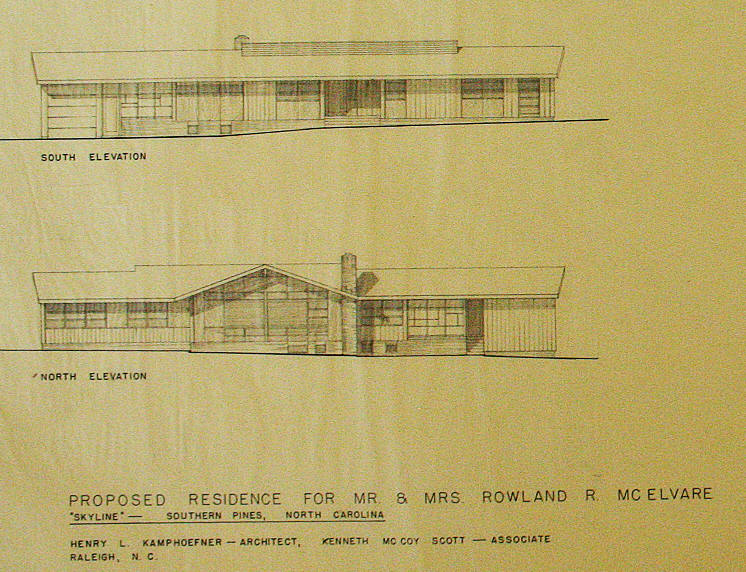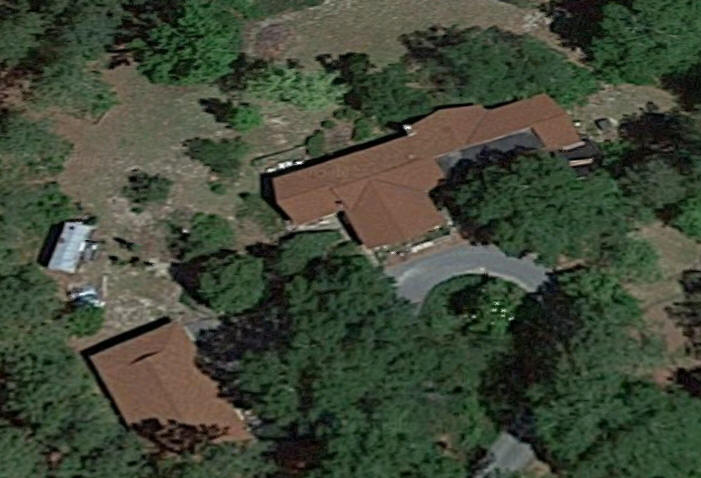 1952 - The Rowland and Lillian McElvare Residence, aka Skyline, 1630 Valley View Road, formerly Clay Road, Southern Pines NC. Kenneth Scott was the associate architect. E. J. Austin was the builder, with Thomas Hayes as Kamphoefner's superintendent onsite. T. C. Brown was the mechanical engineer. 3106 square feet on 11 acres. Four bedrooms, three baths. Sold in 1992 to Corey Longstreet, still owner as of 2017.
---
Sources include: Pinehurst Special Collection; AIANC; Richard Hall; School of Design: The Kamphoefner Years, 1948-1973 by Roger Clark; David Brook; Kamphoefner Archives at NCSU; Cleon Hayes.