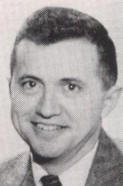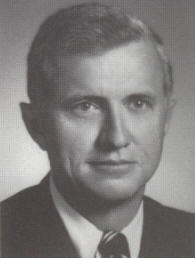 JAMES NORMAN PEASE, JR., FAIA (1921-2009)
Pease was born in Charlotte. He attended the public schools of Charlotte and Scarsdale NY before graduating from Charlotte Central High School in 1939. He studied architecture at North Carolina State University. Pease was in a terrible car wreck where his good friend was killed. Pease transferred away from NCSU and graduated from Auburn University with a BA degree in architecture.
Pease joined his father's architectural firm and soon replaced Beaux Arts-trained James Stenhouse as chief designer. Pease ultimately rose to become president in 1976. He designed or directed many Charlotte buildings including the First Union Tower, Charlotte Mecklenburg Government Center, Charlotte Observer Building, Duke Power Computer Center. In the Triangle, projects included the North Carolina Center for Public Television plus ten projects on the UNC-Chapel Hill campus.
Pease served as president of the Charlotte AIA and was AIANC president in 1969. He successfully led a six-year effort to build a second design school in North Carolina, the School of Architecture at UNC Charlotte. In 1988, he received the very first Kamphoefner Prize for his Modernist commercial designs.
According to Joel Stegall, who worked for Pease from 1948-1990, he did not design any houses.
---
Sources include: John Duncan, Galen Bolin, Pease Archives at the UNC Charlotte J. Murrey Atkins Library.