2010 Events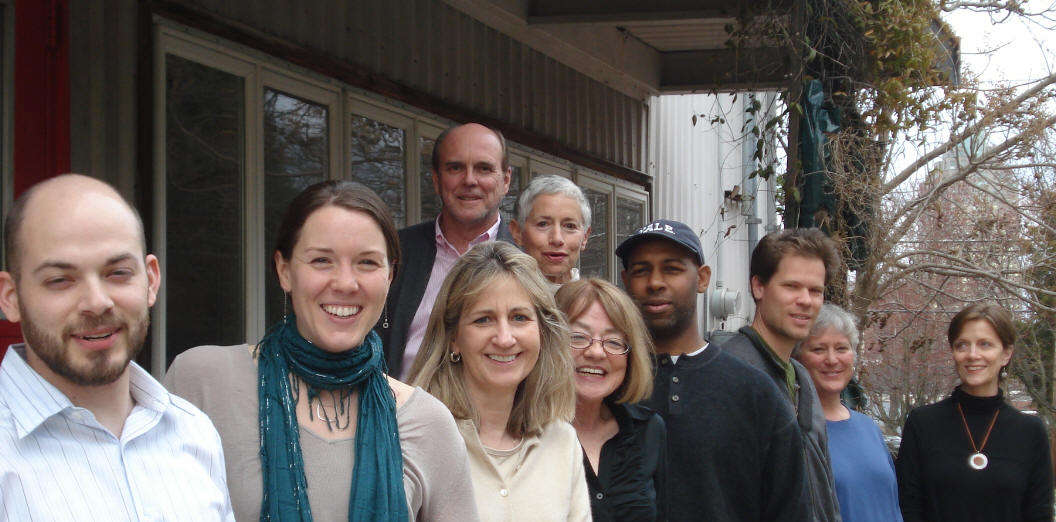 2010 Advisory Council, left to right: Rusty Long/Davenport Architects, Erin Sterling/ Frank Harmon Architects, Bill Hopkins/Hopkins McClure, Jane Thurman/KCI, Theresa Rosenberg, Leilani Carter, Khalid Almo/BBH, Vincent Whitehurst, Debra Smith/Modern Home Network, and Kim Weiss/Blueplate PR. Not shown: Elizabeth Sappenfield/Preservation North Carolina.
---
December 2010
TMH Sponsor/Mod Squad Appreciation Party, Durham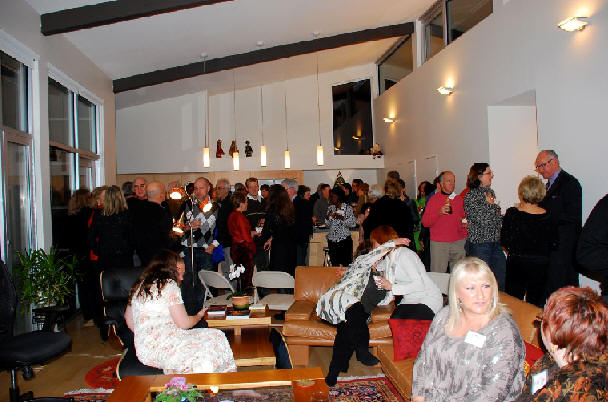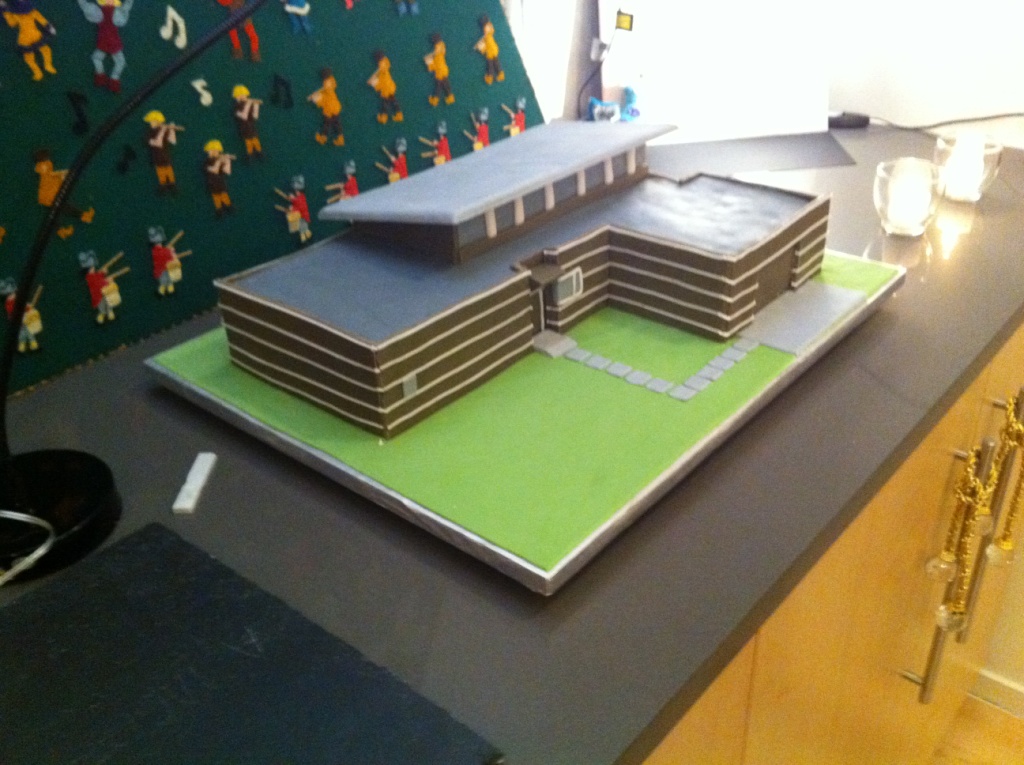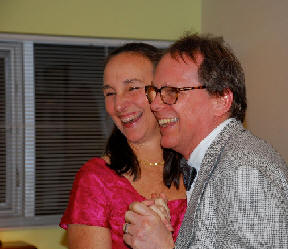 Hosted at the home of founder George Smart and his wife Eleanor Stell. Their house won a 2010 AIA North Carolina Award. About 85 attended.
---
December 2010
My Architect
2010-2011 Nowell's Architecture Movie Series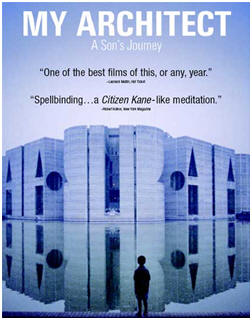 Trailer. Louis Kahn's teaching career began at Yale University in 1947. Kahn was elected a FAIA in 1953. He was named Professor of Architecture and Planning at MIT in 1962 and Professor of Architecture at the University of Pennsylvania in 1966. In 1974, Kahn died of a heart attack in a men's restroom in New York's Pennsylvania Station. He went unidentified for three days because he had crossed out the home address on his passport. He had just returned from a work trip to Bangladesh, and despite his long career, he was deeply in debt when he died. In 2003, Kahn's son Nathaniel Kahn released this Oscar-nominated biographical documentary about his father which gives glimpses of the architecture while focusing on talking to the people who knew him: family, friends, and colleagues. It includes interviews with renowned architect contemporaries such as B. V. Doshi, Frank Gehry, Ed Bacon, Philip Johnson, I. M. Pei, and Robert A. M. Stern, but also an insider's view of Kahn's unusual family arrangements.
---
December 2010
ModShop II
Art+Architecture+Shopping Trip to Charlotte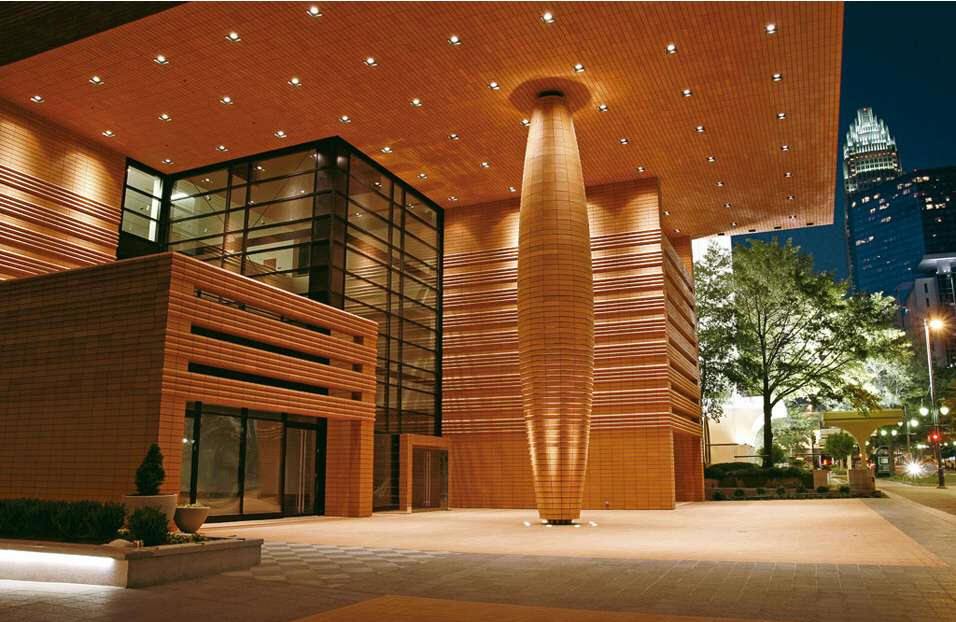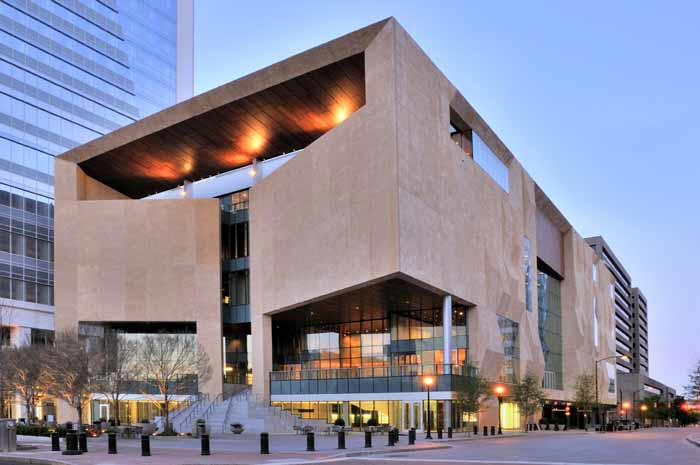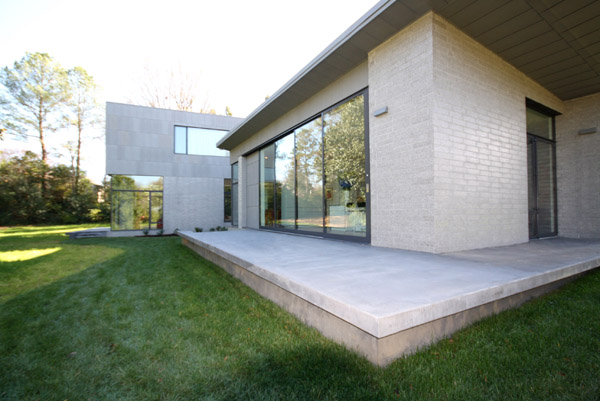 First stop, the new Bechtler Museum of Modern Art, designed by Mario Botta. Next, the adjacent new Mint Museum, with collections of contemporary art and photography. Next, the Smith House, designed by architect Lindsay Smith for her parents.
Next, the Levinson House, designed on the site of an earlier mid-century modern by architect Stan Russell. Wrapping up, IKEA - a massive 356,000 home furnishings experience!
40 people ventured to Charlotte for a day of art, architecture, and IKEA. Many thanks to Leilani Carter, Sharon Glazener, Ramani Mathew, Emily and Zach Smith, Lindsay Smith, Stan Russell, and Peter and Cynthia Levinson for making this another great TMH trip.

Sponsored by Becky Shankle of



"What a wonderful tour to Charlotte yesterday! Everything was so much fun yesterday the time flew by. The houses and museums were fantastic! The organization and timing of the activities was perfect! Thank you so much for sharing your love of modern homes, your skills as an event planner par excellence and your knowledge of places and people with us. I look forward to traveling with you again and again!" -- Ginger Zucchino
"you the man." -- joe wagner
"Thanks George for once again organizing a fantastic journey! It was magnificent, marvelous, and at times magical especially moving from room to room in the Levinson and Smith homes!" -- Carol Pomper
"Wow, what a wonderful and easy way to see Charlotte's art museums and two beautiful homes. IKEA was great shopping as well. Can't wait for Fallingwater trip!" -- Dr. Robert Harper
"We thoroughly enjoyed our day with you and TMH. It was especially nice to be with so many who also enjoy modern design, architecture, art, etc. -- not the usual holiday shopping trip! Thanks for your efforts in getting this together." -- Marilyn Pinschmidt
"It was an inspirational, educational, and socially satisfying experience. Very well planned and orchestrated. I want to stay connected and learn more . . ."
"Once again, TMH put together a perfectly organized, totally fun trip that took us into two incredible museums of modern art and two gorgeous modernist houses -- as well as IKEA. The day went by so fast. Can't wait for the next one!"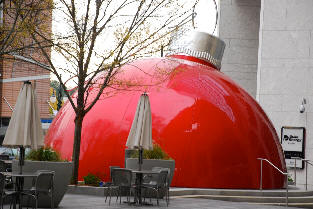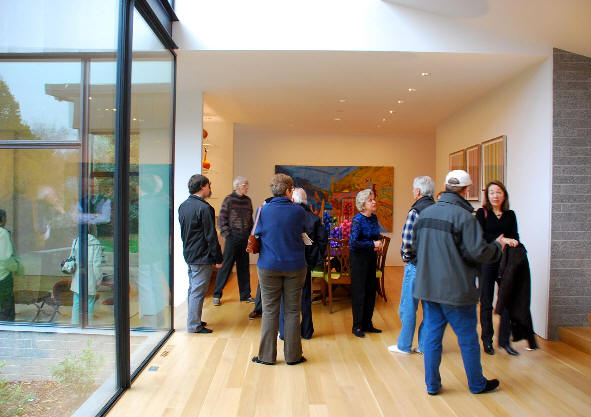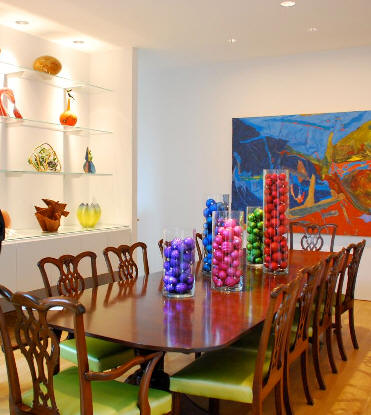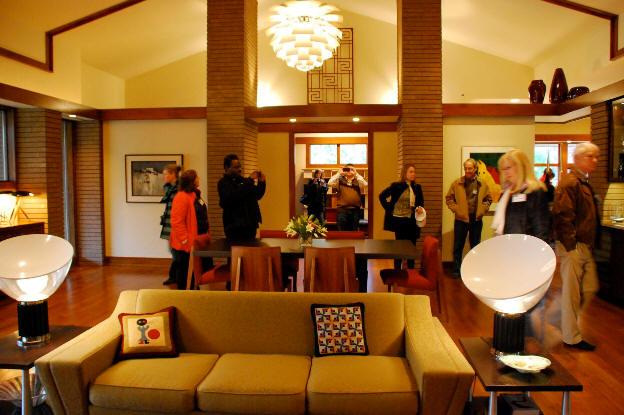 Photos by Leilani Carter.
---
November 2010
George Smart spoke on "Mayberry Modernism"



About 20 people attended at Natty Greene's in Greensboro.
---
October 2010
George Smart spoke on "Mayberry Modernism"

"George Smart's Mayberry Modernism presentation is entertaining, informative, and inspiring. When the hour is overyou are left wanting to know more. This is okay since the website has so much great information to explore, and you feel as though you now have a proper map for your journey." -- Mark Allison, AIA
"Really enjoyed your talk in Asheville today at the AIA meeting. Found your organization last month when visiting Durham. Was thrilled to see the archiving and preservation of modernist architecture. Most worthwhile project."
"I enjoyed your presentation yesterday at the Asheville AIA luncheon. Thank you."
About 70 people attended.
---
October 2010
George Smart spoke on "Mayberry Modernism"
at the Gregg Museum at NCSU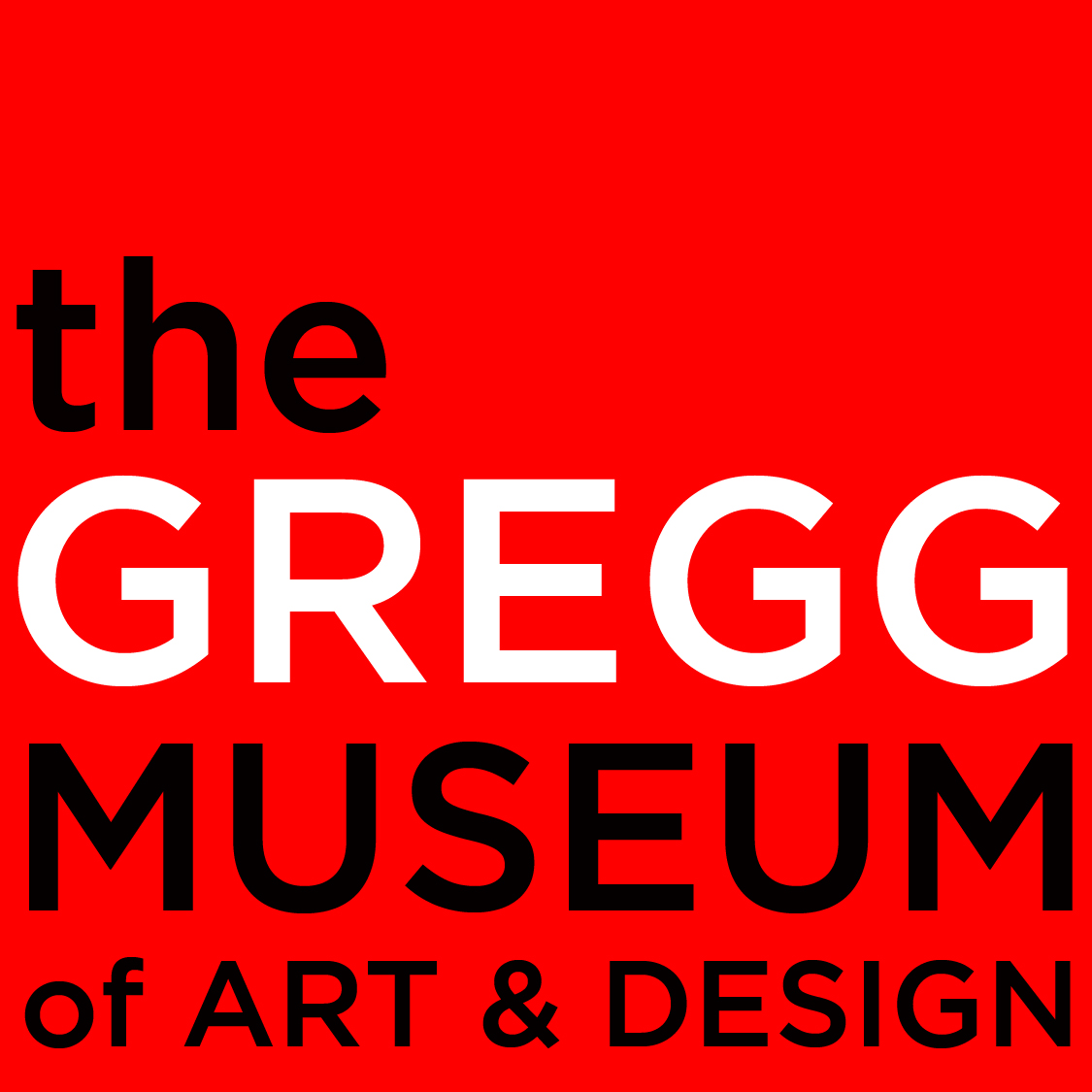 "Thanks again for an interesting talk! Great turnout and people really enjoyed it."
50+ people attended - standing room only.
---
October 2010
George Smart spoke on "Mayberry Modernism"
Mint Museum, Charlotte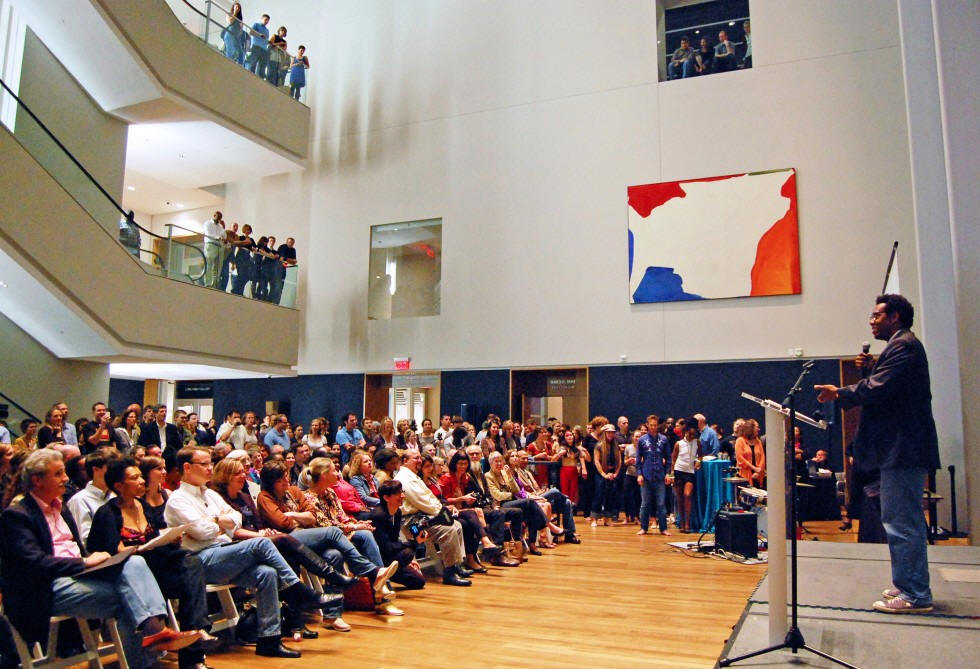 ---
September 2010
The TMH Modern 2010 Home Tour
Eight Raleigh Modernist houses and one iconic Modernist office.
Over 600 people attended, an all-time record for Triangle architecture tours!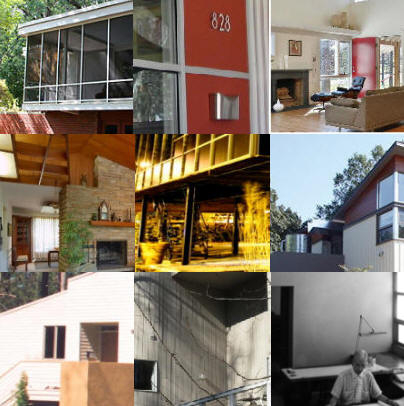 The Karmous-Edwards House, Raleigh. Designed by Frank Harmon.
The Decomarmond House Renovation, Raleigh. Designed by Laurent Decomarmond.
The Milton Small Office, Raleigh. Designed by Milton Small. Photo by John Morris.
The Milton Small House, Raleigh. Designed by Milton Small.
The Harwell Hamilton Harris Home/Office, Raleigh. Designed by Harwell Hamilton Harris.
The Kuehn Residence, designed by Brian Shawcroft.
The Taylor House, designed and built by Will Alphin.
The Parker House, designed by Carter Williams and Turner Williams. Renovations by Perry Cox.
The Collier House, designed by Ron Collier.
"I just wanted to let you know that my sister, her husband, and I really enjoyed the tour last week. I met a few interesting people along the way and reconnected with some old friends."
"GREAT tour last weekend. I loved it...I'd never have guessed from the many times I drove by how incredibly cool it is inside. GREAT, GREAT, GREAT job."
"Thanks again for the tour and for all that you do to promote modernism and preserve our rich heritage of contributions to the modernist movement. I think Dean Kamphoefner would be proud."
"I appreciate all that you are doing to create a community around modern architecture. As you well know, that will be the key to preserving the modern work we have and creating the demand for more."
"I travelled over from Salisbury for the afternoon to see the best of Raleigh's modernist homes and was not disappointed."
"I can tell you that I personally really enjoyed the tour - thank you for organizing it and all your efforts in bringing the modernist community together to experience amazing architecture and share in these fantastic events!"
---
September 2010
Preservation North Carolina Conference, Durham

George Smart spoke on "Mayberry Modernism" and on a discussion panel about Nonprofit Internet Strategies.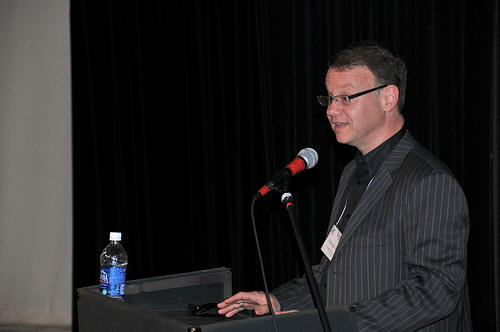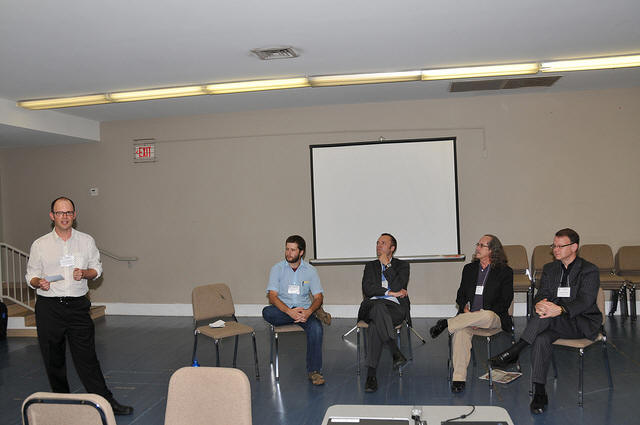 Left to Right: Glenn Perkins/PNC, John Morris/Goodnight Raleigh, Gary Kueber/Endangered Durham, Paul Jones/IBiblio, and George Smart/TMH
---
September 2010
ModStock 2010 Party at Nowell's Contemporary Furniture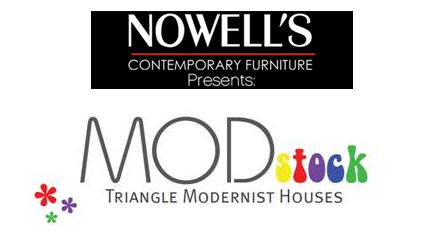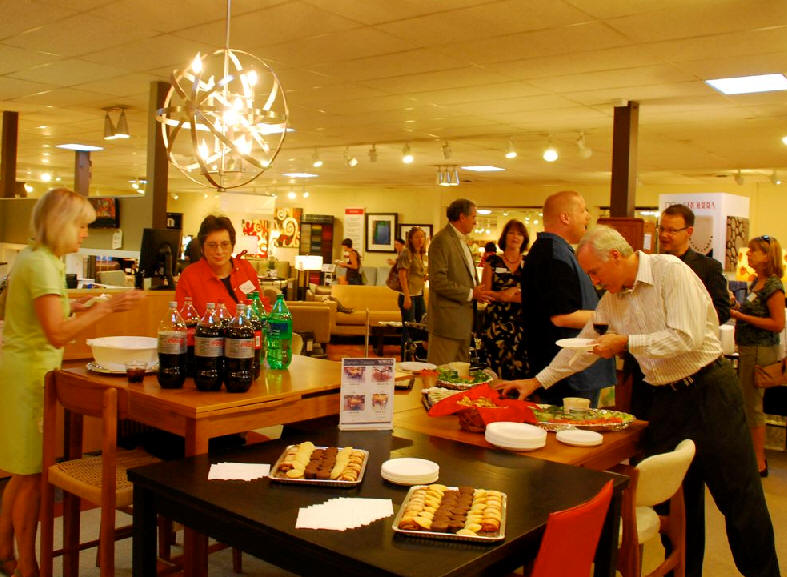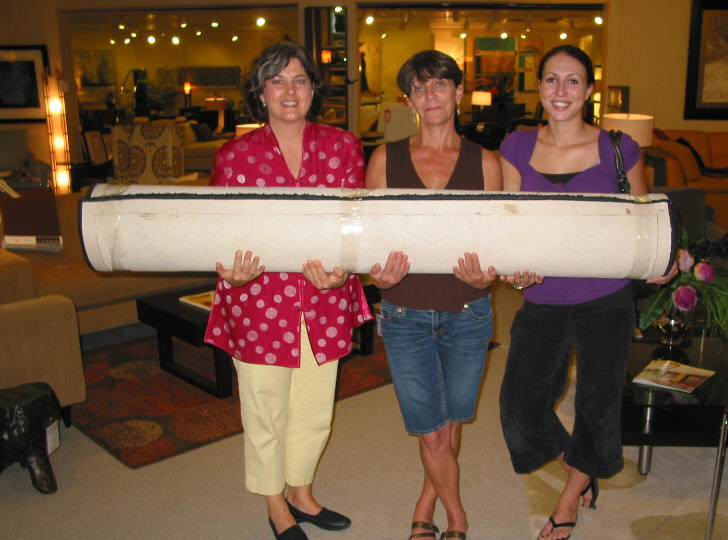 A pre-tour party featuring beer and wine, sodas, snacks, and thousands of square feet of great modern furniture. Like last year, we gave away great Nowell's and TMH gift certificates. Ann Kaiyala, middle of photo, won one and bought a cool carpet!
---
September 2010
FLW1 - Fallingwater / Kentuck Knob / Venturi House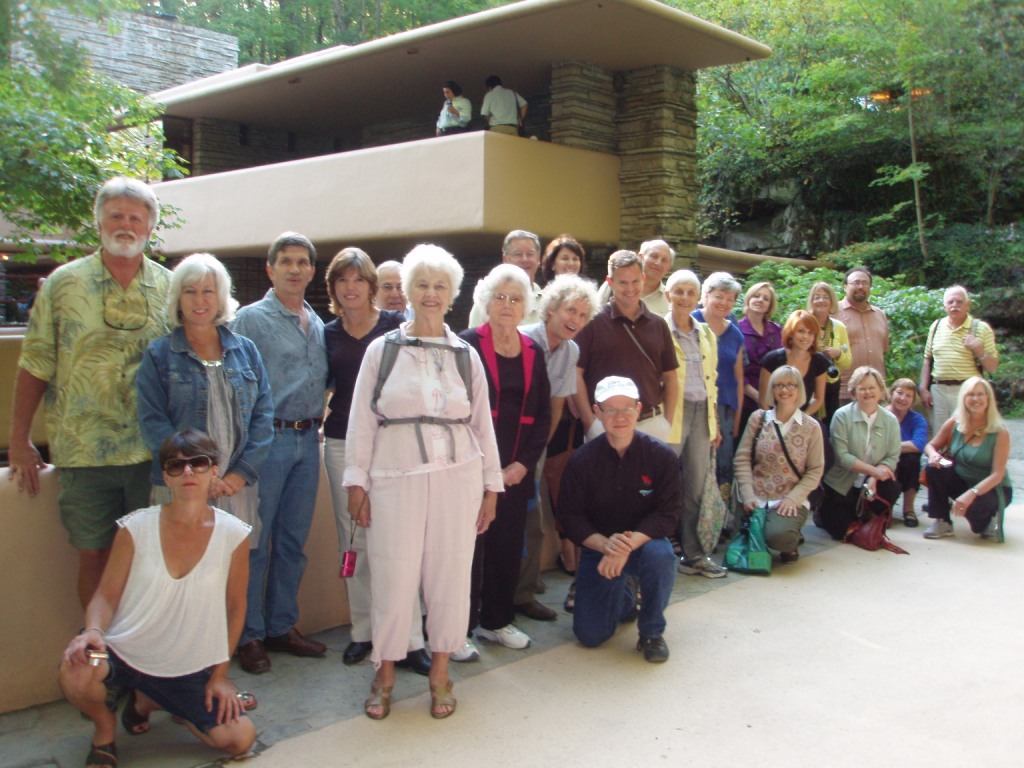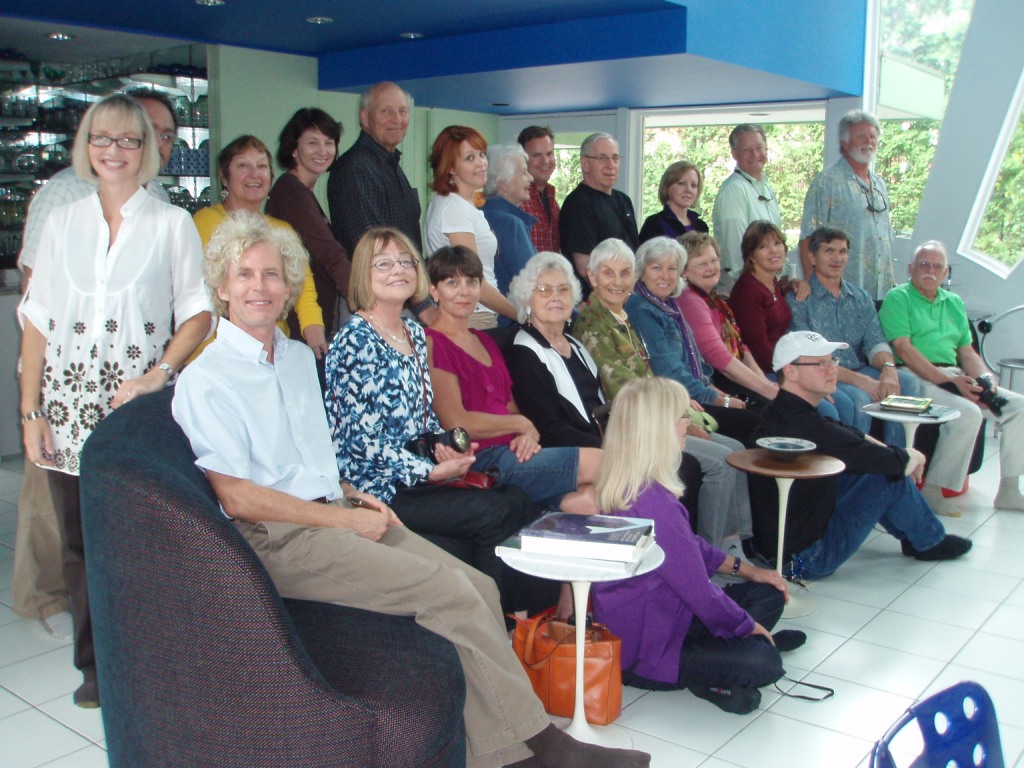 27 architectural adventurers flew to Pennsylvania and visited Frank Lloyd Wright's epic Fallingwater (top photo) and nearby Kentuck Knob. Then we toured a Robert Venturi house (bottom photo).
"The trip was splendid. I'm still reeling from it....to see those houses was an emotional, and for me, religious experience. I was interested to learn about the families that built them. Everything was well planned and went so smoothly. You did a terrific job and all I can say is I'm sorry it ended!"
"Thank you for another outstanding TMH trip. Two-thumbs up for Fallingwater and Kentuck Knob. TMH scores another "5 out of 5" stars on this trip. I've truly enjoyed every TMH trip that I've been fortunate enough to take and Ihope there will be many other TMH trips in my future!"
"It was a Modernist adventure of the highest order. George did an outstanding job of organizing a pleasant and educational tour of Frank Lloyd Wright and Venturi 'works of art' near the Pittsburgh area. What a great community of modernist enthusiasts to share this weekend adventure with as well. George, you set the bar awfully high this time."
"Fallingwater was amazing... the photos don't do it justice, you really have to see it for yourself!"
"Thank you so much for the wonderful trip to Pittsburgh, Fallingwater and all the marvelous homes you took us to. Everything was perfect and I had an amazing time exploring the homes, learning about the architecture and architects and meeting great people. The world seemed full of possibilities! You did an outstanding job putting this event together and I am looking forward to our next journey...maybe to Chicago? Palm Springs?"
"Fallingwater, what can I say, became the sum of its parts for me on our recent tour....all those photos that I have viewed and admired for so long, interacted and flowed together into a glorious visual whole, that would never have happened, for me without the TMH opportunity. There is no substitute plus you can't hear the water!"
"There's no photograph or video or even a 3D model that does Fallingwater justice. You just have to be there. It is one of the most incredible places I have ever been. And the special reception they gave for us at sunset was a delightful ending to one of the world's most storied houses."
"Experiencing Fallingwater was a lifetime experience. George Smart organized a flawless tour...easy, comfortable and filled with visual experiences."
"Thanks to you and your lovely wife for this beautiful trip so well organized. I'm so glad I was part of it I learned so much during that weekend. All the people in the group were very friendly, we were very quiet the first day but got to know each other a little bit better on the second day."
---
September 2010
George Smart spoke on "Mayberry Modernism"
IdeaSPARK's Pecha Kucha Night in Raleigh

About 100 people attended.
---
September 2010
George Smart spoke on "Mayberry Modernism" to Raleigh's Urban Design Center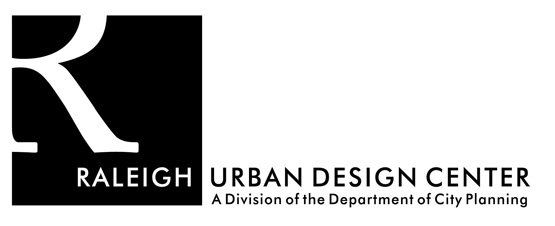 About 50 people attended.
---
September 2010
George Smart spoke on "Mayberry Modernism" to the
Chapel Hill Rotary Club, Chapel Hill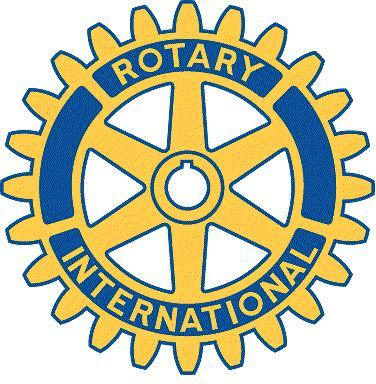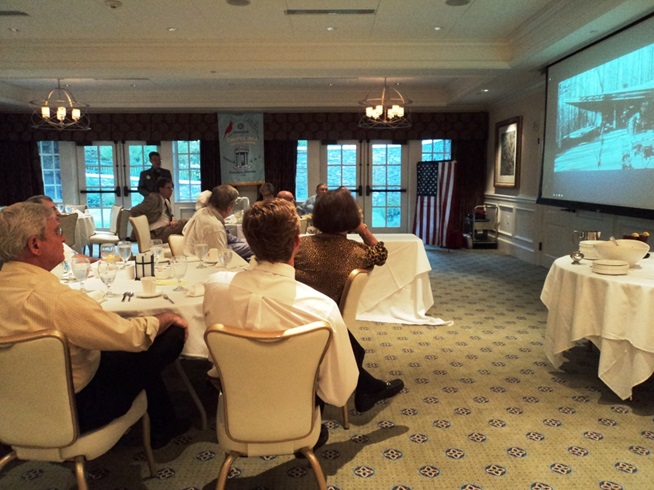 ---
September 2010
George Smart spoke on "Mayberry Modernism" to
BJAC, Raleigh

George Smart spoke to BJAC staff and clients in Raleigh plus a satellite hookup to their Charlotte office. BJAC offers professional design services for specialized, complex institutional projects. The firm provides design expertise to healthcare, K-20 education, research, museum and municipal clients, along with a broad range of in-depth services, including architectural design, pre-design, programming, design, master planning, interior design, construction management, contract administration and design build. Established in 1994 by CEO and Managing Principal Lou Jurkowski FAIA, BJAC is one of the largest woman-owned architectural design firms in the Southeast.
---

September 2010
TMH Third Birthday Party, Aloft Chapel Hill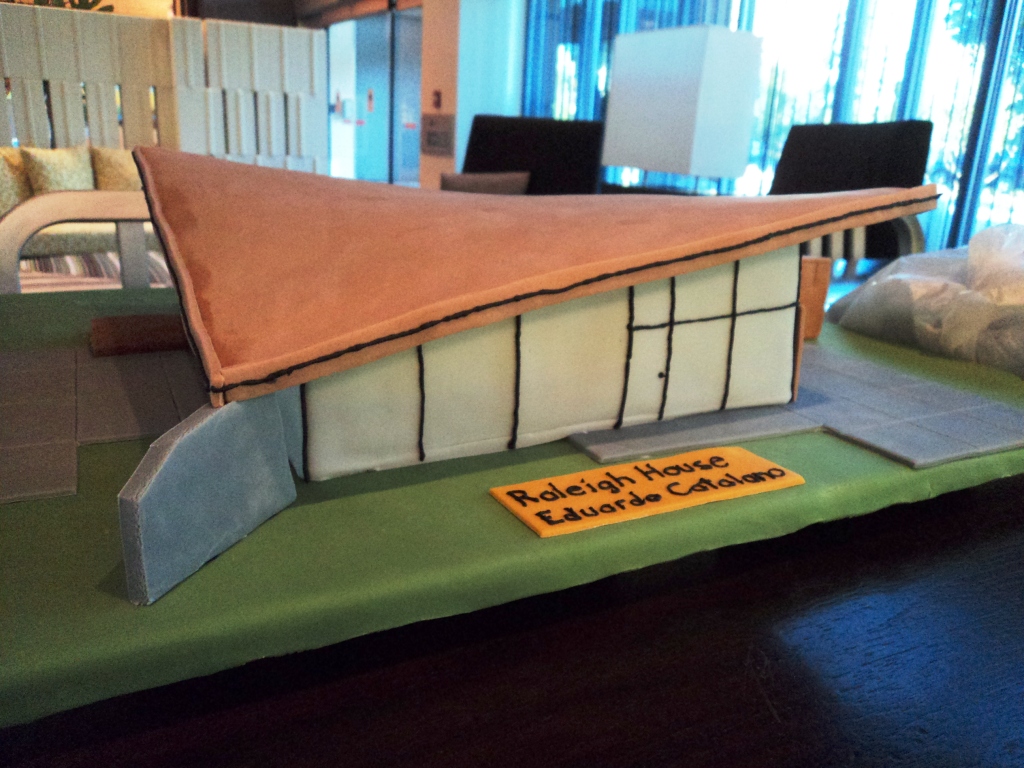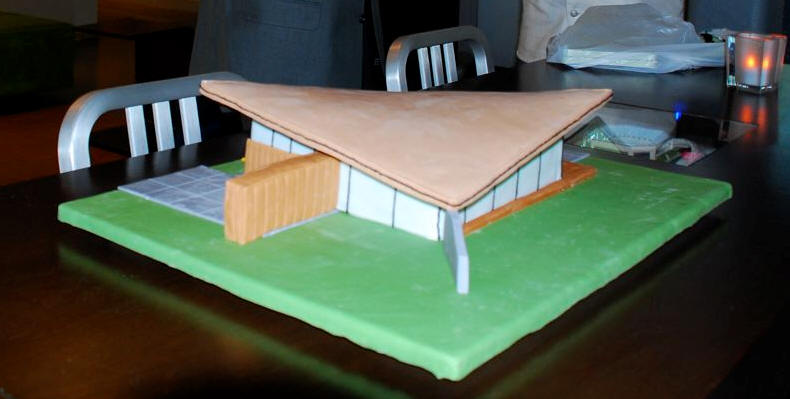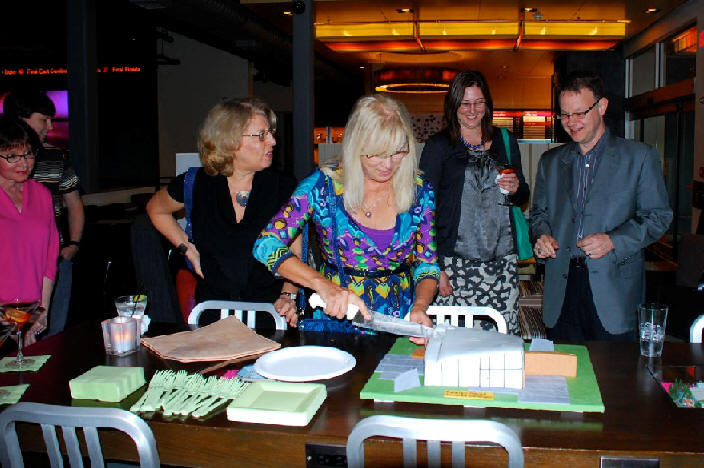 TMH Turns Three - A cocktail birthday party for TMH's website at the new Aloft Hotel in Chapel Hill. an exciting venue right in the heart of a new office/residential/shopping complex along Highway 54, across from Glen Lennox. Piece of Cake Cakes, custom cake builders, provided a cake in the shape of the Catalano House! Aloft made a special "Red Chair" martini in honor of our logo plus gave tours of the public areas and some of the rooms upstairs.
---
July 2010
Tour of Fairmount, aka the Joe Rowand House, Hillsborough NC
Built in 2003, Fairmount is one of the Triangle's most remarkable residences, commissioned by Somerhill Gallery owner Joe Rowand and designed by architect Phil Szostak. His home is a reflection of his gallery with volumes of exceptional paintings, sculpture, fine art glass, and other works by nationally recognized artists and craftspeople. Built by Chuck Lewis Construction. Landscape design by Dick Bell. 5000 sf on 22.5 acres. All photos except aerial by Jim Sink. Over 320 attended!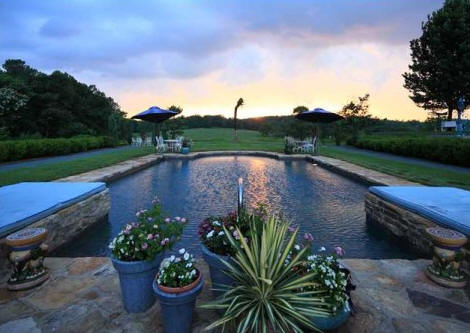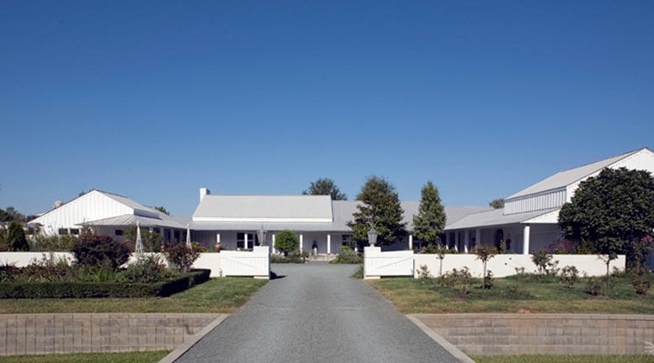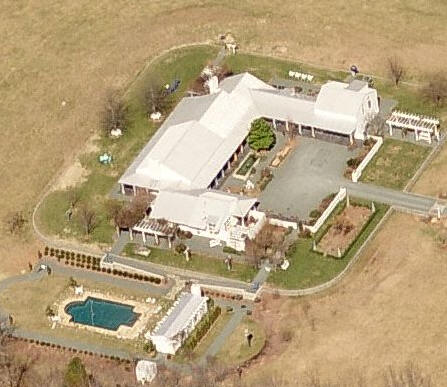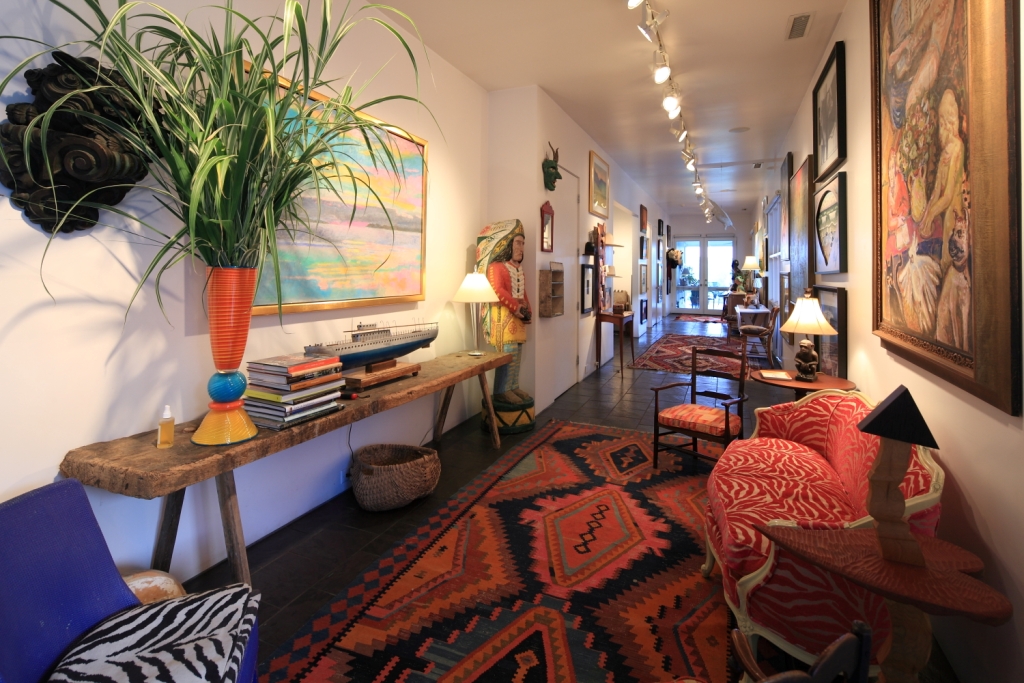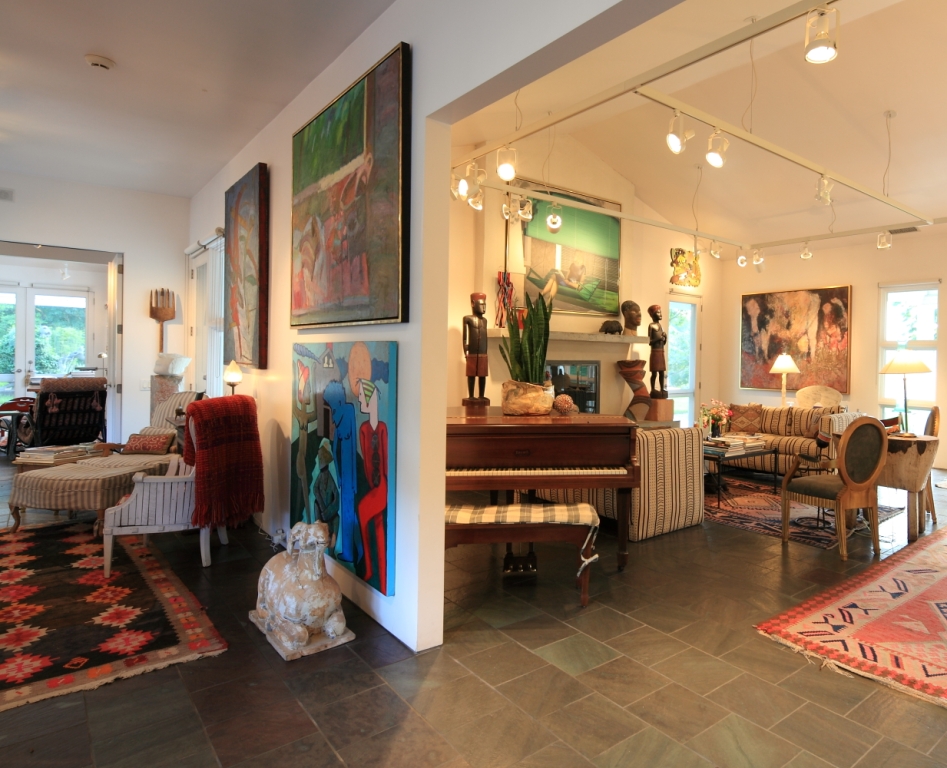 ---
June 2010 - The Thompson House Tour, Raleigh NC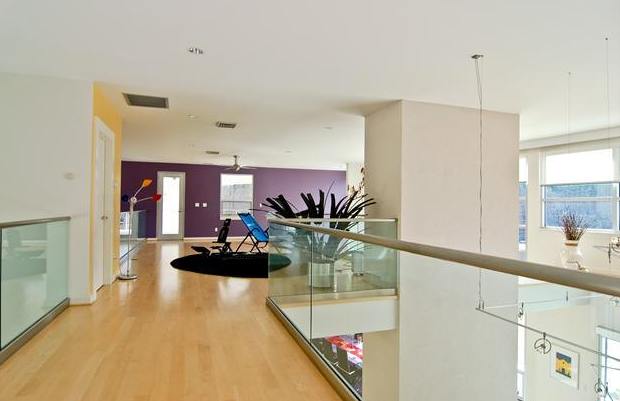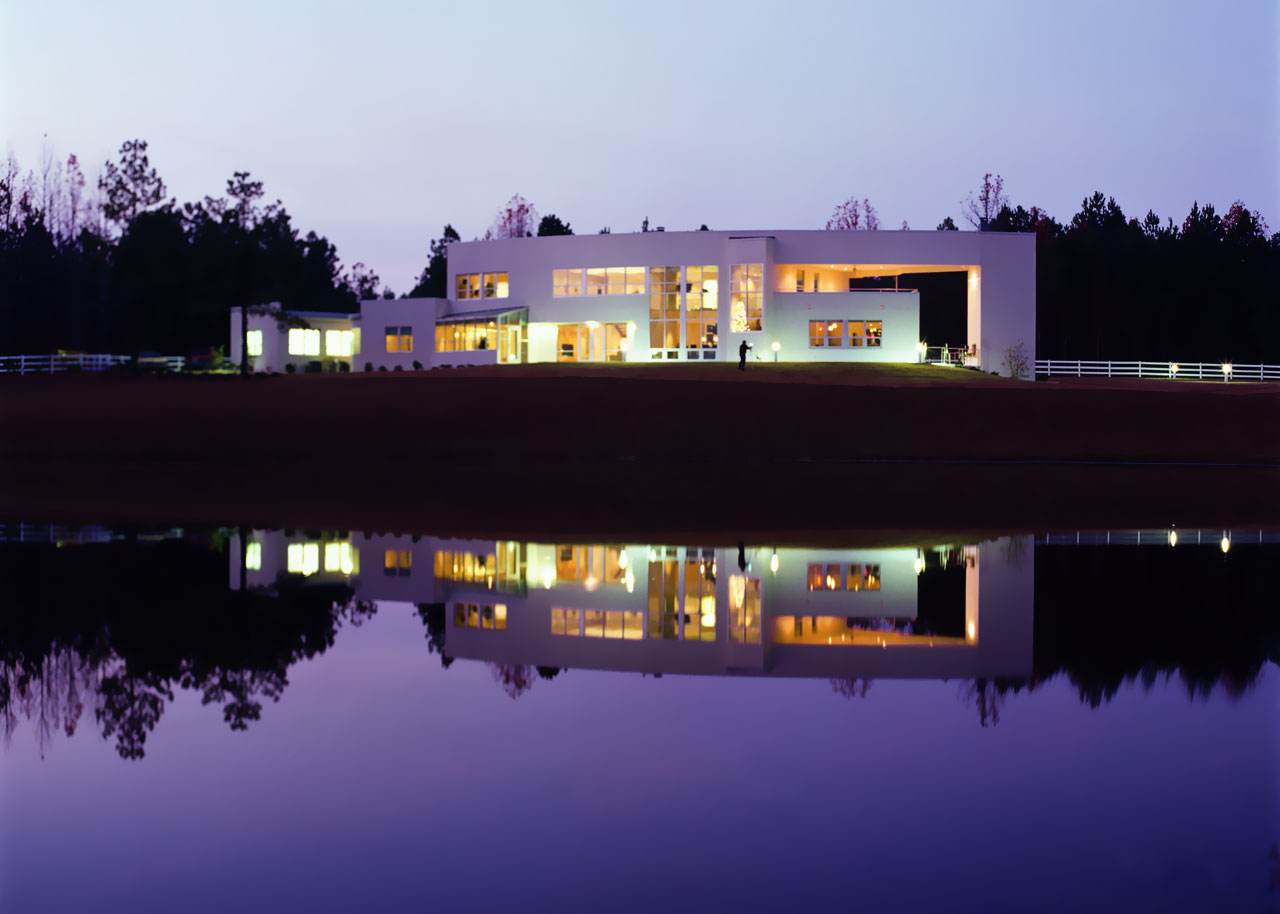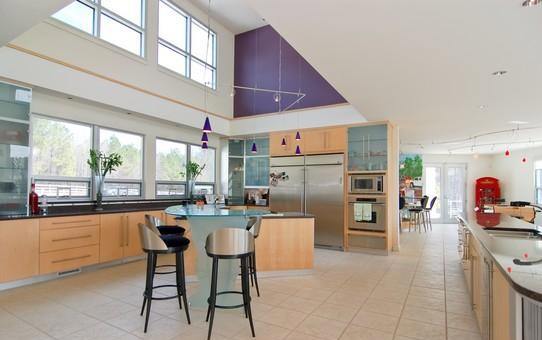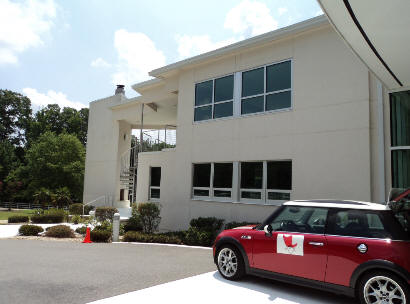 One of the most amazing Modernist homes in Raleigh, the 2001 Bobby and Diane Thompson House was designed by Davenport Architects starting in 1999. The 6000-square-foot, two-story home engineered of heavy steel and wood construction was built by Tom Brown of the Splinter Group. Includes a go-kart track modeled on Bristol International Speedway and a 3400 sf garage/apartment. Interior design by Lynda Lankford. Lighting by Stan Pomeranz. Over 250 attended.
---
June 2010
The TMH/AcklandModern Art+Architecture Tour, Washington DC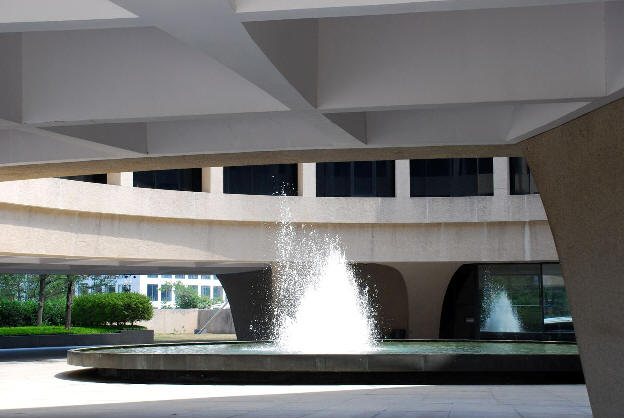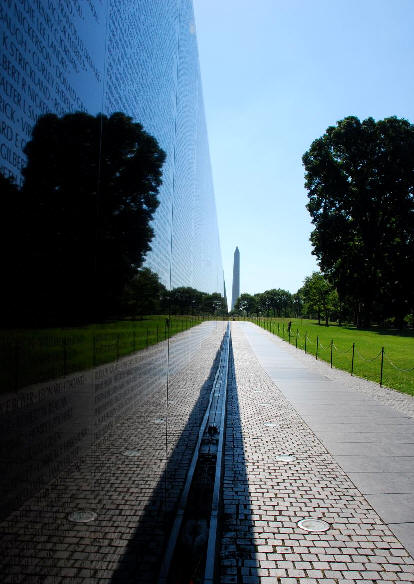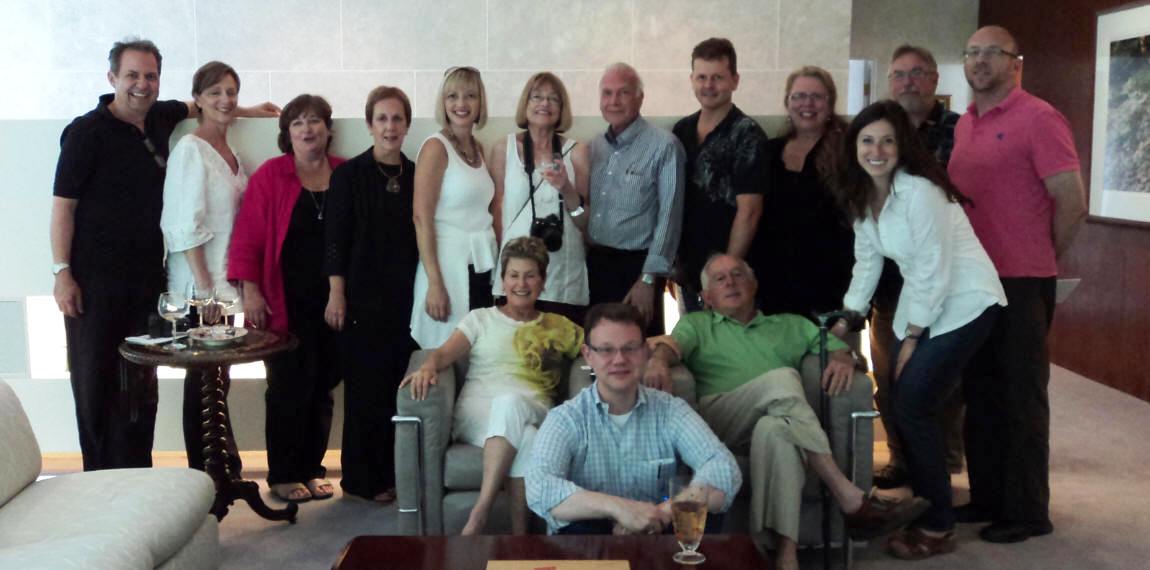 The whirlwind day began flying into BWI. We hit DC with a tour of the Vietnam Veterans Wall. Next was a private tour of an extensive modern art collection. Next, a visit to the Hirshhorn, the Smithsonian's collection of modern art, designed by Gordon Bunshaft. The day concluded with a visit to the Brown House, Richard Neutra's only Washington DC house, still owned by the Browns, our gracious hosts (bottom photo). After a wonderful dinner in Adams Morgan, we flew home happy and tired. Top three photos by Leilani Carter.
"This is my kind of day…rise early, go where I've never been, and be bathed in beauty! I was moved to tears by the symphony of art, architecture, and nature. Thank you!"
"Phenomenal trip, great people – I can't tell you how glad I am I went."
---
May 2010
George Smart spoke on "Mayberry Modernism" to Historic Salisbury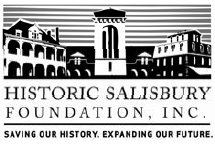 Thanks to the staff of Historic Salisbury for their excellent facility; to sponsor Gray Stout who provided a pre-talk party; and to Marc Hoffman for hosting a great reception at his cool modernist house in Salisbury.
---
May 2010 - ModShop in Charlotte, including IKEA, Design Within Reach, and the Bernstein House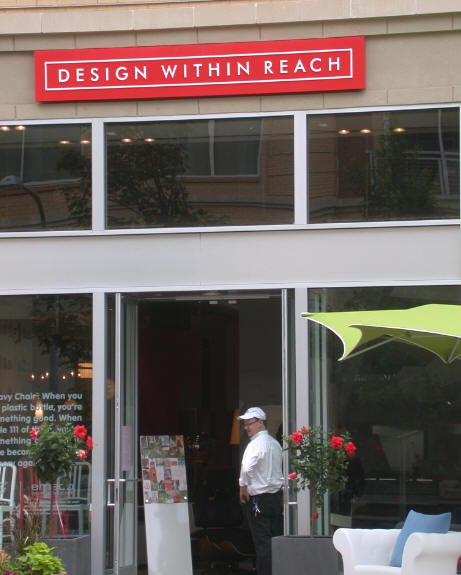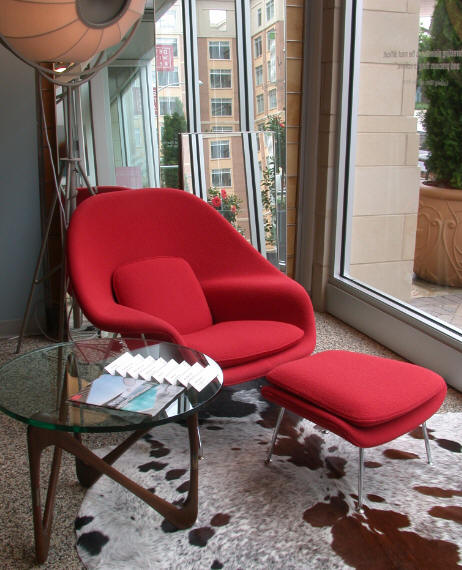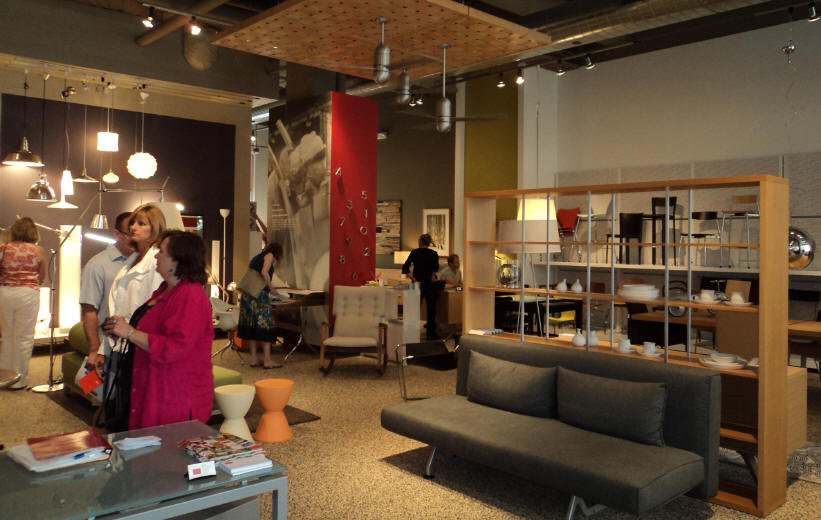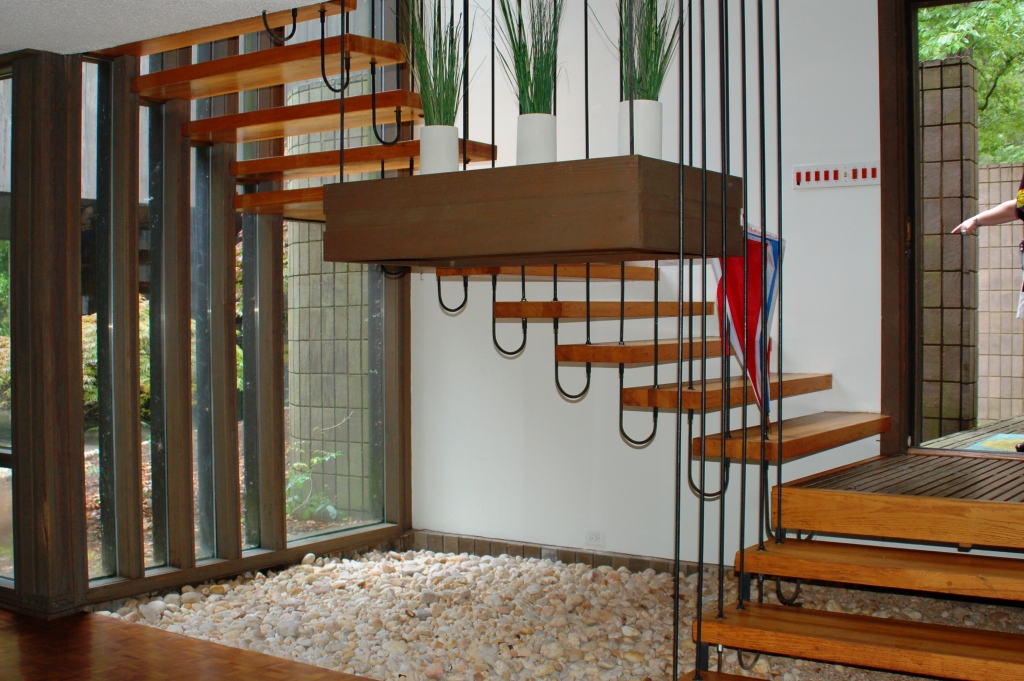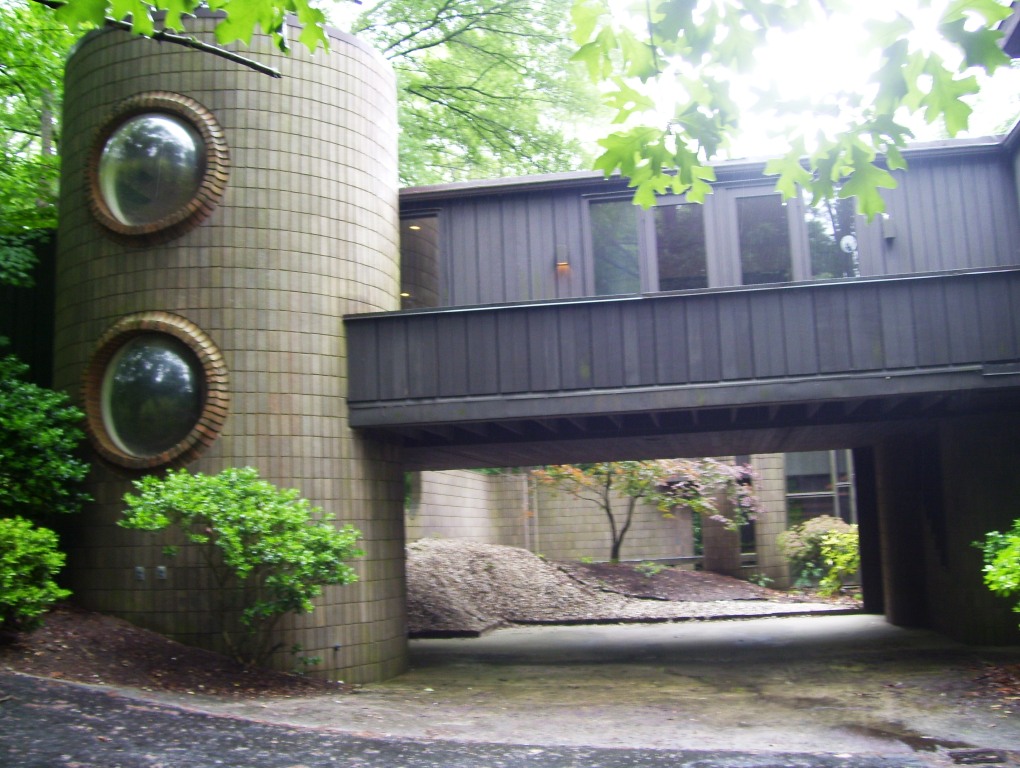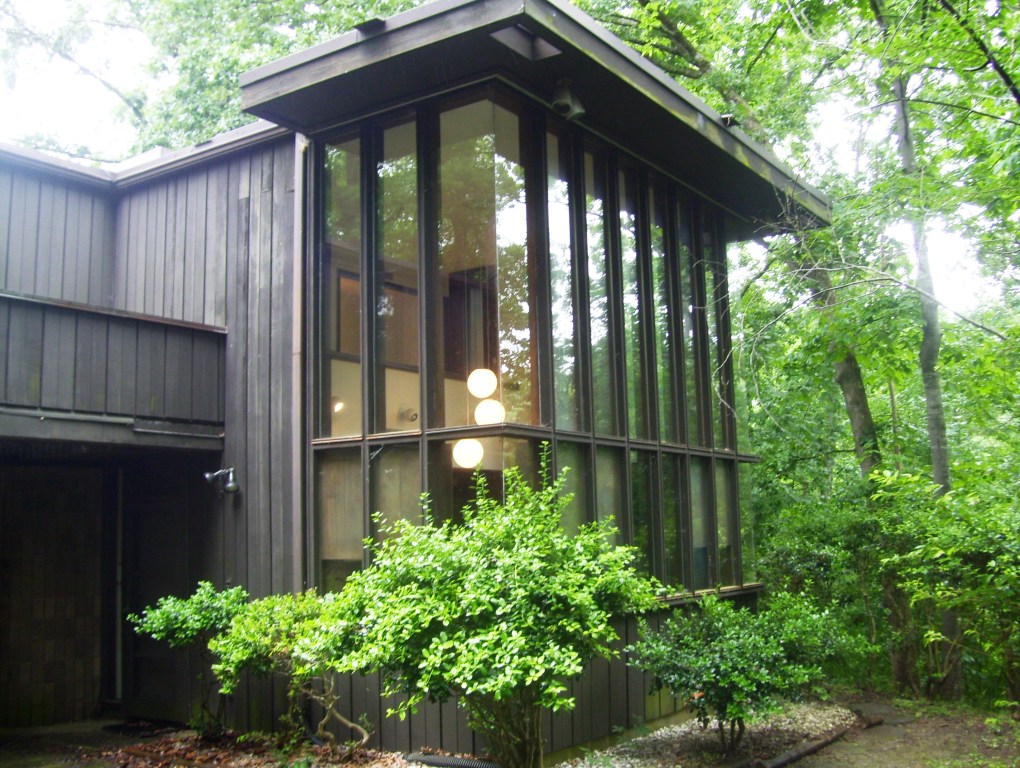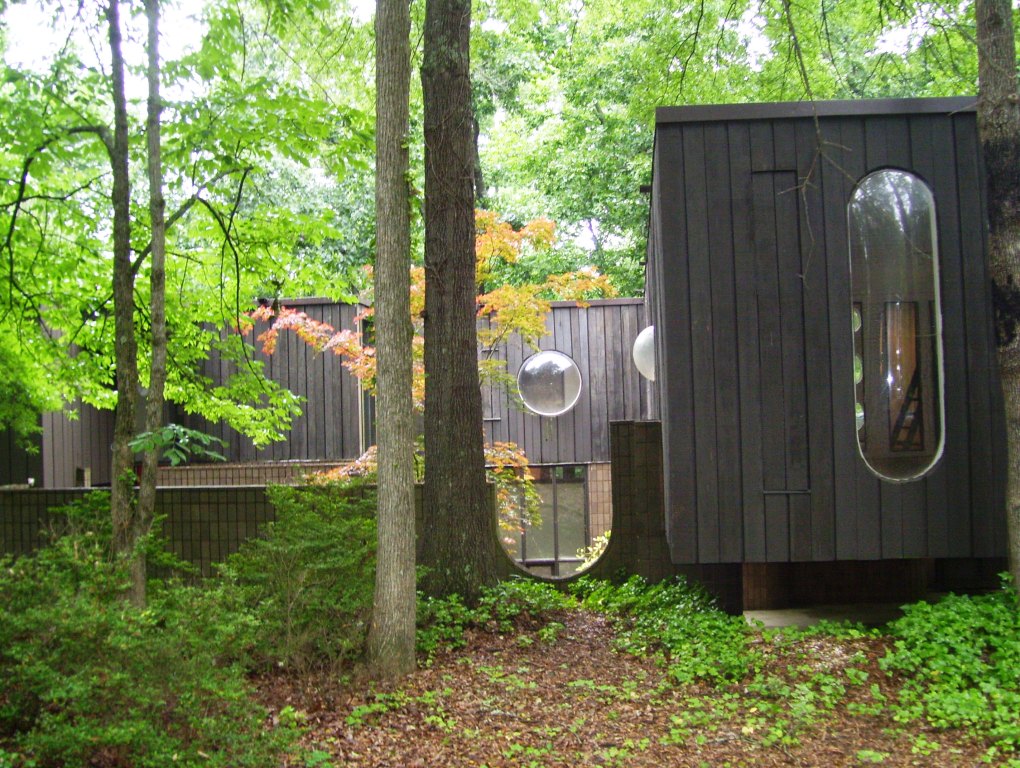 A trip to Charlotte featuring Design Within Reach, the 1970 Mark Bernstein House, and IKEA -- all on our very cool internet-equipped bus. Special guest: Bernstein house project architect Crutcher Ross. Additional feature: when our bus got stuck, the whole team pitched in, stuck paverstones under the tires, shifted all the weight forward, and rescued ourselves, all in less than 30 minutes.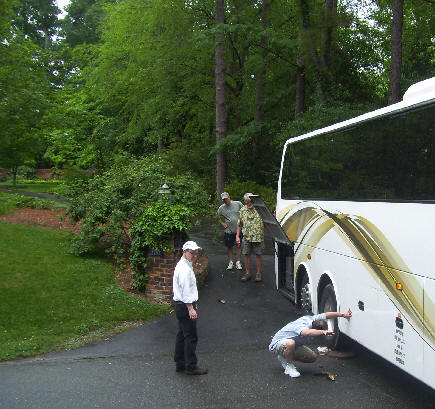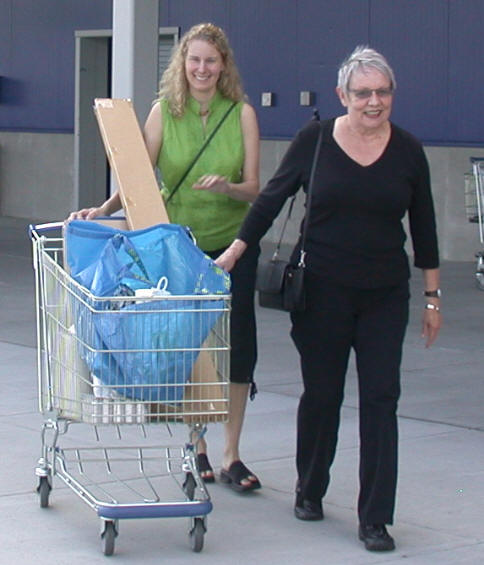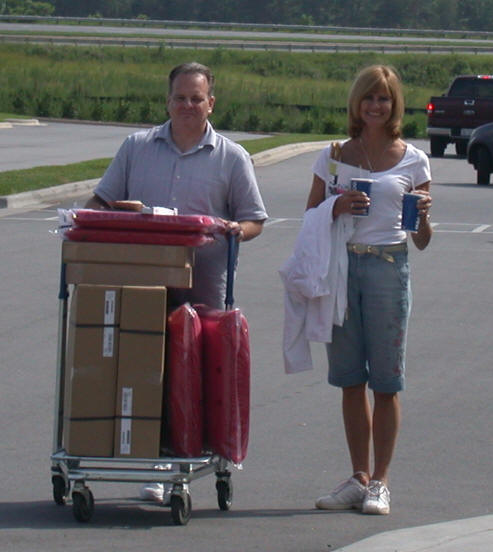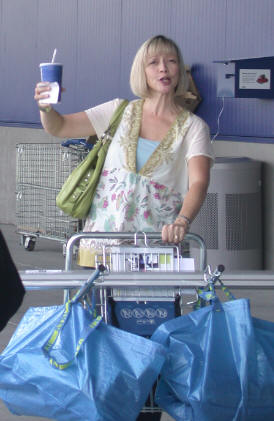 "George, I had a great time and will look forward to any other future shopping trips. I really can't even think of any ideas for improvement except for my time at Ikea! I enjoyed meeting several new people from our crew this time."
"We really enjoyed our first trip with your group yesterday. The event was well organized and the people were both outgoing and friendly. We look forward to joining you on future trips!"
"I had a marvelous time and really enjoyed meeting everyone. I am really looking forward to lots more fantastic events and getting to know everyone involved with the group. It's clear and your lovely wife do a wonderful job for the organization. Having loved modernist furniture for quite some time, my hope is to become more heavily involved with the group as I continue to learn more about modernist architecture. So fantastic!"
"Thanks for a wonderful trip and all your great organization to make it go smoothly despite traffic and bus issues. I look forward to additional trips in the future!"
"I had a wonderful time! I'm having fun learning about the Modernist movement."
"Wow, that Charlotte Trip was such great fun! Thanks soooo much! We love what you & TMH
are doing for the Triangle - both socially & educationally! Thanks again & again!"
Photos by Lisa Poole, Chris Senior, Sharon Glazener, Carol Pomper, and George Smart. Special thanks to: Crutcher Ross; Gail Jodon of ModernCharlotte for access to the Bernstein House; Jeff Hull of Design Within Reach; Leilani Carter for providing breakfast; Clayton Glatt for engineering the bus rescue plan; and AIA-Charlotte.
---
May 2010
A4A / Appetite for Architecture #6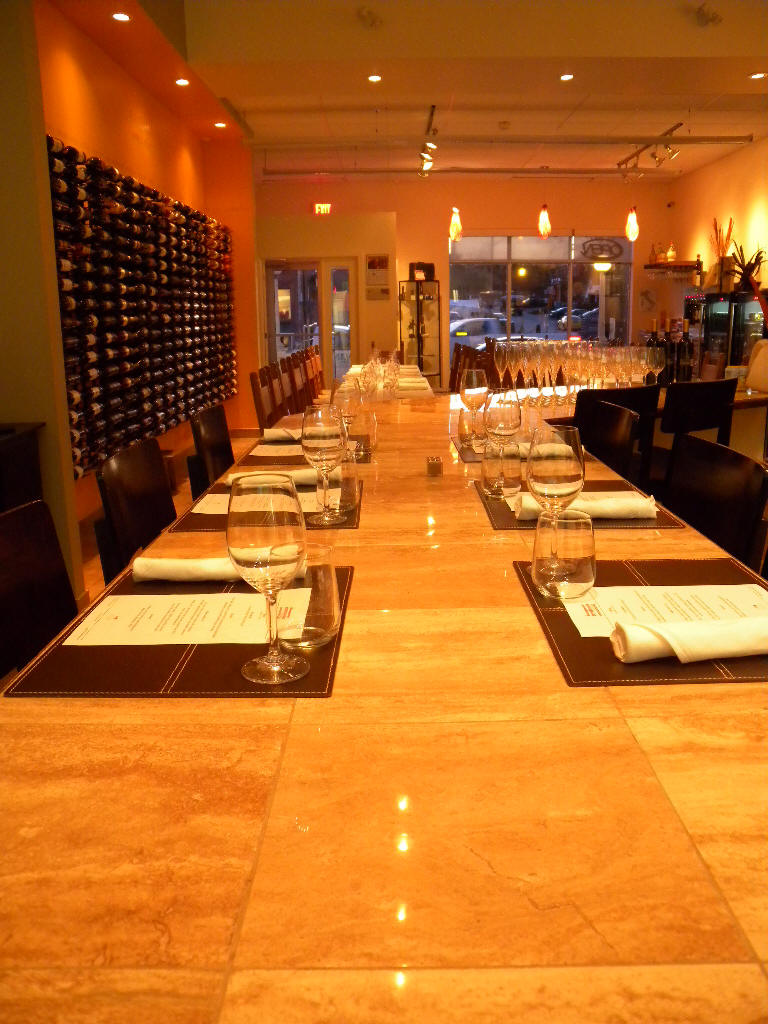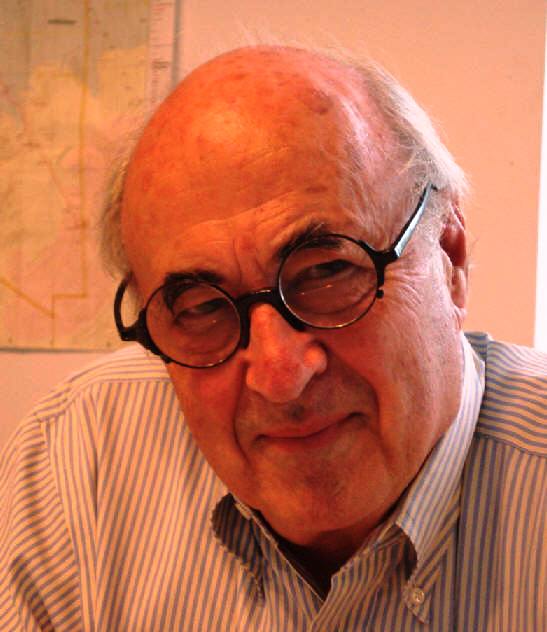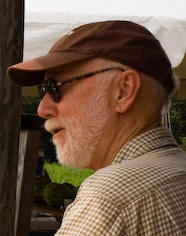 Featuring Chapel Hill architects Arthur Cogswell FAIA and Dail Dixon FAIA at Panzanella in Carrboro.
"George, Everyone had a BALL! They were AWESOME!! Thanks sooooo much."
"We enjoyed it a great deal. A great group."
"I had a great time with a fine group. Conversation was fascinating -- we closed down the restaurant. Clearly you have fostered huge interest in modern architecture and that's who came, modern homeowners (Matsumoto and Jim Webb houses), builders and a designer. Food was great too. What fun."
"Good food and good stories, especially from Arthur who remembers everything from the old days. Arthur explained why his Chapel Hill modernist houses tended to be small, with small baths and kitchens—his clients were mostly young strapped professors who couldn't afford more."
---
May 2010
George Smart spoke on "Mayberry Modernism" to AIA Wilmington at the Cameron Art Museum, Wilmington NC

Many thanks to Deborah Velders and Daphne Holmes of the Cameron Art Museum, and Laura Wood of AIA-Wilmington. About 100 people attended.
---
May 2010
A4A / Appetite for Architecture #5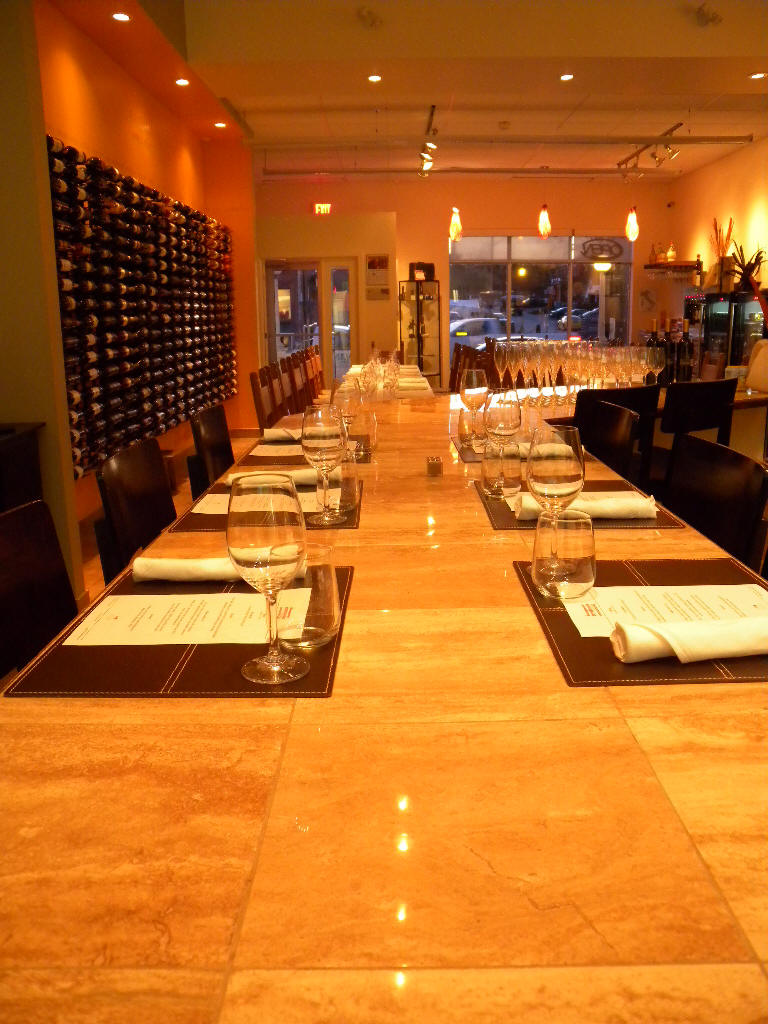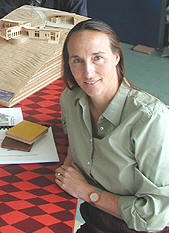 Featuring architect Ellen Cassilly AIA, her husband Frank Konhaus, homebuilder Leon Meyers and artist-in-residence Marie Navarre at Cassilhaus, Ellen and Frank's extraordinary home/studio/gallery in Orange County.

"We thought this was a tremendous experience. Ellen and Frank were delightful hosts; we assumed there would be catered food and were astounded to find that Ellen had prepared this wonderful meal. Seeing their home and learning about their vision, the building process, and experiencing their art collection was very stimulating. The other attendees were interesting people with whom we had good visits. This was a special occasion we will remember for a long time.
If there are more events like this planned for the future, sign us up!"
"It was truly a special night. The house, the art, the artists, the dinner and the participants couldn't have been more engaging. We do hope you will plan similar events in the future — but honestly, it will be hard to top this one!"
"Ellen's slide talk after dinner was a highlight."
"I had a great time and thoroughly enjoyed seeing the house. We took a tour and I got to see just how trapezoidal the entire building is."
---
April 2010
A4A / Appetite for Architecture #4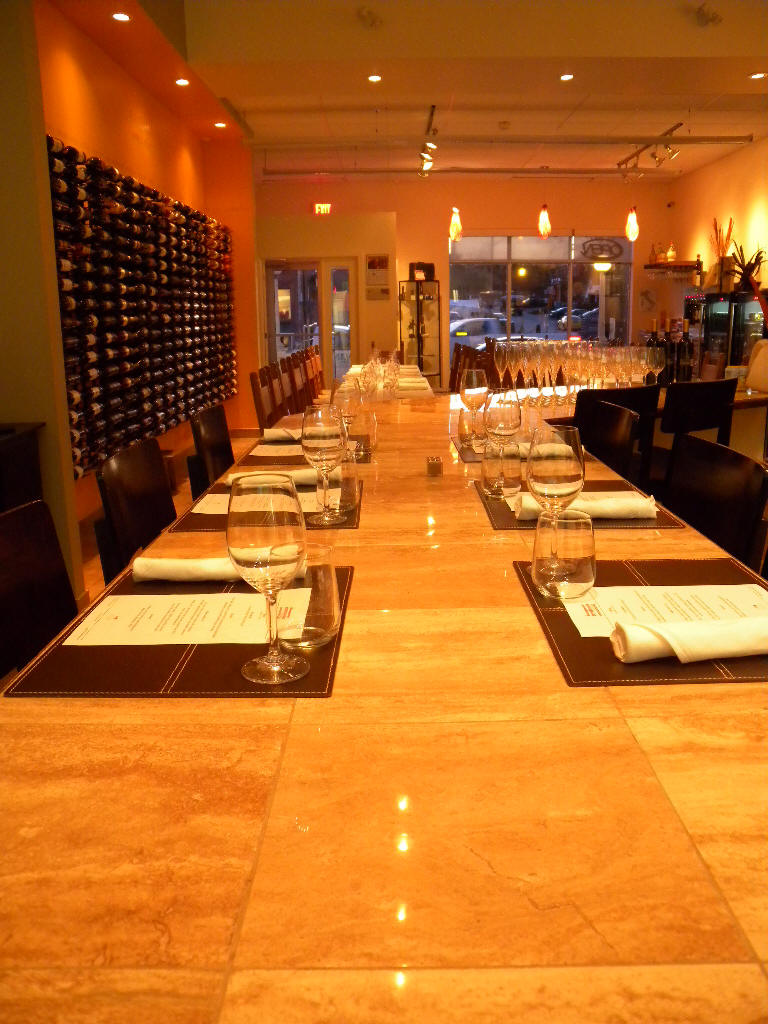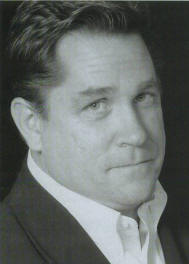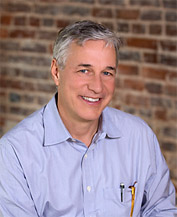 Chapel HIll's Phil Szostak FAIA, architect for the Durham Performing Arts Center, and Raleigh's Louis Cherry FAIA, whose firm Cherry Huffman was named 2009 Firm of the Year by AIANC at 18 Seaboard in downtown Raleigh.
"It was a lovely dinner and visit with different modernist lovers but ... it was incredibly difficult to have a discussion with everyone at a rectangular table with that many people involved so either smaller groups might be better or a round table might work. Otherwise, perfectly wonderful evening and thank you for putting it together."
"Do you know that this A4A is as far reaching as VA Tech? There was a young man there who drove ALL THE WAY DOWN from Blacksburg in his last week of grad school in Architecture just for the dinner. AND this wasn't even his first one to attend. Thank you so much for all that you do!"
---
April 2010
The Nowell's Architecture Movie Series
Visual Acoustics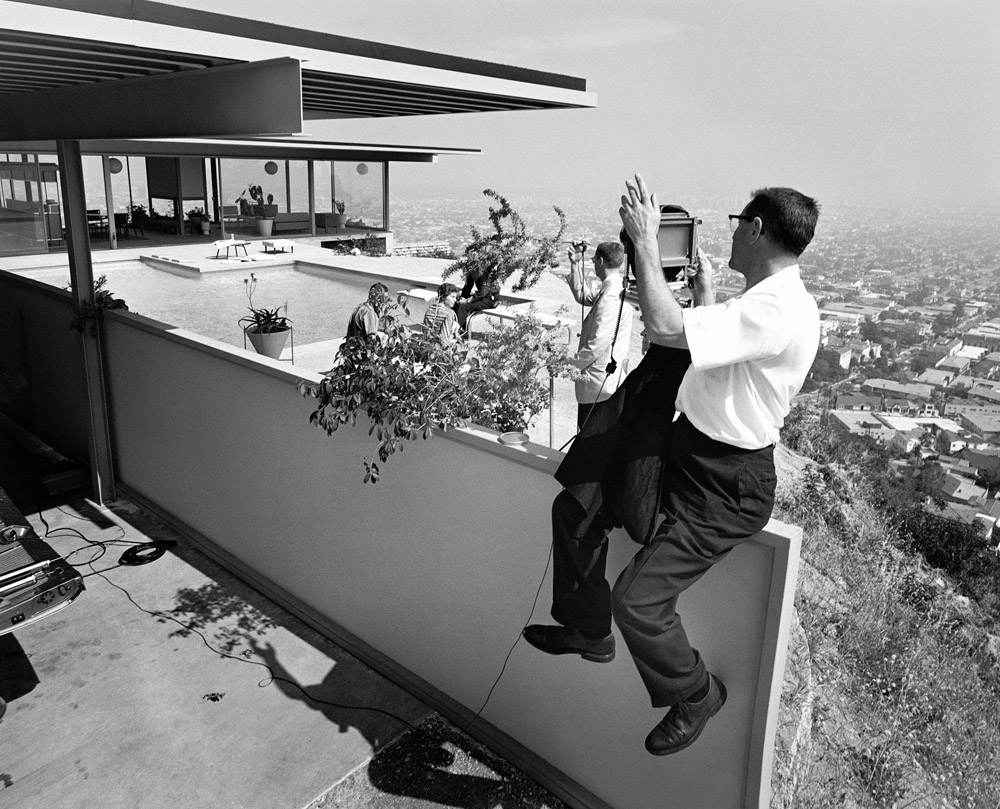 , a documentary on Julius Shulman, the most important architectural photographer of the 20th century. Narrated by Dustin Hoffman and directed by Eric Bricker, it explores how Shulman's images helped to shape the careers of influential architects including Frank Lloyd Wright,
Richard Neutra
and
John Lautner
. See the trailer
here
. About 100 people attended.
---
April 2010
George Smart Speaks on "Mayberry Modernism" to AIA Winston-Salem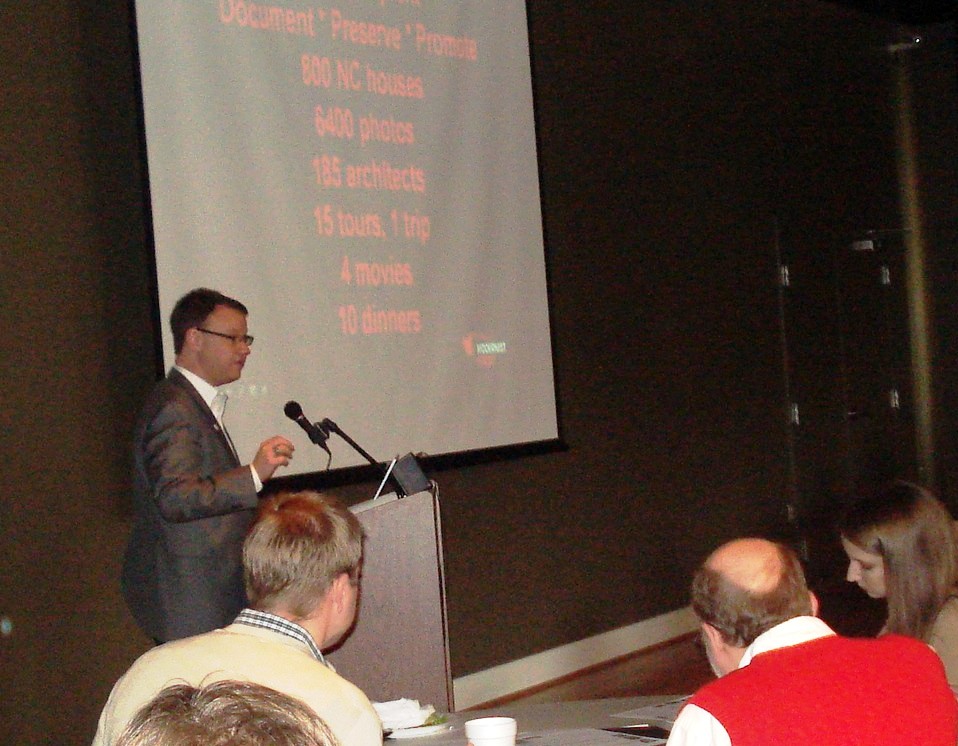 "Thank you so much for your exciting presentation to the Winston-Salem Section of the AIA. I got a lot of great comments from several people afterwards and it was one of the most well attended luncheons ever." -- Chad Everhart, AIA, NCARB
---
April 2010 - A4A / Appetite for Architecture #3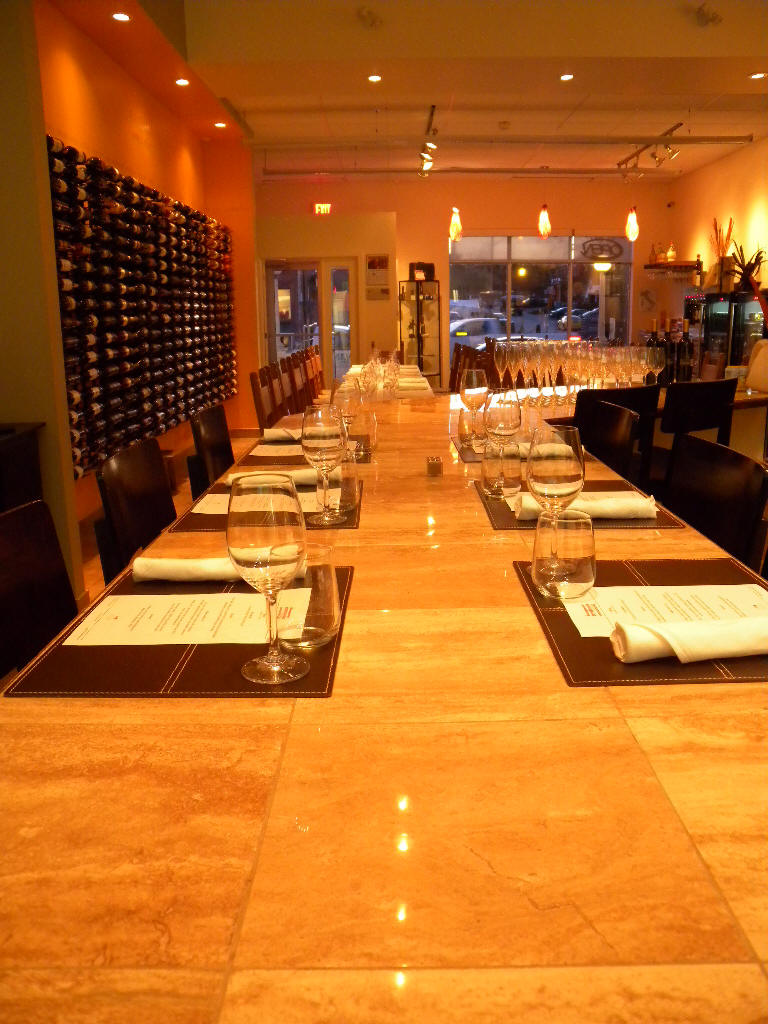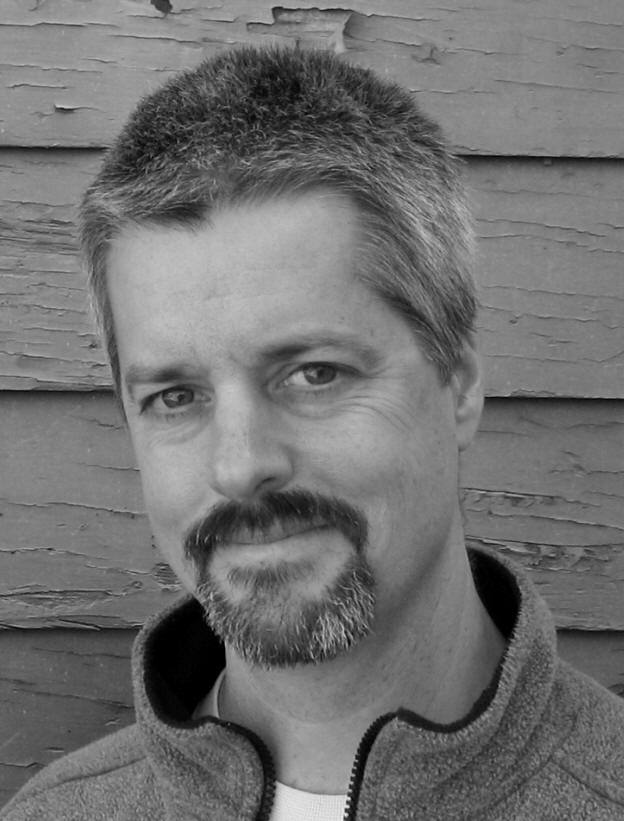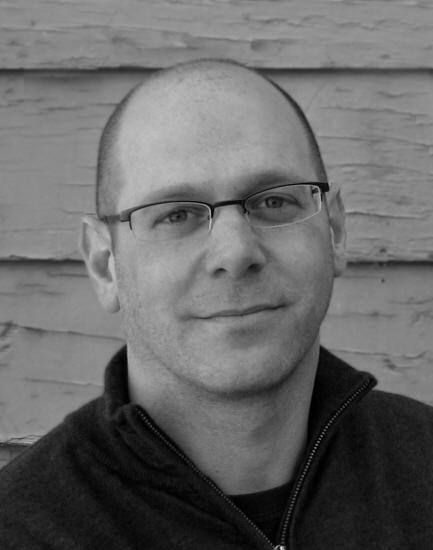 Featuring
Randy Lanou
and
Erik Van Mehlman
of Studio B Architecture and Buildsense
at an evening of dinner and discussion at Margaux's in Raleigh.
"Thank you so much for your efforts in setting up these events. We were pleased to meet so many other
great people with an interest in modern, contemporary and innovative design."
"These guys were awesome, incredibly helpful, and knowledgeable about their business and the design/build profession in general."
---
March 2010
A4A / Appetite for Architecture #2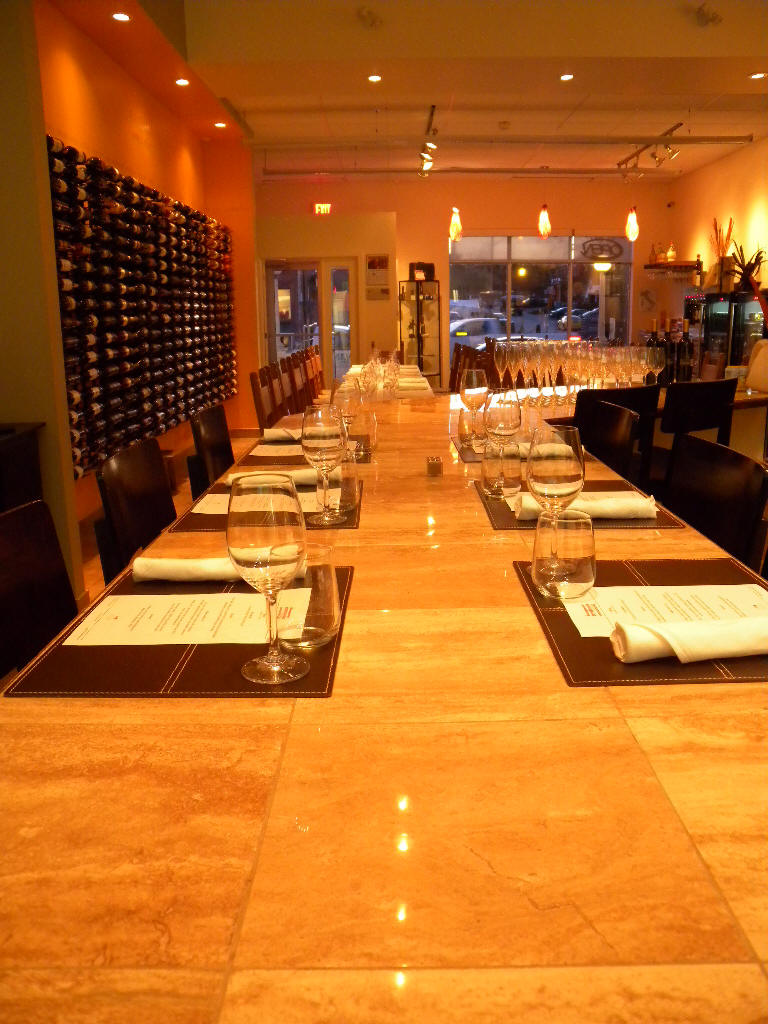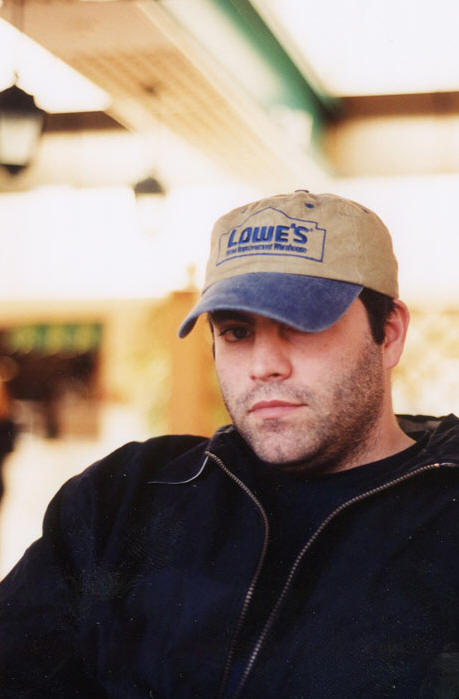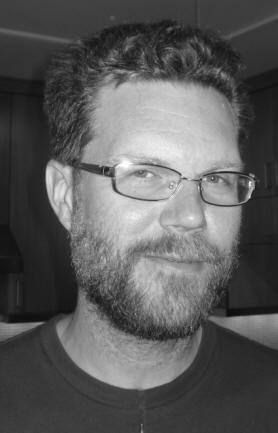 Design/build experts Vinny Petrarca of Tonic Design and Tonic Construction and Will Alphin of Alphin Design Build at 618 Bistro in Raleigh.
"The format of being more casual and smaller group numbers over a wonderful dinner was in my opinion perfect. The food was excellent and the speakers even better. Vinny and Will did a wonderful job fielding Q&A and having a truly interactive experience sharing a lot of knowledge. For a younger person in love with this architecture I felt like it was very insightful and I felt like they were open and honest about various things they'd done design-wise. There is a lot that could be learned from their experience in being both designers and builders. It made me much more comfortable with potentially working with them in the future as they were really personable."
"They really wanted us to keep asking questions and enjoyed answering them. They did a good job explaining the concept of design/build. The only suggestion for the future may be to have the table arrangement in a large square or circle and possibly a private party room so everyone could be heard."
---
March 2010
The Blue Cross Blue Shield Headquarters Building Lecture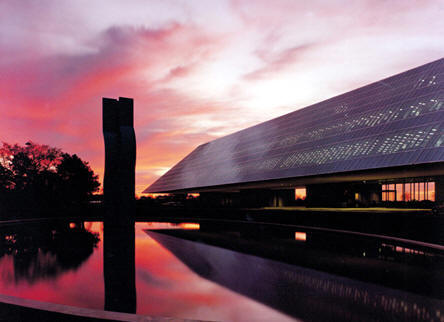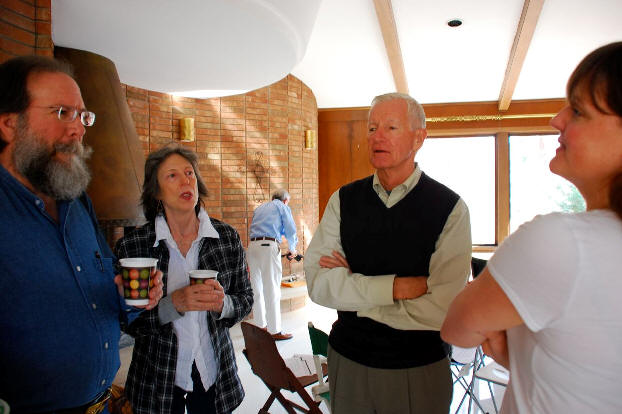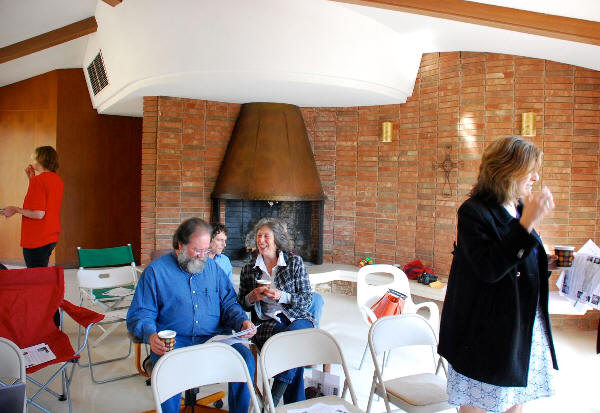 Featuring the original architect, Charles McMurray, formerly director of design at Odell in Charlotte. McMurray showed us the original design (nothing like what got built) and the story behind Chapel Hill's most famous non-UNC building. 23 people attended at the beautiful Robert Carr-designed home of David and Lesley McAdams.
---
March 2010
The First A4A / Appetite for Architecture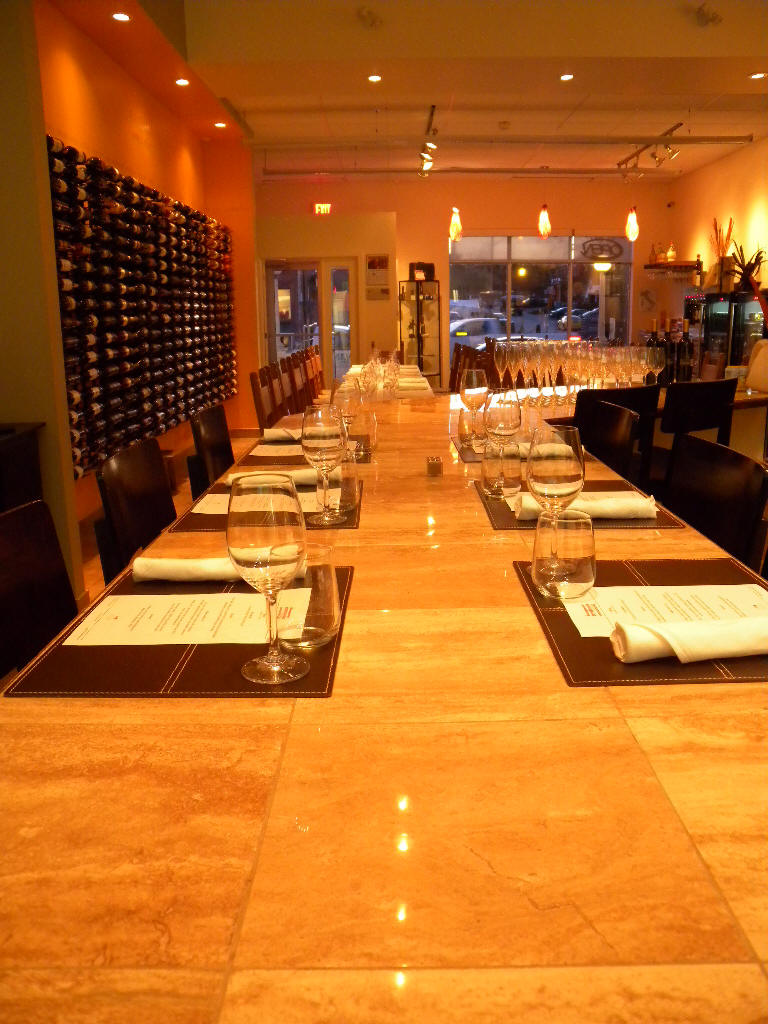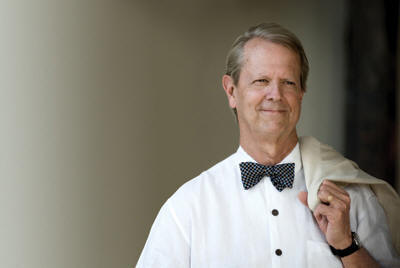 18 Seaboard hosted architect
Frank Harmon
FAIA and David Crawford, Executive VP of the AIA of North Carolina. Proceeds benefited the new AIANC headquarters in downtown Raleigh, designed by Harmon.
"I have to tell you that the company last night was delightful and the presenter was second to none."
"I liked meeting in the main dining room because it seemed like a dinner of friends, not a "meeting" with an agenda."
"We really enjoyed Tuesday's dinner - lots of interesting conversation! It was a great opportunity to meet lots of interesting people in a casual, relaxed environment. The layout of the menu - that included several options - seemed to work well for everyone as well."
"The food, as always at 18 Seaboard, was phenomenal. It would have been nicer to have a room or an area without the din of nearby patrons."
"As always, the food at 18 Seaboard and the special menu they prepared for our group was excellent, varied and sufficient. We were surprised by the format thinking we would be in the small dining room with a power point presentation of some kind. But we were also surprised at how very well the format worked. Frank and David collaborated in a very informative discussion, inviting and answering questions from many in our group. They moved around casually and engaged all of us there."
---
March 2010
The Nowell's Architecture Movie Series
Infinite Space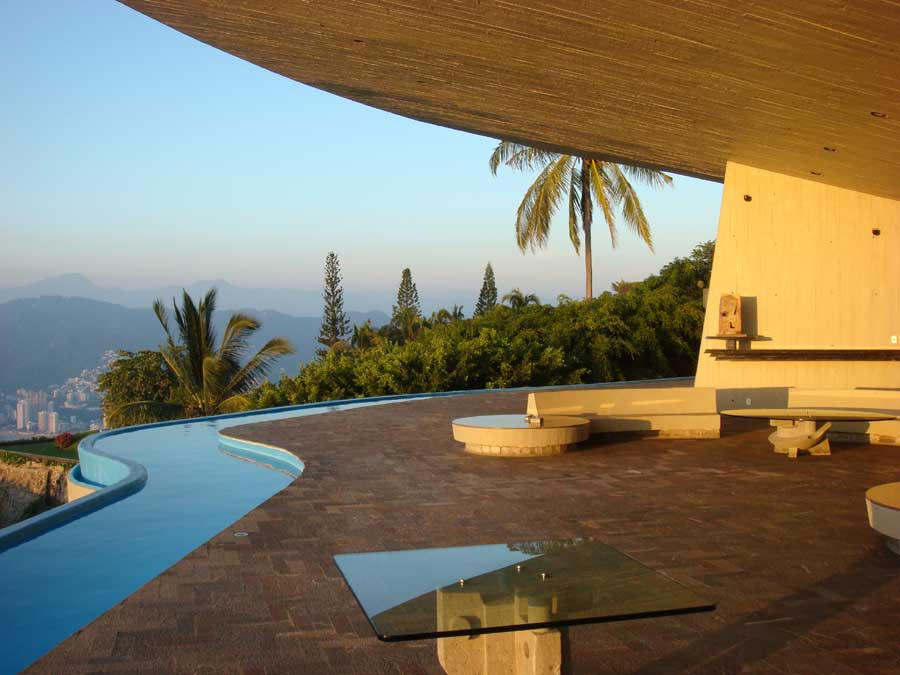 John Lautner, a protege of Frank Lloyd Wright, was a brilliant architect in California. He did
hundreds of houses
, including what many consider his masterpiece, the Casa Marbrisas in Acapulco, shown above.
Infinite Space
traces visionary genius John Lautner's lifelong quest to create "architecture that has no beginning and no end." About 90 attended at the Galaxy Cinema in Cary.
---
February 2010
The Nowell's Architecture Movie Series
The Lake House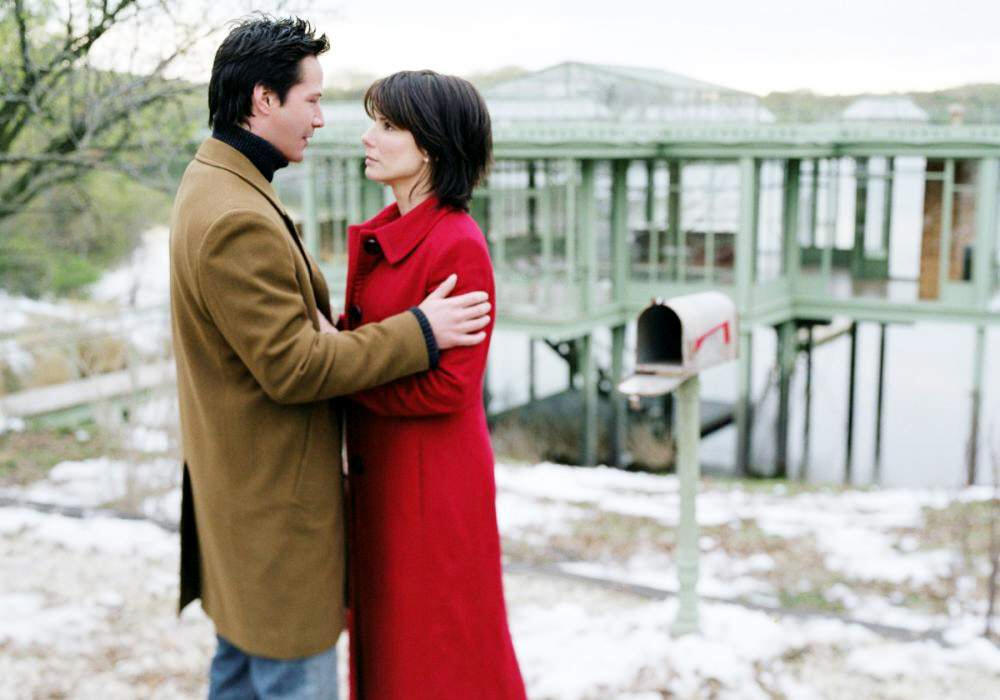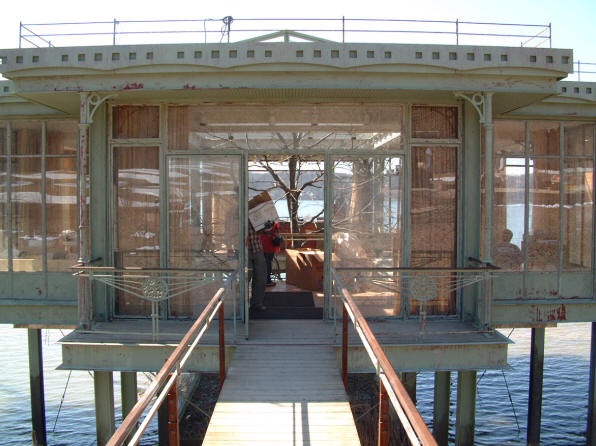 Keanu Reeves and Sandra Bullock were not at the top of their game in this 2006 romantic drama, but the steel and glass house should have won an Oscar! About 60 attended at the Galaxy Cinema in Cary.
---
January 2010
The Richard Meier / Eero Saarinen Trip to New York / CT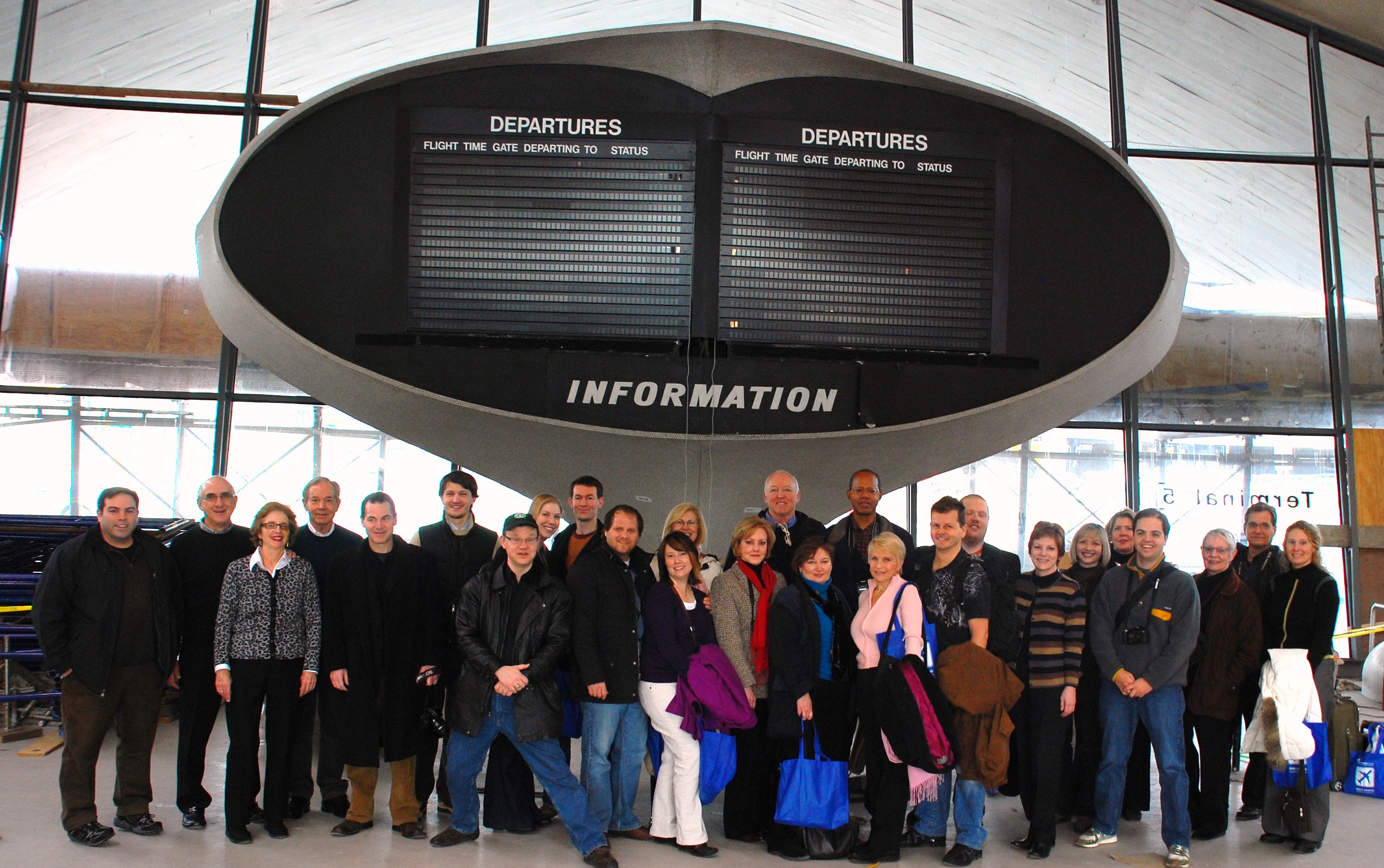 Twenty-seven hearty architectural adventurers got up at 3 in the morning to embark on a one-day whirlwind tour of projects by Richard Meier and
Eero Saarinen
. From Atlanta, Raleigh, Miami, and Charlotte, participants converged on JFK for an incredible itinerary. Photo by Leilani Carter.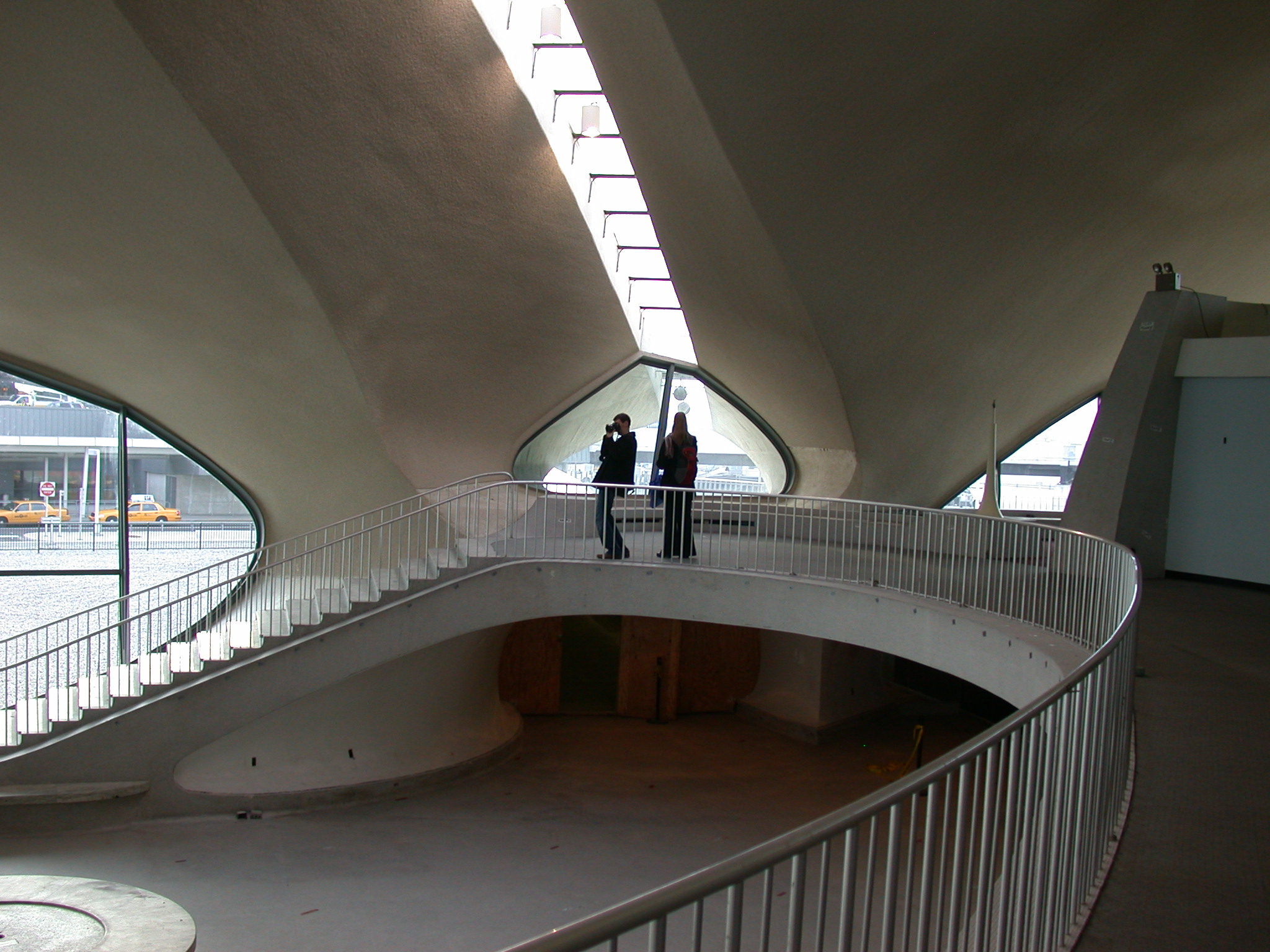 Upon landing, we explored Eero Saarinen's TWA Terminal at JFK airport. Closed to the public for years, we got inside and spoke with project managers about the current renovation. Left photo from 1962. Right photo by Sharon Glazener.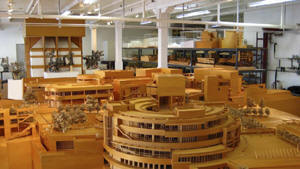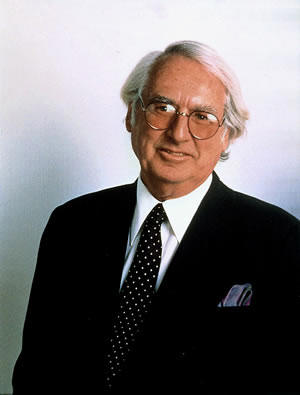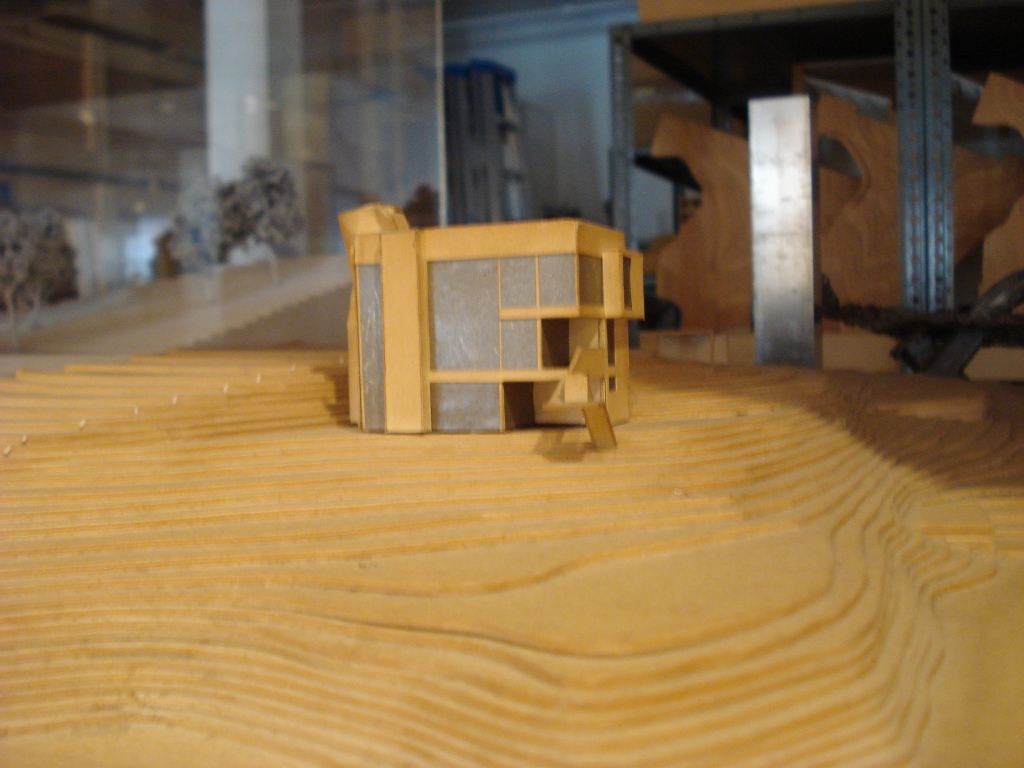 Next, onto Long Island City, touring architect Richard Meier's model gallery, featuring 45+ years of his amazing projects including the massive Getty Center in LA and the relatively tiny Smith House in Darien CT. Bottom photos by Leilani Carter.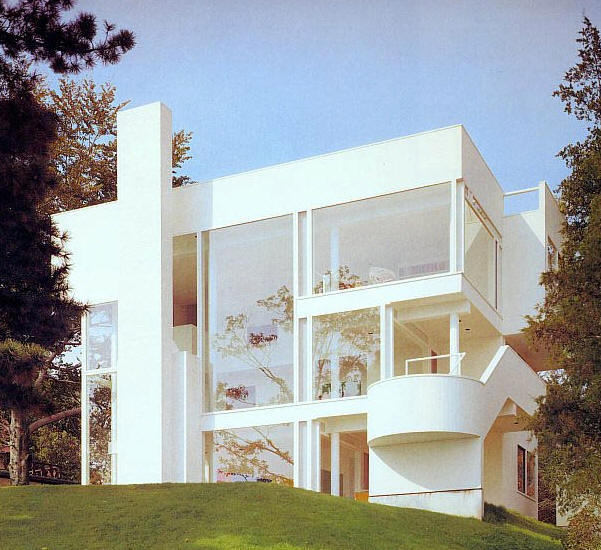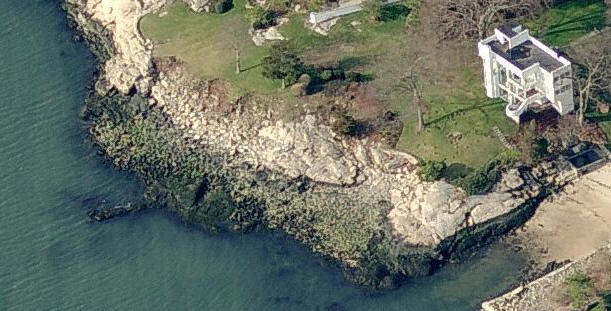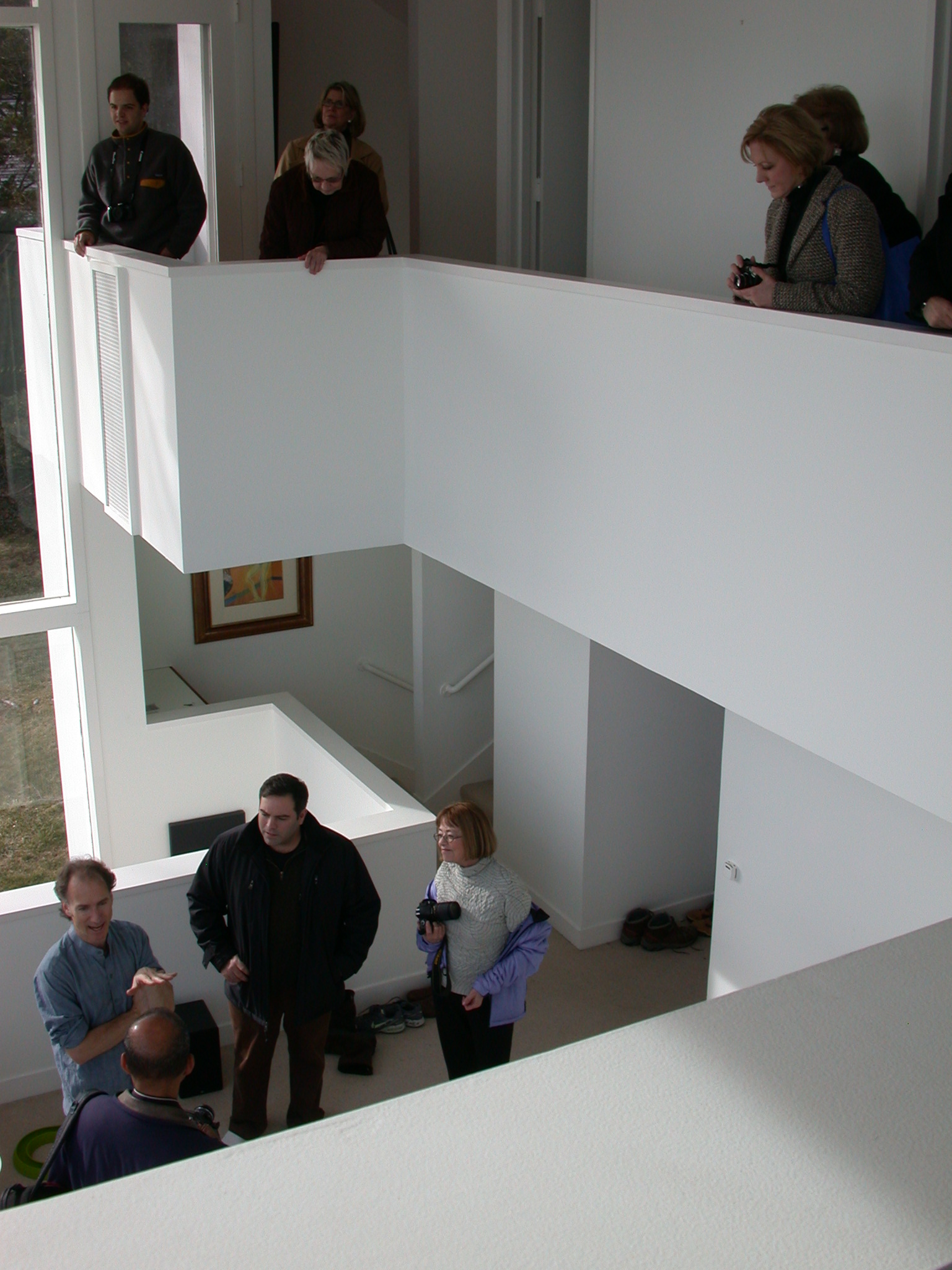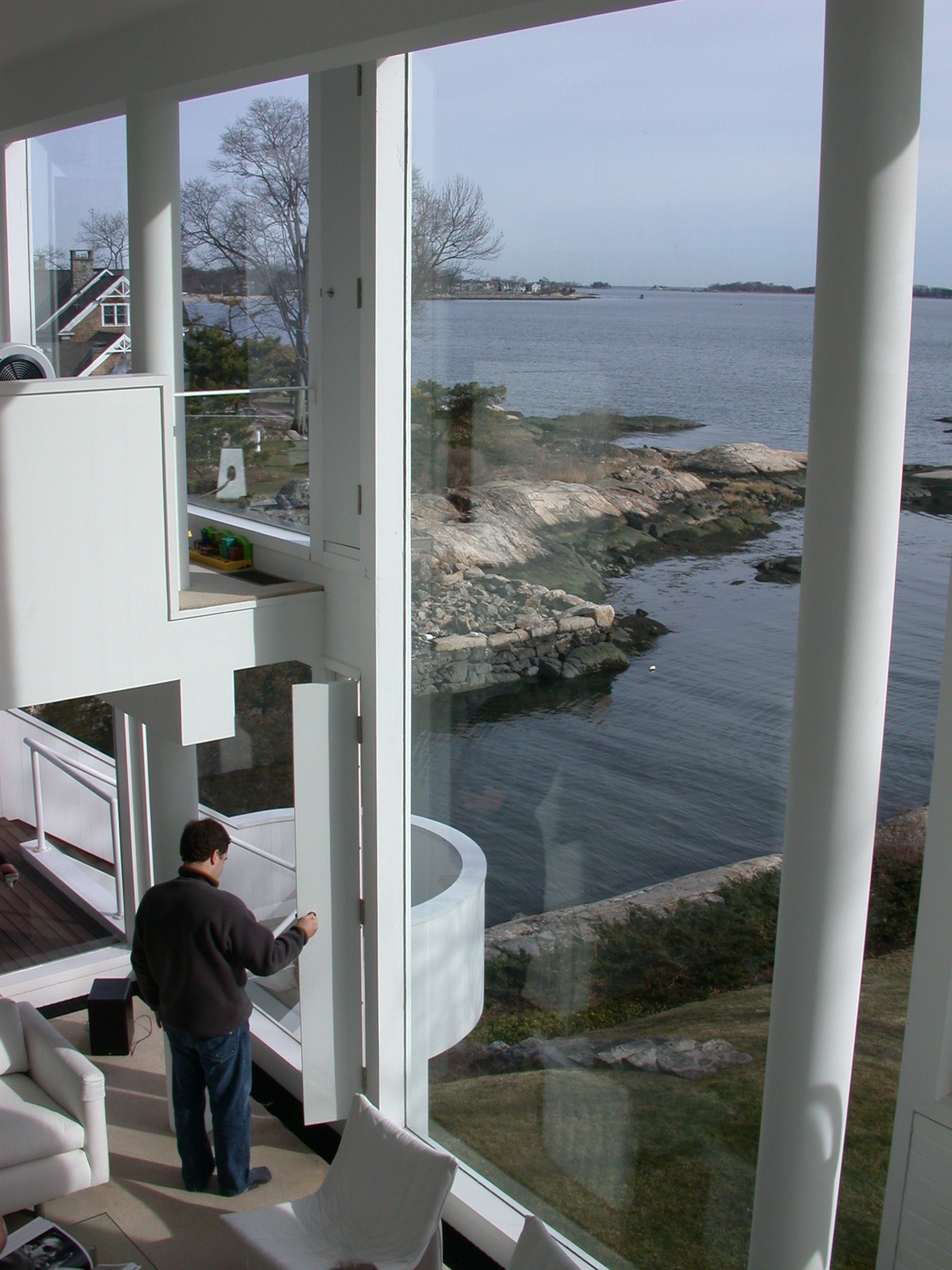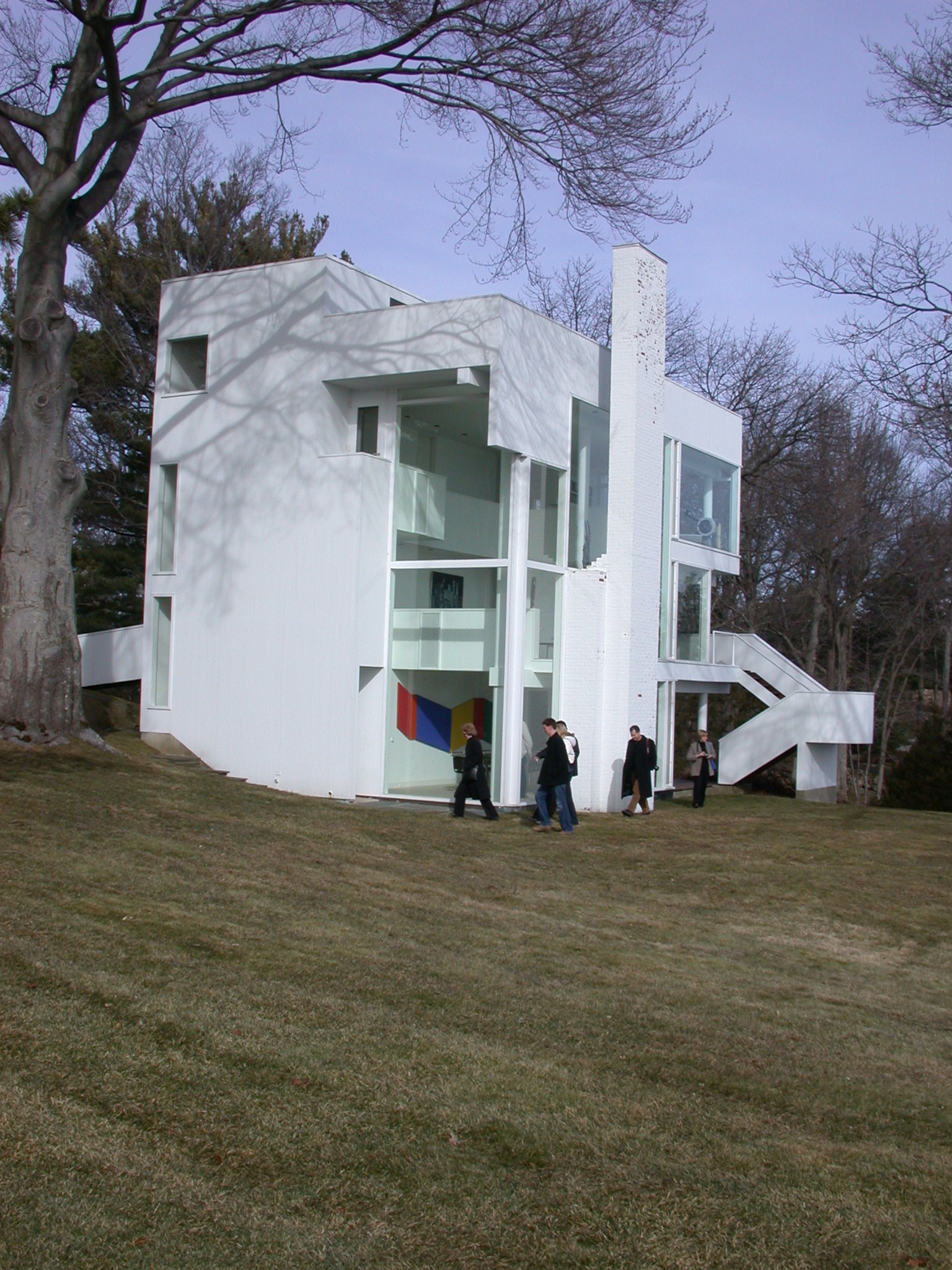 Back on the bus - and on to Darien CT to visit the Smith House, the landmark residence that catapulted Meier to fame in 1968. Rarely accessed by the public, the house and grounds were completely open to us. Photos by Sharon Glazener.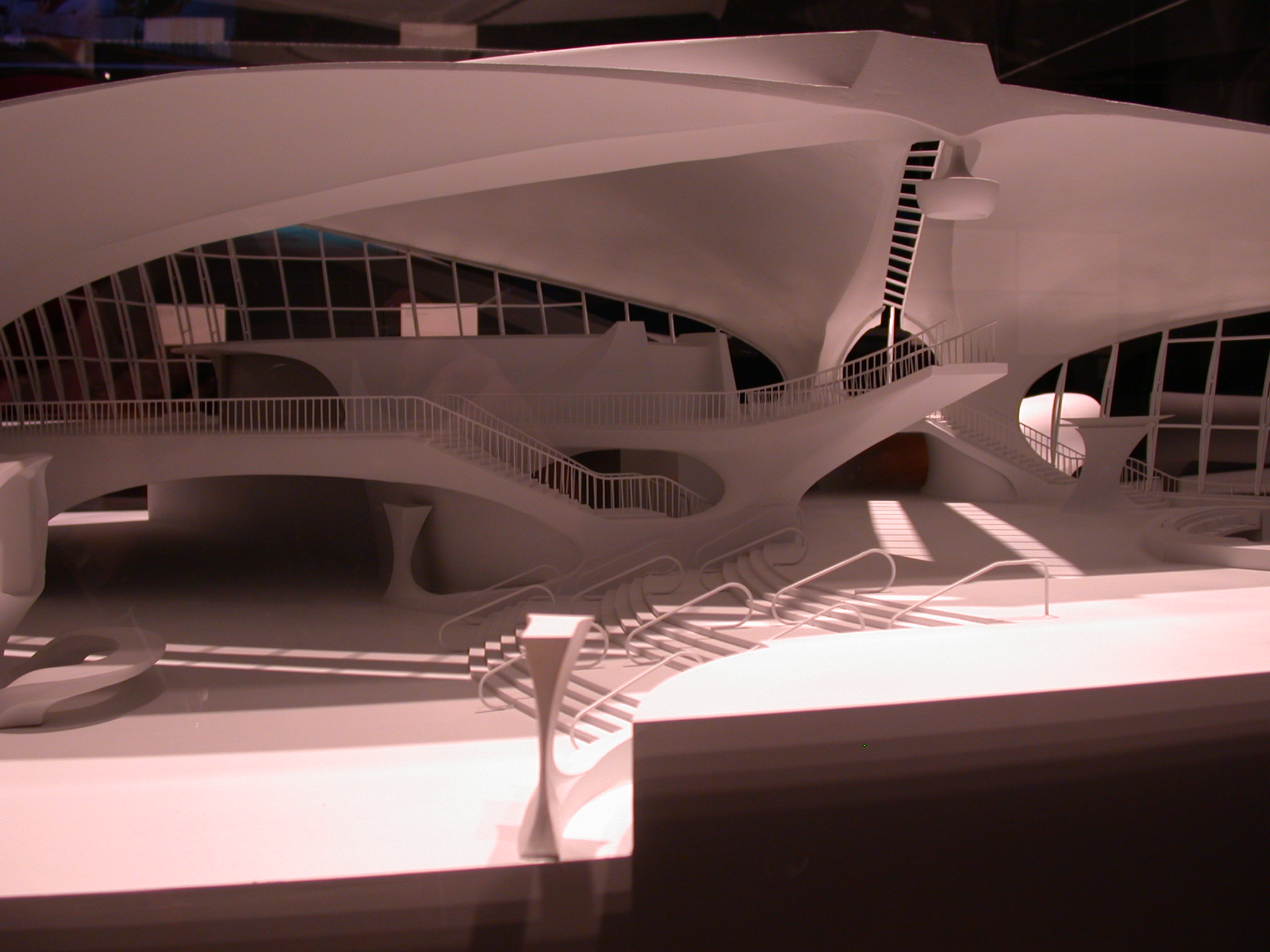 Awaiting the group in the afternoon, The Museum of the City of New York's Saarinen Exhibit. This included a huge model of his TWA terminal plus a retrospective of his entire career. Closing out the day, we toured the Museum of Modern Art's Bauhaus exhibit, their first major exhibition since 1938 on this famous and influential school of avant-garde art. More trip photos:










\































---
January 2010
The Nowell's Architecture Movie Series
The Fountainhead
Our film series kicked off with the classic 1949 film, based on the novel by Ayn Rand, with Gary Cooper and Patricia Neal.
Watch the trailer
. About 125 attended at the Galaxy Cinema in Cary.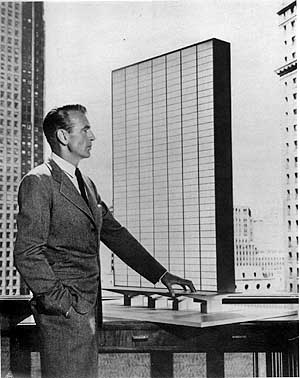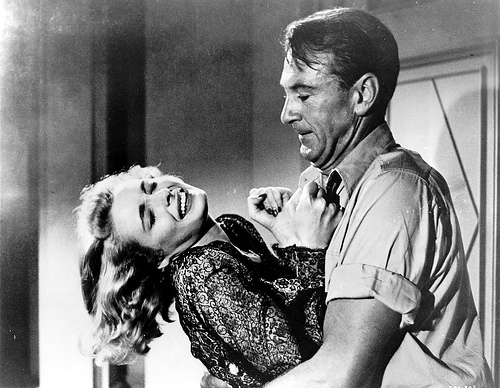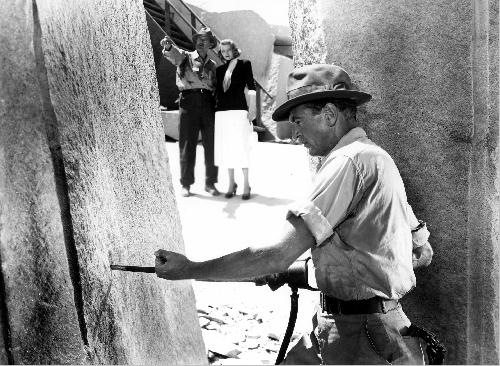 ---
January 2010
The Max Isley Residence, Durham
Featuring architect
Max Isley
and his wife Jane. Thanks so much to our wonderful volunteers for this winter event: Sharon Glazener, realtor Desiree Denton, and the owners, the Kelleys. About 110 attended.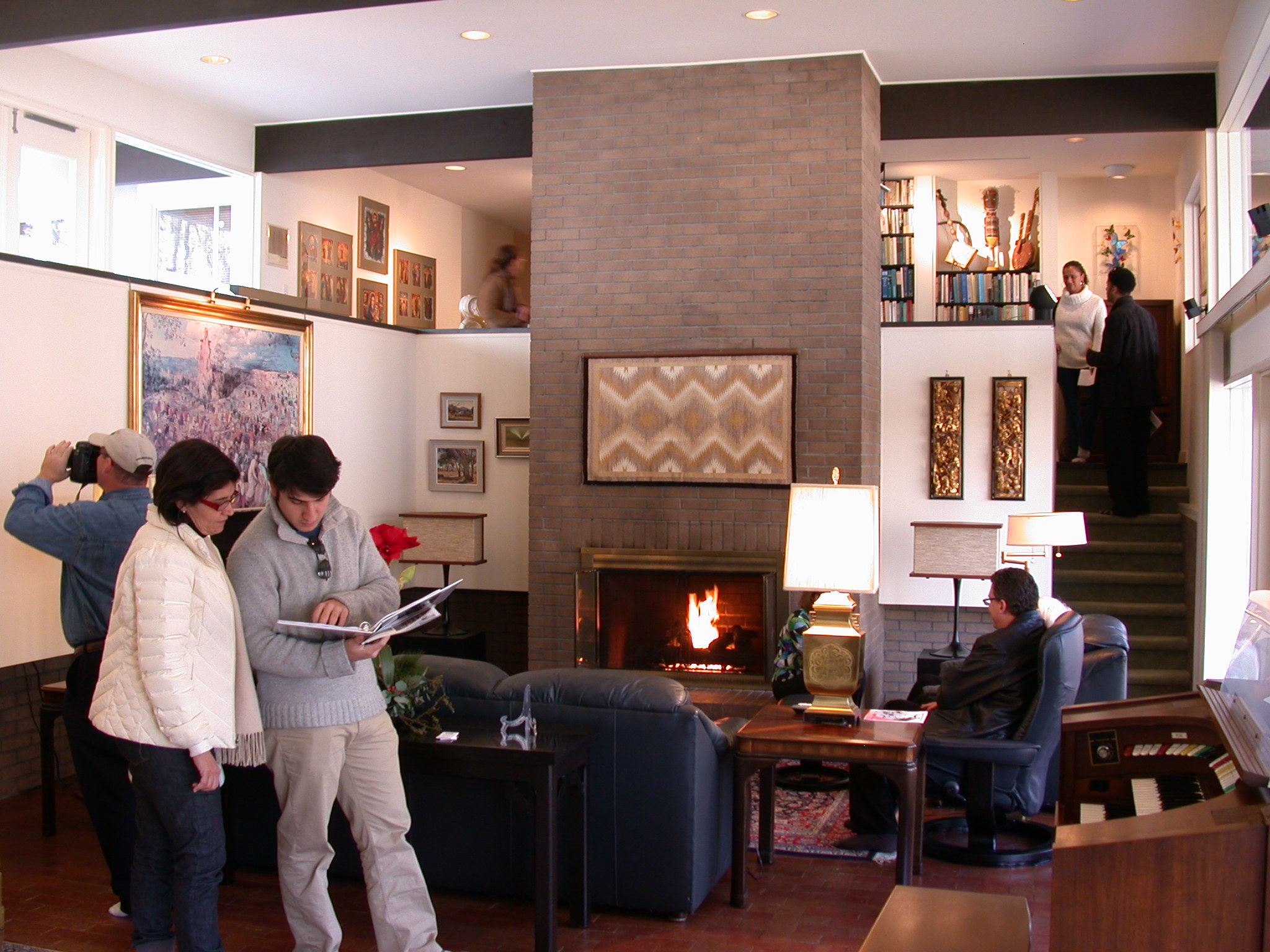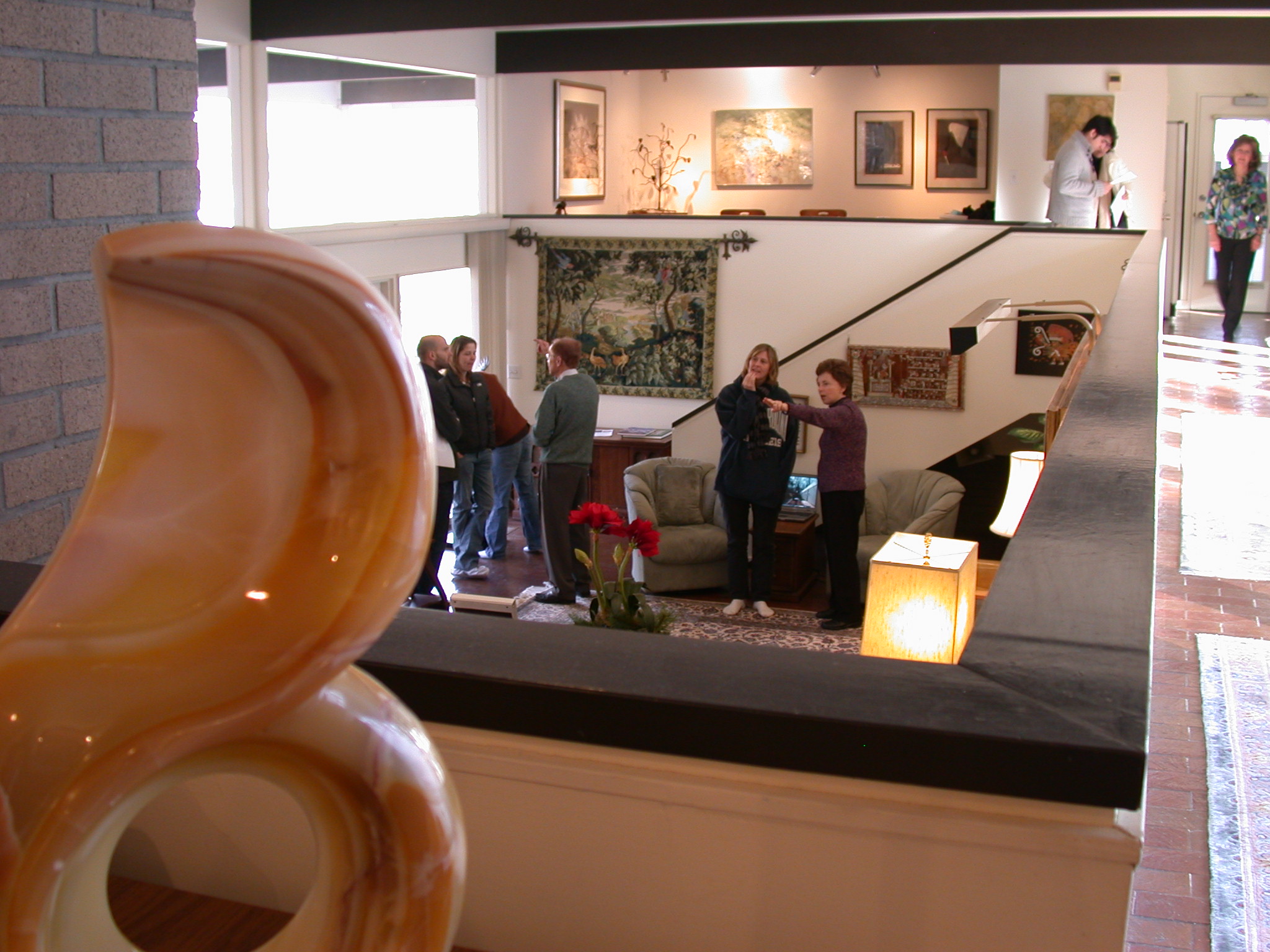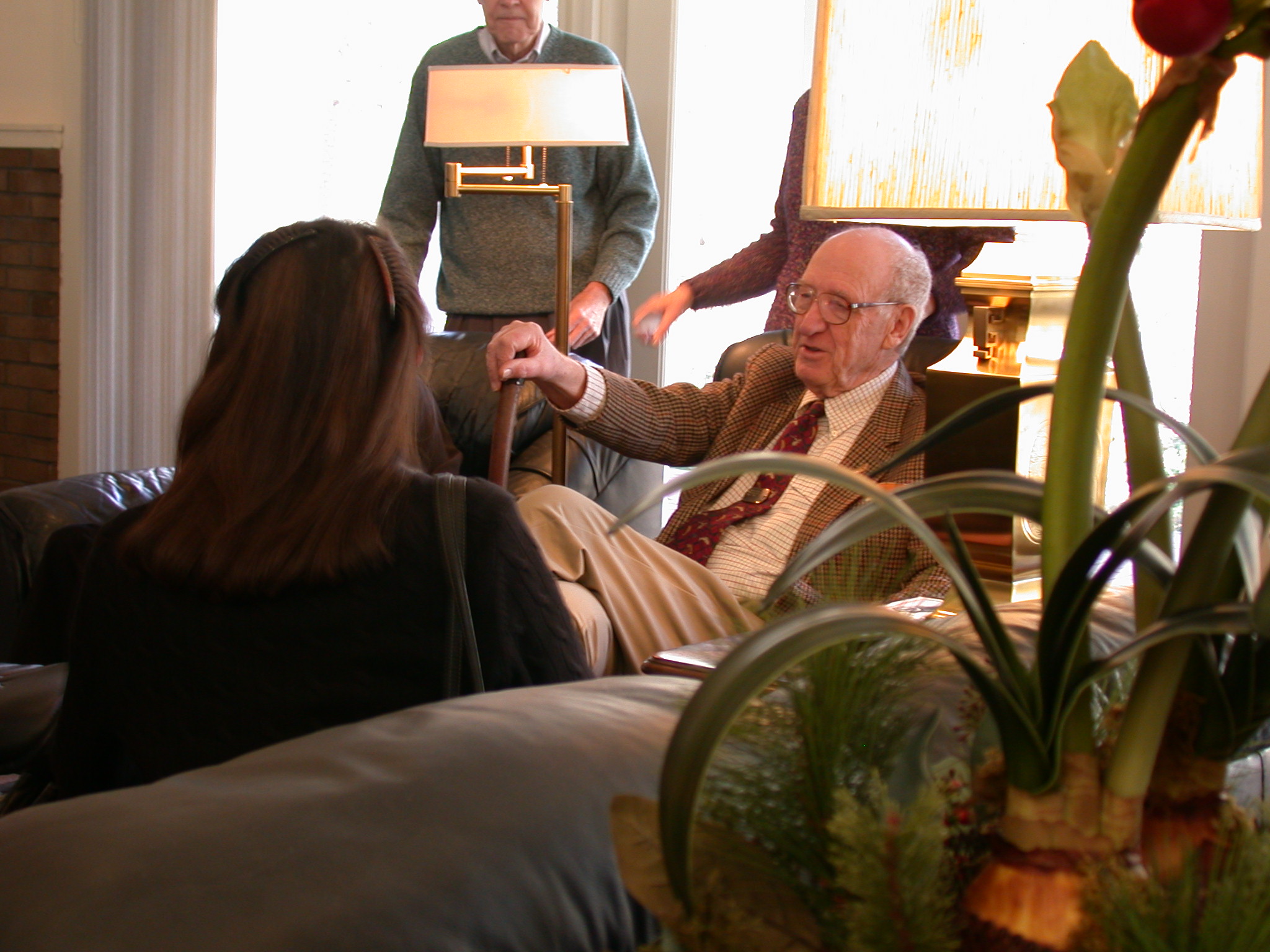 Architect Max Isley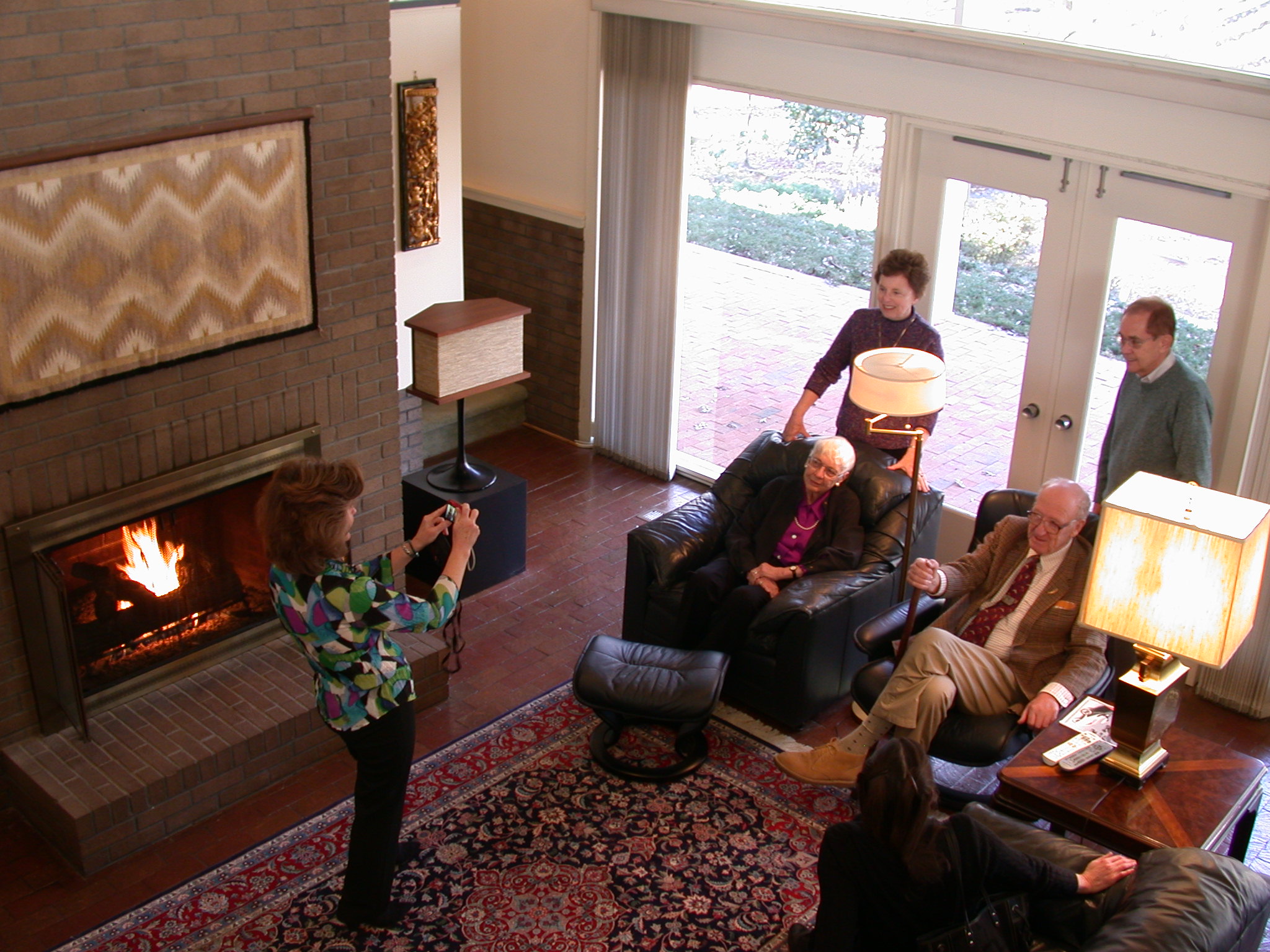 Jane and Max Isley pose for a picture, two if you think about it.