2009 NCModernist Events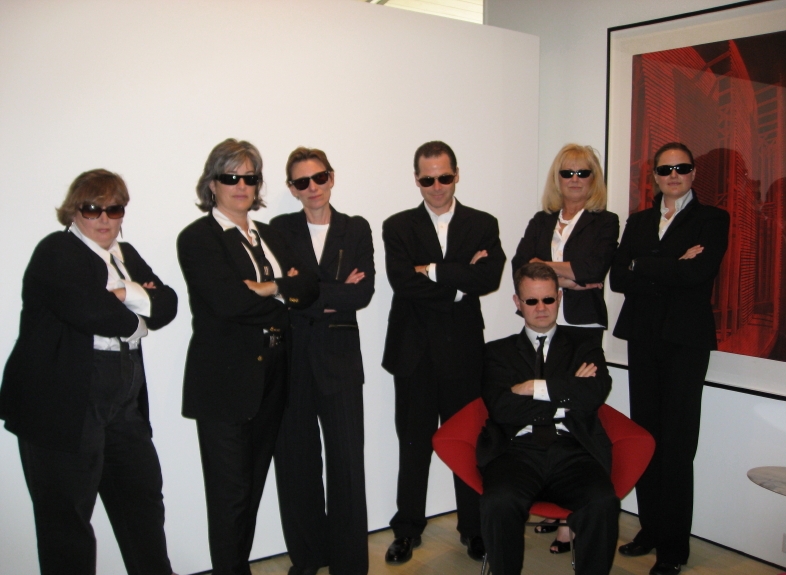 Board of Directors: Sharon Glazener / Principal, Bell Glazener Design Group (Secretary), Dr. Monica Hunter (Treasurer), Emily Kass / Director, UNC Ackland Art Museum, Mack Paul / Partner, K&L Gates (Vice Chair), George Smart / Managing Partner, Strategic Development Inc. (Board Chair), Eleanor Stell / NC State University, Lesley McAdams. Photo by Audie Schechter.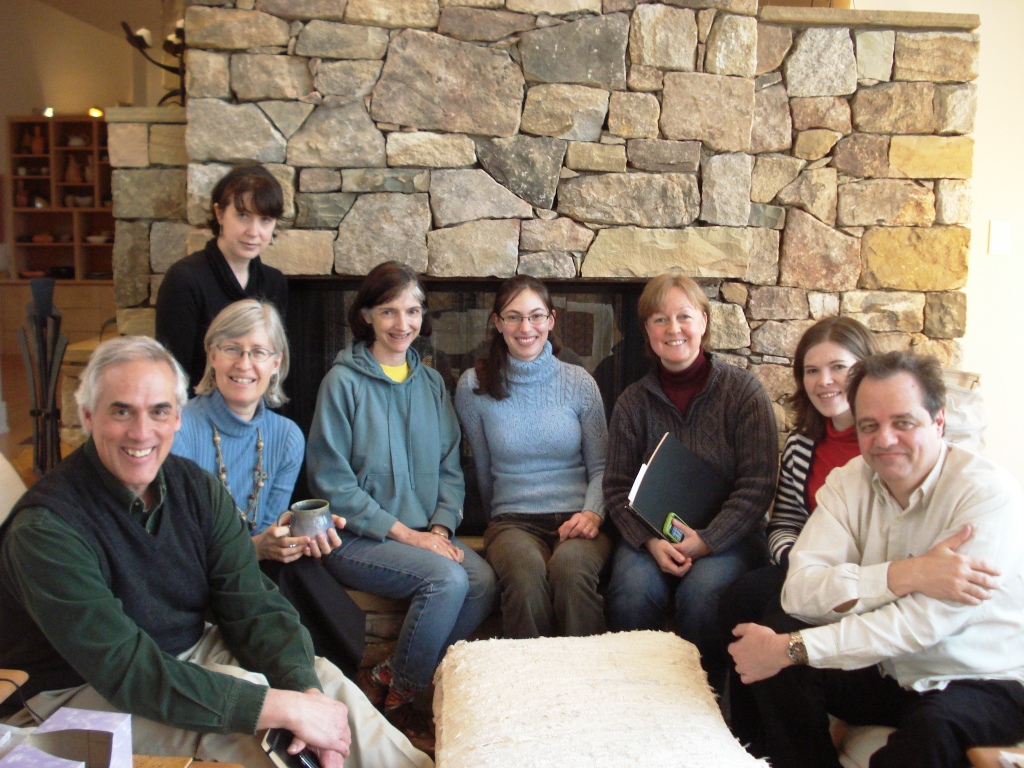 2009 NCModernist Advisory Council, left to right: KC Ramsay / Principal, Craige and Van Roden Photography, Anne Stoddard / Principal, The Stoddard Group, Arielle Schechter / Principal, Arielle Schechter AIA, Sally Greene / Attorney, Anne Seeley / Graduate Student, NCSU College of Design, Becky Shankle / Principal, Eco-Modernism, Heather Rule / Designer, BBH Design, Bob Langford / Senior Producer, Back Home Productions.
---
November 2009
West Raleigh Architect's Houses

Featuring three inside-the-Beltline Modernist houses designed by architects for their own families: Thomas Crowder, Brian Shawcroft, and Raymond Sawyer. Photos by Leilani Carter and Dennis Glazener. Over 160 attended.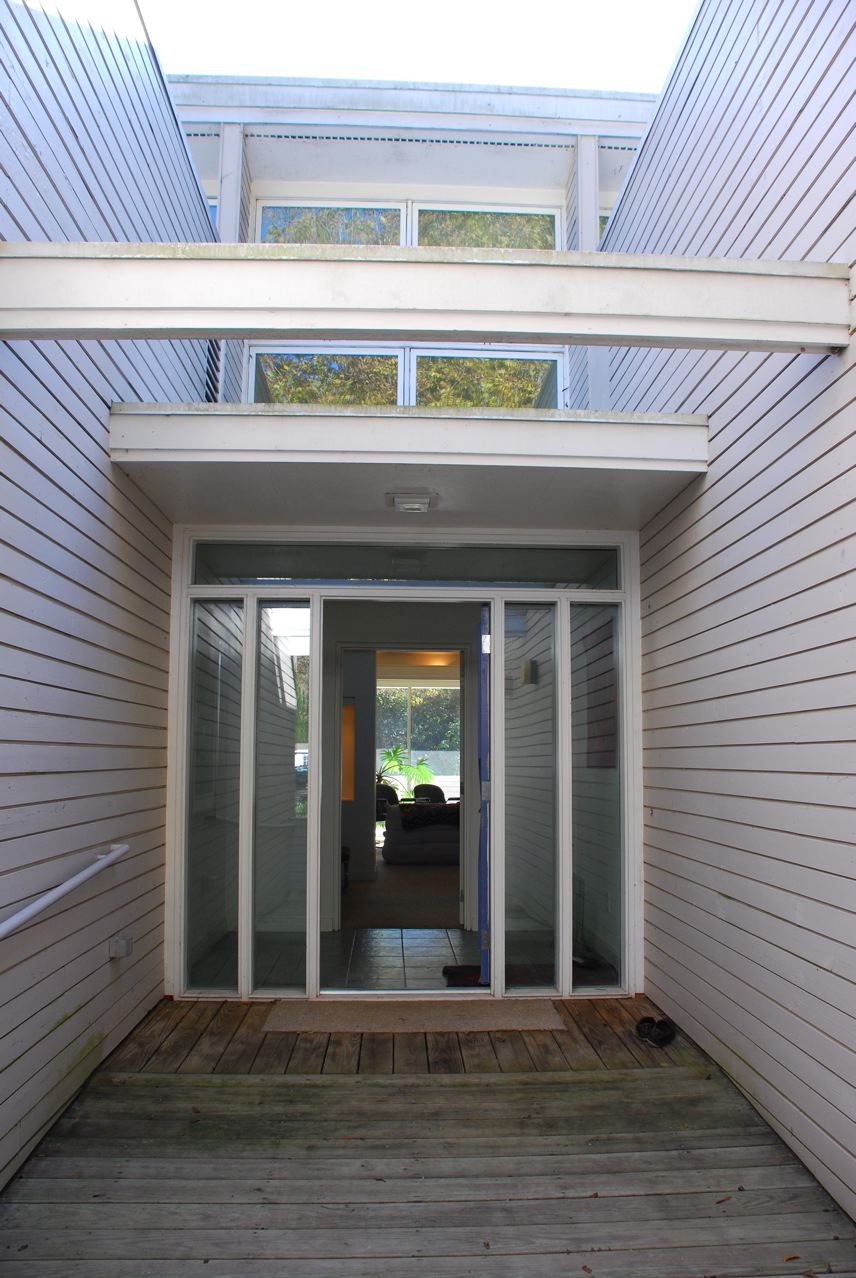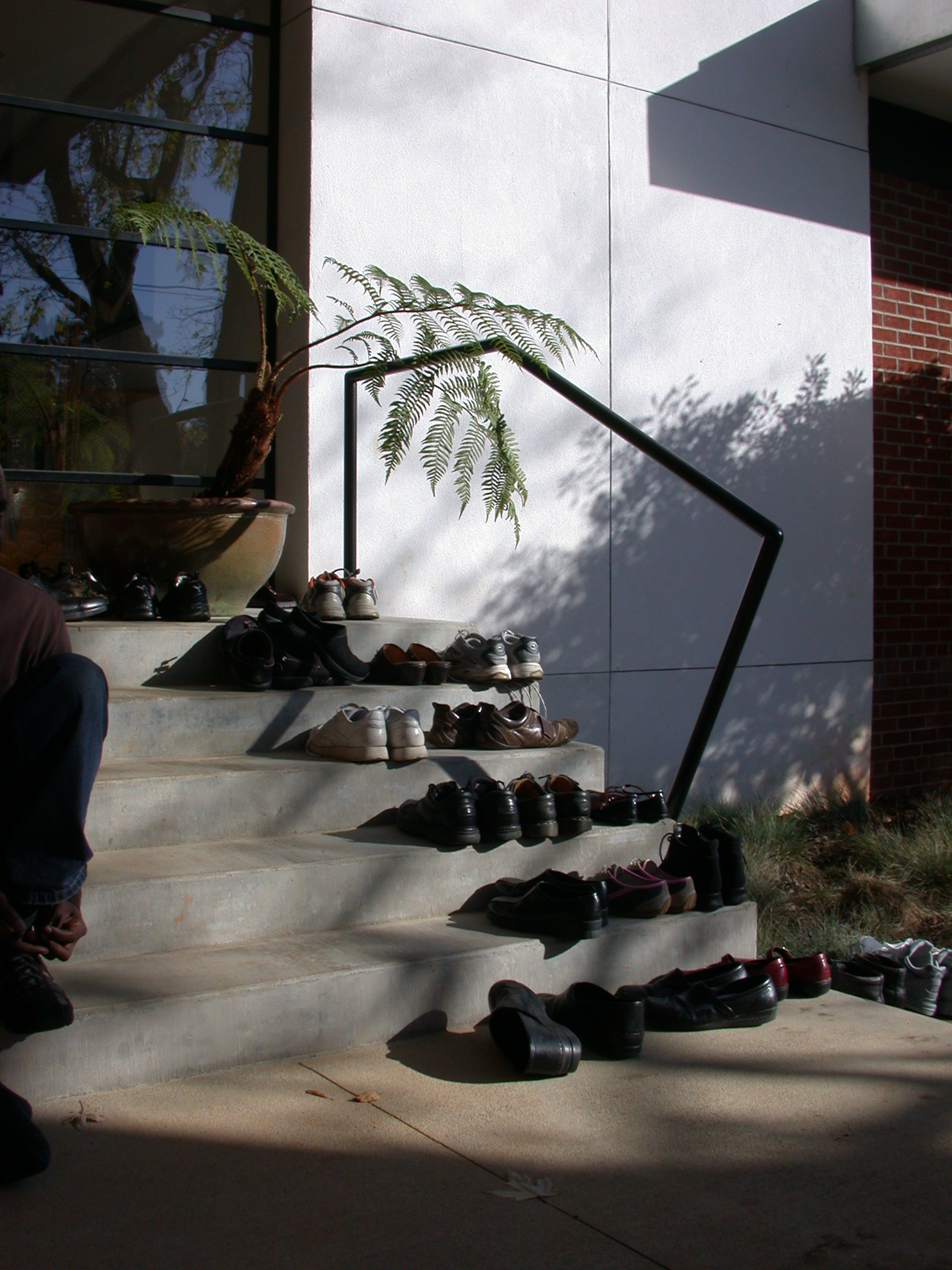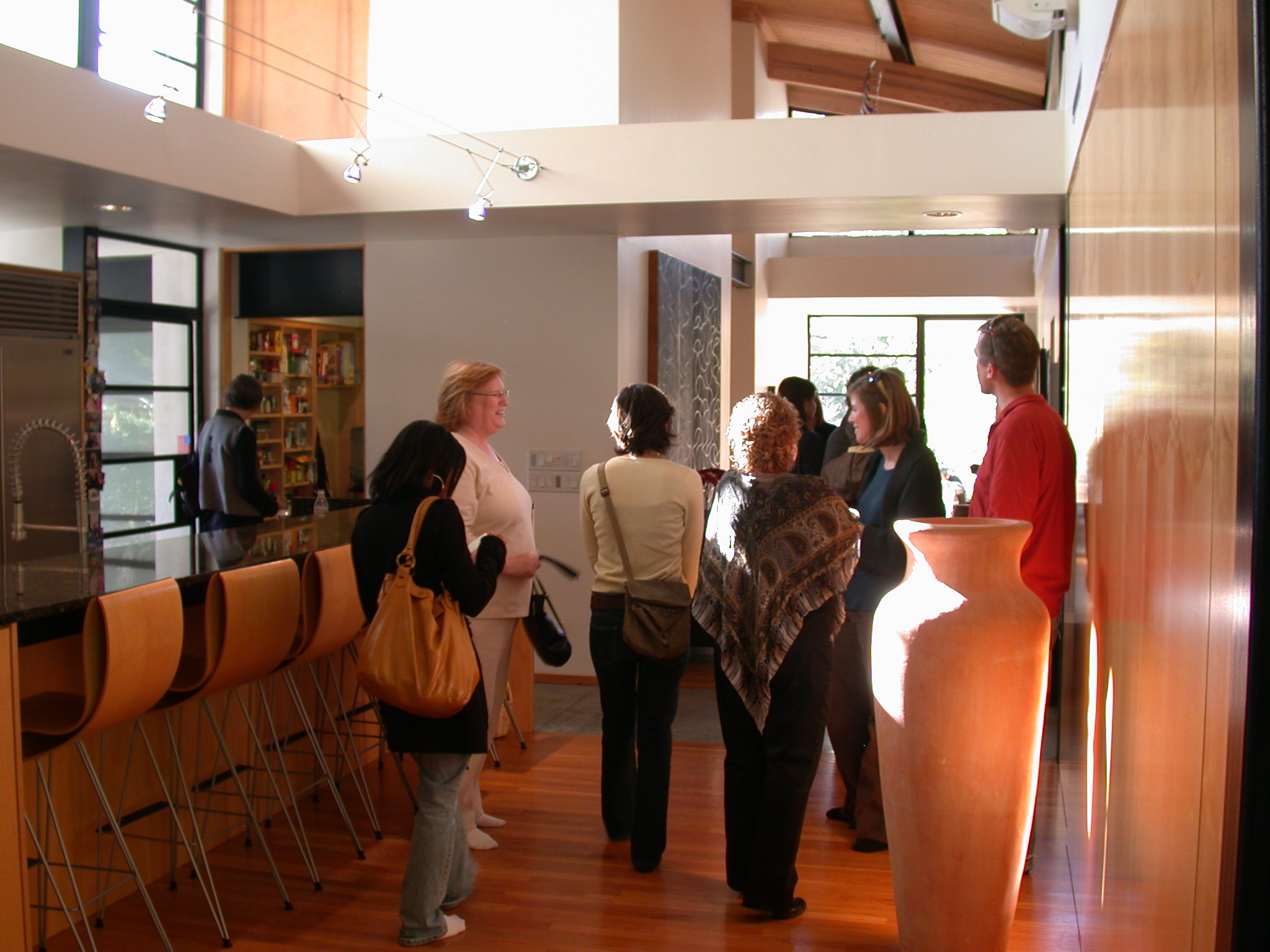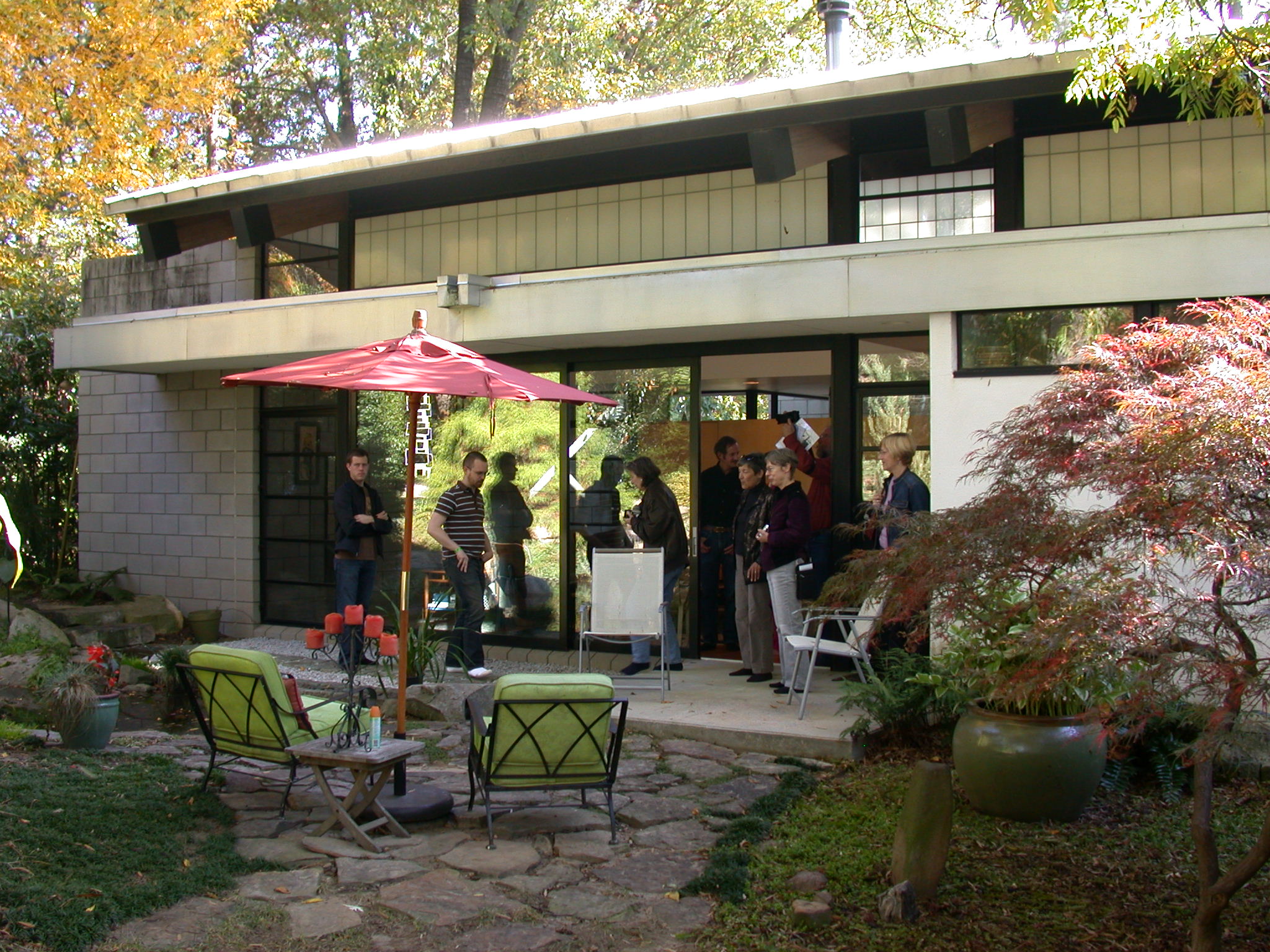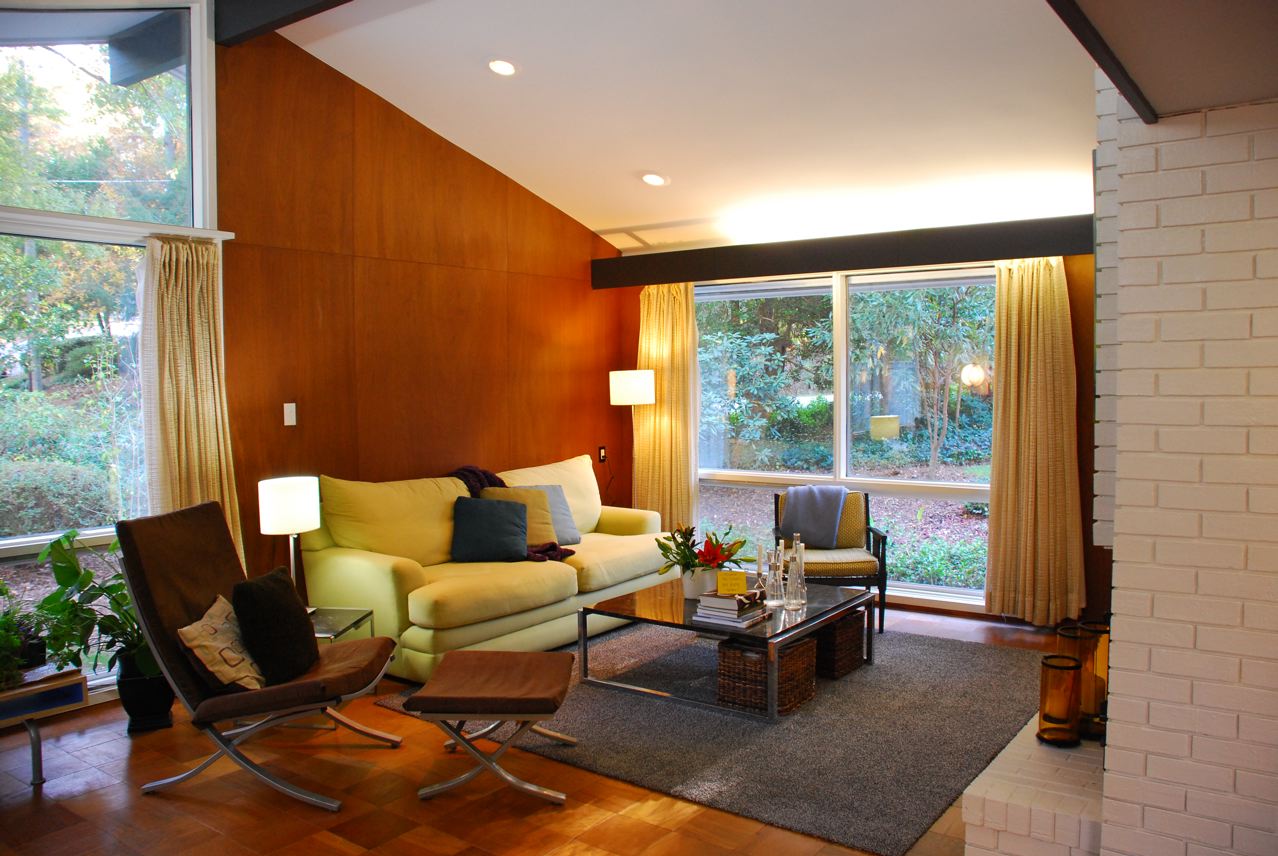 ---
November 2009
The ModStock Party

A joint party between AIA Triangle's Young Architects Forum and Triangle Modernist Houses. We explored one of North Carolina's largest modern furniture showrooms during an relaxed evening of appetizers, beer, wine, and sodas. Location:

About 100 attended and had a really great time, but we forgot to get photos!
---
October 2009
The Michael and Christine Coates House
Designed by Michael Coates. Thanks so much to our wonderful volunteers: Ann Kaiyala, Chief of Shoe Police Sharon Glazener, and the owners Michael and Christine Coates. Over 125 attended on a beautiful fall day. Photos by George Smart, Dennis Glazener, and Leilani Carter.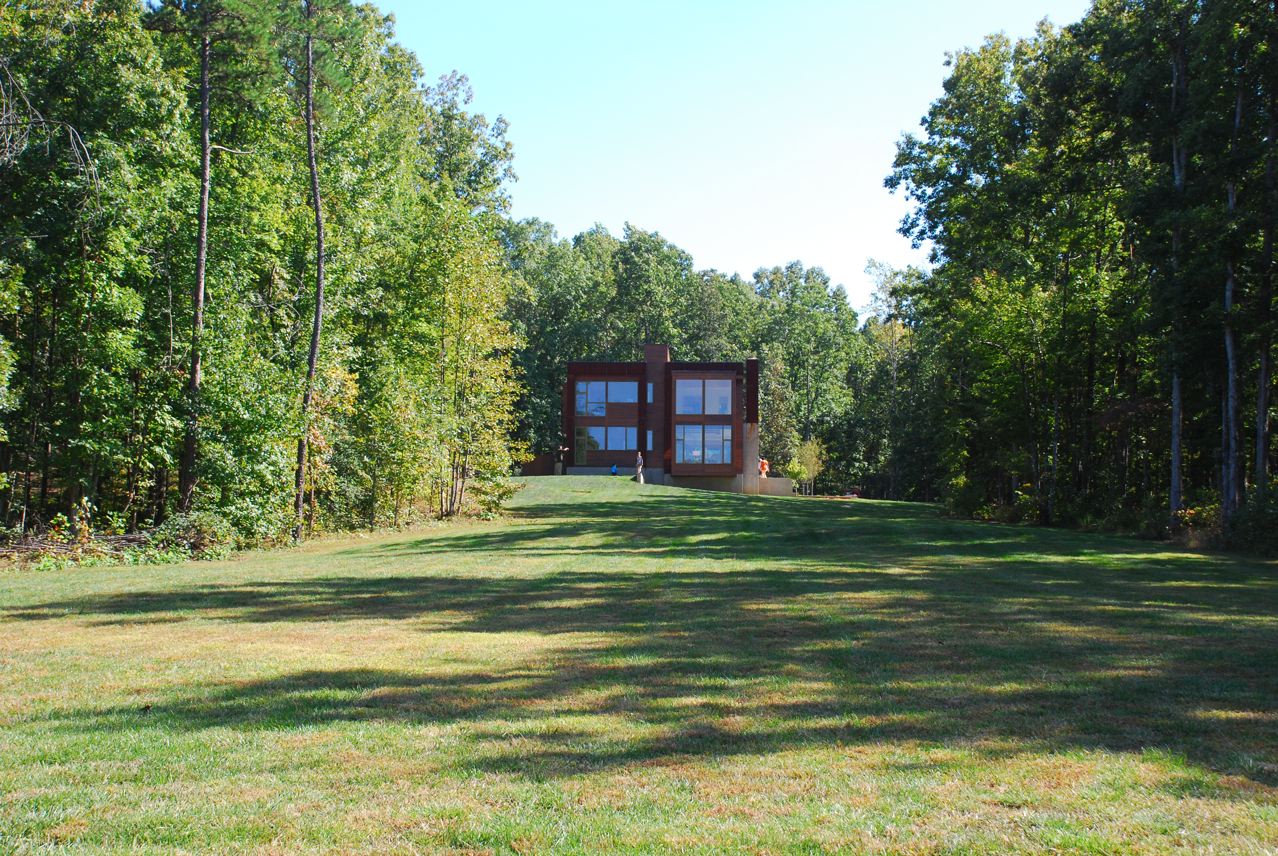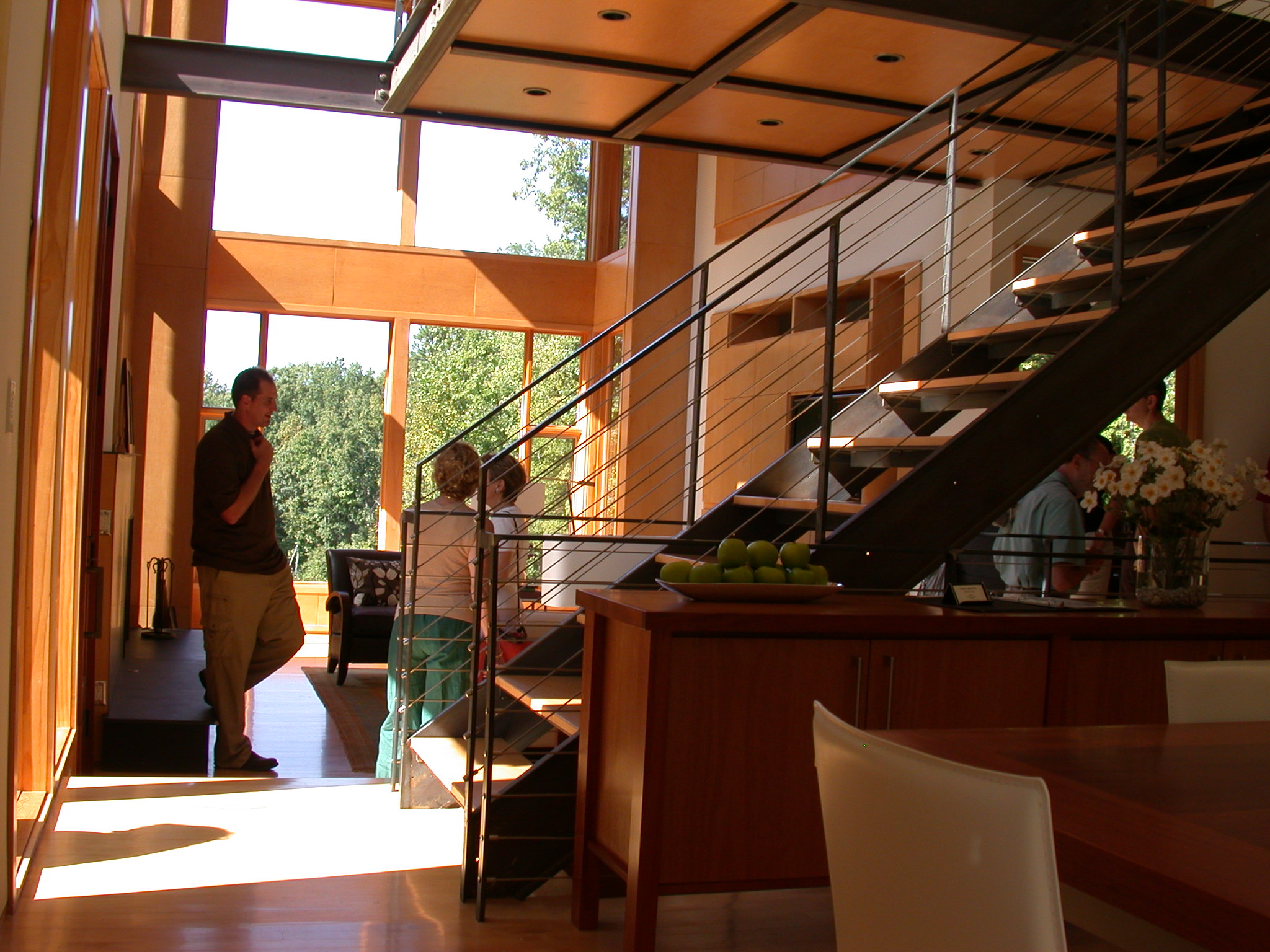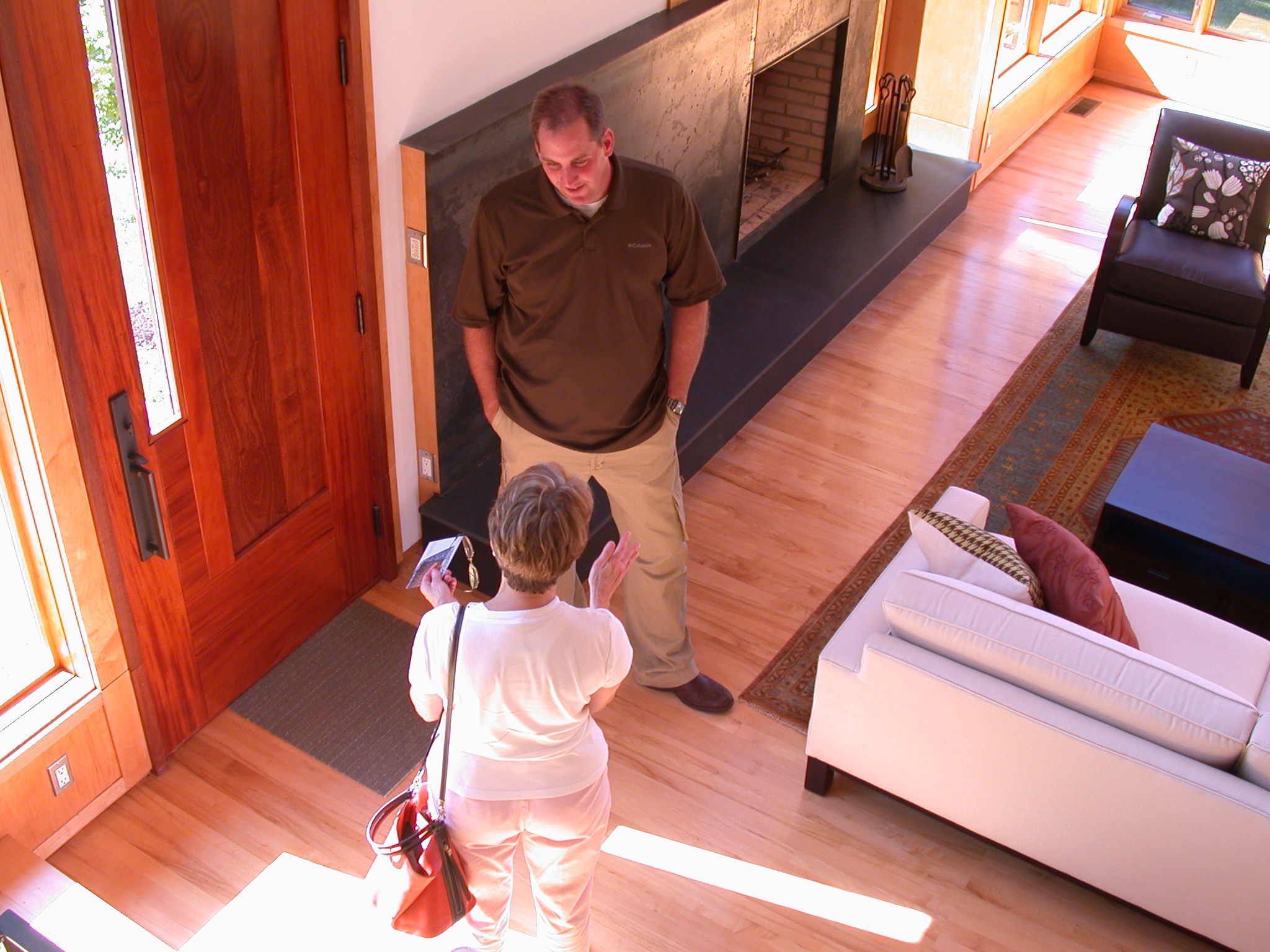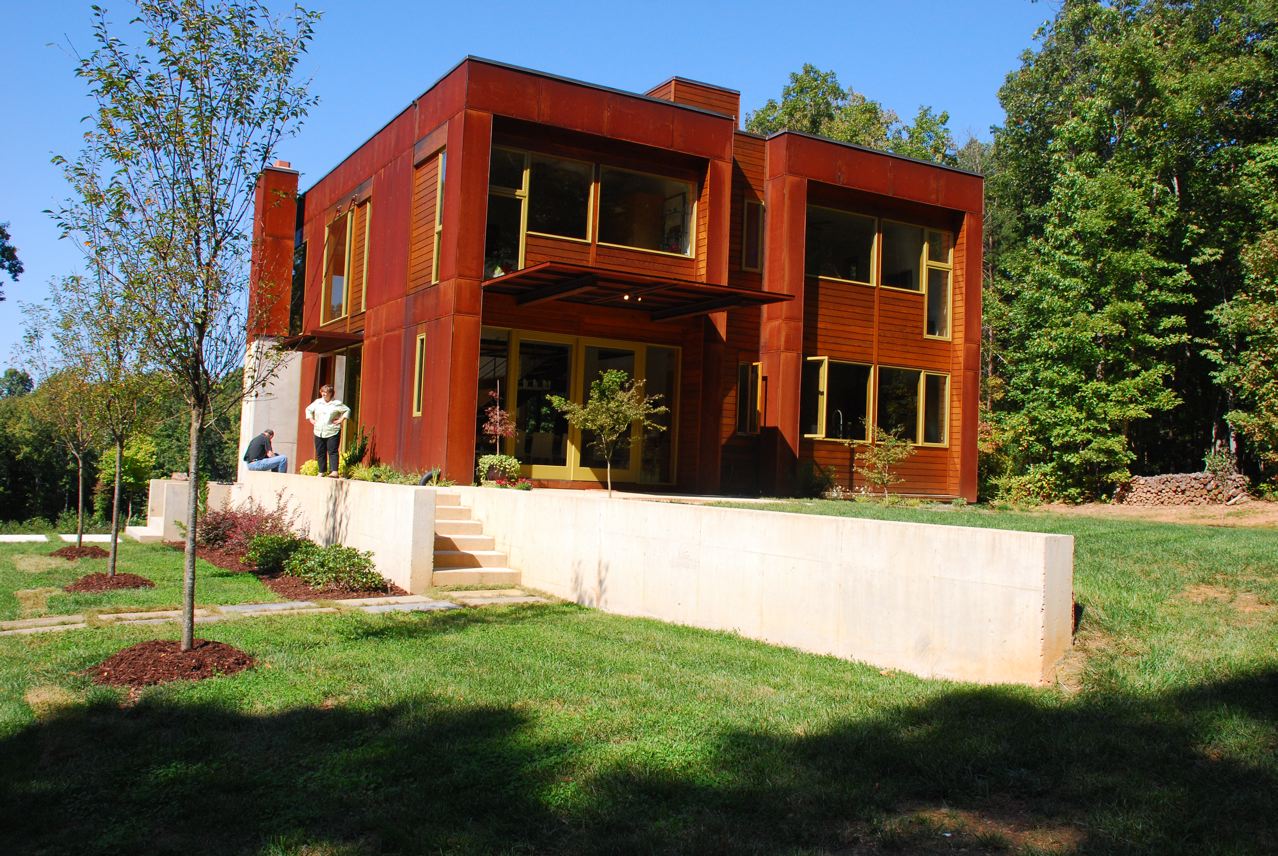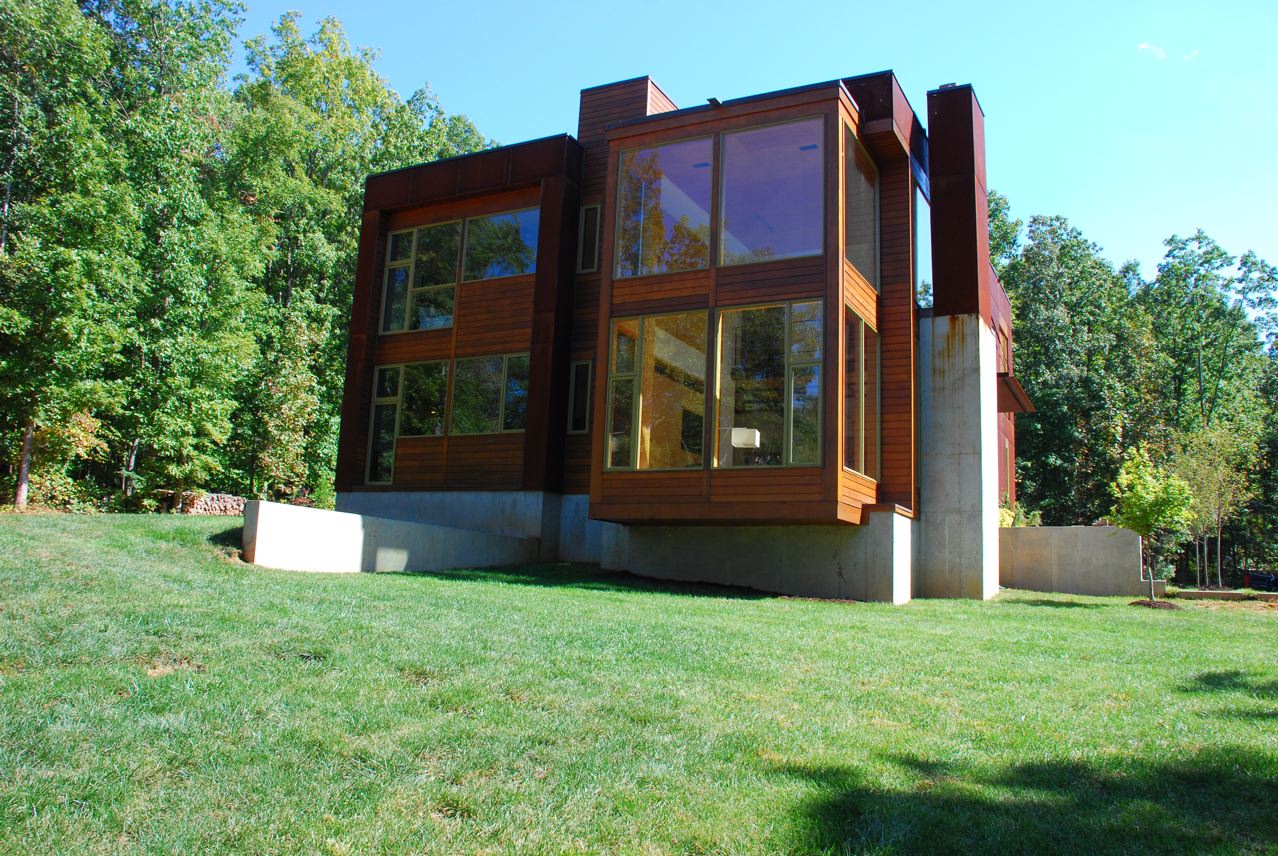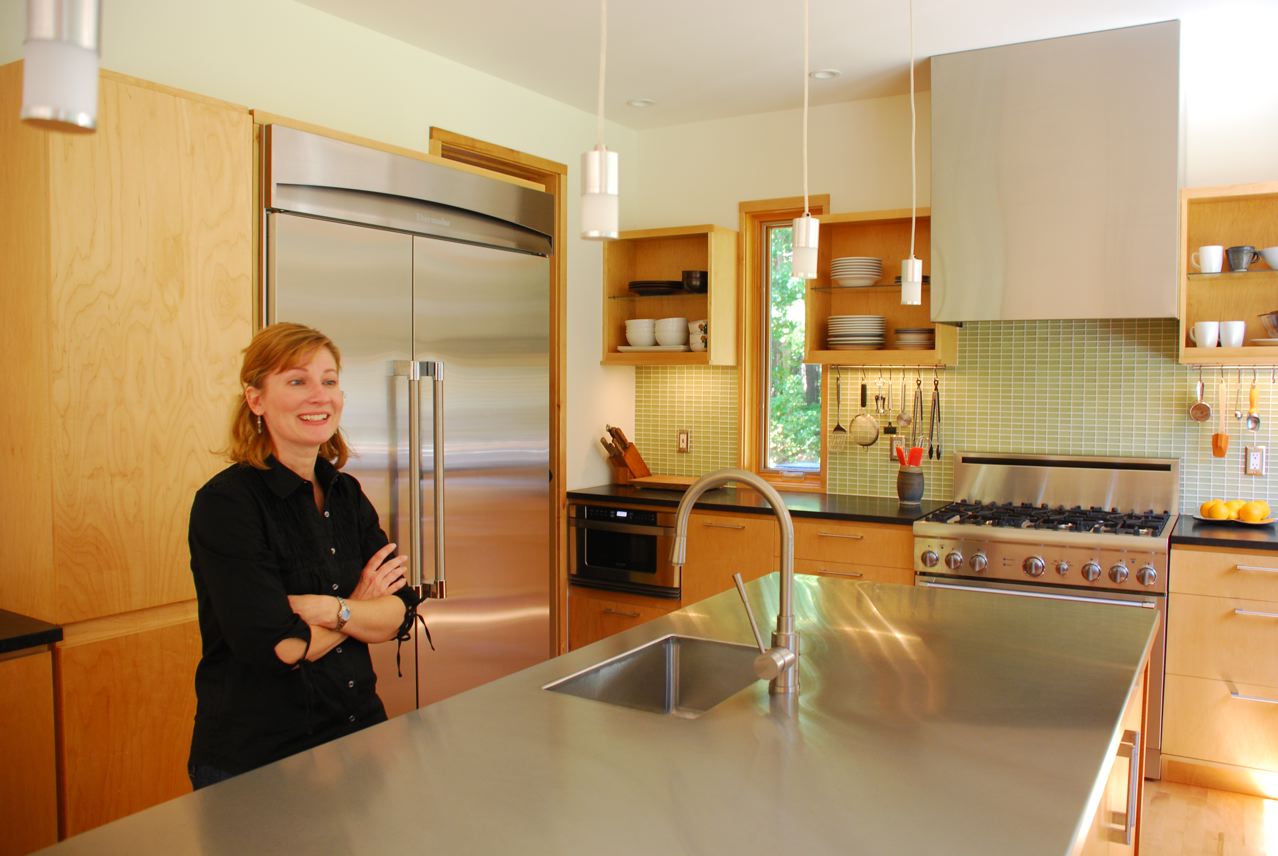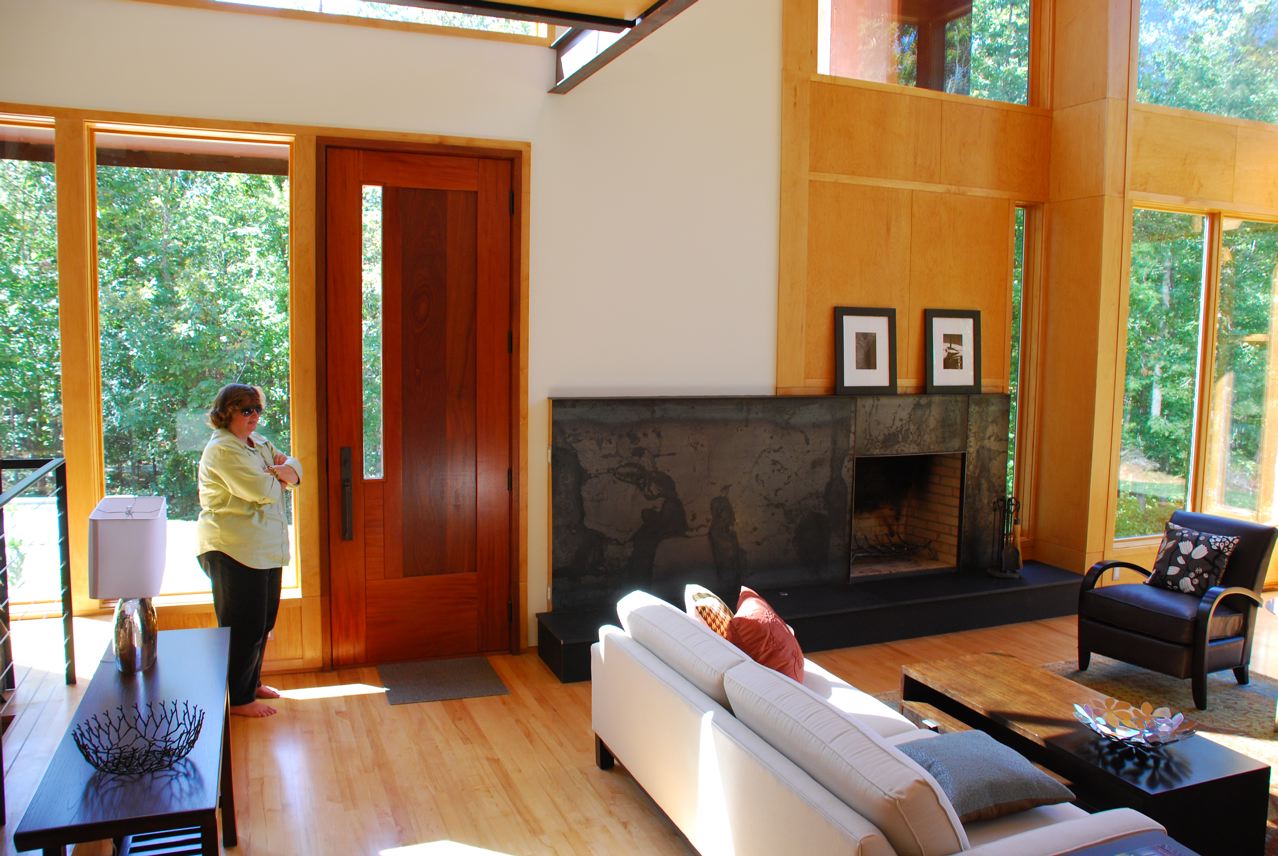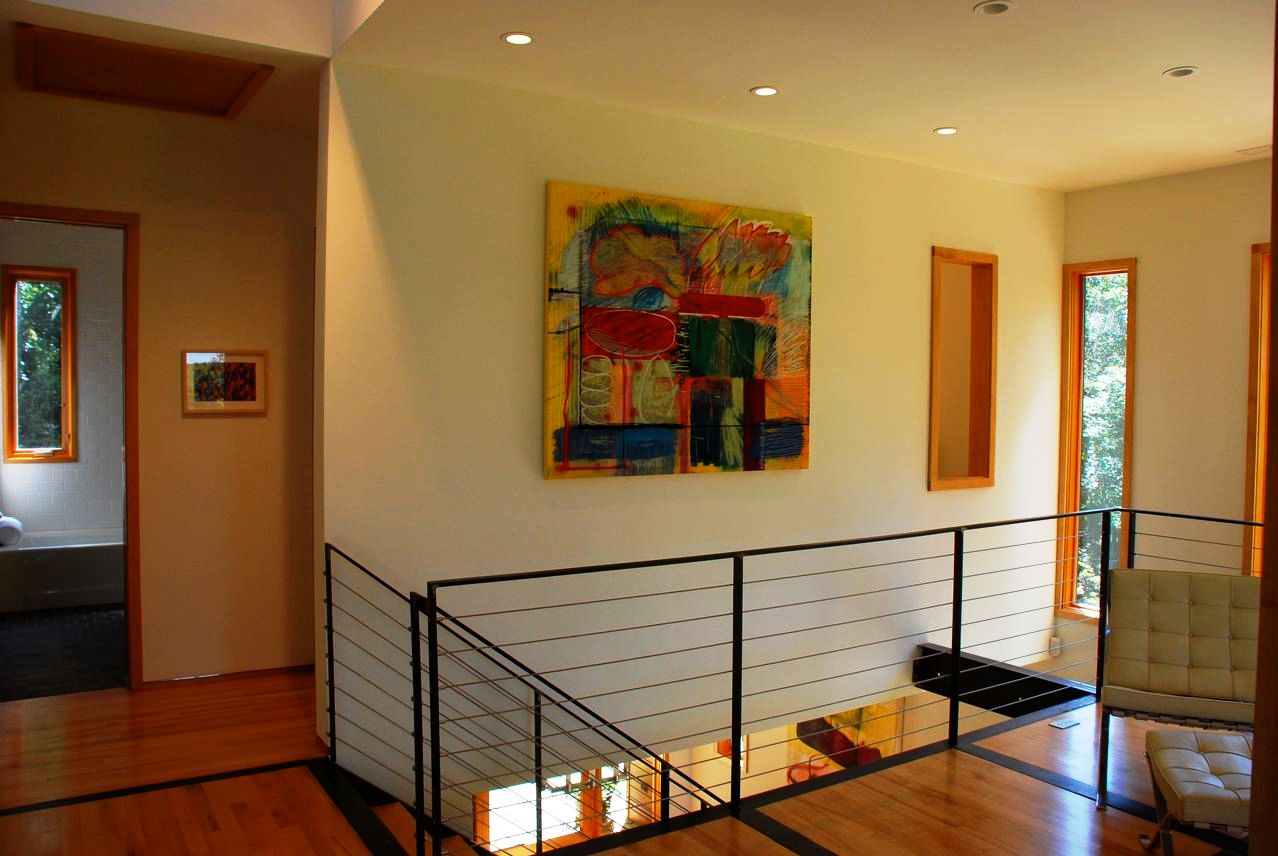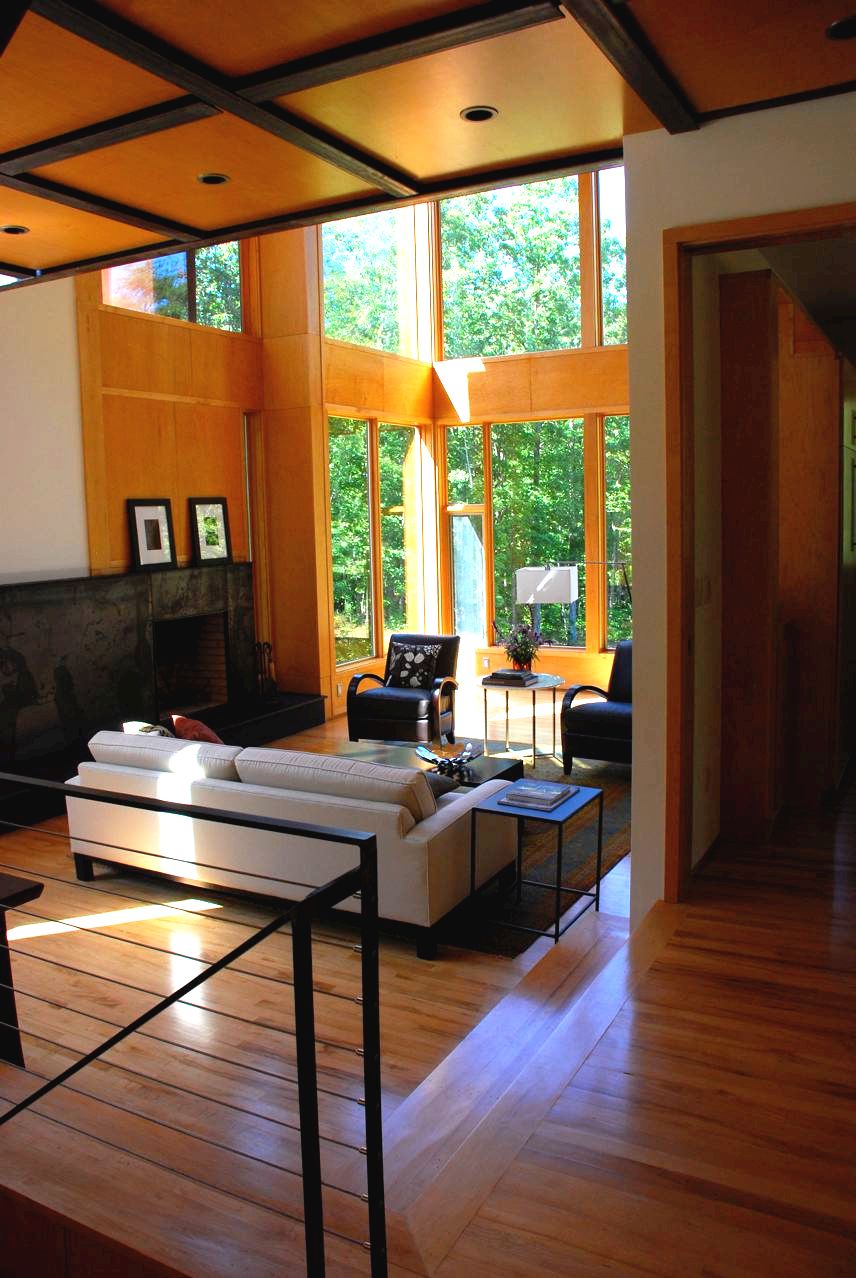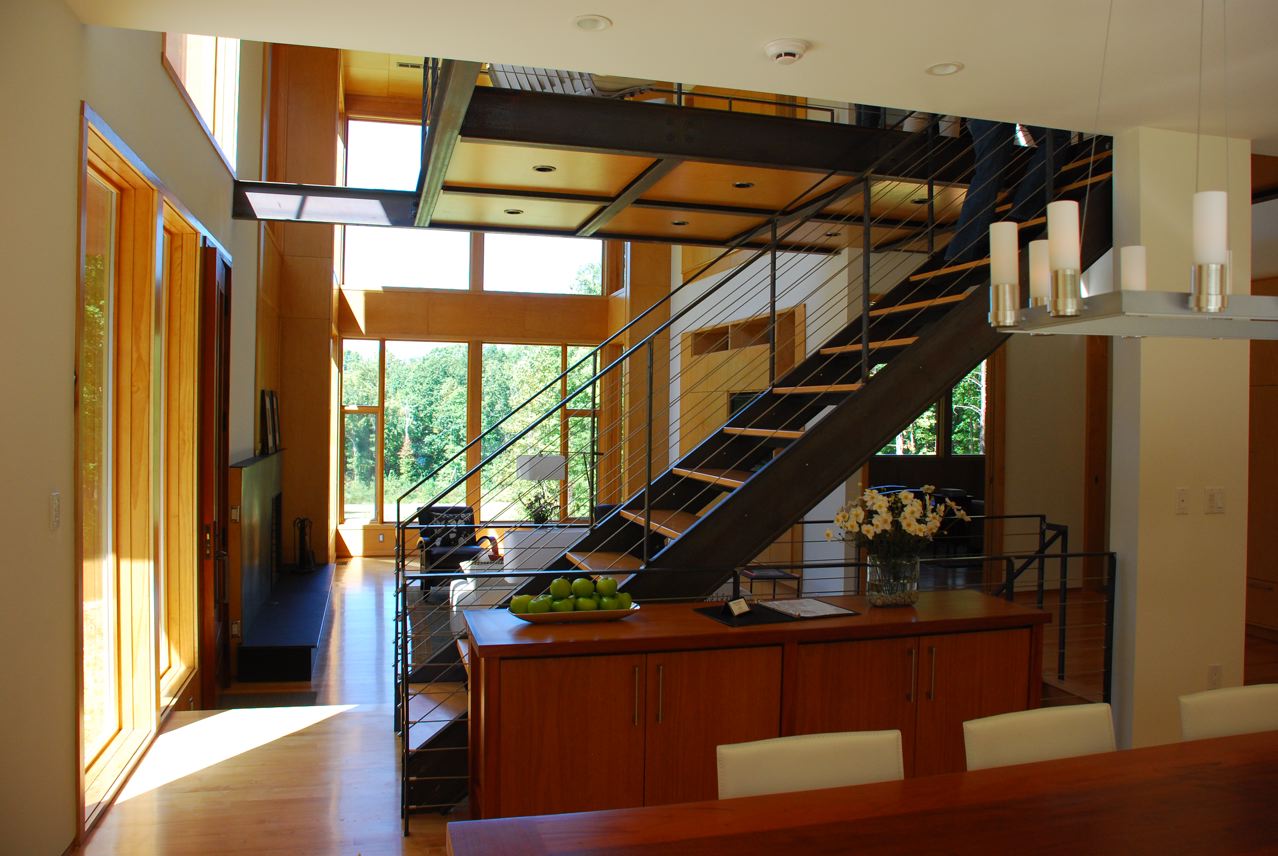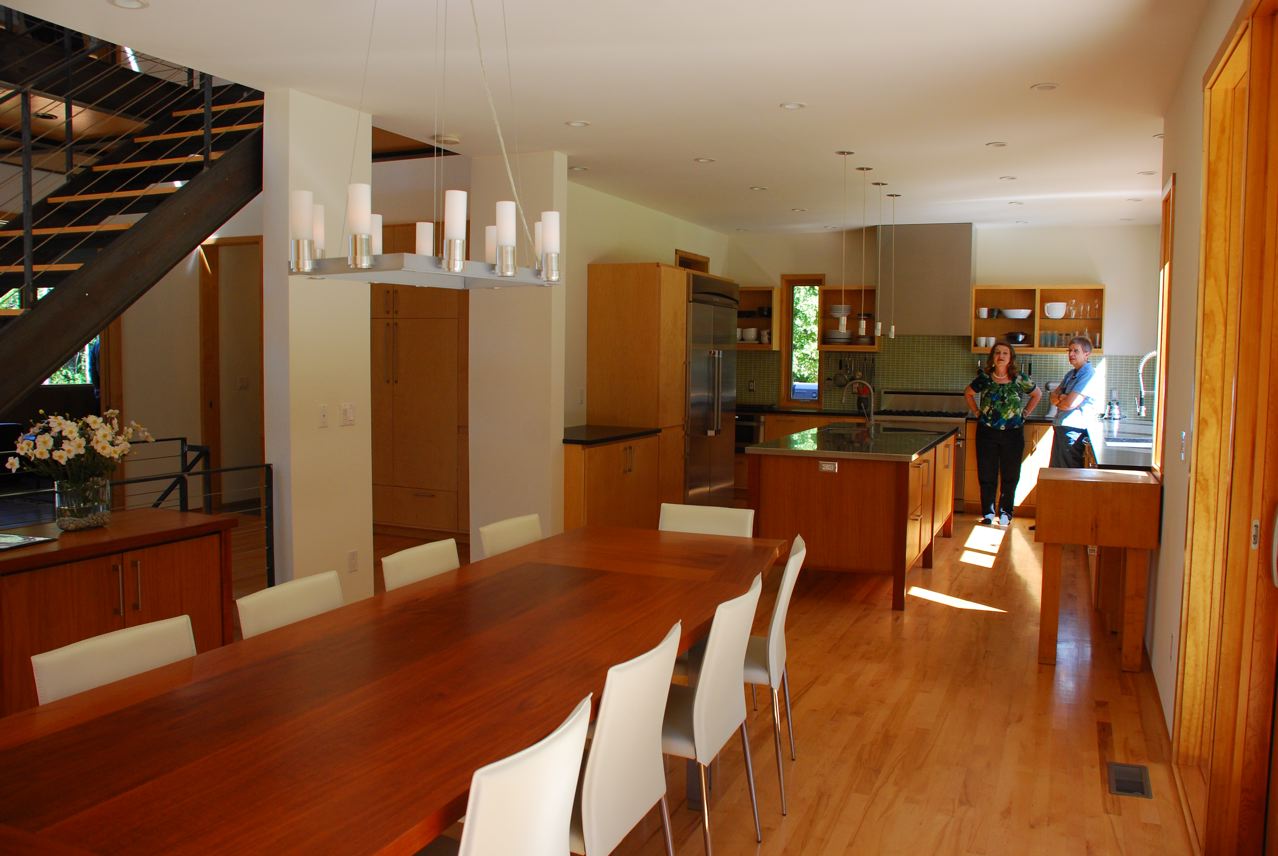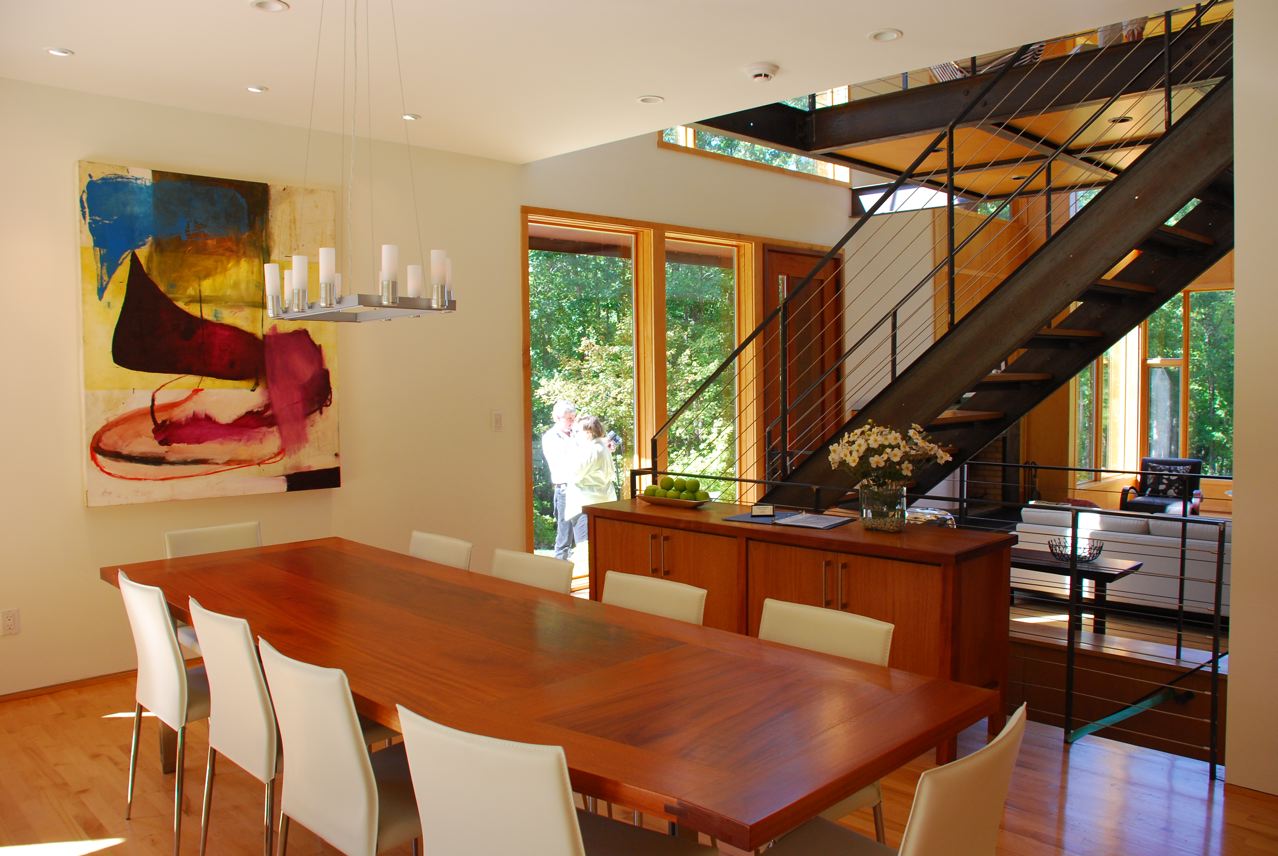 ---
August 2009: Putting the Ease in Easements
How to Save Modernist Houses from Future Bulldozers
Pullen Memorial Church Chapel, Raleigh
Many people have a deep personal connection to their house or property – it is a part of their family legacy or the cherished result of a life's work – and a preservation easement assures a beloved property will be preserved forever. A preservation easement is a legal agreement filed with the county register of deeds that protects buildings.
Easements are flexible tools and can be custom-designed to meet the personal and financial needs of the property owner. In some cases, the owner may choose only to protect the exterior of the building, but a preservation easement may also protect a building's interior and important landscape elements.
TMH Executive Director George Smart led a panel discussion on making easements easier! This included the nature of easements, what they protect, advantages and disadvantages, local historic districts, the National Register of Historic Places, length of easements, parties involved, and costs required.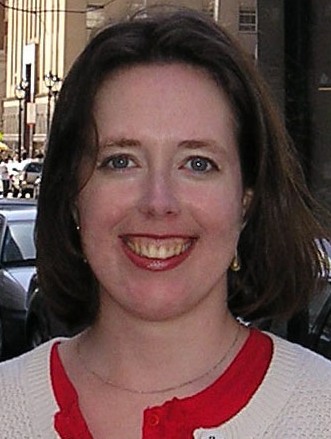 Elizabeth Sappenfield is Director of Urban Issues for Preservation North Carolina and the National Trust for Historic Preservation. A Raleigh native, Elizabeth is working on preservation issues in the City of Raleigh, including protecting historic neighborhoods, advocating for preservation in city planning, and working directly to preserve historic properties. She is particularly interested in the preservation of Raleigh's Modernist architecture, working with owners of Modern homes on their preservation options, including easements, and educating the public on Raleigh's Modernist architecture legacy.
Since 1978 Myrick Howard has been Executive Director of Preservation North Carolina, the state's only statewide private nonprofit preservation organization. Through its endangered properties program, PNC has protected more than 500 historic properties across the state, resulting in over $200 million in private investment. In 2007, he published Buying Time for Heritage, a book about saving endangered properties. He is the 2006 winner of the AIA Triangle Isosceles Award.
Sig Hutchinson is a longtime Wake County insurance agent. He is best known for his work protecting and preserving open space, expanding our world class greenway system and promoting multi-modal transportation options such as connecting sidewalks, bike lanes and greenways to an expanded bus and light rail system. Sig successfully led four bond referendums totaling more than $140 million in Wake County for Open Space and in the City of Raleigh for Parks and Greenways.
Special Guests: Sally Greene, modernist homeowner whose house is under easement, appeared via video (below).
Ellen Weinstein
of Dixon Weinstein Friedlein, the building's architects, discussed the new chapel's design and construction.
Sally Greene Video - hear the story of putting an easement on her Terry Waugh house (may take a few minutes to load). If this doesn't work for your computer, here's the transcript.
August 2009 Powerpoint Presentation on Easements by Preservation North Carolina
---
August 2009
The Zuco Residence Tour, Chapel Hill
Designed by Randy Lanou of Buildsense/Studio B who was there to answer questions. With sleek styling and unique shading devices, this 2500 square foot, one-level houseplan accommodates modernist design at an affordable price. Not quite completed when we went on the tour. About 40 people attended.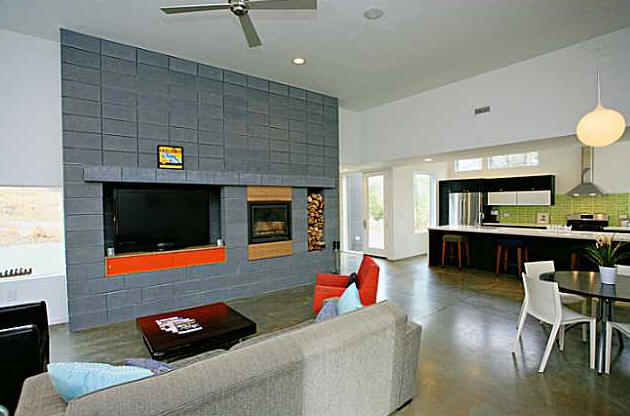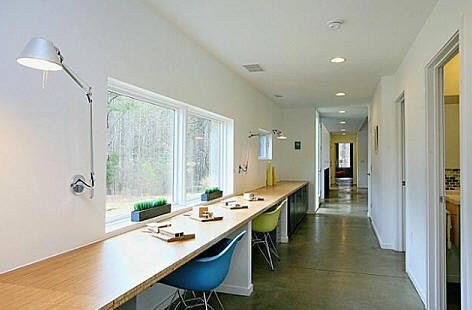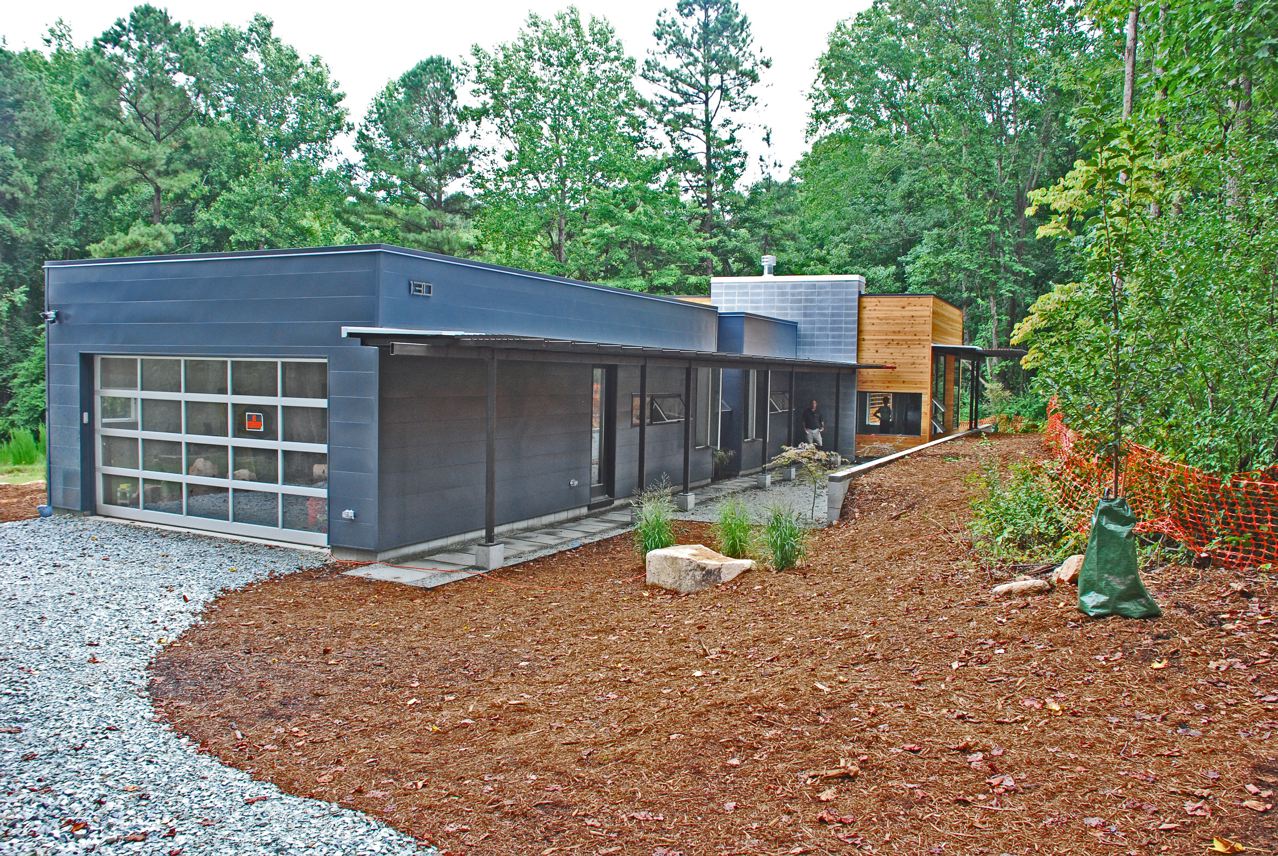 ---
August 2009
Durham Performing Arts Center
Featuring a Behind-The-Scenes Tour of DPAC by architect Phil Szostak.
About 60 people attended.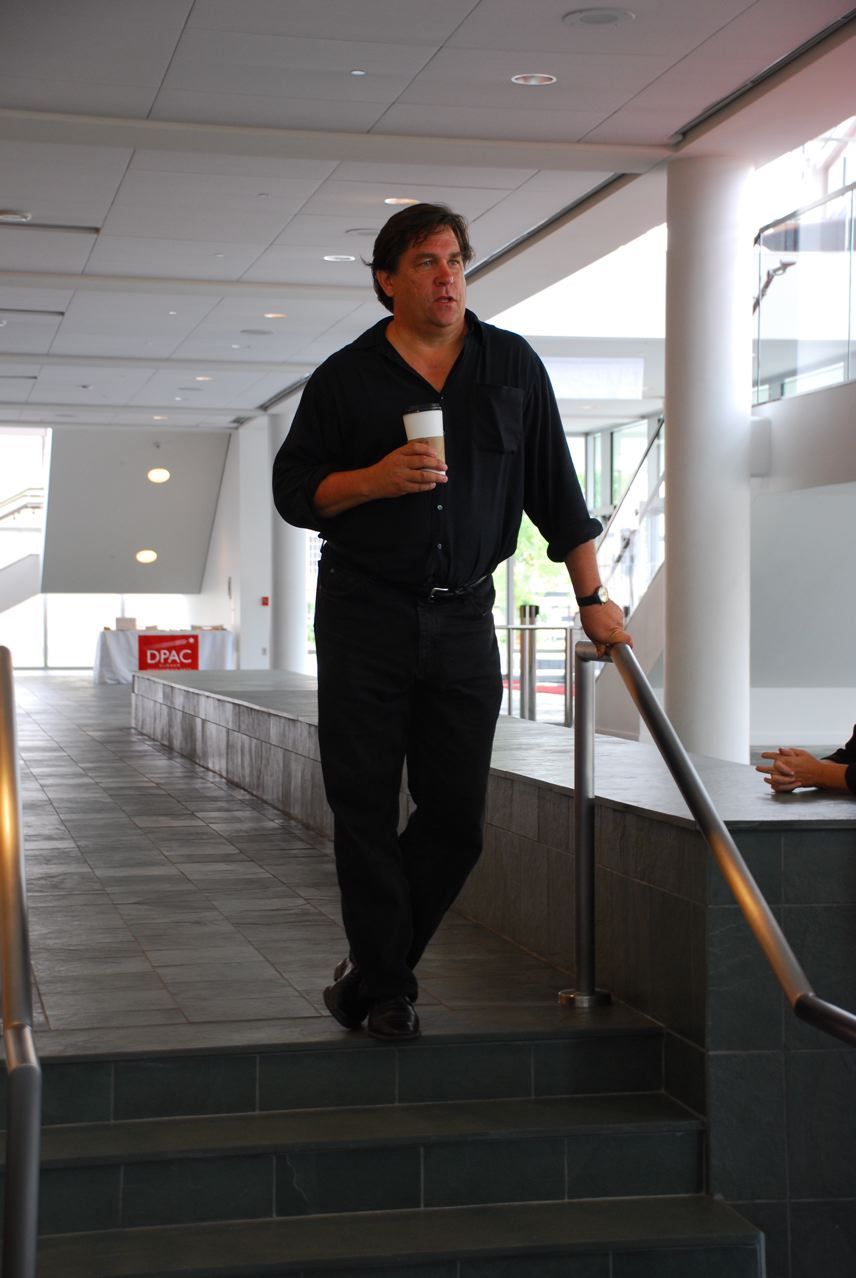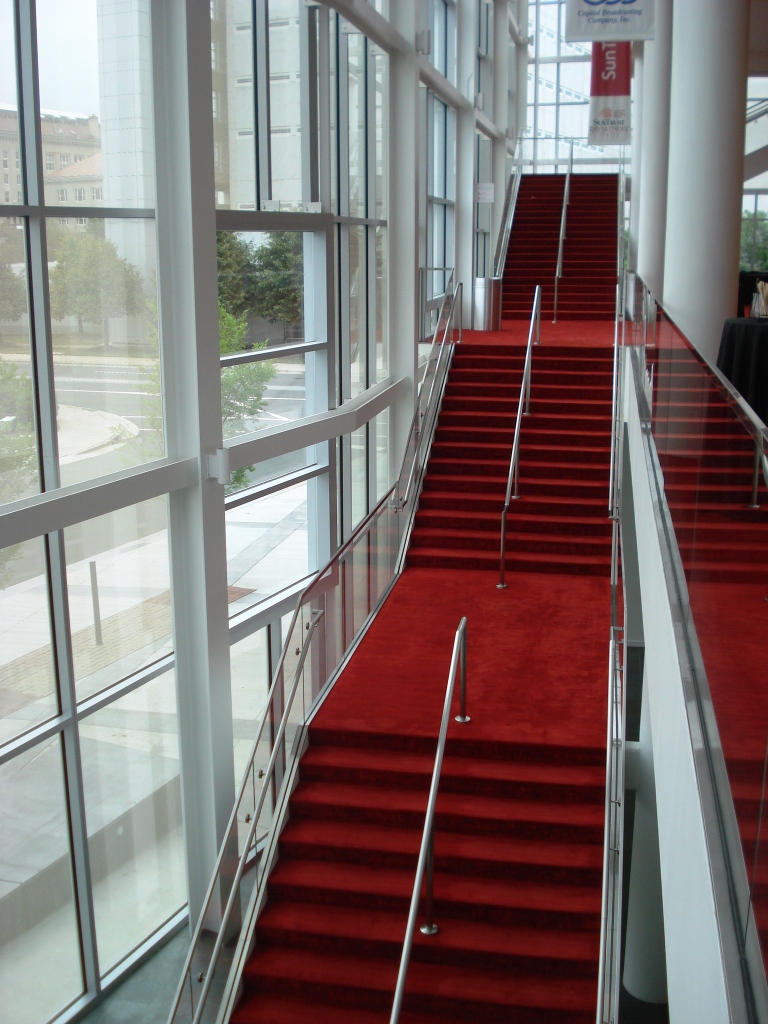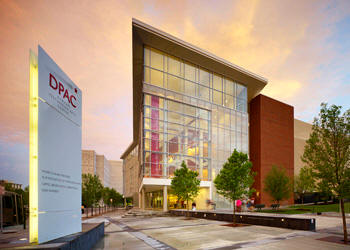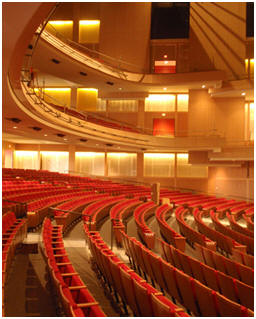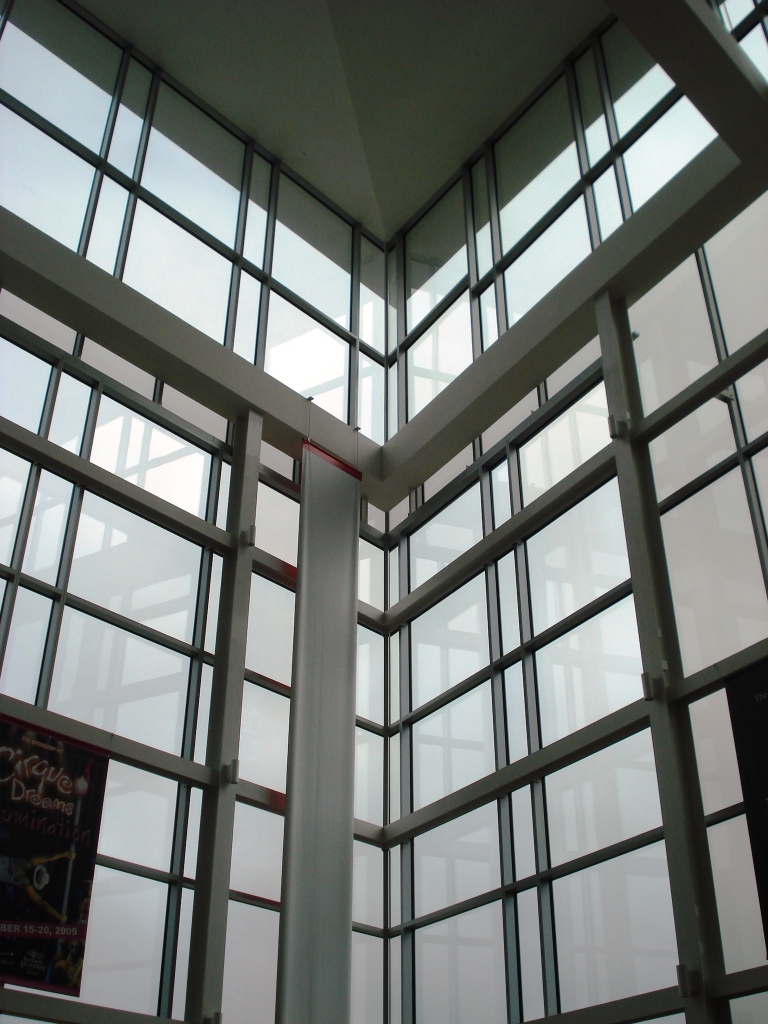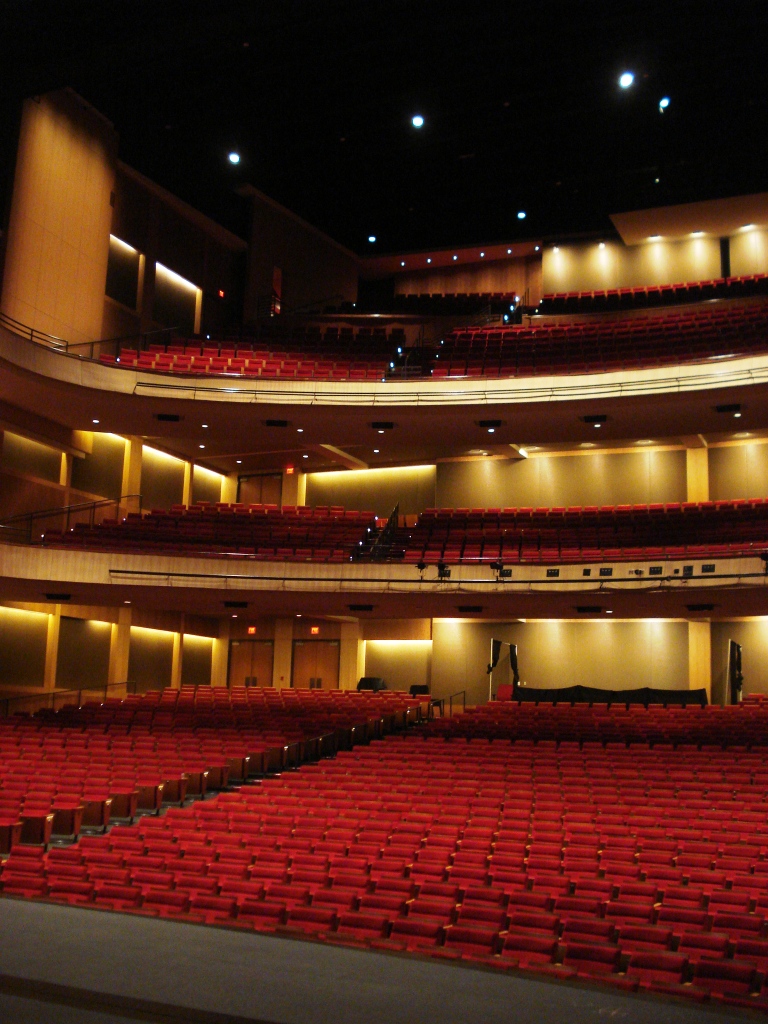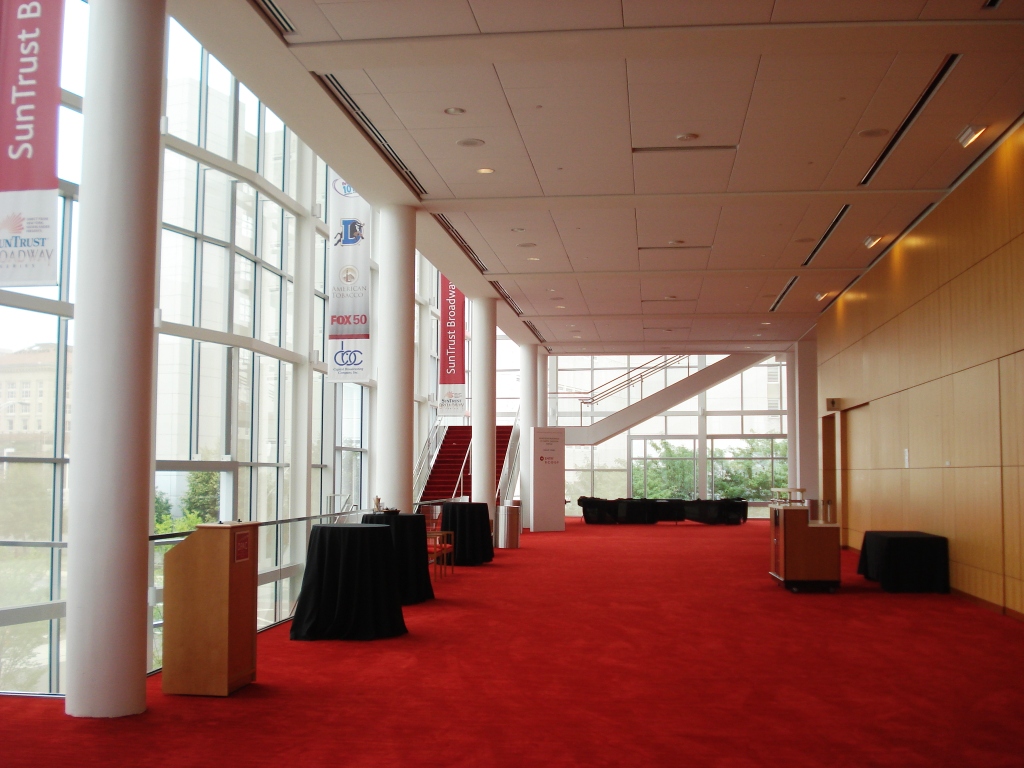 ---
August 2009
The Phil Szostak Residence, Chapel Hill.
Thanks to our host, owner, and architect Phil Szostak. About 50 people attended.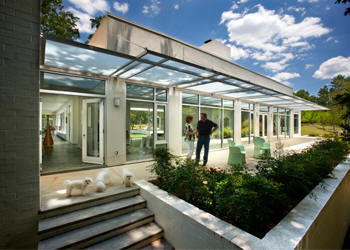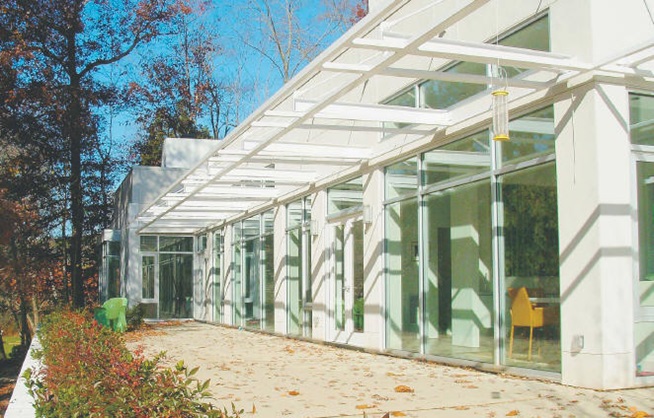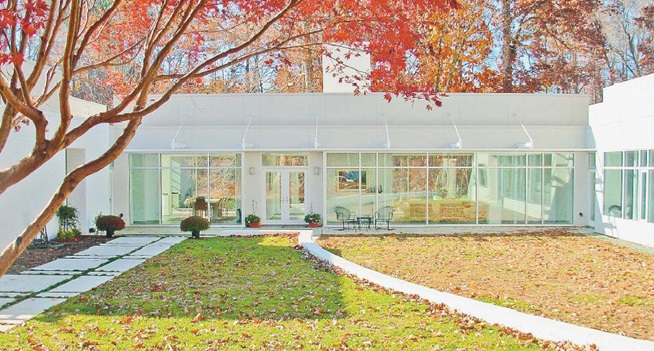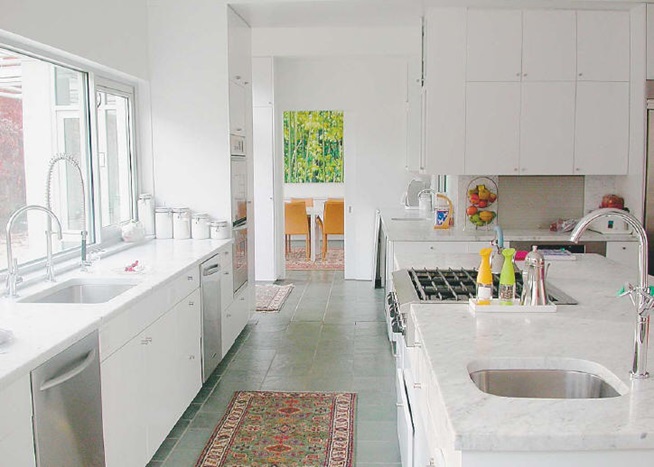 ---
May 2009
The Johnson Residence Tour, Raleigh
Featuring the amazing David and Charlene Johnson Residence, 1825 Stillwater Drive, Raleigh. Designed by Jessica Johnson Moore and Chad Everhart. David Johnson of Urban Edge Construction, Moore's father, was both client and general contractor. 3900 square feet. Tim Martin was the structural engineer. Thanks to TMH Volunteers Sharon Glazener, Robert Harper, Monica Hunter, Cynthia Robertson, Leslie McAdams, and Eleanor Stell. About 200 people attended.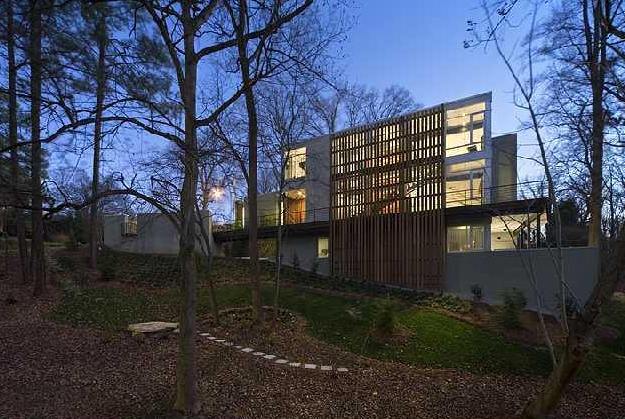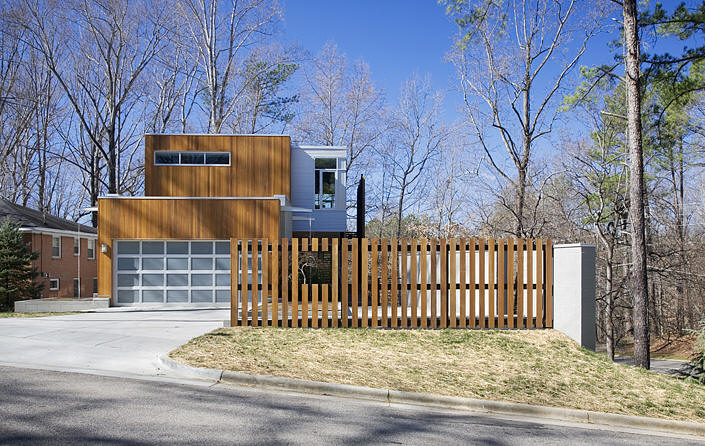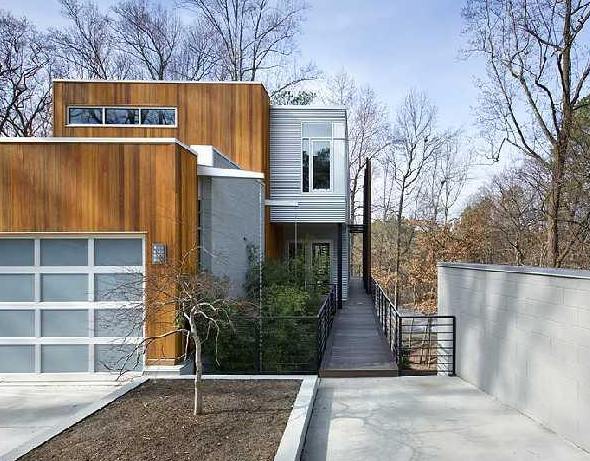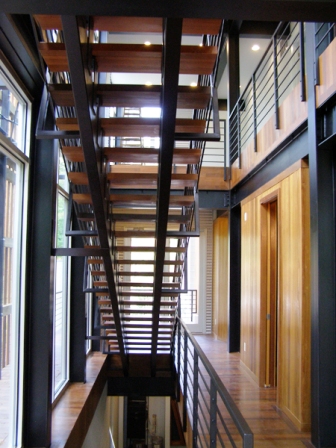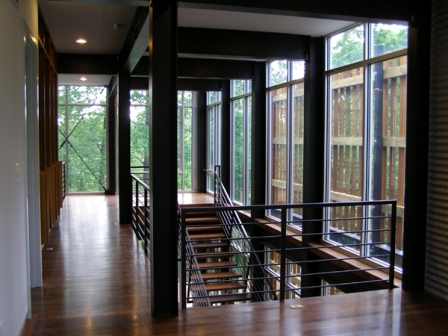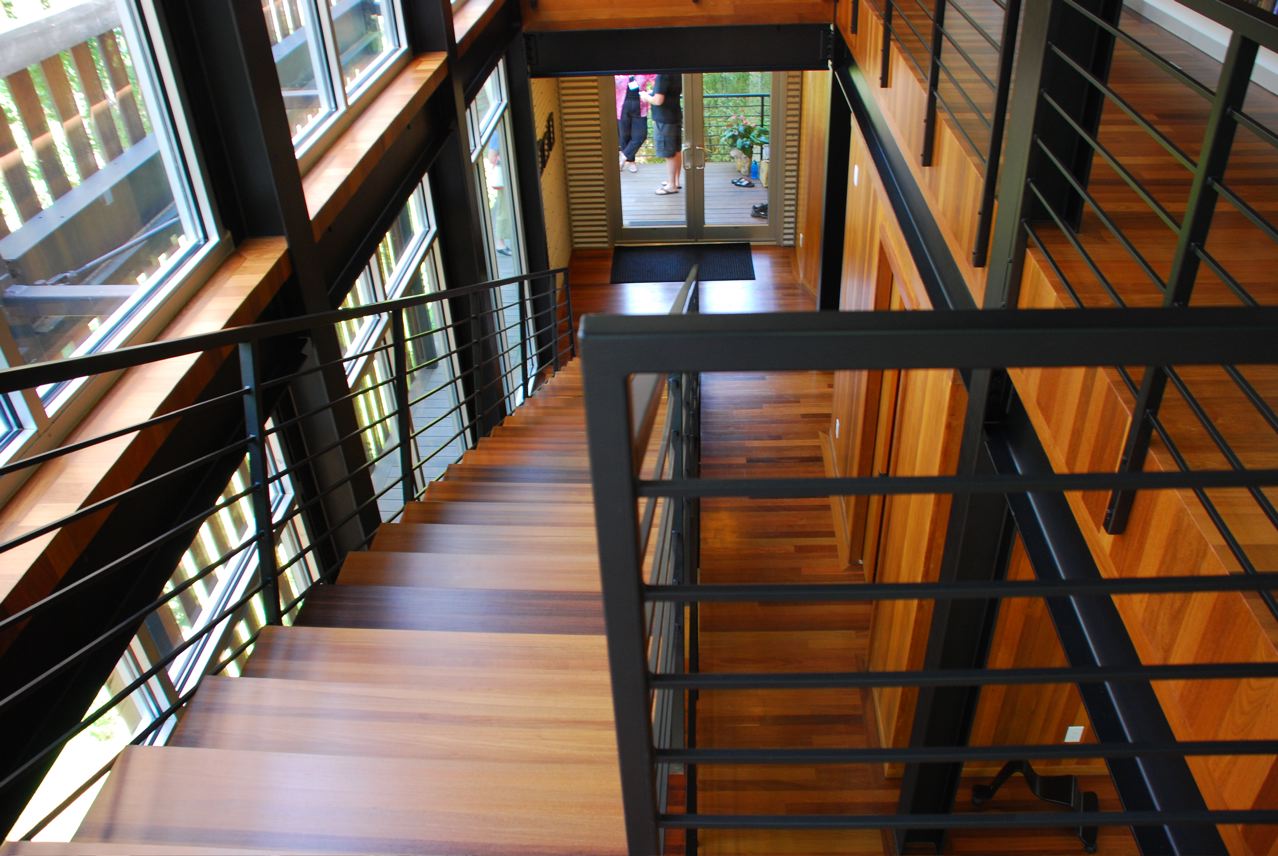 ---
April 2009
60th Anniversary of the NCSU College of Design Tour
Featuring six prime examples of Raleigh modernist houses from the 1950's to the present. 390 modern architecture fans from across the Triangle and as far away as Atlanta and Massachusetts bought tickets. Our fleet of buses took participants all around west Raleigh on a beautiful April afternoon.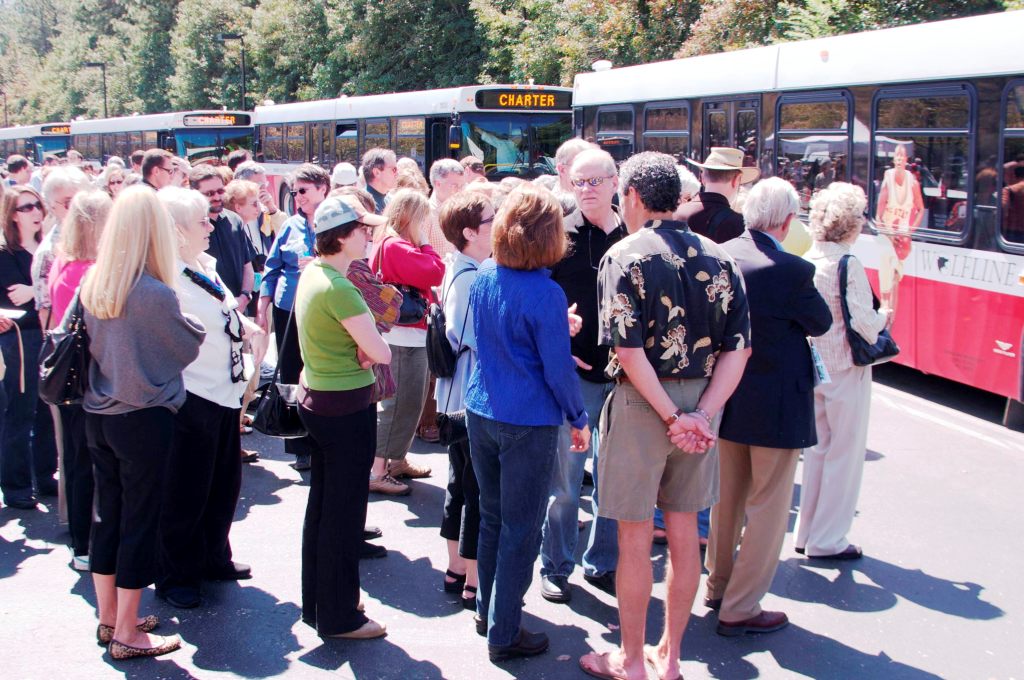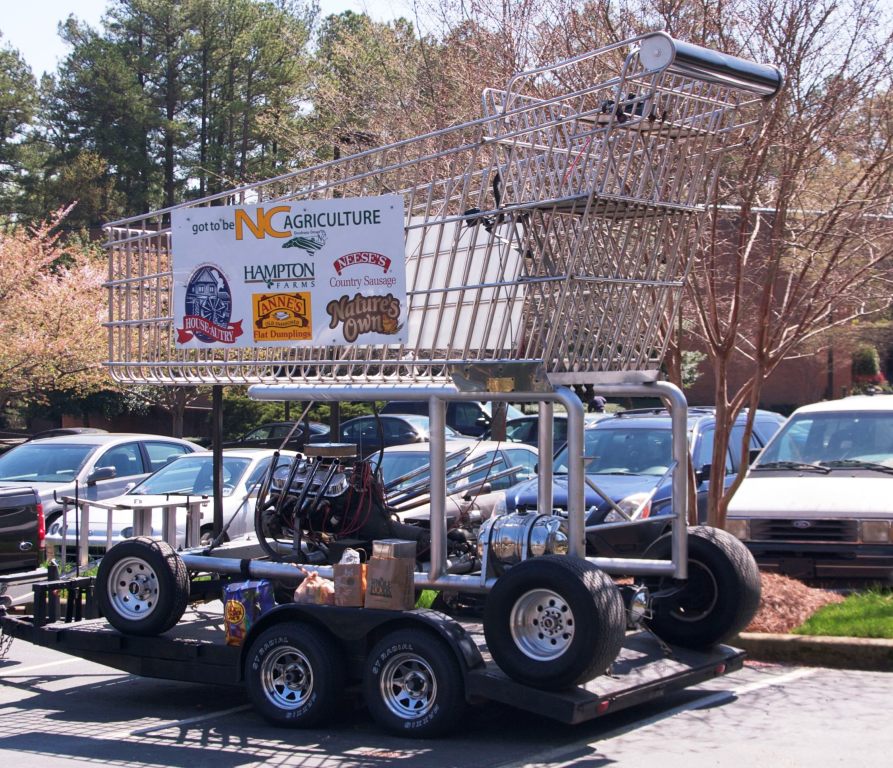 Thanks so much to our wonderful homeowners who opened up their exceptional houses for a perfect day for touring; Diamond sponsor Bernie Reeves and Metro Magazine; Sharon Glazener, Heather Rule and the Young Architects Forum, and 36 volunteers who worked at the houses; Cindy and Tim Stratton and 16 volunteers working registration; house experts Tika Hicks, Frank Harmon, Vinny Petrarca, and Brian Shawcroft; Jean Marie Livaudais at the NCSU College of Design; Milton Small; and WUNC Radio. 243 pounds of food was collected for the Interfaith Food Shuttle.We also had a visit from the Big Cart, above, courtesy of the NC Department of Agriculture.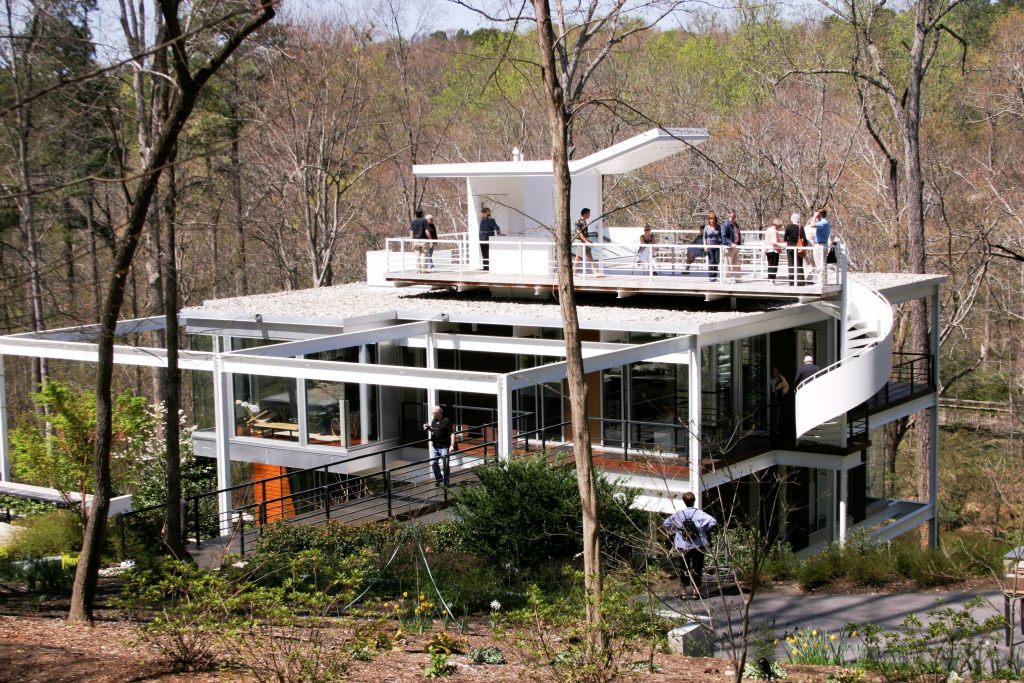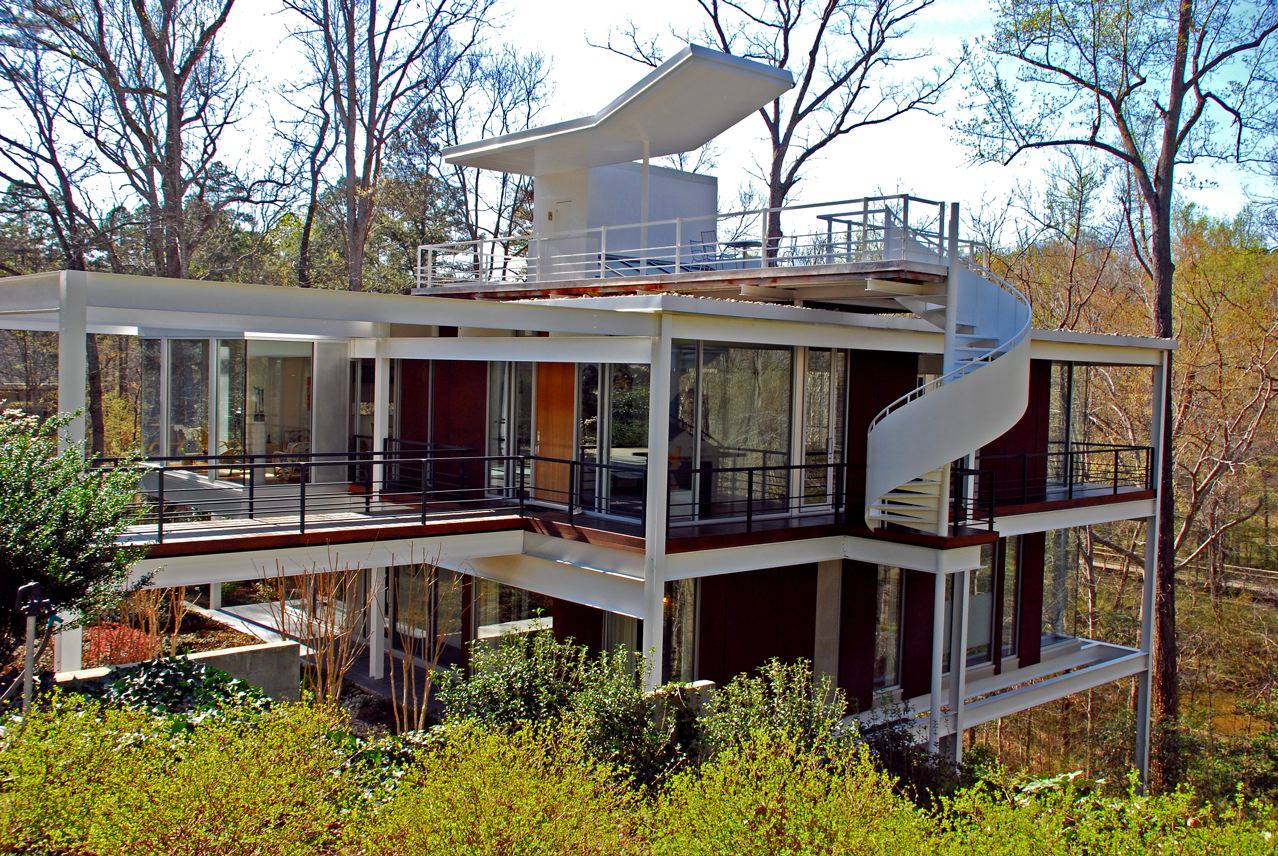 The Chiles House (designed by Vinny Petrarca)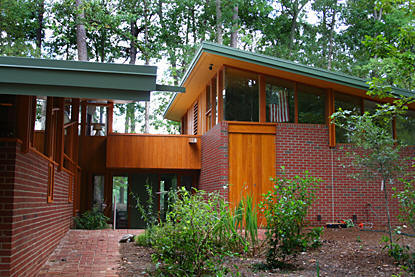 The Fadum House (designed by James Fitzgibbon, addition by Brian Shawcroft).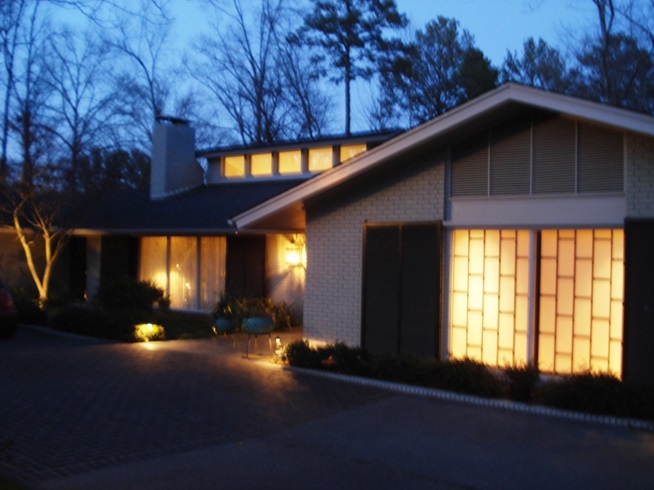 The Johnson House (designed by Milton Small, renovated by Carter Williams).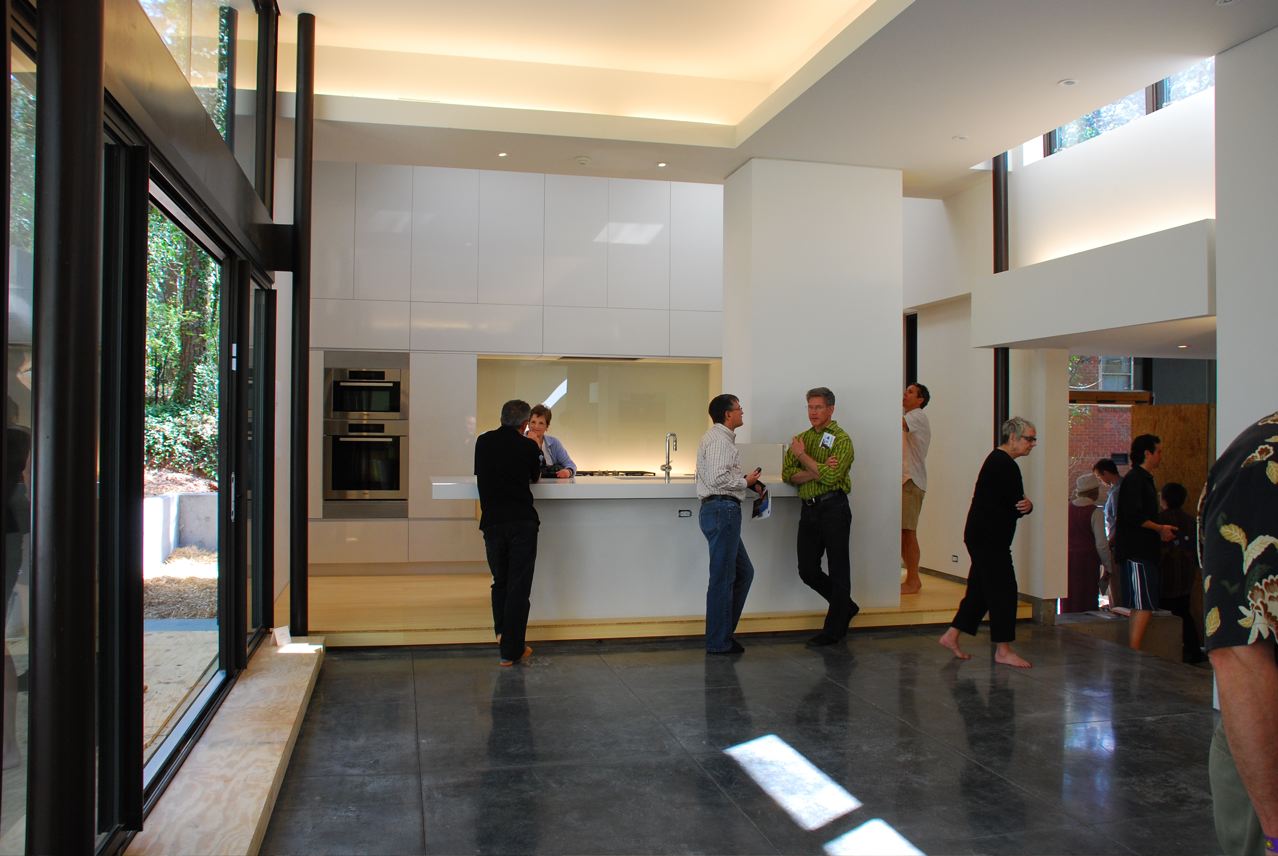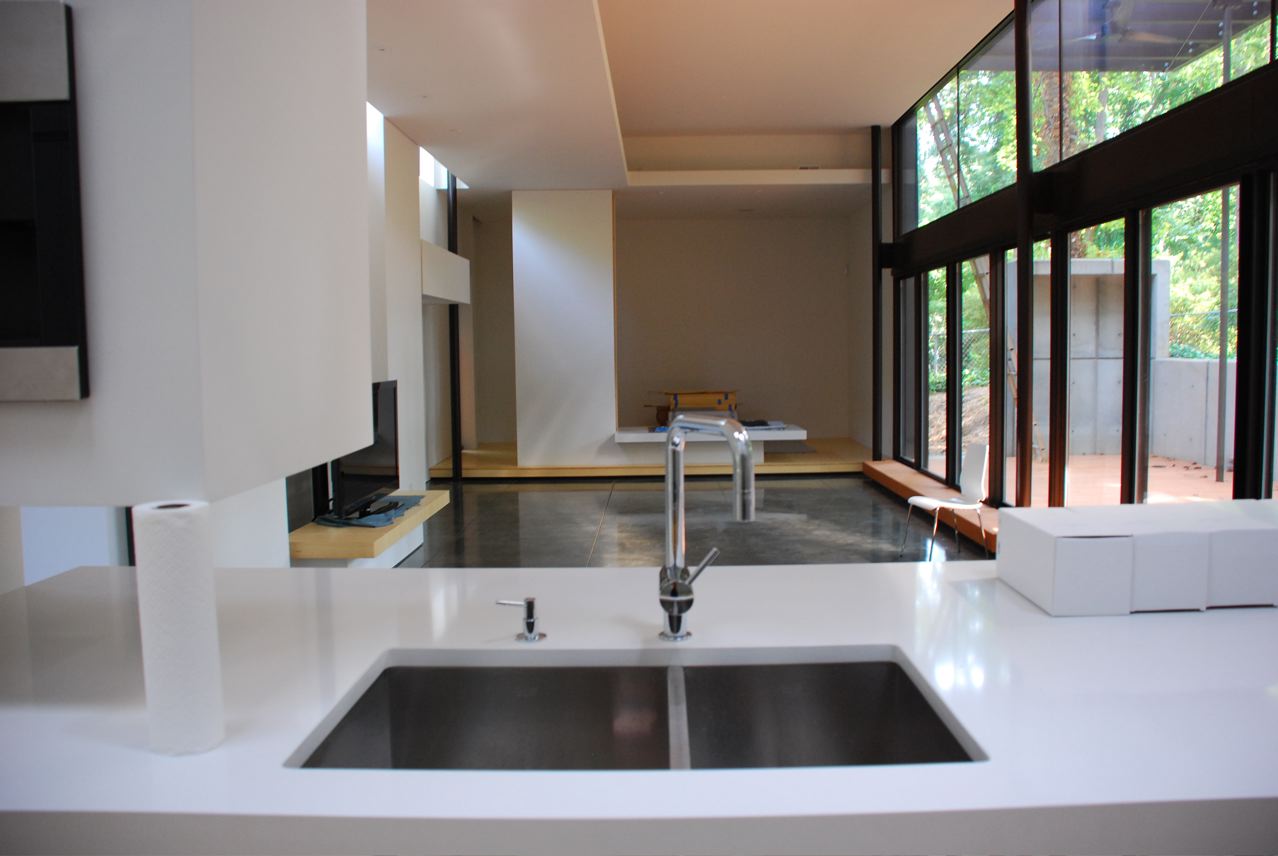 The Clark/Grullon House, 1212 Banbury, Raleigh. Designed by John Reese, built by Will Alphin. Was still under construction during the tour. Finished in September 2009.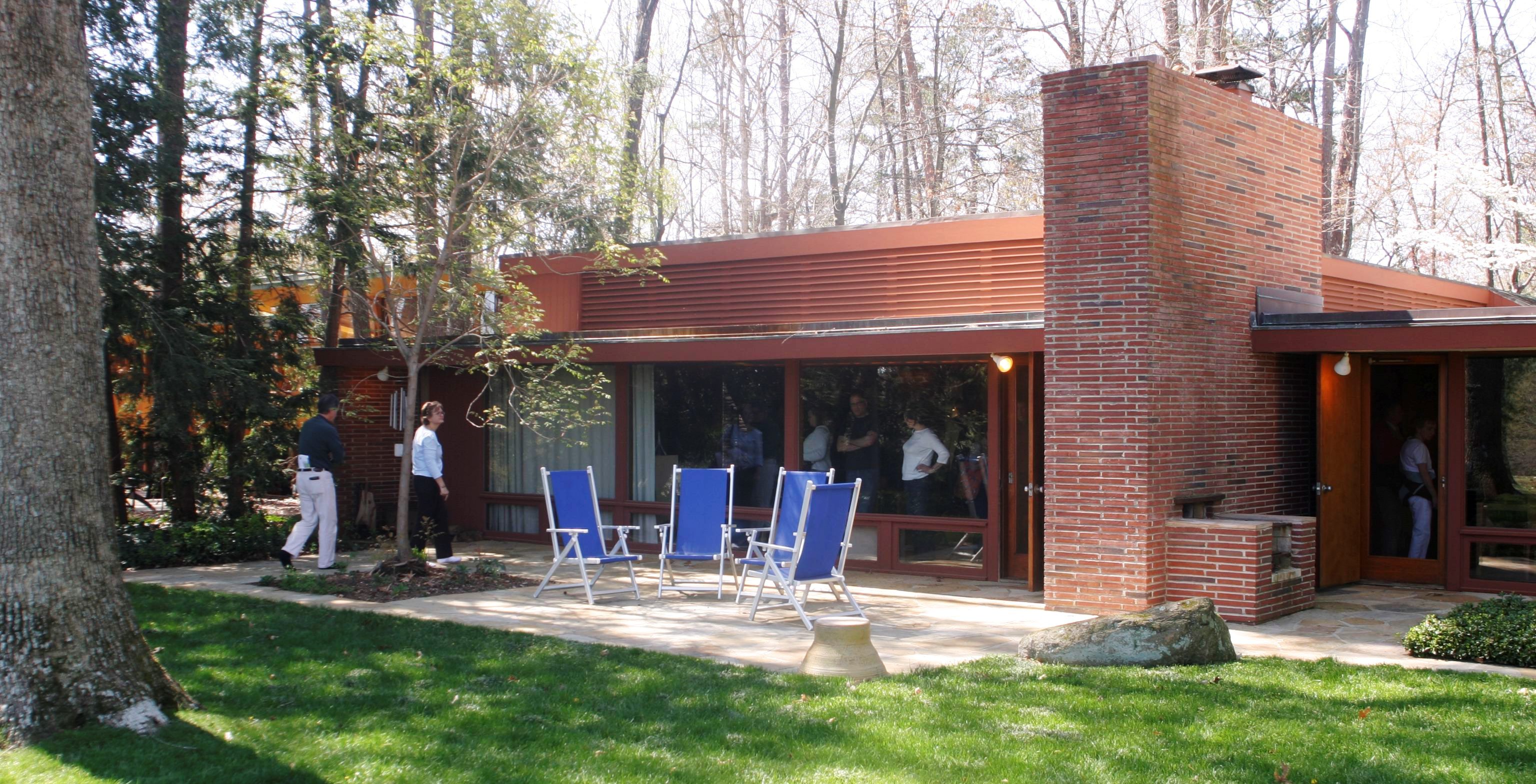 The Kamphoefner House (designed by George Matsumoto and Henry Kamphoefner, addition by Robert Burns).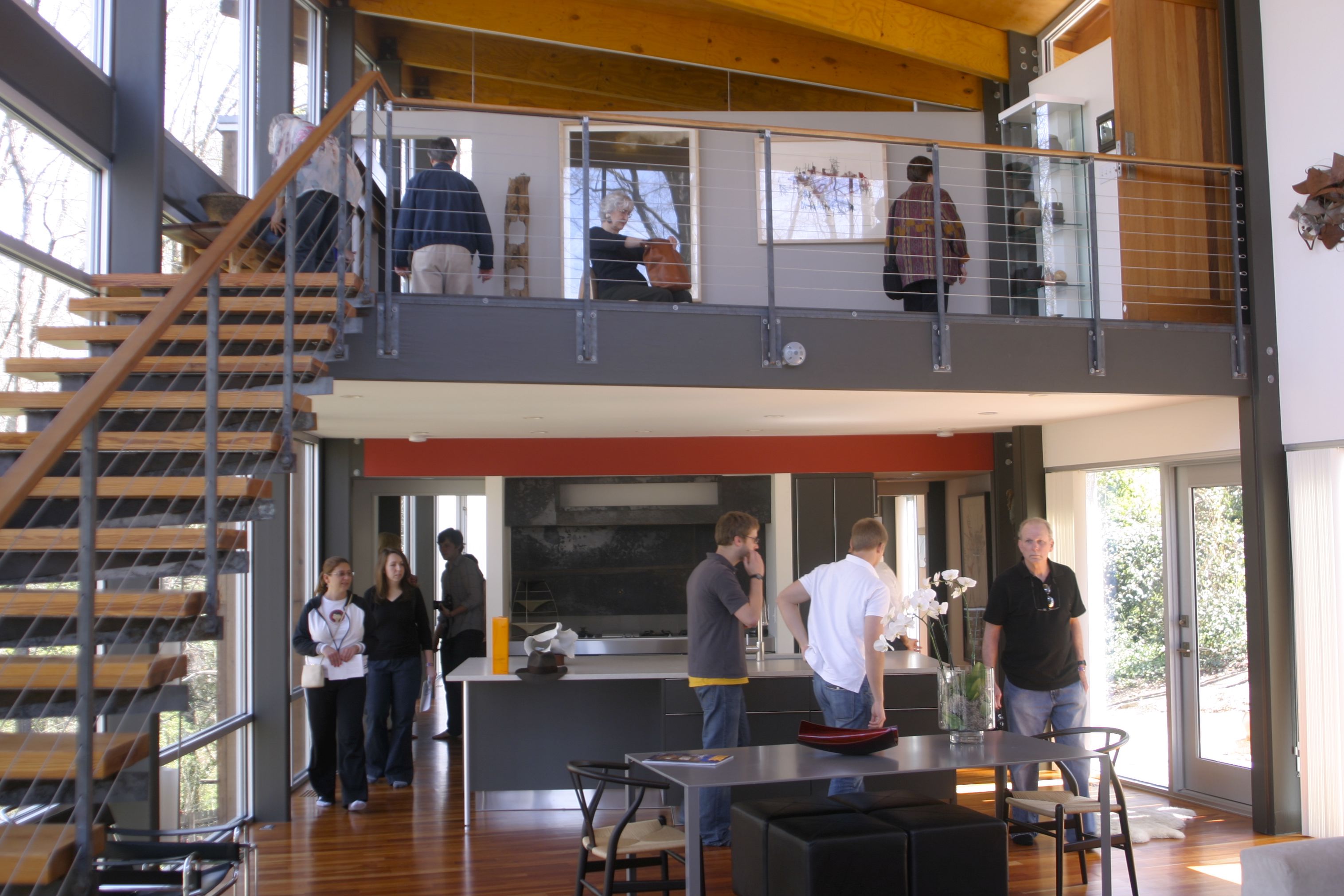 ---
February 2009
Cassilhaus Tour in Chapel Hill
Cassilhaus was designed by
Ellen Cassilly
. 300 people came out on a very cold and wet February afternoon to explore breathtaking design.
Thanks so much to Ellen Cassilly and her husband Frank Konhaus for opening up their beautiful home; for volunteers Jean and Ron Cole, their friends Ed and Kim, Heather Wagner, Lucy Pittman, Becky Shankle, Larissa and Levi from ECHHS, Eleanor Stell, Leslie McAdams, shoe police Sharon Glazener, Anne Seeley, and Sally McCormick, and Heather Rule.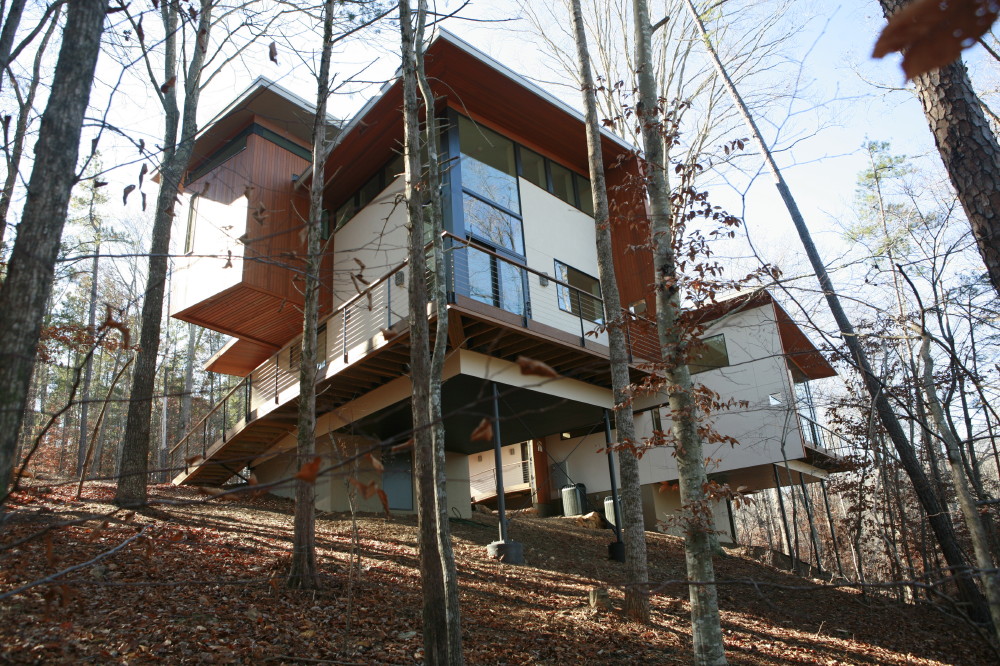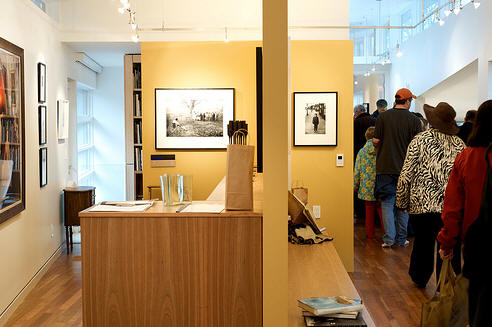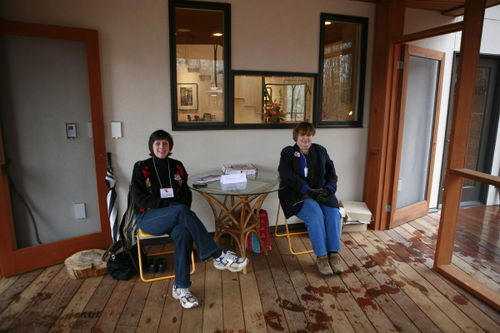 Dedicated "shoe police" Sally McCormick and Sharon Glazener.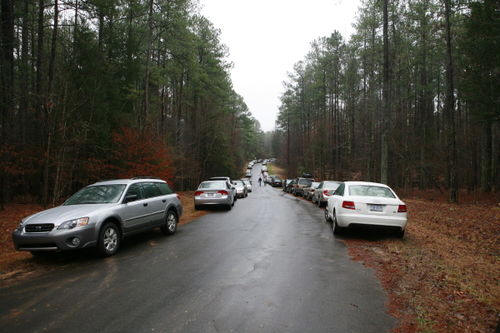 Parking was no problem, thanks to the long and winding road! Photos by Frank Konhaus.