---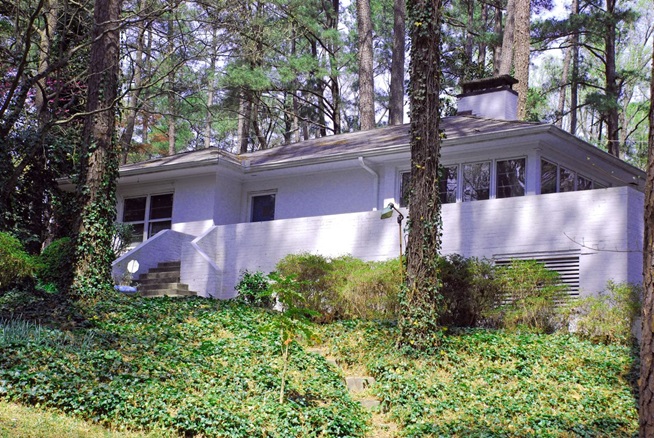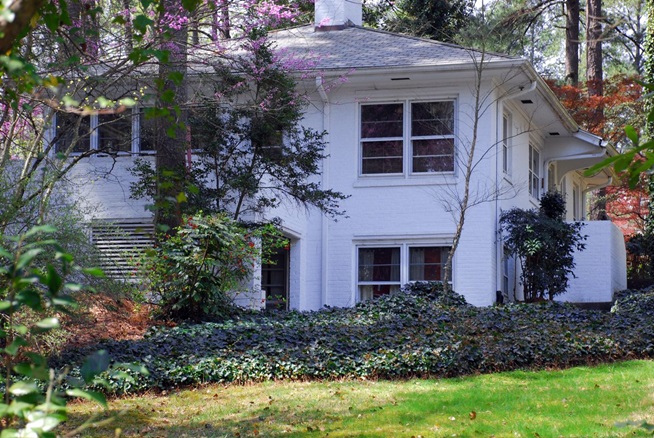 1941 - The F. Carter Williams House, 809 Gardner Avenue, Raleigh. His first office was in the basement. He rented it out during WWII. Williams' partner Macon Smith lived in the basement for 18 months in the late 1940's. Turner Williams lived there for a time as well. There was a photo studio in the basement. Sold in 1959 to Joe and Mildred Elliott. Sold in 1975 to Johnny Randolph Johnson. Sold in 1977 to James and Vella Clark who still owned it as of 2011. Photos by Leilani Carter.
---

1949 - The Hirschberg-Cate House, Raleigh. Status unknown.
---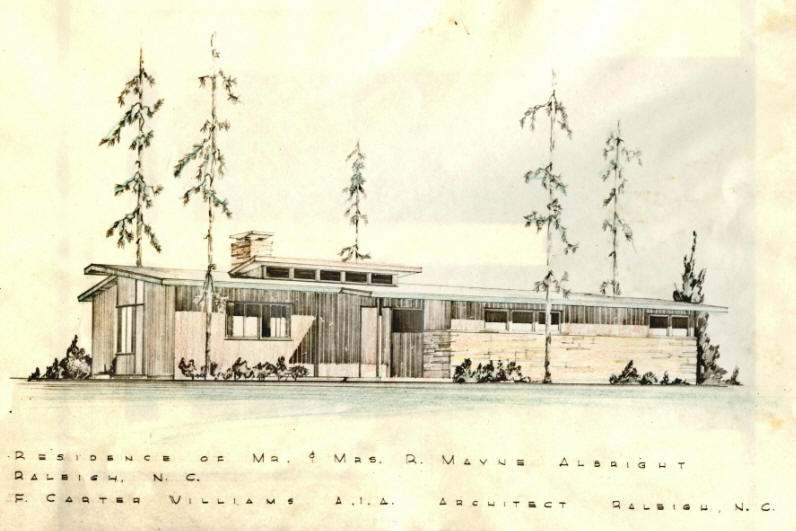 1950 - The Robert (Mayne) and Frances Albright Residence, 3078 Granville Drive, Raleigh. Albright was a candidate for North Carolina Governor in 1948. For years he was the attorney for AIA North Carolina for which he was granted honorary membership in the national AIA. He sold the house in 1991 to trustee James Seay who sold it to William and Larose Spooner the same day. Later that day, they sold it to John Edgar Weems. Sold in 1997 to architect Walter G. Davis. Was a rental for many years. Renovation expected in 2016. Drawing by Macon Smith. Exterior photo by Leilani Carter.
---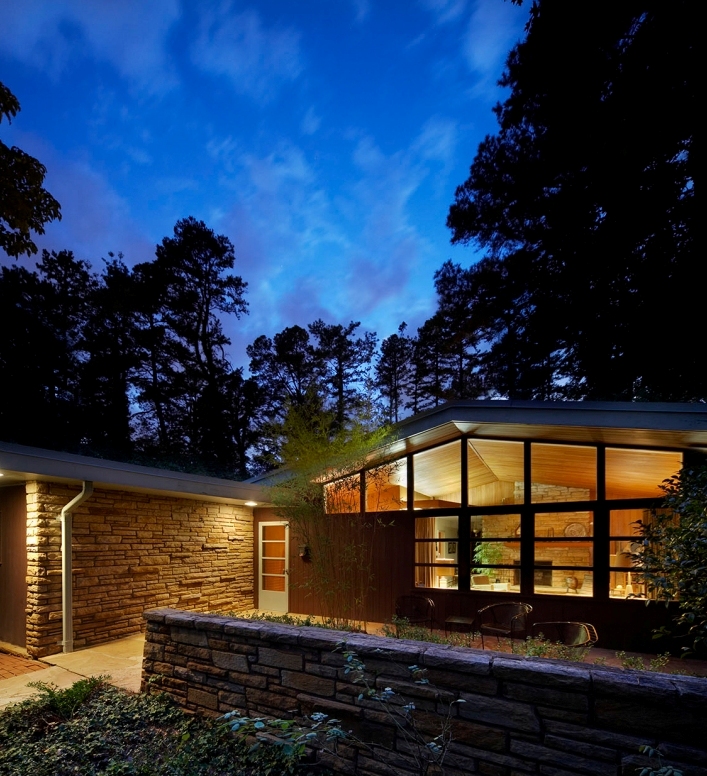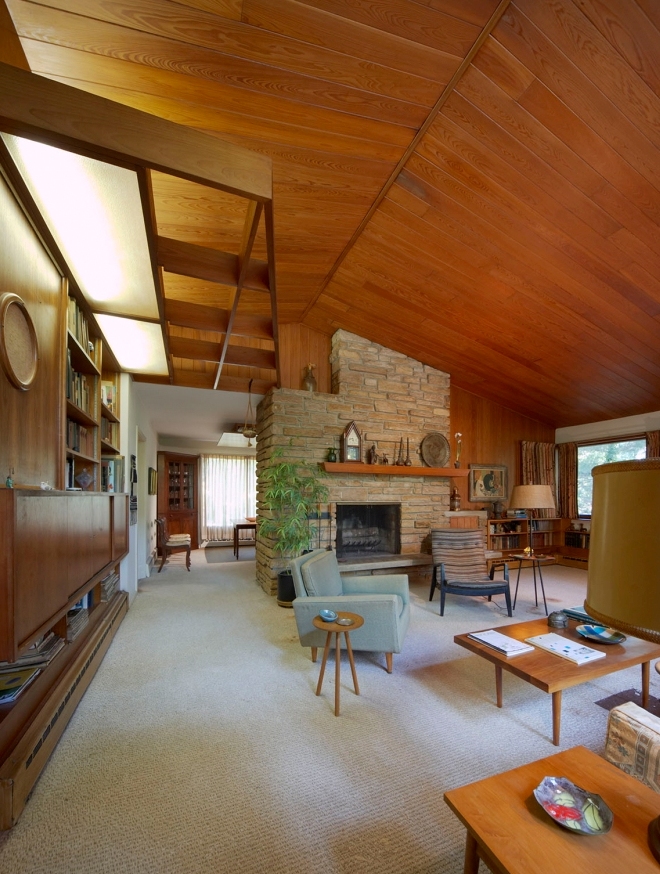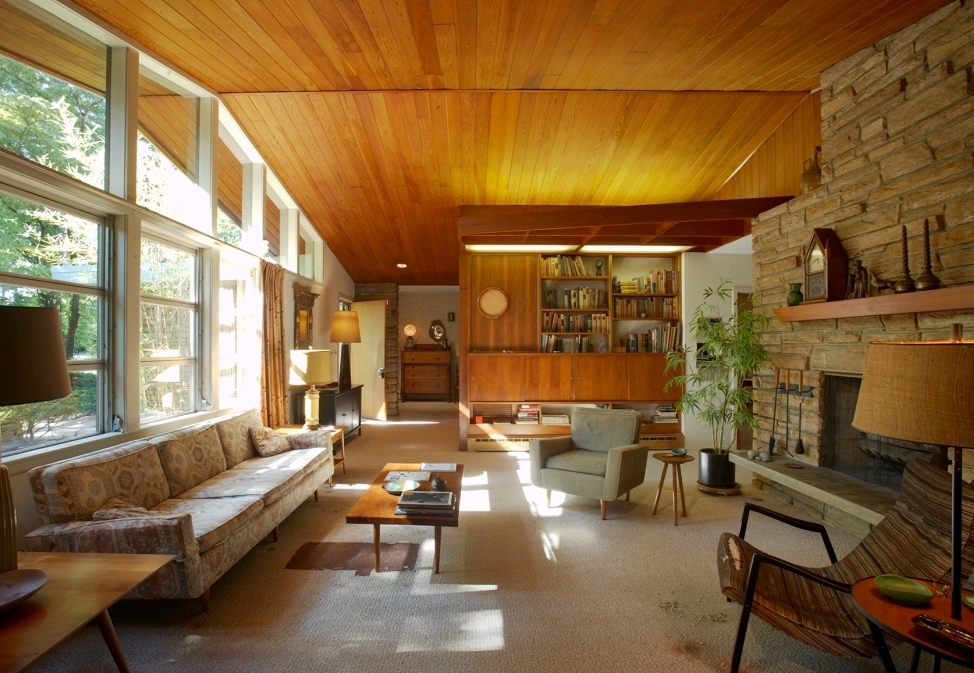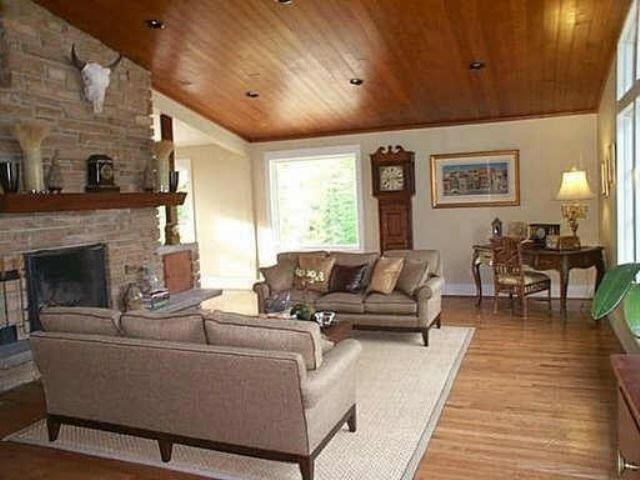 1951 - The W. Carey Parker and Evelyn Parker House, 2106 Banbury, Raleigh. Turner Williams was the primary architect and Macon Smith did the checking (see plan). Sold in May 2006 to Stephen Kicklighter and William Madison. Originally 2400 square feet. Subsequent renovations by architect Perry Cox. Winner of the 2007 Sir Walter Raleigh Preservation award. Renovations include a gourmet kitchen, granite and travertine counters, a new rose garden and heated salt water pool, and of course more square footage. The house is now 4310 square feet. Sold in 2008 by Rebecca B. Bell and Jesse Lipson. Photos by James West.
---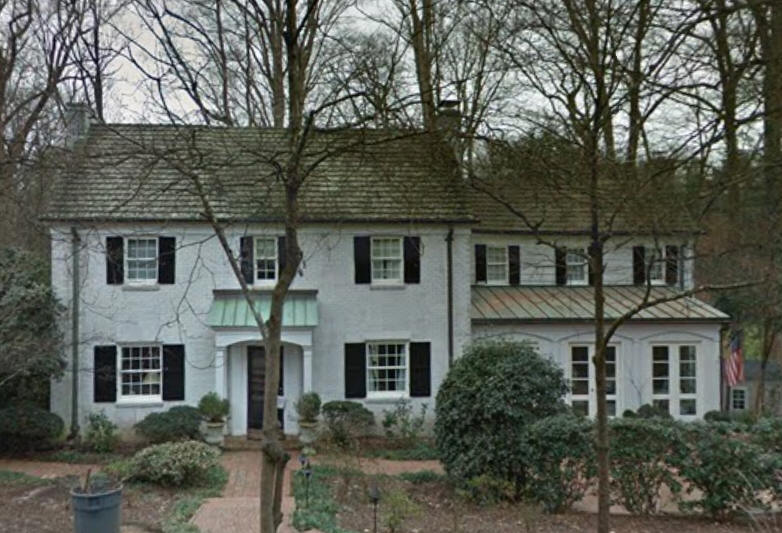 1951 - The E. McNeil Poteat House, 2802 Exeter Circle, Raleigh NC. Commissioned 1949. Sold in 2006 to Mary Prevost and Donald Blue.
---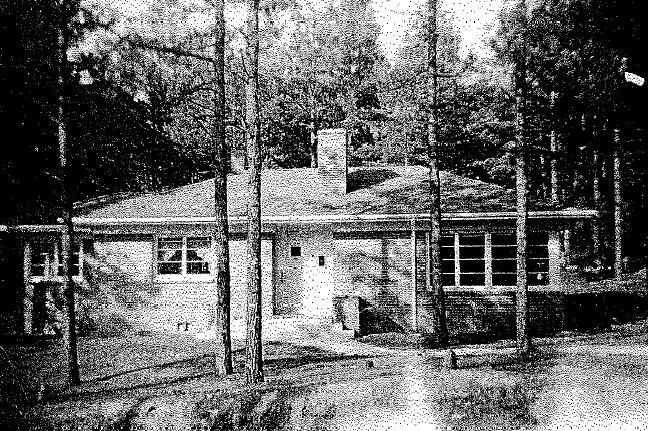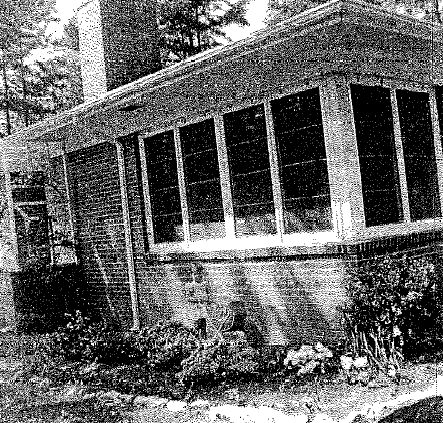 1952 - The H. B. and Katie Dickson House, 2906 Grant Avenue, Raleigh. Not a Modernist house. Commissioned 1948. B/W photos from their daughter, Beverly Dail Luciani. Sold in 1993 to J. Herbert Joyner. Sold in 1993 to James A. Campbell and Donald W. Langdon. Sold in 1994 to Joseph S. Arrowood. Sold in 1994 to Shawn M. Rayburn. Sold in 1999 to David and Dargan Mould.
---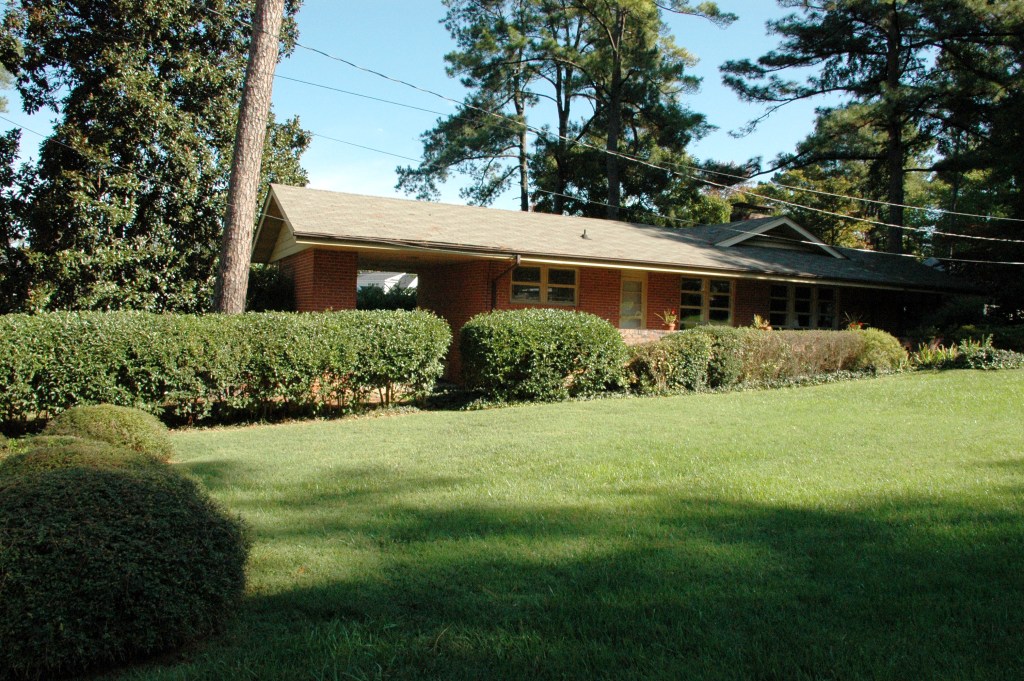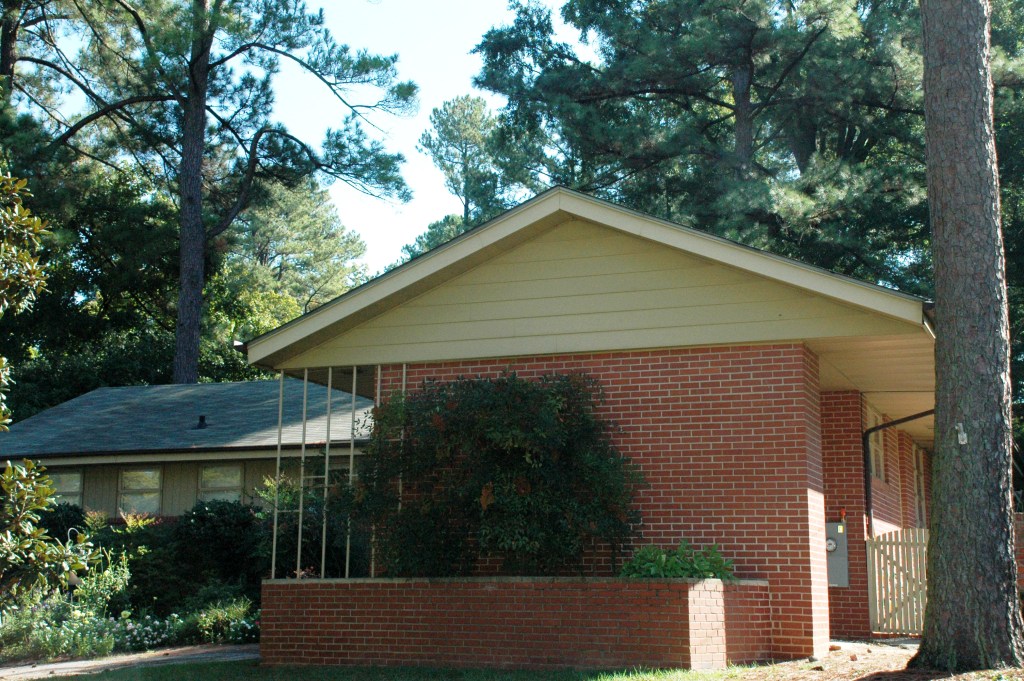 1952 - The Martin and Catherine Green Residence, 1724 Picadilly Lane, Raleigh. Commissioned 1950. Deeded to Catherine Green. Sold in 1995 to her son and his wife, Martin Green Jr. and Karin B. Green.
---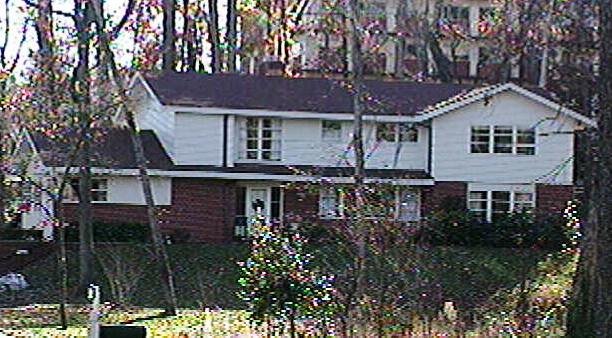 1952 - The Guy C. Branaman House, 915 Williamson Drive, Raleigh. Outside, not a Modernist design but has some moder interior features. Sold in 1999 to David Johnson, Jr.
---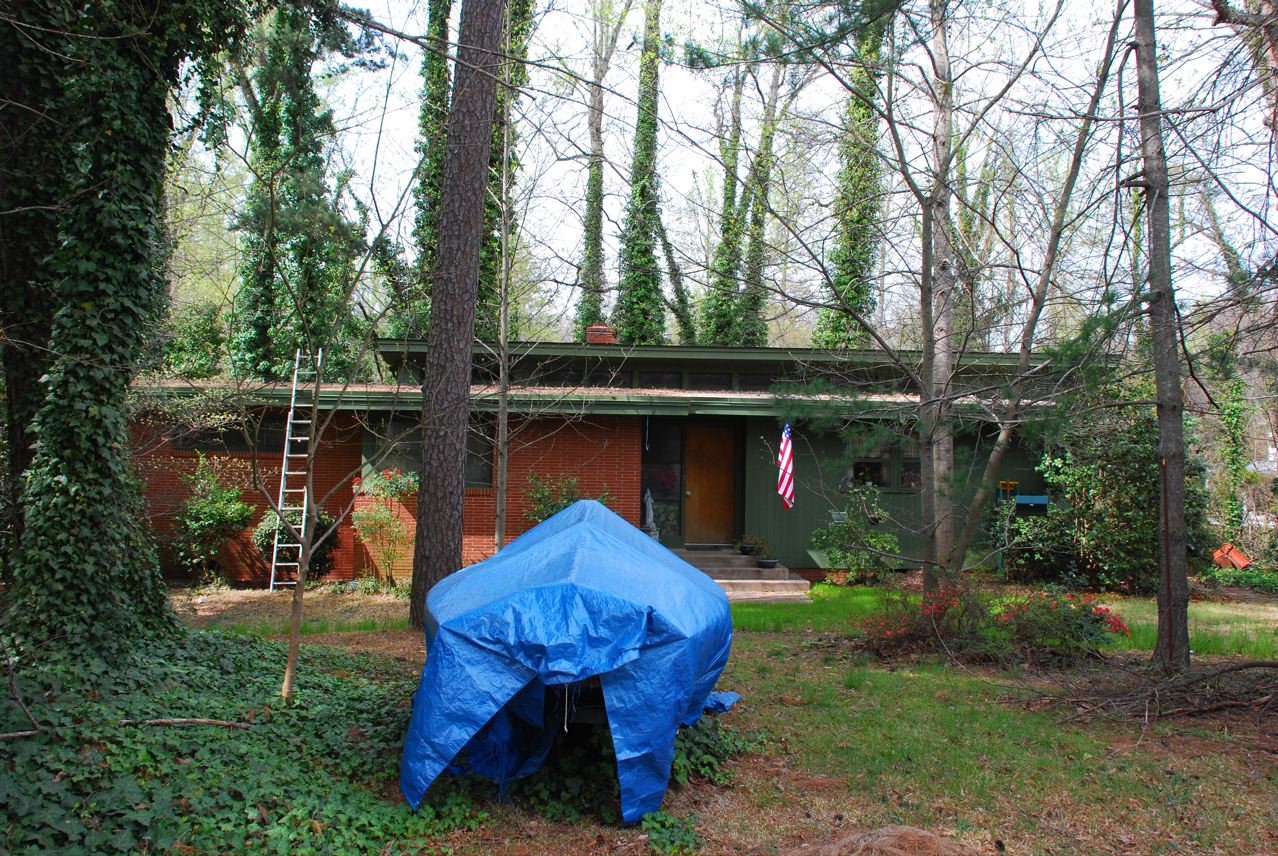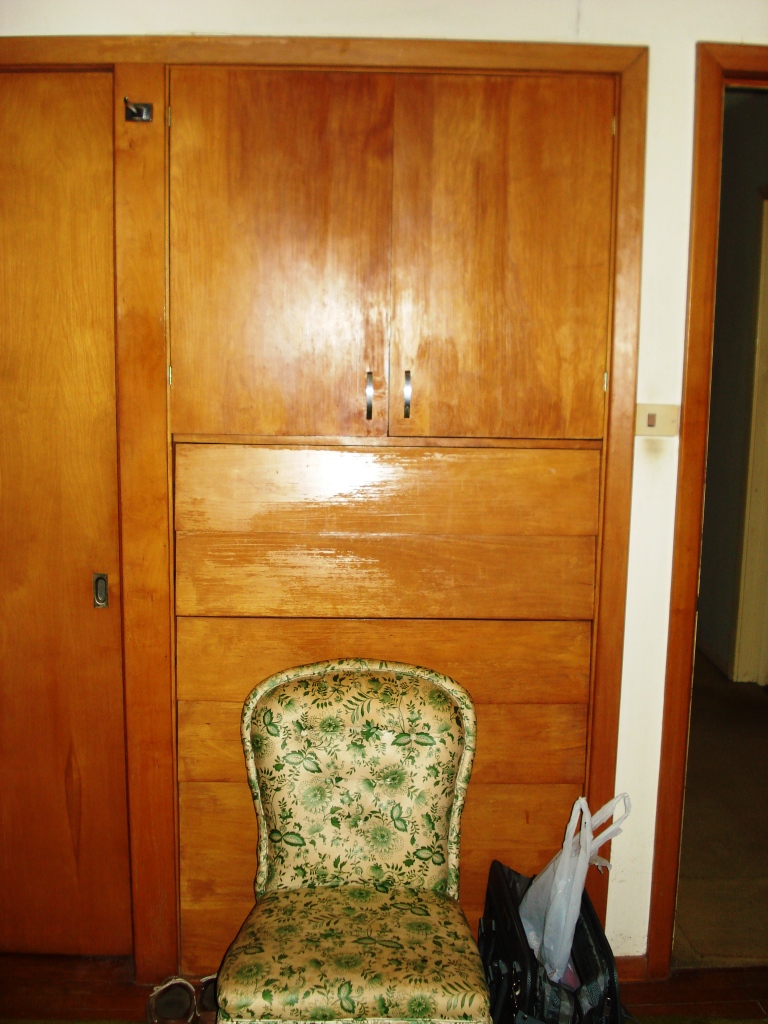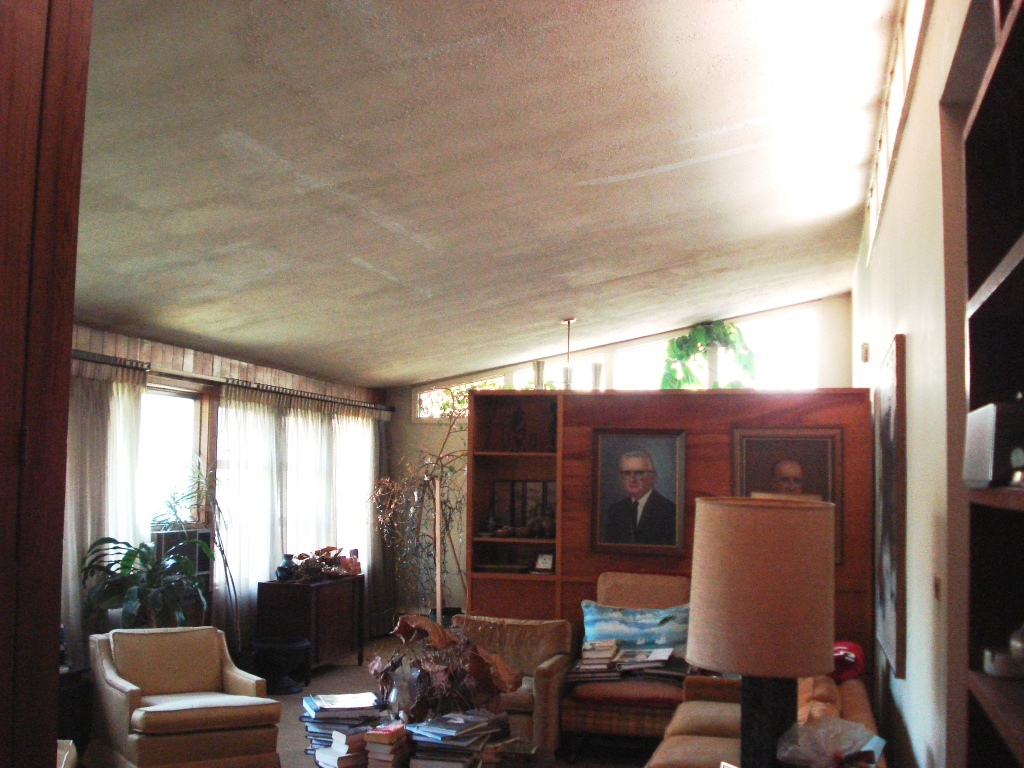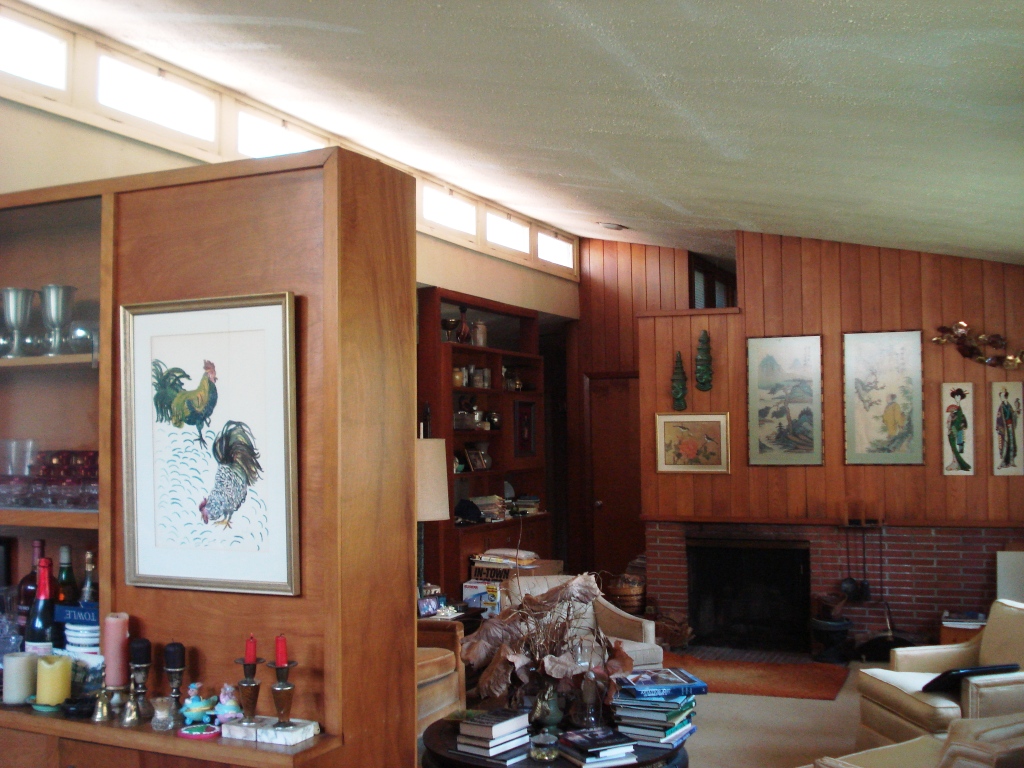 1955 - The Elmo and Alice Williams Residence, 714 Lake Boone Trail, Raleigh. Bought in 1967 by architect Gilbert Slack who worked for Terry Waugh and Leif Valand before starting his own practice in 1968. Photos by Leilani Carter and George Smart. Sold in 2018 to Marshall Dunlap.
---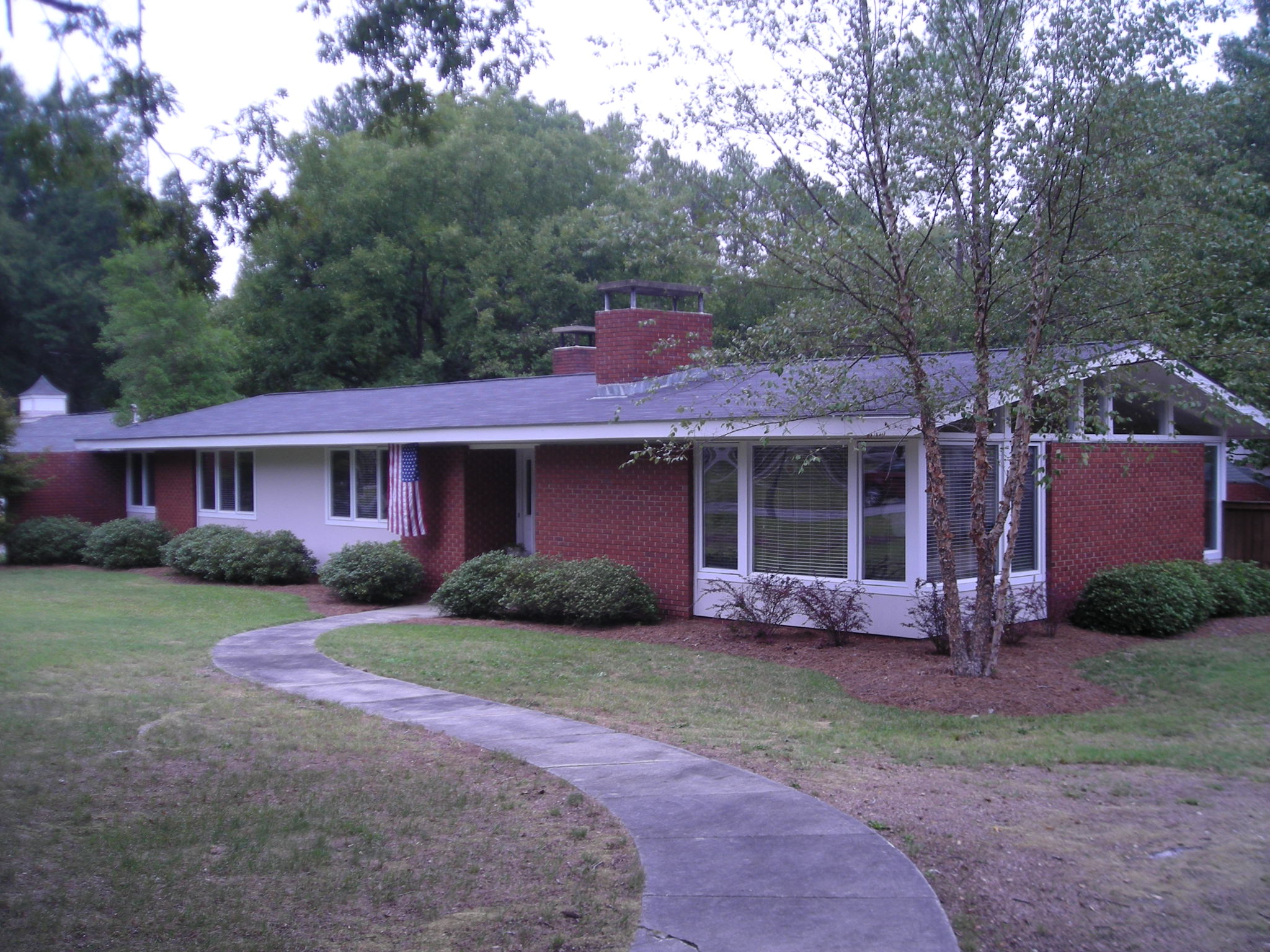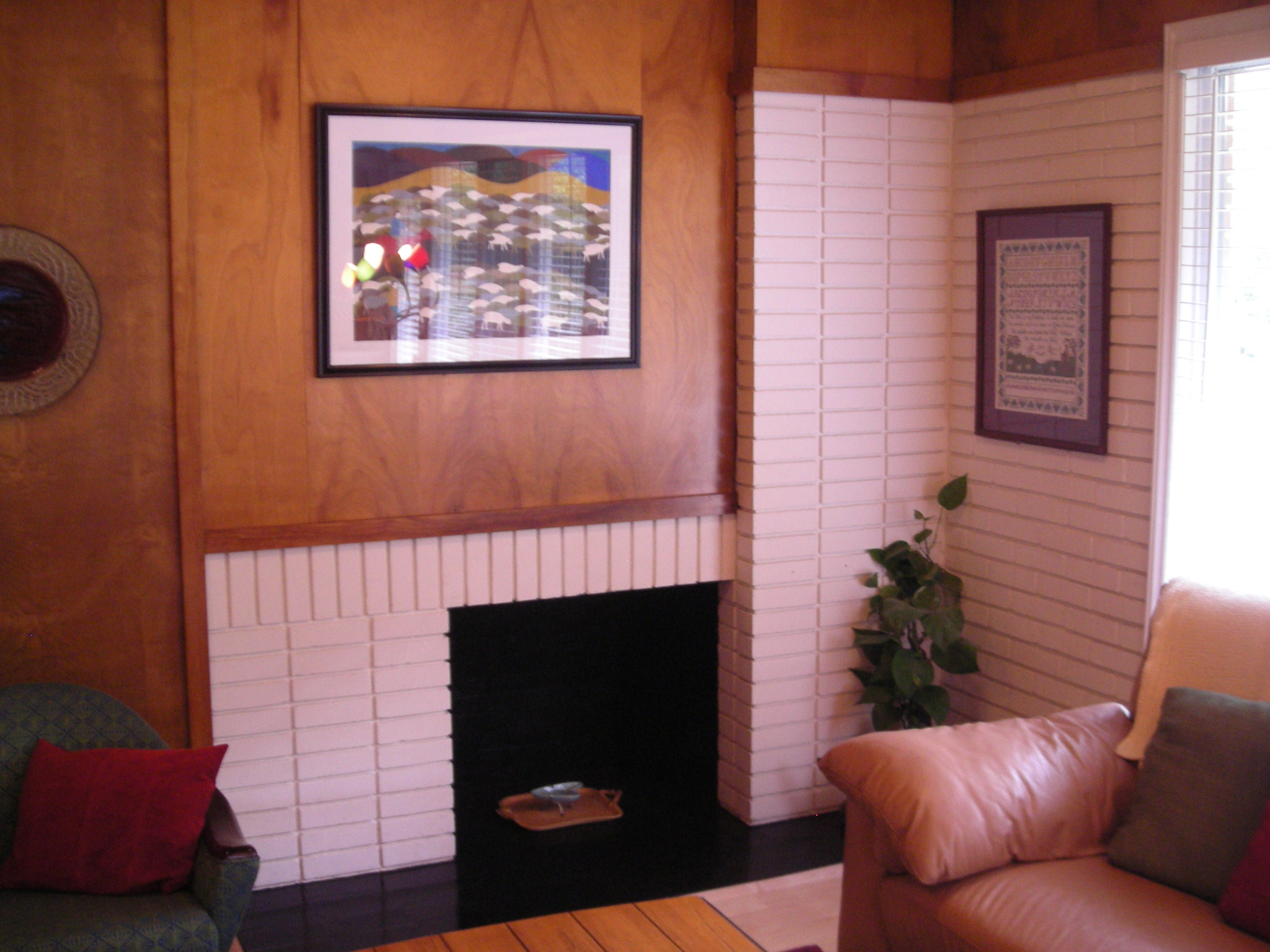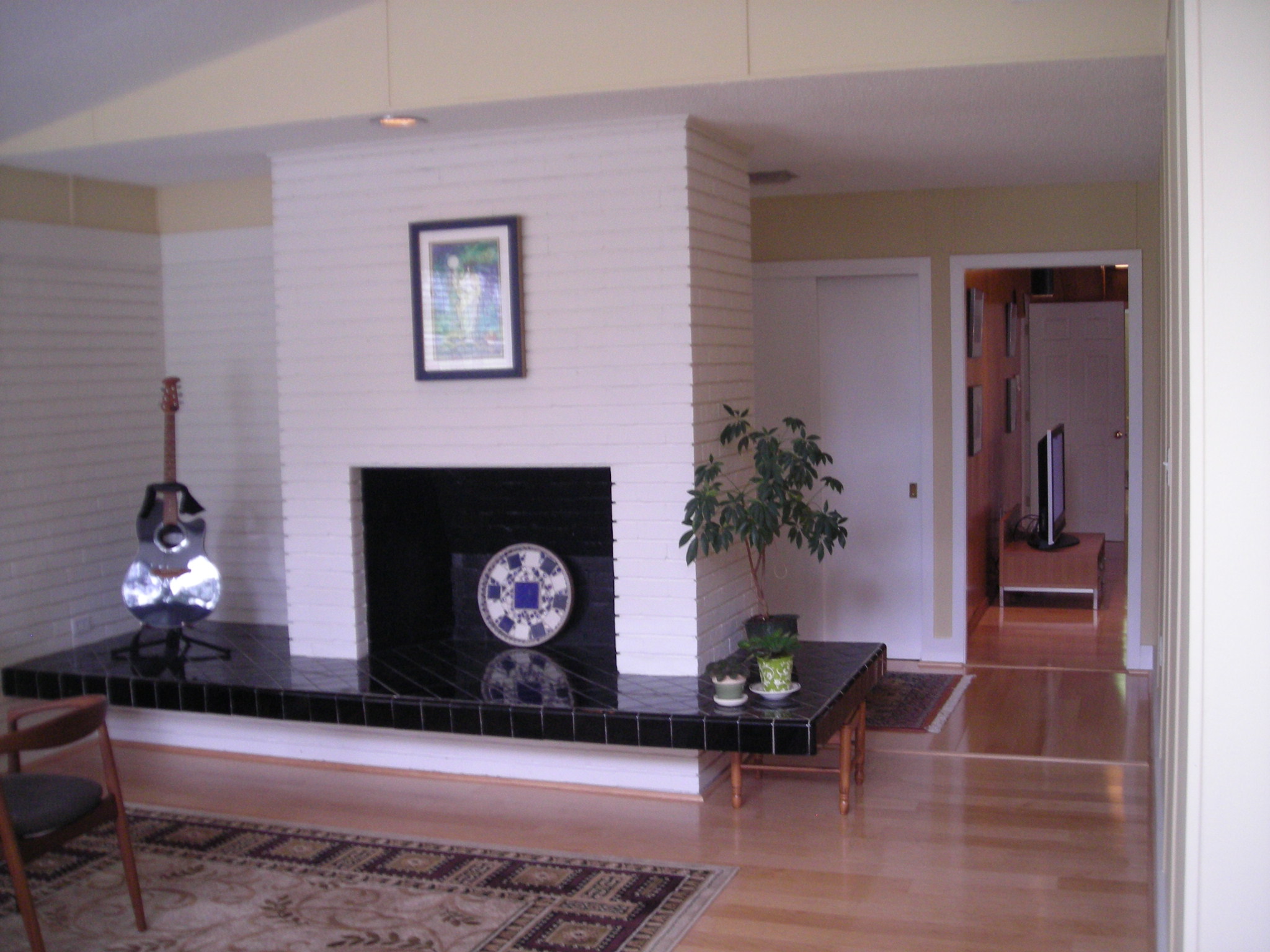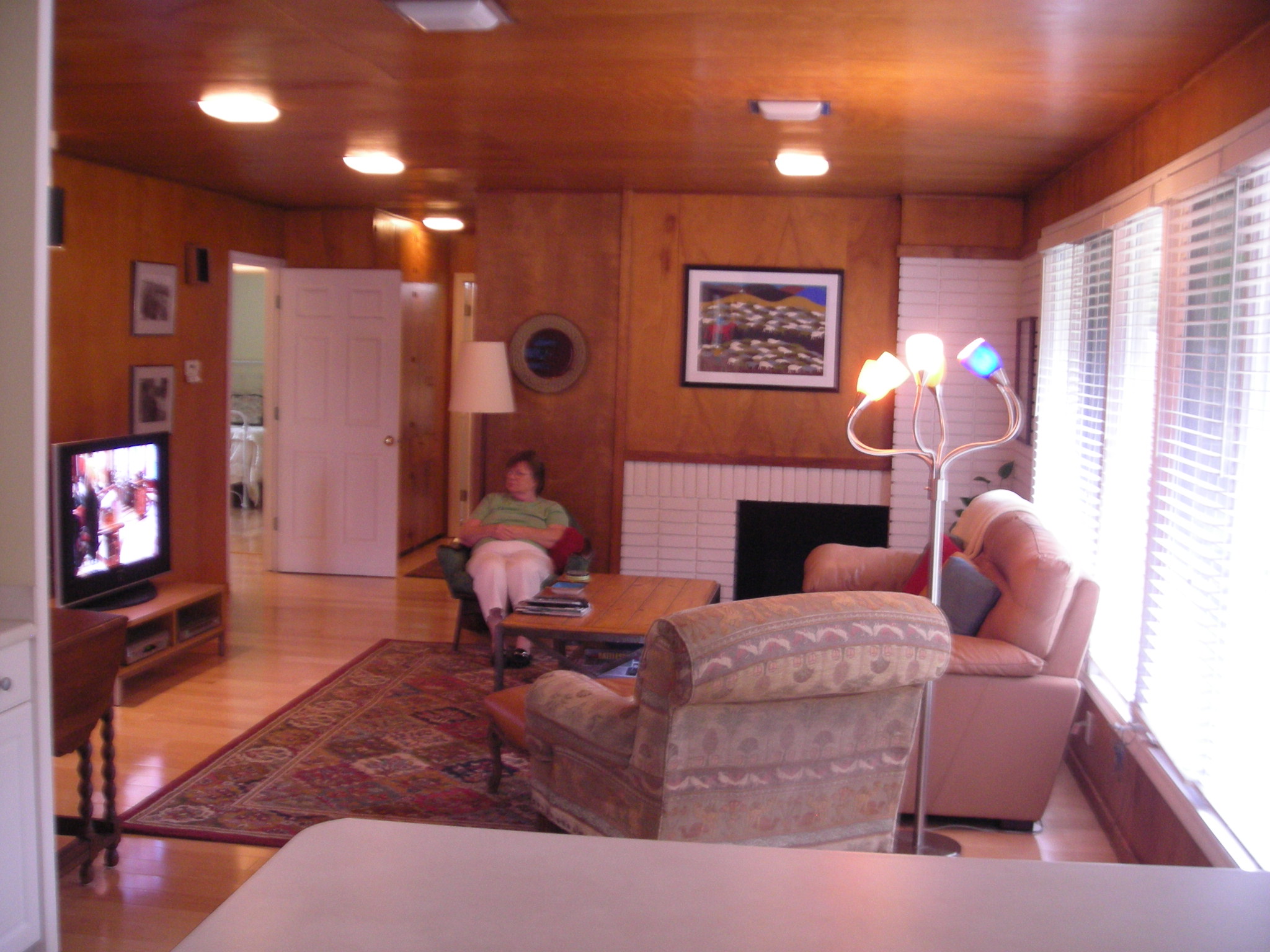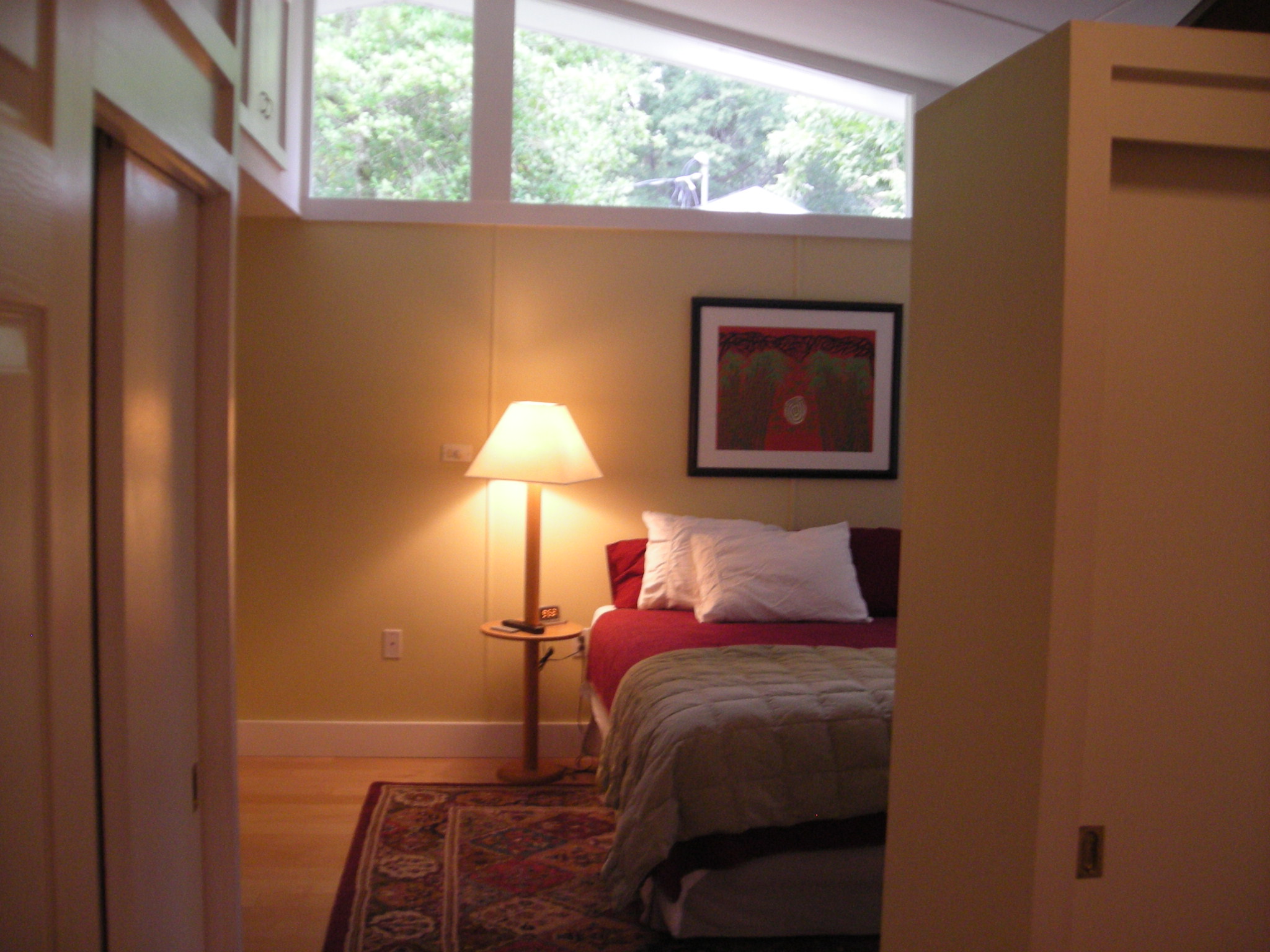 1955 - The Barrie S. and Judith R. Davis House, 506 North Wakefield Street, Zebulon. Sold in 1977 to Herman And Phyllis Hammock. Sold in 1980 to Rickey and Sheryl Rogers. Sold two weeks later to Sheryl E. Davis. Sold in 2000 to Robert J. Golder. Sold in 2001 to Elizabeth Price and Amy Thompson. Sold in 2007 to Terry and Lavon Barrett. Photos by Terry Barrett.
---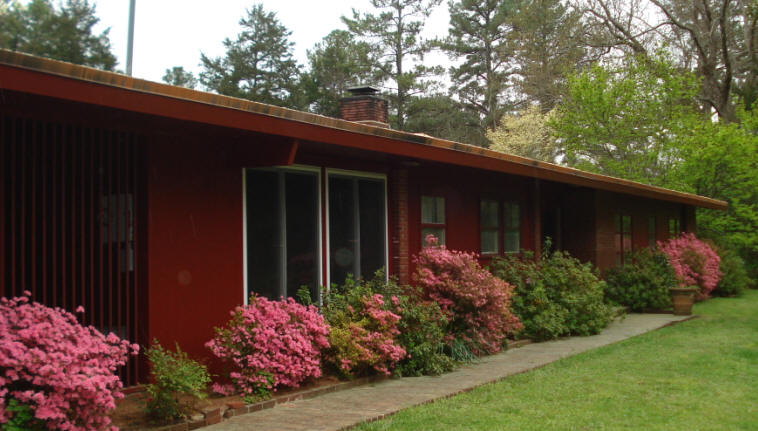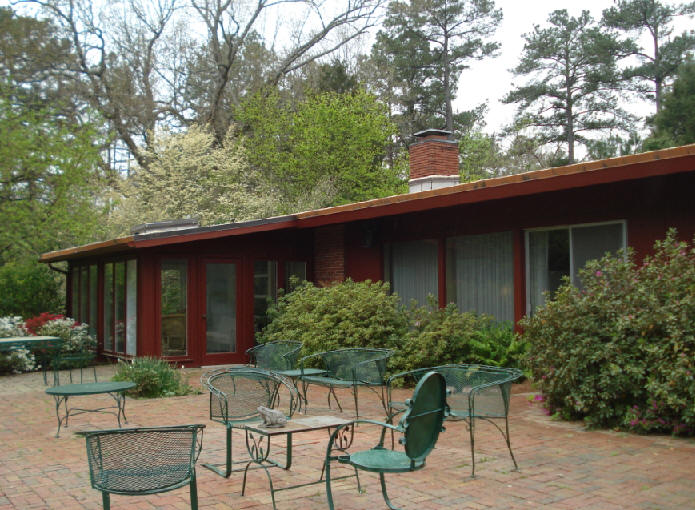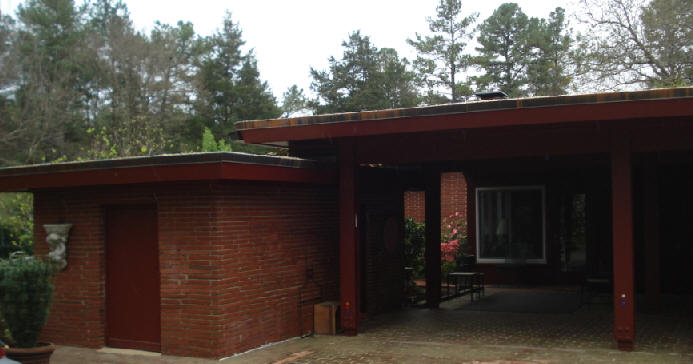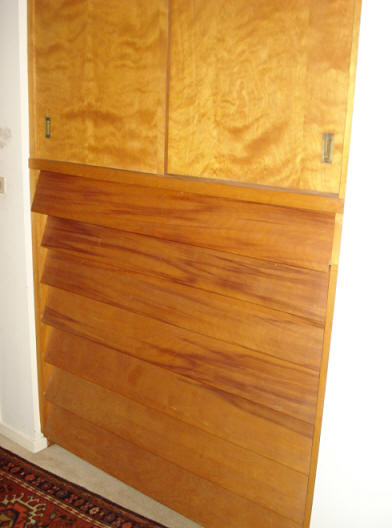 1955 - The George and Pota V. Vallas Residence, 5008 Lead Mine Road, Raleigh. The Vallas family ran National Art Interiors on Glenwood Avenue for decades. The original built-in cabinets and drawers (example above) are in exceptional condition. The Vallas' invested well, buying dozens of surrounding acres north of Crabtree Valley, an area that would become valuable in the 1970's. Their generous gift of land established the Greek Orthodox Church next door. According to Macon Smith, an architect who worked on this house, Alvis George did most of the design. As of 2015, still owned by the Vallas family partnership. Photos by George Smart.
---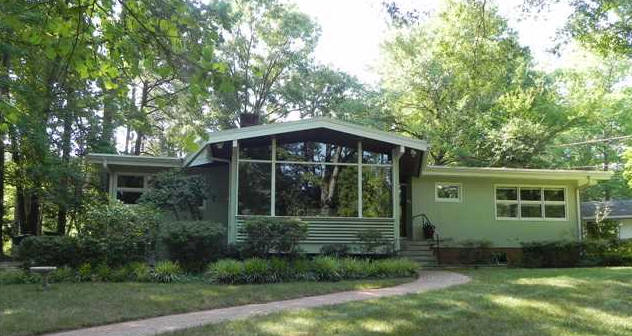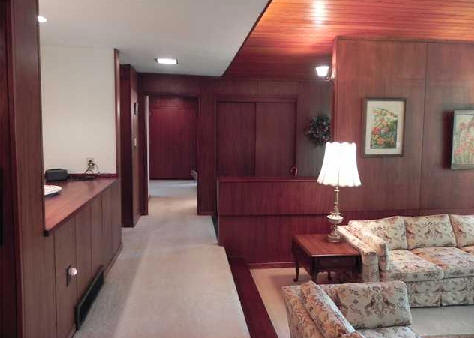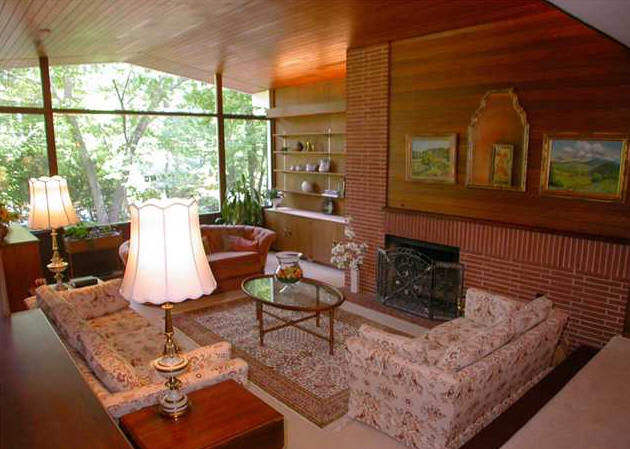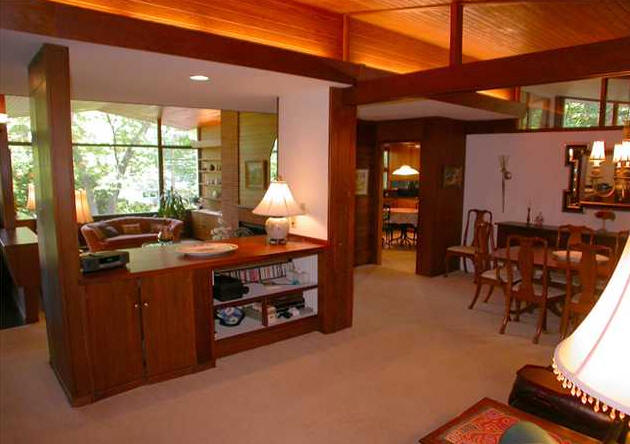 1955 - The Loren and Carolyn Withers House,
2741 Dogwood
, Durham. Sold in 2001 to Joseph and Patricia Workman. Sold in 2005 to John H. and Marilyn C. Shuler. Sold in 2013 to Kristin E. Meade.
---
1956 - The Michael and Salve K. Bolus House, 2220 Wheeler Road, Raleigh NC. Salve Bolus Lewis still owns the home as of 2015 with Edward K. Lewis.
---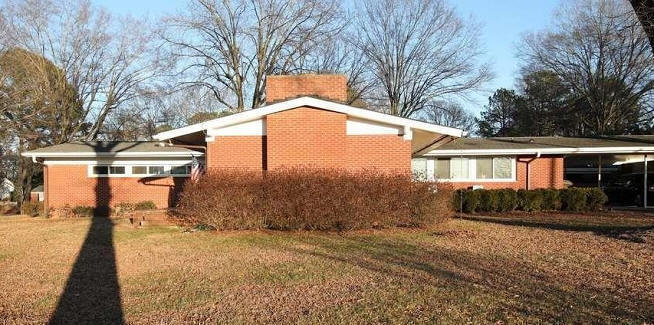 1958 - The Wayne Coats House, 101 South Wilma, Angier NC.
Sold around 2010 to Deborah Altman. Sold in 2018 to James and Jean Davies.
---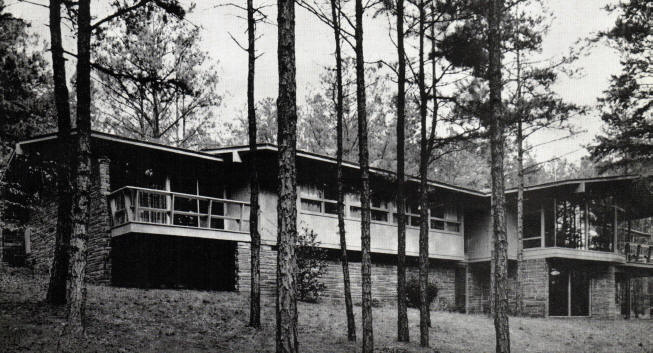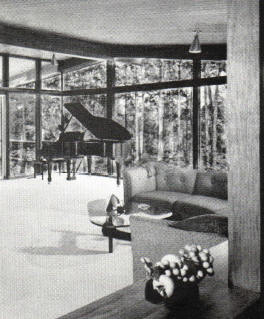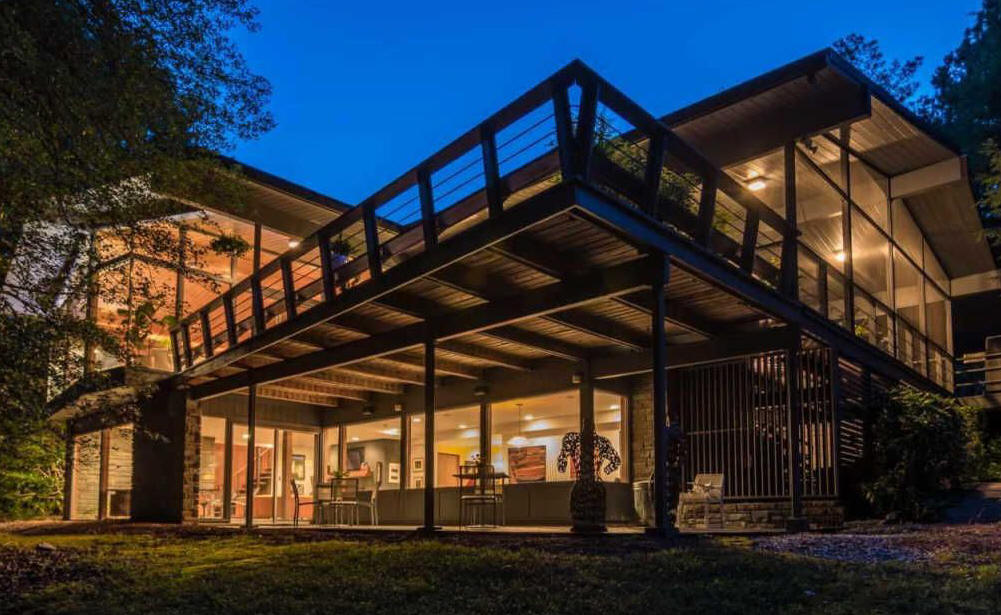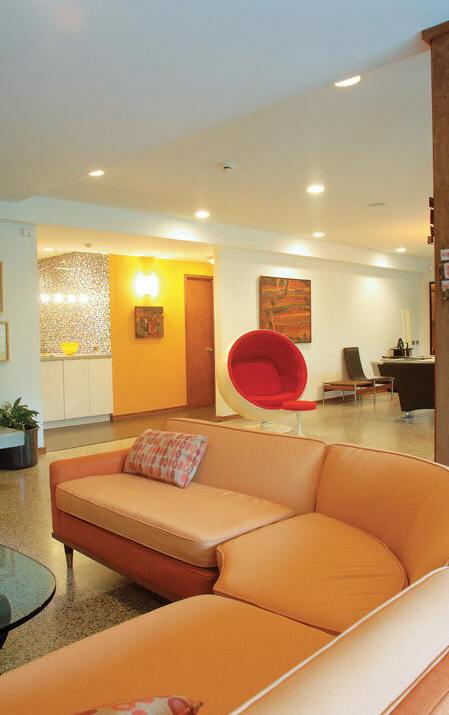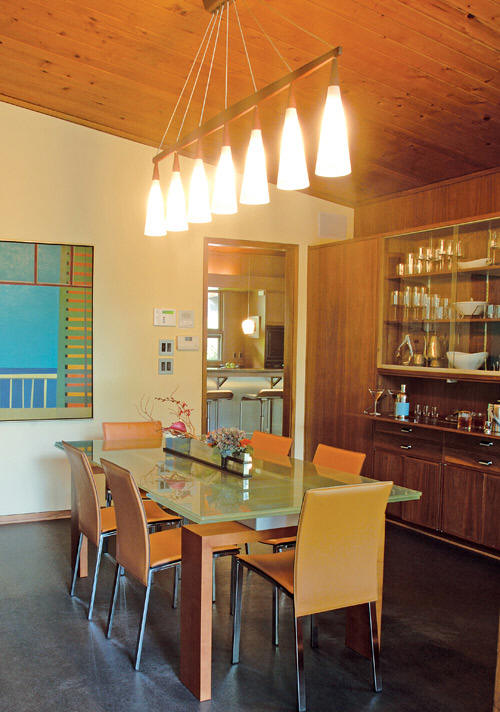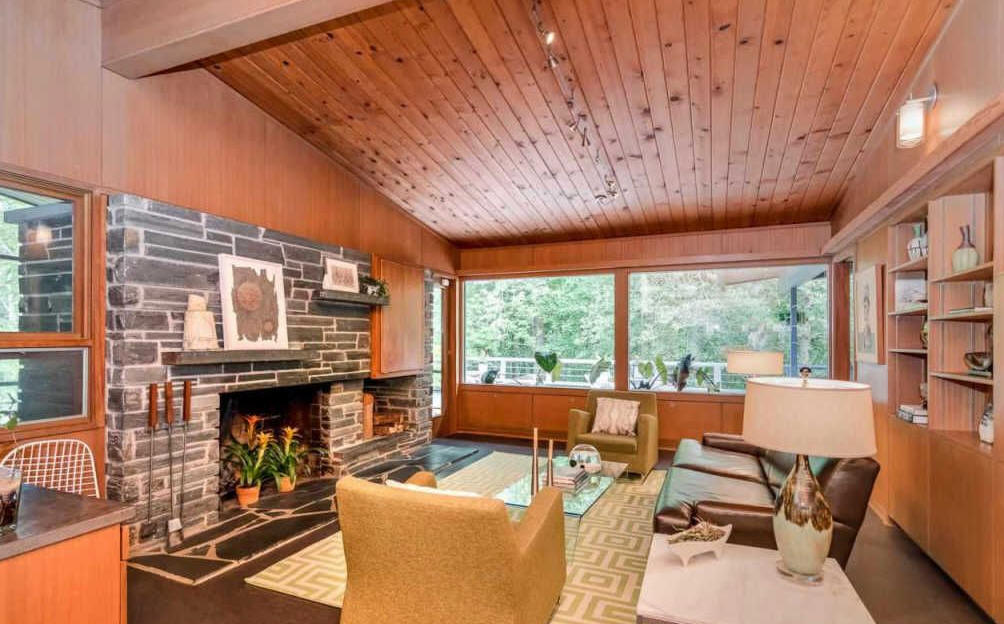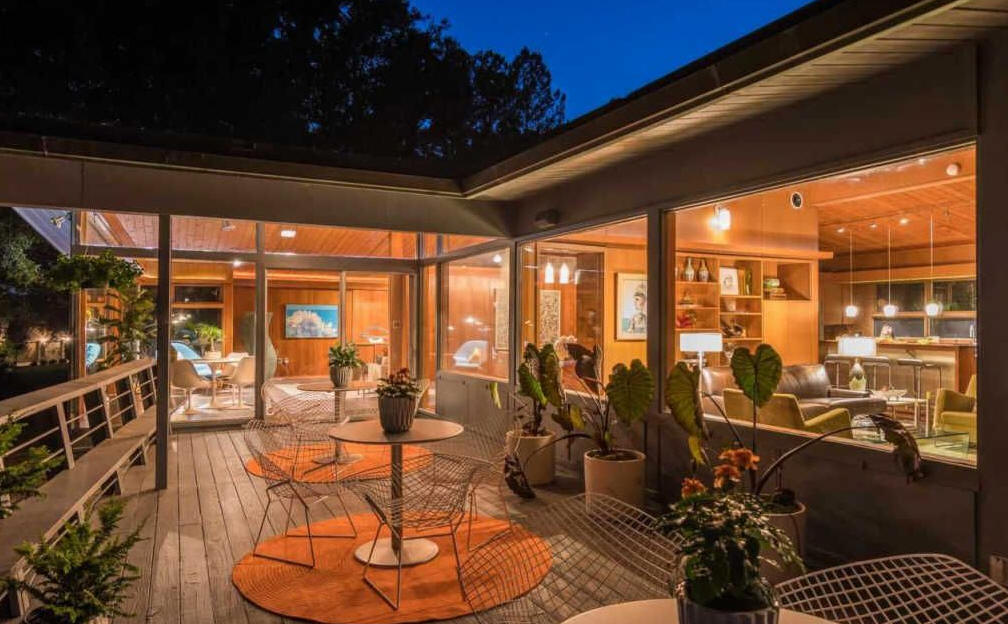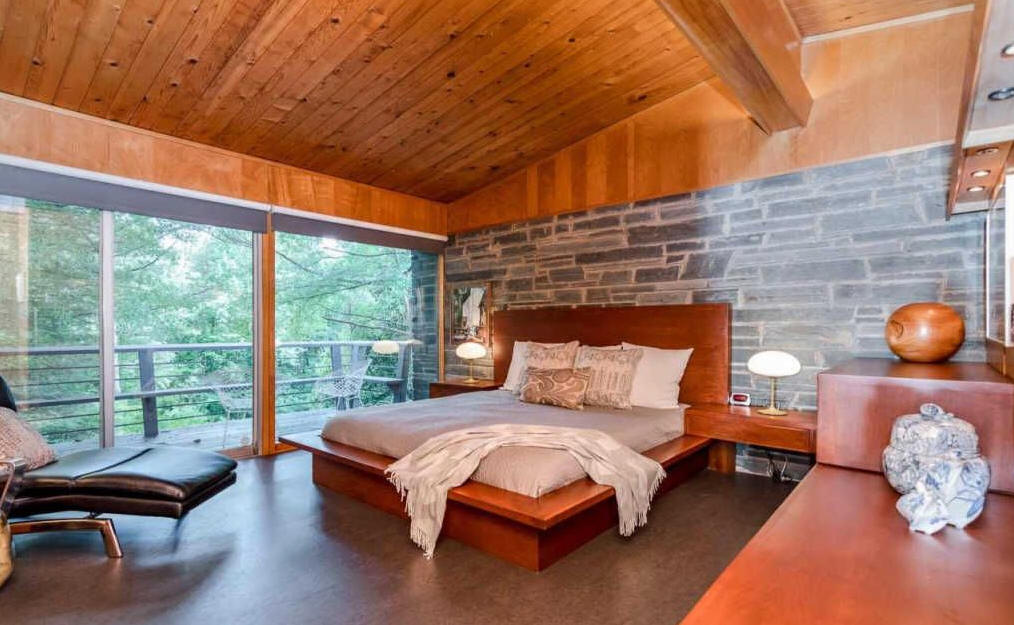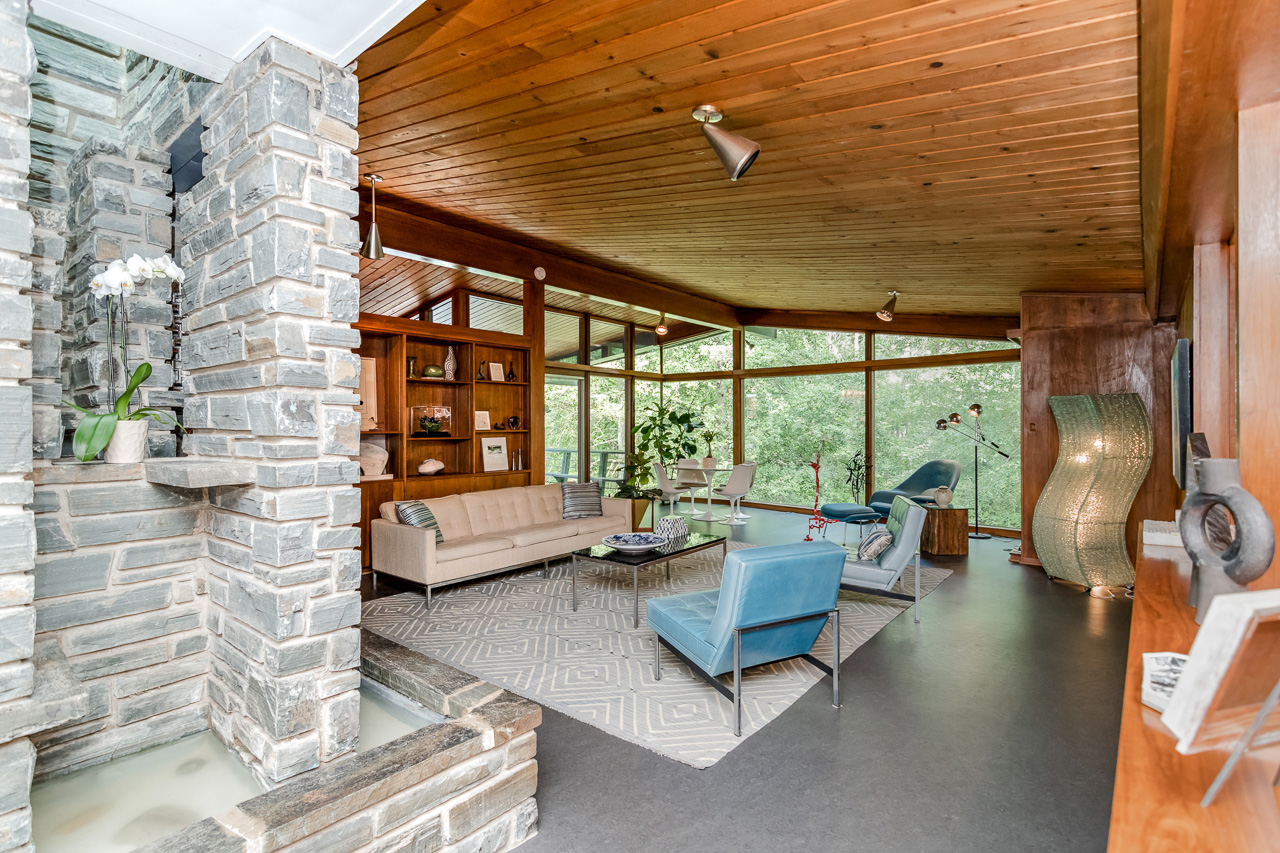 1959 - The Carter Williams House, aka Blue Haven, 6612 Rest Haven Drive, Raleigh. The house was nicknamed for its distinctive Carolina blue stone. Dick Bell was the landscape architect. B/W photos by Lewis Watson. Color photos by Jill Maurer. According to William's granddaughter Kathryn, the day they moved out, Carter Williams died. Sold to Samuel and Lynne Harris. Sold in 2005 to third owner Jill Maurer who did an extensive restoration. For sale in 2018.

2010 Metro Magazine
---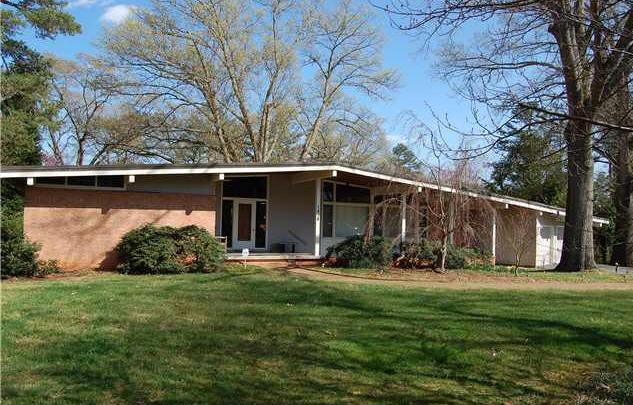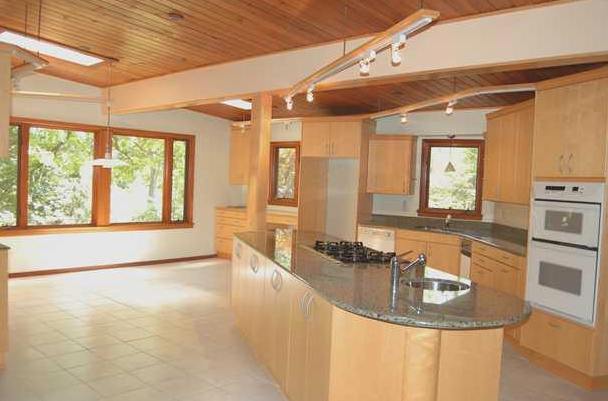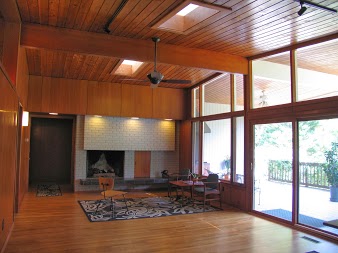 1960 - The Garland Dewey Johnson and Elma Johnson Arndt House, 1428 Canterbury Road, Raleigh. 4163 square feet. Sold in 1988 to Henry and Joy Hartzog. The kitchen and master bath were redesigned and garage added in 2000 by Karl Gaskins. Sold in 2010 to Cynthia Ball and Dave Aspnes. Restoration in 2011 designed by architect Russ Stephenson and built by the Splinter Group. Listed on the National Register of Historic Places and as a Raleigh Historic Landmark.
---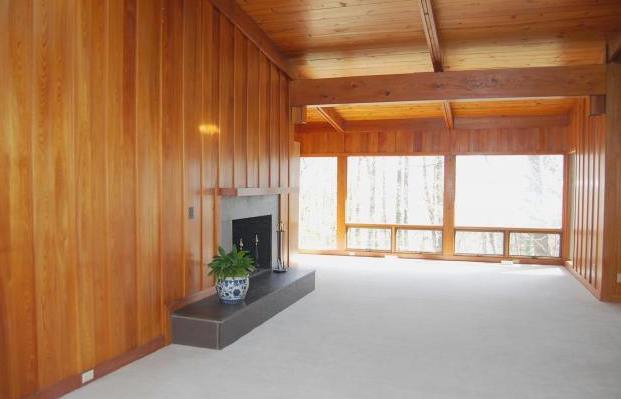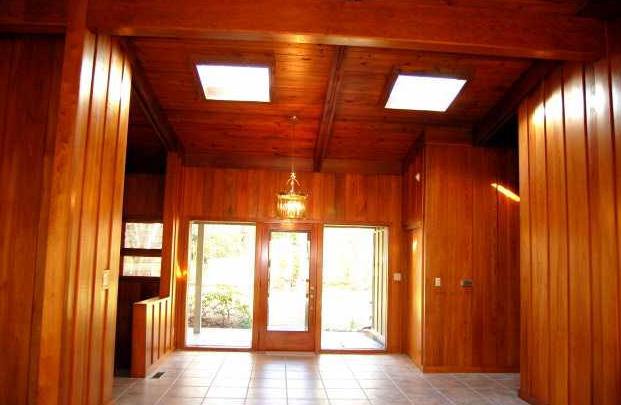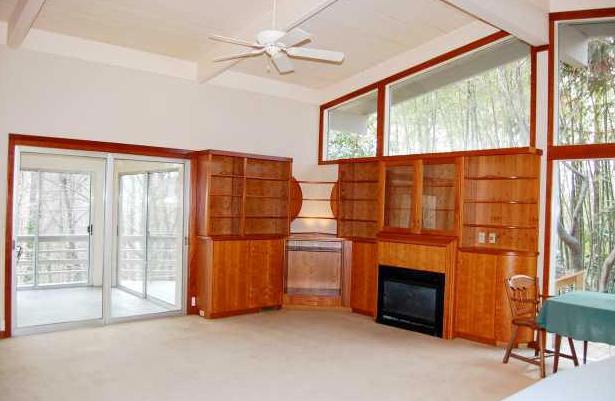 1960 - The L. Dow and Rhea Pender Jr. House, 6616 Rest Haven, Raleigh. Sold in 1962 to John S. Rhodes. Secluded on 6.1 acres. Sold in 1979 to his son John Flint Rhodes and wife Ruth. There was a fire in 1995 in the bedroom wing. Architect Karl Gaskins designed the subsequent restoration as well as a kitchen renovation. Sold in 2013 to GMAKS LLC, George and Mary Ann Klein. Photos by George Smart.
---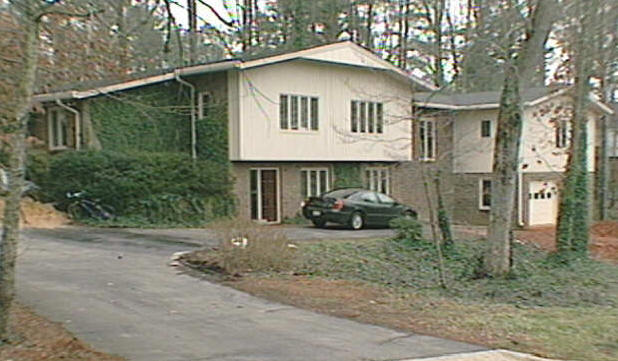 1968 - The William and Mary Oviatt Residence, 511 Lakestone Drive, Raleigh. Addition designed by Macon Smith. Sold to Karl G. and Donna G. Hudson in 1986. As of 2011 owned by Donna Crowder.
---