Pre-Sale!
Triangle Modern Architecture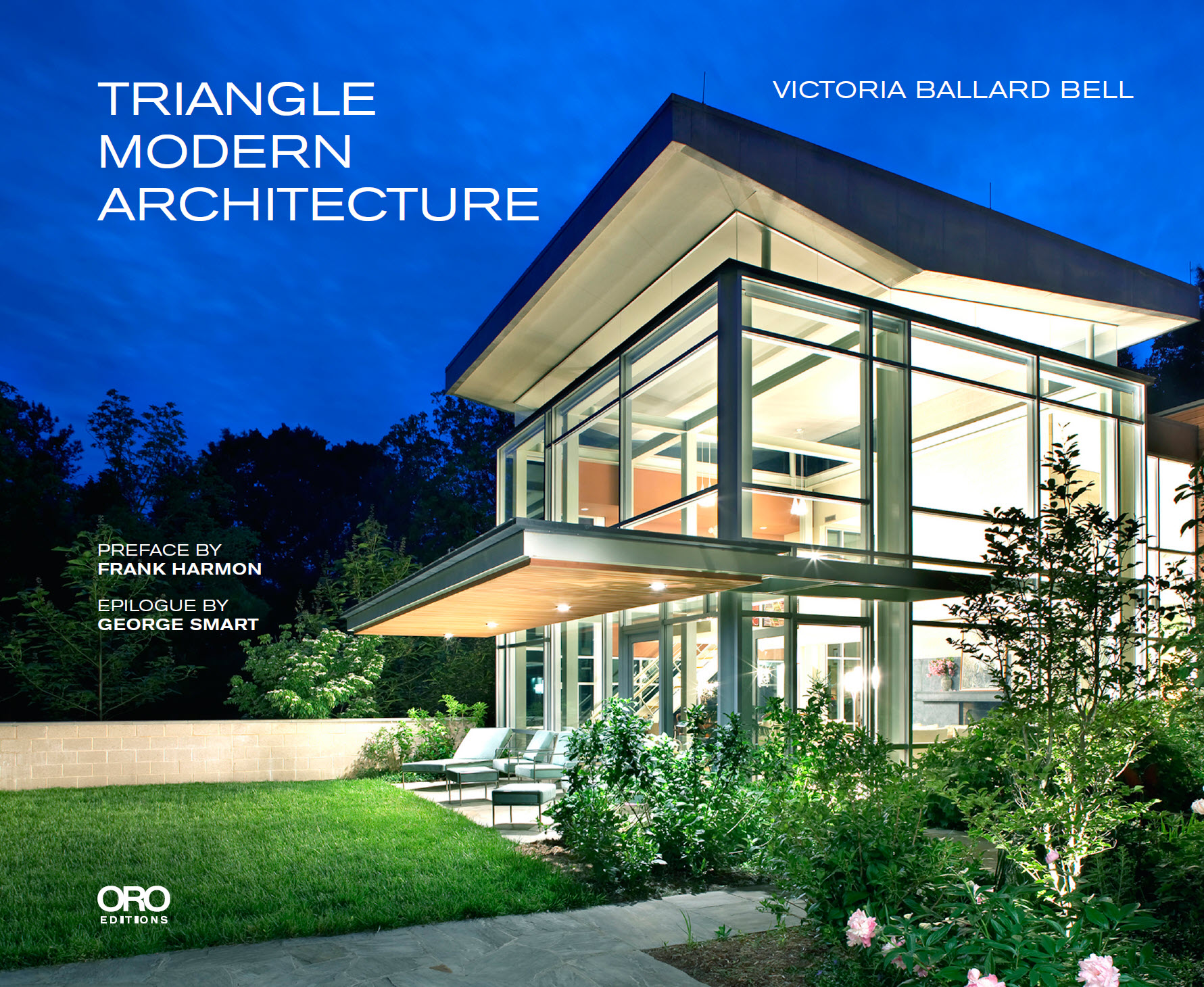 Victoria Ballard Bell's new book, Triangle Modern Architecture, documents the rich history and unique cultural significance of the Triangle region in North Carolina, one of the most important on the national map of modern design. Over the last 75 years, the architecture in this area has grown to creatively combine innovation and technology with the area's history, culture, unique landscape, and built context. While the Triangle has seen an increased interest in Modern architecture, the understanding of this design and the reasons and history behind it have not been shared in a clear and meaningful way - until now!

Triangle Modern Architecture provides us a timely insight into the rich history and bold future of modern architecture in North Carolina, reminding us that the modernist project here is alive and well and most vital in its interpretations and adaptations to local places and typologies. The great work being done today is affirming of the talent and virtuosity of the region's contemporary practitioners. Because of this, the path forward for next generations of North Carolina architects is much brighter and filled with possibility. Triangle Modern Architecture affirms that the best architecture is always a continuum of a material culture. -- Marlon Blackwell, FAIA, recipient of 2020 AIA Gold Medal

Victoria Bell's new book, Triangle Modern Architecture, is an important one, both for its intense research and insightful writing. Her presentation of modern architecture in central North Carolina not only illuminates and connects important modern work, it does so through the lens of a much wider history connecting the Bauhaus, Black Mountain College and the visionary establishment of the School of Design at North Carolina State University in Raleigh. It is a wonderful collection of design work representing the energy of a School, its founders and principles. -- W. G. Clark, Campbell Professor of Architecture, University of Virginia



In Triangle Modern Architecture, Victoria Ballard Bell tells the story of modernism's radical emergence in mid-20th-century central North Carolina, resulting in an unlikely hub of progressive architecture. Bell traces the origins of the NC State University School (now College) of Design and the school's lasting influence on the region's remarkable architectural culture. The book links several generations of architects—most of whom were born outside of the Triangle region—to an overarching set of material, compositional, and place-based design principles. Beautifully written and elaborately illustrated, Triangle Modern Architecture provides compelling evidence that a new generation of architects is building on the Triangle's rich design legacy.

--

David Hill, FAIA, Head of the School of Architecture, NC State University

Drive down the main streets of cities and towns across America, and works by modernist architects can appear unexpectedly, melded and layered into the multiple styles that have preceded and followed. Too many have been altered beyond recognition or lost to the playing fields of commerce and chance. How refreshing that Victoria Ballard Bell has claimed the high ground for modernism in North Carolina. In this significant book that meticulously describes a rich treasury of architectural design, she highlights works—some known, others unknown--made for a quadrant of the United States pivoting toward the future. Triangle Modern Architecture tells the stories of projects that wove into the fabric of a place that refused to rest on its past and a people stepping into a new century with confidence and hope. -- Robert Ivy, FAIA, Executive Vice President/Chief Executive Officer, The American Institute of Architects
Includes 250 pages of rich histories and beautiful photography of buildings in Raleigh, Durham, and Chapel Hill designed by

Milton Small

,

Frank Harmon

,

Brian Shawcroft

,

Kenneth Hobgood

,

Arthur Cogswell

,

George Matsumoto

, and many more.





To order, please go to http://www.ncmodernist.org/donate.htm and use our general donation service. We'll know (from the amount) that it's for this book.

Donate $64 per book to include shipping anywhere in the US. Donate $49 per book for local pickup in Raleigh (Five Points) and Durham (Parkwood). Books will be available in late September.
Proceeds benefit the ongoing research documentation, preservation, and promotion programs of NCModernist.