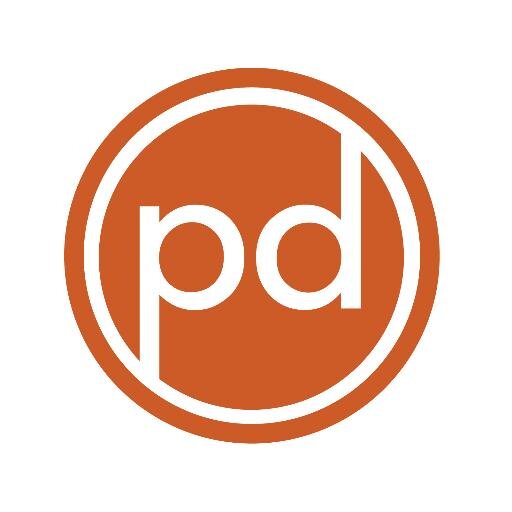 Preservation Durham + North Carolina Modernist Houses
Adaptive Re-Use of the Durham Police Department (DPD), formerly the Home Security Life (HSL) Building, 505 West Chapel Hill Street, Durham NC

Video by Preservation Durham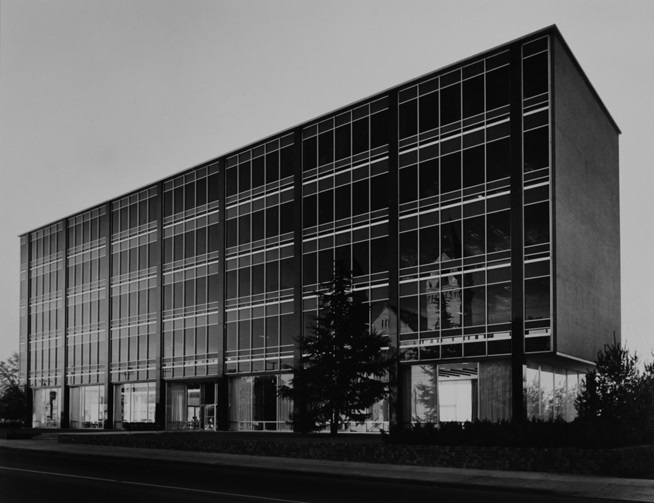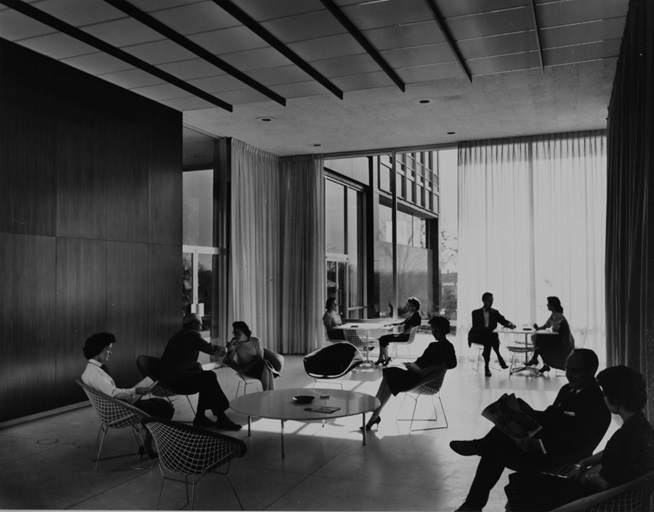 This Modernist office building was designed by architect G. Milton Small Jr., a student of the internationally known architect Mies Van der Rohe of Chicago, for the Home Security Life Insurance Company. The building was designed in partnership with the NY firm of Raymond & Rado.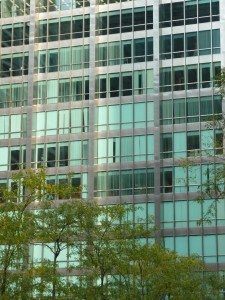 According to Durham architect Edgar Carr, the Inland Steel Building in Chicago by SOM (above) was the basis for the HSL building. Later code issues made both buildings problematic due to the exits being located in the attached Service Core causing unsafe exit in case of fire. The Inland has been thoroughly renovated and is spectacular. Architect Gene Brown worked on the plans for this building when he worked for Small as a design student. He recalls taking a Joe Cox painting over to President Watts Hill, Jr. for his office in the building. Brown and architect Elliott Carroll hung all the glass disks in the screen inside the lobby. Building History from Open Durham * 3515 Glenwood, another iconic building by Small recently destroyed. Since the mid-1990s, the City of Durham bought the building to use as their Police Headquarters. Starting in 2015, the City decided to build a new, larger Police Department in East Durham, which opened in 2018. Preservation Durham and North Carolina Modernist Houses advocated re-use of the HSL building, which is in good condition, as the centerpiece of the block's redevelopment. Renovating the building is considerably less expensive than demolition and new construction.
Architect Phil Freelon of Perkins+Will hosted a national design competition for ideas to redevelop the site and building. The plan that won was created by Jessica Braverman, Sarah Dickerson, and Jayne Kim. Coverage in the News and Observer/HeraldSun and Architects+Artisans. Coverage in the Chapel Hill News. The Durham City-County Appearance Commission recommended preservation of the building in their 9/20/17 letter to the City and County. As of October 2018, the City solicited bids to redevelop the property and in 2019 gave it to Fallon. They proposed a multi-use plan with HSL becoming office space. In 2021, Fallon could not financially make the HSL building work and counterproposed developing it as condos. The City responded by cancelling the whole agreement and going back out for RFP.
Key Contacts:
Stacey Poston, Special Projects Manager with the City of Durham General Services Department, by email or call 919-560-4197, ext. 21254
April Johnson, Executive Director, Preservation Durham, 919-682-3036
George Smart, Executive Director, North Carolina Modernist Houses, 919-740-8407
---
Here are beautiful photos of the building from the 1960s. Note the high ceilings, the terazzo floors, and the rich wood walls. The vast majority of these features are still intact and in good condition.