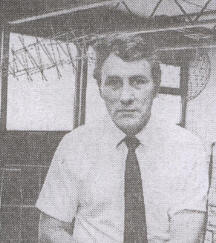 THOMAS CLIFTON (T. C.) HOWARD (1931-2022)
Howard grew up in Denver NC. He established Synergetics, an architecture and engineering firm based in Raleigh NC, with R. Buckminster Fuller, James Fitzgibbon, and Pete Barnwell in 1955. Fuller was honorary president from 1955-1958. In 1958 Howard graduated from North Carolina State University with a BS in nuclear engineering. Howard became a registered architect in North Carolina in 1958.
In 1956, Synergetics was under contract to the US Department of Commerce. They designed and test-built a 100-foot diameter trade fair pavilion dome in Raleigh. It was then flown to Kabul, Afghanistan and later used for trade fairs and expositions in South America, Africa, Europe and the Orient. In 1958 Synergetics designed and built what was at the time the world's largest free-span structure, a 384-foot diameter geodesic dome, above, in Baton Rouge, Louisiana constructed for the Union Tank Car Company as a facility to house and repair railroad cars. It was destroyed in 2007. Howard designed this dome, although most press releases cite Buckminster Fuller. Video.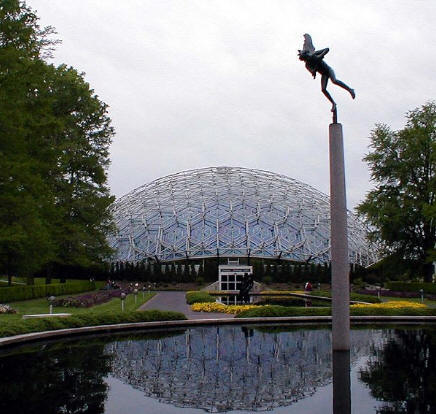 Synergetics Inc.'s dome business boomed, including commissions for the St. Louis Climatron (above) at the Missouri Botanical Garden. Other domes went to the Air Force Academy, Cleveland, St. Louis, New Orleans, and Niagara Falls. In addition, the company designed and constructed commercial, industrial, and institutional buildings, primarily domes. Among the structures designed or constructed by Synergetics are:
- 1953 Ford Rotunda Dome
- 1958 ASM Dome
- Churchill Pavilion at the 1964 New York World's Fair (now the Queens Zoo Aviary)
- Tower of Light at the 1964 World's Fair
- 1961 125-foot diameter hemisphere was designed for use by Queen Elizabeth II when she visited Ghana
- 1962 Seattle World's Fair - Ford Pavilion Dome, Bubbleator and Cloud of Cubes
- OAXTEPEC dome
- 1973 Poliedro de Caracas
Fitzgibbon managed the company until 1968 when Howard took over. A related firm, Charter Industries, Inc. manufactured, leased, and sold hundreds of Charter-Sphere Domes. Howard was the Vice President. Pete Barnwell was the President. Synergetics closed in 2006 and Howard retired. He had three children, Shannon, Roslyn, and Katrina. Facebook page maintained by Howard's daughter, Katrina.

Around 2000: A conversation with TC Howard and Duncan Stuart
---
Sources include: NC Architects and Builders; NCSU TC Howard Archives.