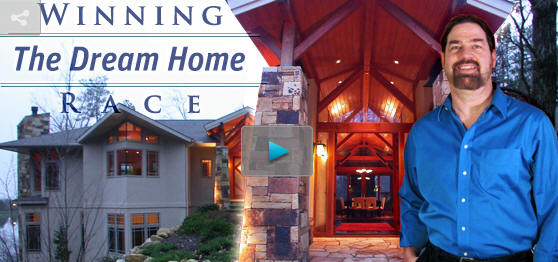 Starting in 2012, Chapel Hill architect Steven Clipp hosted an internet radio show, Winning the Dream Home Race. The first radio series in North Carolina to focus on architecture, these are the original 44 episodes. The web series ended February 2013. As of July 2013, Clipp's show moved to WPTF Talk Radio 850 in Raleigh and changed the name to Making Your Home Great, with a focus on home improvement, not so much architecture. Clipp left in 2015 and a variety of other hosts took over. As of July 2017, it was still on the air.
Shows featuring NCModernist

December 7, 2012: Modern Homes For A Modern World with George Smart

October 31, 2013: George Smart and NCModernist

April 24, 2014: George Smart discusses the Cherry/Gordon House

January 26, 2015: George Smart and Tara Barthelmess discuss Project Bauhow
Winning the Dream Home Race

Romancing the Home. How to design a home that brings a couple closer together

Dollars and Sense

The Psychology of Home How do you identify the elements that are unique to you?

10 Questions You Must Answer Before Renovating

Greatest Spaces: What constitutes a great space?

Why Involve an Architect?

Understanding Contractors

Rooms I Have Loved

Living Romantically In Paris and Venice?

Front Porches, Screen Porches, Porches to Your Soul.

Sensible, Green, Luxury Living

How Much Will It Cost?

Should I Do It Myself?

Preparing For The Teen Years: a home can facilitate mayhem or encourage a future presidential scholar

Money, Money, Money, Money. How to spend wisely and how to keep from overspending

The Wonders of Blowing Rock NC

Planning the Perfect Getaway House, Brown Bear Lodge, my second home

How to Blow $2.5 Million. A big part of winning is learning from the errors of others.

The Perfect Cottage Home

Winning With Stock Home Plans, Part 1

Winning With Stock Home Plans, Part 2

Getting Started on the Truly Custom Home

The Ultimate Custom Home Masterpiece

Can an Architect Design a Small Inexpensive Home?

I Love French Country, Why Do Architects Disdain It?

Romancing The Home; Scoring The AIA Triangle Home Tour

The Bottom Line On Energy.

Renovation / Addition Questions You Must Ask

It's Now Or Never: How To Get Started

What's In A Name? Georgian, Modern or French Country

You, Flippers And The DC Rowhouse

The Old House: Restoration, Renovation, and Reality

To Buy Or To Build; stick-built or insulated concrete forms?

How To Hire An Architect

Oh The Optimism And Energy Of Youth, a Conversation With My Daughter on Her New House

Are There Any Deals Still To Be Had? Can I still find a deal or is the opportunity gone?

Optimizing Construction Cost Through Competitive Pricing

My Dream Home – The Architect's Wish List

Fireplaces; Rock Stars and Massively Stoned

Siteplanning For Success, A To-Do and Not To-Do List

A Joyful Home

Romancing the Home For Valentine's Day (file missing)

Making Your Dream Home a Great Investment