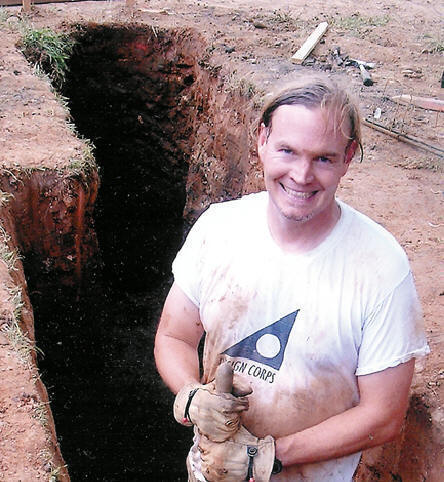 BRYAN BELL JR., AIA (1960-)
Bell holds degrees in architecture from Princeton and Yale. In 1985 he was Samuel Mockbee's project director on three houses for rural families in Mississippi. In 1989 he worked for Steven Holl in New York. Meanwhile, his sister was helping migrant workers in rural Pennsylvania, urging Bell to consider making a more meaningful contribution to architecture. He moved to Gettysburg and founded DesignCorps in 1991. DesignCorps became a formal nonprofit in 1999. The organization connects architecture and planning graduates to rural low-income communities. Bell and DesignCorps have been featured in the Smithsonian's Cooper Hewitt National Design Museum, The New York Times, Newsweek, Architecture, Metropolis, Readymade, Dwell Magazine, and Architectural Record.
From 1998 to 2000, Bell taught at the Auburn University Rural Studio, teaching 22 thesis students for 12 design/build projects including the HERO Children's Center in Greensboro and the Mason's Bend Community Center. He and his wife Victoria Ballard Bell moved to Raleigh in 2001. Work by Design Corps was included in 2003 in the Smithsonian's Cooper-Hewitt Design Triennial exhibit.
Bell is the editor of Good Deeds, Good Design: Community Service through Architecture. He received a 2007 National Honor Award for Collaborative Practice from the AIA. He brings a social mission to architecture, giving design access to the "98% without architects" in an affordable and culturally expressive way. In 2010, DesignCorps was honored at the White House as a finalist for the National Design Awards. In 2015, Bell joined the faculty of the NCSU College of Design. "Fifteen years ago, people didn't get the idea of bringing design to social issues. They saw design as something for the wealthy that really had nothing to do with social issues." —Bryan Bell
Samuel Mockbee, his mentor, said: "Seeing Bryan's work, you say, 'Ah! There's intelligence at work here,' but it doesn't scream at you. His work is much closer to the client's aspirations than what most architects would ever consider catering to."
Bell speaks at NCSU (2013)
---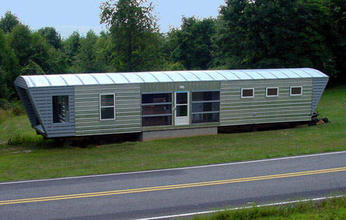 1991 - Migrant Worker Units, Adams County PA. DesignCorps' first units for migrant workers. Each 720-square foot unit houses four laborers who pick apples.
---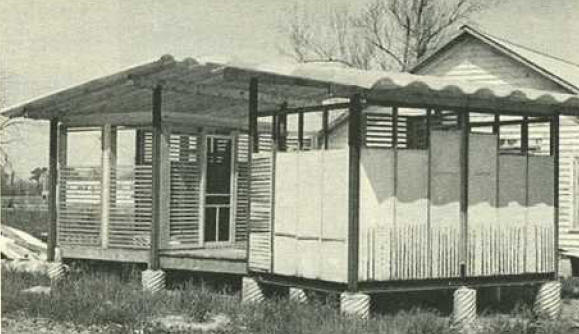 2003 - Migrant Bath House, Sampson County NC. Built by students at the NCSU College of Design. According to the News and Observer, about 30,000 migrant farm workers spend at least five months a year in North Carolina, with tens of thousands more working shorter periods. Most earn less than $8 an hour harvesting cucumbers, sweet potatoes, tobacco and apples. Their housing, provided by farmers or labor contractors, is cheap and often decrepit. An anonymous $25,000 donation covered the cost of the bathhouse. Bell and his crew of students found unusual ways to save money on the Sampson County bathhouse. The lockers, left over from a project at Cary Elementary School, were free. The roof is made of old plastic barrels, cut into quarters, from an Edenton cotton mill. The floors are heavy-duty aluminum street signs, surplus from the NC Department of Transportation.
---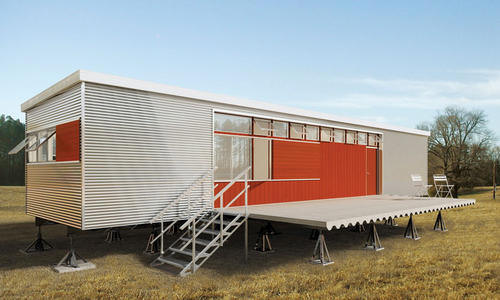 2007 - Migrant Farmworker Housing. This is the two-bedroom version.
---
Sources include: DesignCorps; Bryan Bell; Metropolis; News and Observer; Victoria Ballard Bell; New York Times.