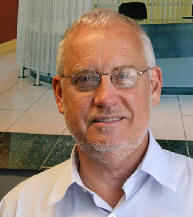 MICHAEL GEORGE STEVENSON, FAIA (1954-)
Michael Stevenson grew up in Melbourne FL and Henderson NC, graduating from Vance HS. He received his Bachelor of Environmental Design in 1977 and a Bachelor of Architecture in 1985, both from the NCSU College of Design.
He interned at Hans Dieter Bolle in Berlin and Hager Smith Huffman in Raleigh then received his Masters degree in Urban Design at Columbia University in 1987. He worked for EEK in New York City until 2000, when he joined Kling Stubbins, as of 2011 becoming Jacobs as architectural Design Principal until the office closed in 2016. While there he designed the unbuilt Clarence Lightner Public Safety Center, below.