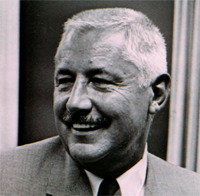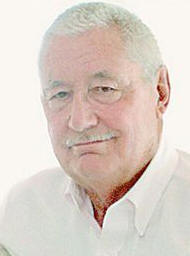 DONALD J. SCHOLZ (1920-2000)
In 1946 Donald J. Scholz founded Scholz Homes in Toledo OH for the burgeoning demand created by the legions of returning GIs. Although not a formally trained architect or even an engineer, Scholz was influenced by Modernist architects like Mies van der Rohe and Frank Lloyd Wright. Although his company built many styles, his California Contemporary ranch homes are our focus here. These homes featured strong horizontal lines, but were offered in several facade styles to appeal to a broad array of tastes. Exteriors were sheathed in asbestos board siding, often brightly painted. Interiors were also painted in vibrant primary colors. Scholz even incorporated home decorating into the services he offered, and home buyers had the option to have the company decorate and furnish the house and provide it in move-in condition.
Although modest by today's standards, the California contemporary plans are spacious and open, with cathedral ceilings and ample windows. Each home has a patio in the back that is partially sheltered by the overhanging roof to further encourage outdoor activities. Kitchens are sleek and modern for the era, and Scholz offered high-end appliances from select manufactures as standard features.
Scholz utilized innovative prefabrication techniques to reduce the cost of his homes while maintaining a modicum of luxury. The wall panels were constructed at one of seven factories, delivered by semi to the home site and then erected by the company. Very little was wasted in the manufacturing process, further controlling costs. Many of Scholz's homes also featured red doors, said to signify good fortune in Asian cultures.
The Scholz factories were distributed throughout the United States in Long Beach, California; Long Island, New York; St. Petersburg, Florida; Durham, North Carolina; Kansas City, Kansas; Houston, Texas; and Toledo; Ohio. Scholz sold over 50,000 California contemporaries In 2000, Scholz was named one of the 20th century's most influential figures in the residential building industry by Builder magazine. His company was sold but continues to design (but not build) homes under the name Scholz Design.
Source: Adapted from Ramon Alvarez, a Scholz expert.