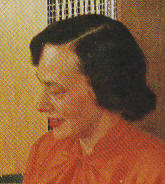 EDGAR HAYES "TED" HUNTER, JR., AIA (1914-1995)
MARGARET KING "PEG" HUNTER, AIA (1919-1997)
Edgar Hunter was a competitive skier and competed in the 1936 Olympics. He received AB and M.Ed. degrees from Dartmouth College in 1938 and 1950; BA and Masters of Architecture degrees from Harvard in 1941 and 1970. Hunter was a professor for 20 years at Dartmouth College and Chapter President of the New Hampshire in 1961 and the Raleigh AIA later in that decade.
Margaret Hunter grew up the oldest of four sisters in NJ and received a BA in Botany at Wheaton College and was one of the first female students at the Harvard School of Design in 1942.
They met at Harvard, and would later marry and practice architecture together, starting in Hanover NH from 1945-1966, including teaching at Dartmouth and designing several buildings on campus. They were widely published for the quality of their work and the uniqueness of a dual-gender team. In 1965, according to their daughter Meg Hunter, the Hunters were in a serious traffic accident and were hospitalized for some time. They relocated to Raleigh in 1966 because demand for their architecture in VT and NH had faded. They left the NH practice to former employee Roy Banwell.
In Raleigh, Ted worked for Lyles Bissett Carlisle and Wolff and Peg taught at NCSU and Meredith. After a time, Ted left the firm and the pair opened a firm as EH and MK Hunter AIA. They wrote
The Indoor Garden
which features photos of their Raleigh house. Peg founded Heritage Antiques in 1970 and hired Virginia Wilcox Williams for that store. They would co-author Your Own Kitchen and Garden Survival Book. The Hunters had two adopted children, Christopher (died of cancer in 2001) and Meg. Many thanks to Suzanne Mantegna for her extensive research into Hunter houses.
In Raleigh NC, the Hunters designed Ridgewood Shopping Center, the Meredith Woods subdivision, the octagonal building at Jaycee Park/Wade Avenue, and the Holshouser Building at the NC State Fairgrounds, shown in construction above, among other North Carolina projects.
Margaret Hunter was featured in the 1958 LIFE Special Issue on the American Woman as "one of the few successful women architects." The issue included Peg Hunter, son Christopher, and his friends in the GE demonstration Kitchen. GE was so impressed with her kitchen design they built it, although not, as the article stated, at the Hunter house. Photos of the GE kitchen by Leslie Gill.
"This is not a field in which one can make a comfortable living; yet it is the field that affords the deepest satisfaction." -- Edgar and Margaret Hunter, November 1953 Architectural Record
---
1941 - The Thorner House, Franconia NH. Ted Hunter was the architect. Location unknown.
---
Around 1944 - The Toll House,
5871 Mountain Road
, Stowe VT. Featured in Pencil Points,

May 1944

. Ted Hunter was the architect. Photo by Cushing-Gellatly. Has been remodeled.
---
Around 1946 - aka Ski Cabin for Weekend Skiers, sponsored by Ski Illustrated magazine. Unknown if built.
---
1945 - The James F. and Margaret Cusick House, Franconia NH. Address unknown.
Featured in: Better Homes and Gardens, September 1951; and Progressive Architecture, April 1951. Photos by Richard Garrison.
---

1946 - The Junius A. Brown House, Hanover NH. No address or photo. Do you know where it is?
---
1946 - The Henry G. Williams House,
95 East Wheelock Street
, Hanover NH. Honorable mention in the 1947 Progressive Architecture Awards. Featured in Progressive Architecture, March 1949. Was added onto. As of 2011 owned by Jim Jordan, who did a renovation.
---

1946 - The Mansfield House, address unknown, Stowe VT. Do you know where it is?
---

1946 - aka The Managers and Instructors House, Stowe VT. Do you know where it is?
---
1946 - The Alexander Hiss House, Norwich VT. No address. Do you know where it is? Unsure if built, needs verification.
---
1947 - The John Murtagh House,
8 Rip Road
, Hanover NH. Featured in House and Garden, August 1952. According to their daughter Mary, the house was sold around 1972 when her parents retired.

She recalls the view was incredible across the mountains and the Dartmouth campus.

The flat roof was supported by steel beams which loudly cracked in the winter. A gorgeous fieldstone wall connected the house and garage and continued inside the house. The radiant heating system broke and was replaced with baseboard heaters, which necessitated much smaller windows, an unfortunate tradeoff. Sold to James Barry who did a remodel and took off much of the flat roof. Sold in 2013 to Jake M. Reder. BW photos by Ezra Stoller/Esto.
---
1947 - The J. G. Blount House, Conway NH. Located on Route 16 near Madison NH. Featured in Better Homes & Gardens, December 1951. Still standing as of 2010. No exact address.
Do you have one?
---
1948 - The Robert W. and Elizabeth Williams Ski Cabin, aka A Ski Cabin That Can Grow,
175 Edson Hill Road
, Stowe VT. Likely unbuilt. Property sold to Charles and Janet Savage in 1954. Their daughter, Janet, said that the property was always a field when they were growing up and that the house there as of 2014 was constructed in 1975.
---
1948 - The Albert L. Keep House,
154 Keep Hill Road
, formerly Gale Road, Williamstown MA. Featured in the 1952 Distinctive Houses issue of Architectural Record. Deeded to third wife Janet. Deeded to daughter Deborah Burns and son-in-law Thomas McHugh.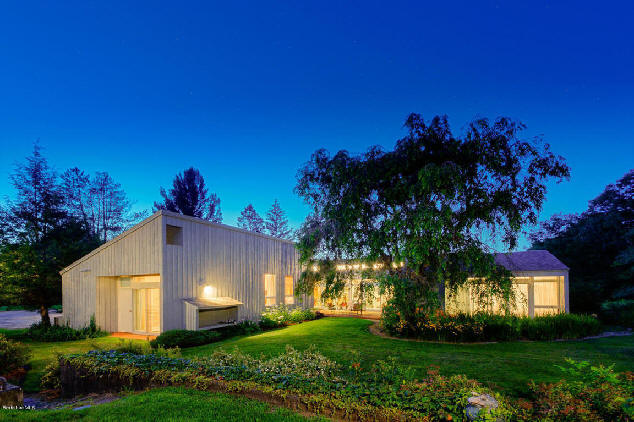 In 1967, Albert Keep and his second wife built another Modernist house at
839 Green River Road
, directly behind the Keep Hill Road property. Architect unknown.
---
1948 - The H. Wentworth Eldredge House, aka Tarn House,
328 Elm Street
, Norwich VT. 8-acre hilltop site. Photos by
Ezra Stoller/Esto
. Featured in Architectural Record, March 1950. Sold in 1984 to David and Sarah Reeves. Remodeled and updated in 1984 by architect V. Stuart (Stu) White. Garage added in 1998 by architect Bernard (Bernie) Benn.
---
1948 - The Ralph W. and Anne Hunter House,
17 Hemlock Road
, Hanover NH. Ralph Hunter was Ted Hunter's older brother. Featured in Architectural Record, November 1953. Anne Hunter died about 1970 and Hunter remarried Elizabeth (Betty) Morrison. Sold in 2003 to Norman N. Yanofsky and Kathy Crawford, still owners as of 2014. B/W photos by Joseph Molitor.
---
Around 1948 - The Double Shed Roof House, somewhere in NH. Address unknown. Designed by Edgar Hunter. Featured in McCalls Magazine, April 1948. You could send off for a booklet, Home of the Month 46-11, for 15 cents. Photos by Ezra Stoller.
---
1949 - The Maude French Residence,
7 Lewin Road
, Hanover NH. Designed to take maximum advantage of the view of the valley of the Connecticut River. Pictured above, French (1900-1985) variously called it "Spinster's Rest," "El Rancho Bankrupto," and other names of affection. Built by A. A. Lauziere. There was an addition. Appeared in: Architectural Forum, April 1950; and Better Homes and Gardens, June 1951.
According to her friend Jean Ranc, French had a vintage Thunderbird convertible she kept garaged and on blocks during the winter. "If you saw Maude driving her Thunderbird," says Ranc, "you knew it was spring." Sold in 1985 to George R. and Caroline Porter. Sold in 1986 to Jonathan and Ann Rose. Renovated, but they never moved in. Sold in 2008 to Susan and Stephen Shadford.
---
1949 - The Jack E. and Agnes Walters House,
4 Downing Road
, Hanover NH. Sold in 1954 to Donald S. and Helen G. King. Sold in 1968 to Karen and Phillip O. Nice. Sold in 1977 to John H. Rockwell. Sold 1979 to David J. Taylor. Sold in 1988 to Arthur and Lee Kantrowitz. Sold in 2014 to Xavier Gonin.
---
1949 - The Edgar and Margaret Hunter House, 15 Hemlock Road, Hanover NH. This remarkable glass, stone, and wood piece of sculpture was suspended like a tree house on the side of a hill. The stunningly beautiful house stair-steps down the hill on three levels with ledge stone foundations. Inside, a see-through fireplace opened to the living room and the dining room on the other side. The house was featured on the cover of the November 1953 Architectural Record.
Their's was the crown jewel of a community of Hunter-designed houses along Hemlock Road, each with 2-5 acres of woods. The area was known as "Pill Hill" because so many doctors lived there and has since been renamed "Hunter/Balch Hill." B/W photos by Joseph Molitor.
The house sat unsold for four years after the Hunters departed in 1966 for Raleigh.Sold in 1970 to Jean Ranc and Nathan Geurkink. Ranc loved the house but reality struck upon the first $500 oil bill for radiant heating in the slate and concrete floor. Later after refinancing the house to install thermopane windows throughout, they were only able to reduce the heating cost 25%, even keeping the thermostat at 65 degrees and dressing in layers. Ranc and Geurkink sold in 1979 and two subsequent owners have made extensive renovations such as enlarging the tiny kitchen, adding decks and a separate guest house. As of 2011 owned by interior designer Cheryl Boghosian and Neil Roth.
---
Around 1950 - The Dewey Renovation, Hanover NH. Address unknown. Photos by Ezra Stoller/Esto. Turned a Victorian into a Modernist house. Featured in House Beautiful, February 1950.
---
1950 - The Francis Drury House, 227 Elm Street, Norwich VT. Commissioned earlier, perhaps as far back as 1941. Built for a local engineer with offices in the same Hanover building as the Hunters.Sold several times. Top photo by Alexandra Lange, bottom by Norwich Historical Society.
---
Around 1954 - The E. Bunting Morrell House, 11 Hemlock Road, Hanover NH. Original b/w photographs by Joseph Molitor. Sold to John F. and Carol H. Kenfield. Upon retirement in 1983, they had the Hunters design a coastal house in North Carolina (see below). Sold in 1982 to Charles R. and Elsa M. Luker who added a deck on the back. Sold to Martin (Marty) W. and Rebecca (Becky) H. Himmelstein in 2003. Photos by Marty Himmelstein. Deeded in 2011 to the Martin W. Himmelstein Revocable Trust.
---
1950 - The Oscar Sherwin Staples and Mable Staples House, 14 Hemlock Road, Hanover NH. Added on a library right behind the garage, a bathroom, a guest room, and a carport, also by the Hunters. Featured in the 1953 November Architectural Record. As of 2011 still owned by the Staples. Bottom photo by John Sherman.
---

1950 - The Harrison Kimball House, Peterboro NH. No address or photo. Do you have one?
---
1950 - The John Rand House, Rip Road and Meadow Lane, near the Murtagh house in Hanover NH. Has been remodeled. 2011 photo by Ramani Mathew.
---
Around 1950 - The Pennington Haile House, aka Residence for a Writer, 31 Old Coach Road, formerly called Union Village Road, Norwich VT. The house was featured in Progressive Architecture, November 1954. Destroyed in 1990, with a new home built on the site.
According to research Suzanne Mantegna, Pennington Haile (1902-1982), a Dartmouth College graduate, received his doctorate from Harvard University in 1935. He was a former assistant director of the League of Nations Association and was a lecturer on international relations. Haile was one of the first openly gay citizens in the area.

There were two drawings completed by the Hunters of the same structure for Pennington Haile. One is dated August 12, 1950 and the second is dated 1959. The exact date of construction is undetermined. Deed research in the Norwich Town Clerks office uncovered a map of a subdivision with property owned by Pennington Haile and dated 1975. Old Coach Road is off of Union Village Road. The home was a small two bedroom, three bath home. The entry level consisted of a kitchen, eating area with fireplace, bathroom, study, and utility room. The upper level had two bedrooms, a sunken living room and a deck.
A perspective drawing of the living room was featured in the Hunters 1978 book The Indoor Garden: Design, Construction and Furnishing, photo above.
---
1950 - The Wendell and Alice Triller House, 24 Valley Road, Hanover NH. Has been renovated. Sold in 1997 to Peter J. and Adrienne L. Kermond, who still own it as of 2015.
---
<![if !vml]>
<![endif]><![if !vml]>
<![endif]><![if !vml]>
<![endif]><![if !vml]>
<![endif]>
1950 - The John Piane House, 10 Balch Hill, Hanover NH. Sold. Sold to Mark and Nancy Severs. Sold in 2004 to Ned and Christiane Whittington.
---
1951 - The Walter C. and Caroline R. Lobitz House, 25 Hemlock Road, Hanover NH. The walls in the living room were burlap. Includes four bedrooms and a study. Featured in the 1953 November Architectural Record. Sold to R. Clinton and Caroline S. Fuller in 1961. Sold in 1966 to Raymond Sid and Alice O. Jackson. Sold in 2007 to their son and daughter. B/W photos by Joseph Molitor. Bottom photo by Ramani Mathew.
---

1951 -The Francis F. Cary House, Greenfield MA. No address or photo. Do you have one?
---
1951 - The Charles and Louisa G. Sheldon House, 6 Swain Street, Woodstock VT. Has been remodeled. Sold to William and Lisa Battilana. Photo by Woodstock Lister's Office.
---

1951 - The Richard B. Earle House, Hanover NH. No address or photo.
Do you have one?
---
1952 - The Ralph E. Langdell House,
1805 River Road
,Manchester NH. Commissioned 1951. Built by Waino Kokko. Featured in New Hampshire Profiles Magazine in October 1961 and Architectural Record Houses of 1956. When Langdell died in 1968, the house was sold. The second owners altered the living room by removing a fieldstone feature, the built-in bookcases, and the glass screen which separated the dining room from the foyer.
Langdell's daughter Sarah recalls that "as you you walk into the house there is a beautiful rock garden."Plants grow out of the ground all year long. It is surrounded by glass. We had a large gardenia bush among other plants-but I loved the gardenia. The story is that the rock was meant to be much larger but in cutting it back some with dynamite it got cut back a lot." Sold to Robert F. Franceur. Large color photo by Sarah Langdell Lambdin. B/W photos by Joseph Molitor.
---
1952 - The Richard W. Moulton House, 87 East Wheelock Street, Hanover NH. Has been sold.
---

1952 - The Noel T. Wellman House, North Conway NH. No address or photo. Do you have one?
---
1953 - The John G. and Jean A. Kemeny House, 7 Hemlock Road, Hanover NH. John Kemeny was president of Dartmouth College in the 1970s. Sold in 1974 to Paul and Patricia Shannon. Sold in 1976 to Brantz and Ana M. Mayor. Sold in 2000 to Dawn Khan. Sold to Dick and Stephanie Schellens. As of 2011 owned by Lesley and William Ware. Addition by architect Andy Garthwaite. Photos by Ana Mayor.
---
1954 - The Knud and Norma Andersen Ski Cabin, aka Inn for Knud Anderson, 3430 Mountain Road, Stowe VT. Address needs verification. Commissioned 1953. Two additions in 1978 and 1991. Sold to the North American Hockey Academy, Inc.
Knud Andersen immigrated to America from Denmark in the 1940s. He apprenticed as a chef at the Palace Hotel in Copenhagen then aboard various ships as a chef. When Germany invaded Denmark in 1939, he was aboard a Danish vessel in Aruba. Unable to return to Denmark, Andersen sailed for several years aboard vessels under the Pan American flag. When he came ashore in New York in 1942, he wanted to go skiing and was told to go to Stowe. He liked it so much that he returned the following year and was in charge of the Stowe Ski Patrol. This is also when he met and married his wife, Norma. The Andersens worked with the Hunters in 1945 and again in 1946 to design a hotel in Stowe, unbuilt.
In 1948, the Andersens purchased the Lakeview Inn in Greensboro, Vermont. Then in 1953, the Andersens worked with the Hunters again slightly altering the floor plan. But it is still unclear if this structure was ever built. According to records in the Lister's Office at Stowe Town Hall, the property that was known as the Andersen Ski Lodge at 3430 Mountain Road in Stowe was built in 1957 and does not match the layout or the exterior of the Hunter drawings.
---
1953 - The John French House, 3210 French Road, formerly 577 French Road, Woodstock VT. 12 acres. Sold to Bruce and Margaret Seeley. Renovated at least once. Sold in 2011 to Jonathan Clark. Sold in 2013 to Hilltop Farm Vermont LLC; has been destroyed.
---
1953 - The Richard Stout House, 84 Carey Street, Southington CT. Photos by Anthony Stout, who grew up in the house. The second photo is of his sister, mother, and friend. Has been extensively remodeled and added on such that the Hunter design is not recognizable, bottom photo.
---

1955 - The Mackenzie Hume House, Lloyd Harbor NY. No address or photo. Do you have one?
---
1955 - The Roy P. and Dorothy Forster House, 18 Hemlock Road, Hanover NH. Transferred to joint ownership between Roy and their daughter, Peggy Forster Hyde, on the death of Dorothy in 1991. Sold in 1999 to the Thomas R. Eck Trust. Sold in 2000 to John J. McIntyre IV. Sold in 2001 to Robert and Lori Ann Harris, still owners as of 2014. They cleared some of the land below the house for a better view of the mountains.
---
1957 - The Richard and Evelyn Wagner House, aka Small House for an Artist's Family, 76 East Wheelock Street, Hanover NH. 1400 sf. Built by Edward Bebeau. Featured as an Architectural Record House of 1960, photos by Joseph Molitor. Featured in the New York Times. Top two photos by Joseph Molitor. The center module is the original house; the shed at left once connected to a Hunter-designed music studio, since demolished. Module on the right was not designed by the Hunters. Snow photo by David Roos.Sold in 1997 to Kathryn A. Murray. Sold in 2000 to Karl D. and Leslie G. Johnston. Sold in 2012 to Jake and Susan D. Blum.
---

1957 - 100 Golf Avenue, Woodstock VT. Sold to Charles and Carolyn Kimbell. Sold in 2016 to Bruce S. Munick.
---
1960 - The Roland Palmedo Jr. Vacation House, 4072 Mill Brook Road, aka McCullough Highway, Fayston VT. Sometimes listed as Waitsfield VT. Commissioned 1959.
According to researcher Suzanne Mantegna, Roland Palmedo was being groomed to take over the running of his father's Mad River Glen Ski Resort when he died in 1965 at age 39. The Mad River Glen Company must have been the owner of the property, because they "sold" the land to Palmedo in 1965. When Palmedo died, his wife Marciel sold it to his father Roland Palmedo Sr. in 1968. Charles Heckler leased the property in December of 1975 with the option to purchase, which he exercised in 1976. No significant exterior changes have been done to the structure. He did remodel the kitchen soon after he purchased the house. He also replaced the deck railing and converted a wheelchair ramp (designed for Marciel Palmedo) to stairs. Photos by Suzanne Mantegna.
---
Around 1960 - The Woman's Day Vacation House, built somewhere in NH. Published in Woman's Day Magazine. No address. Do you have one?
---
1961 - The Roberts Residence, 154 Lyme Road, Hanover NH. Sold in 2006 to Paul and Cheryl Ann Schlenker.
---
1962 - The Edward Janeway Ski Lodge, aka Birkenhaus, Stratton Mountain, 61 Middle Ridge Road, South Londonderry VT. Janeway was a founder of the ski industry in that area. Has been destroyed.
---
1963 -The John Powell Hunting Lodge, location unknown, VT.Commissioned 1962. A round house. According to researcher Suzanne Mantegna, who interviewed Hunter colleague Roy Banwell, the Lodge was located in Sharon or Strafford VT. It was a round building built by the Unadilla Silo Company in Oneonta, NY. It was approximately 24' round. It was built in a very remote site on a hilltop and was off the grid. Consequently, services like refrigeration were gas powered. Banwell says that the Vermont builders had a hard time constructing the roof; it tended to be oval instead of round.
---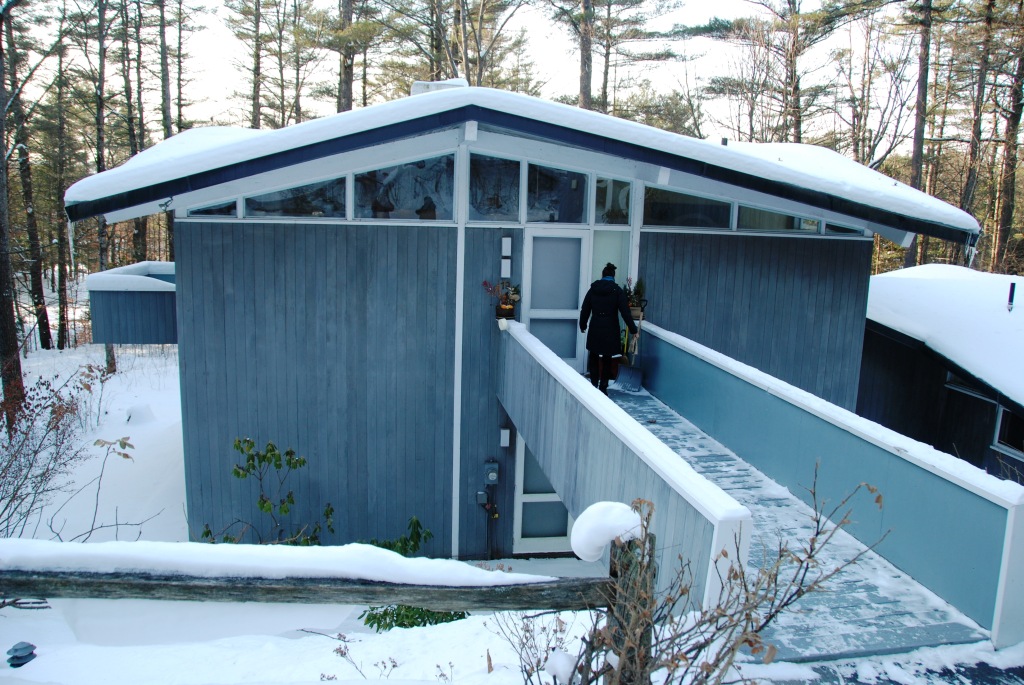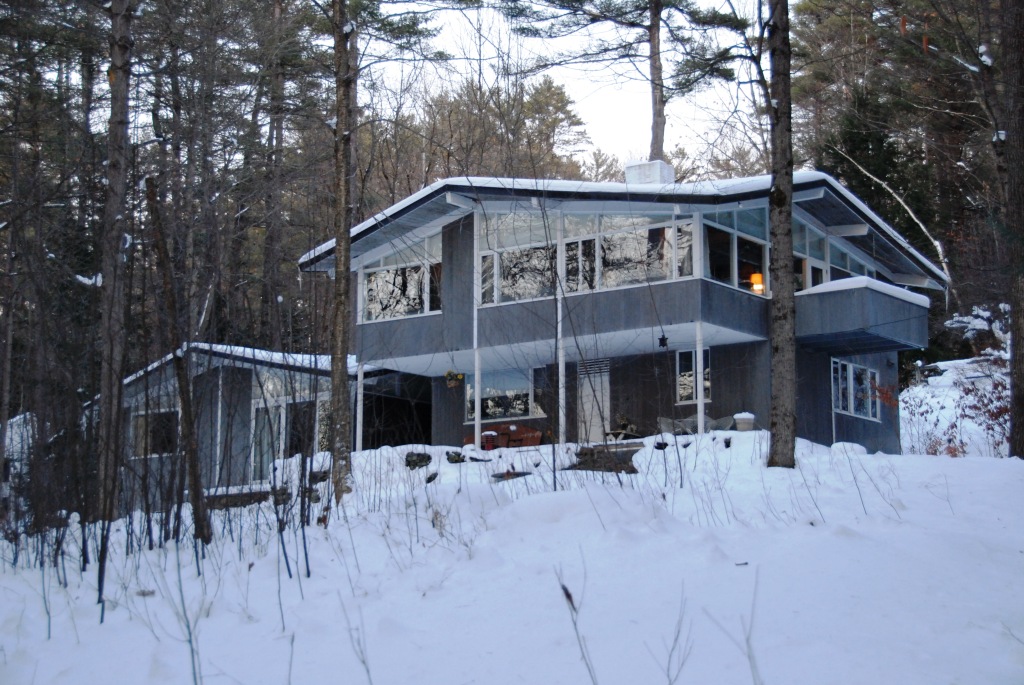 1963 - The Thomas and Marilyn S. Roos House, 19 Rayton Road, Hanover NH. Roy Banwell also worked on the project. As of 2011 still owned by Marilyn Roos. The bridge connects the original house to driveway. Single story addition north of the house was designed by the Hunters and built around 1970. The 1997 garage was not designed by the Hunters. Appeared in Architectural Record,May 1964. Color photos by David Roos. B/W photos by Joseph Molitor.
---


1963 - The John and Ruth Makechnie House, 185 Advent Hill Road, Hartland VT. 3000 sf. Sold in 1998 to Deborah Hamilton. In original condition except for an altered roof. According to researcher Suzanne Mantegna, who took the photo, the walls inside are covered in Philippine teak. There is no basement or attic. Sold in 2017 to Barbara Peck.
---
1964 - The Kenneth and Sylvia Shopen House and Studio, 346 Goodrich 4 Corners Road, Norwich VT. The main house has an unobstructed view of the Connecticut River Valley and New Hampshire hills. Was sold several times. Sold to William and Jenny Lamb. Guest house, bottom two photos, is available for rent.For sale in 2018.
---


1964 - The Davis and Maisie Jackson House, 9 Faraway Lane, West Lebanon NH. Sold to Chauncey Loomis in 1966 who added a roof deck.
Sold to Harold and Carol Sox, Jr. in 1988. Paul Trementozzi designed a large addition in the style of the original structure (1991). Extensive work in 2008 strengthened the cantilevered living room and remodeled the living and dining areas and the kitchen (Keith Dewey, architect).
Photos by Harold Sox, Jr., who grew up in a Harwell Hamilton Harris house and whose father later bought a Frank Lloyd Wright house.
---
1965 - The Roderick (Rod) Nash House, 31 Rip Road, Hanover NH. 2011 photo by Ramani Mathew. Sold to a second owner. Sold around 1988 to Stanley and Judith Colla, still owners as of 2014. 2012 renovations by architect Carol Kawiaka.
---
1967 - The Desmond Canavan House, 5 Ledge Road, Hanover NH.Sold in 2005 to Farr Enterprises Inc. Sold in 2006 to Catherine Roberts. 2008 renovation/addition by architect Tim Utt included a master bedroom suite on an additional floor. 2010 addition by Utt included a guest wing and office.Sold in 2014 to Harold J. and Kelly N. Pikus. Photos by Greg Bruce Hubbard.
---


1968 - 142 Lynn Hill Road, Acworth NH. On 24 acres. An oversized two-story addition was put on in 1996, not by the Hunters.Sold in 1991 to Romany G. Kohler. Sold in 2001 to William M. Sandoe. Sold in 2014.
---
1969 - The Louis and Barbara O'Conner House, 5009 North Hills Drive, Raleigh. Sold in 1994 to Kristin Eldridge. Sold in 2004 to Michael and Kathleen Southern, still owners as of 2014.
---
1973 - The Edgar and Margaret Hunter House, 3808 Tall Tree Place, Raleigh. This exceptional house was years ahead of its time. According to Margaret Hunter's executor Charlie Fulton, the structure contained a small apartment where one of their parents lived for a few years. The six acres with its own pond was sold to James Stewart Carr in 1997 after the death of Margaret Hunter. Carr subdivided the property into many lots and the house was destroyed. He did save these pictures, however and donated them to NCModernist.
---

1974 - Residence for John V. Hunter III, East Lake Drive, Raleigh.
Unbuilt, according to John Hunter III.
---
1978 - The Robert E. and Betty T. Huse House, 3084 Fairway Woods, Sanford NC. Sold in 2000 to Robert Wayne McKeal, Jr. Went into foreclosure in 2003. Sold in 2004 to Rahul H. and Mayuri Patel. Sold later in 2004 to Nathan Hughes. Foreclosed in 2006. Auctioned in 2007. Sold in 2008 to Michael E. Gress. Now a rental house. Photos by Michael Gress.
---
1979 - The Marjorie Smith and Harriet Ammann Residence, 3601 Marcom Street, Raleigh. Ammann sold her interest to Smith in 1981. Sold to Lewis Deitz in 1984, still owner as of 2014. Photo by Leilani Carter.
---
1983 - The John F. and Carol Kenfield, Jr., Residence, Sleepy Creek, Gloucester NC. Sold when the Kenfields moved to the NC mountains. Photos by the Kenfield children Kelsey and John, Jr. The new owners built an addition. No address, do you know where it is?
---
1986 - The Peter H. and Barbara Baxter Residence, 278 Clamshell Cove Road, Cotuit MA. Commissioned 1984.
---

1986 - The Joe Moore, Jr., House, location unknown. Unsure if built. No address or photo. Do you have one?
---

1990 - The Sytse and Karen Polier Douna Residence, Louisburg NC. Unbuilt, according to Karen Douna.
---

1990 - The Tony Knox Residence, location unknown. No address or photo. Do you have one?
---
Sources include:
The Edgar H. and Margaret K. Hunter Architectural Papers
at NCSU Libraries; Your Own Kitchen and Garden Survival Bookby Margaret King Hunter and Virginia W. Williams; The Indoor Garden by Margaret King Hunter and Edgar Hayes Hunter; November 1953 Architectural Record; Time/Life Picture Cookbook (1958); Architectural Forum April 1950 pages 174-5; Better Homes and Gardens June 1951 pages 68-9; Hanover's Hunter Houses by Jack Degrange; From Here In Hanover Magazine 2005; former clients John V. Hunter III and Karen Polier Douna,former Raleigh neighbor and book collaborator Paul Nelson, Margaret Hunter's sister Deborah King Jarvis, Margaret Hunter's co-executor Charlie Fulton, Maude French's nephew Allen Spalt, former Hanover neighbor Jean Ranc,developer James Stuart Carr, former Hanover neighbor Ana Mayor, former Hanover neighbor Carol Kenfield, Robert Harris, Raymond Jackson, architect Roy Banwell AIA, William Lamb, Devin Colman, Sarah Langdell Lambdin, Mary Murtagh, Marilyn Roos, David Roos, researcher Suzanne Mantegna.